Profile
The Complete Jan Akkerman: Focusing on a Life's Work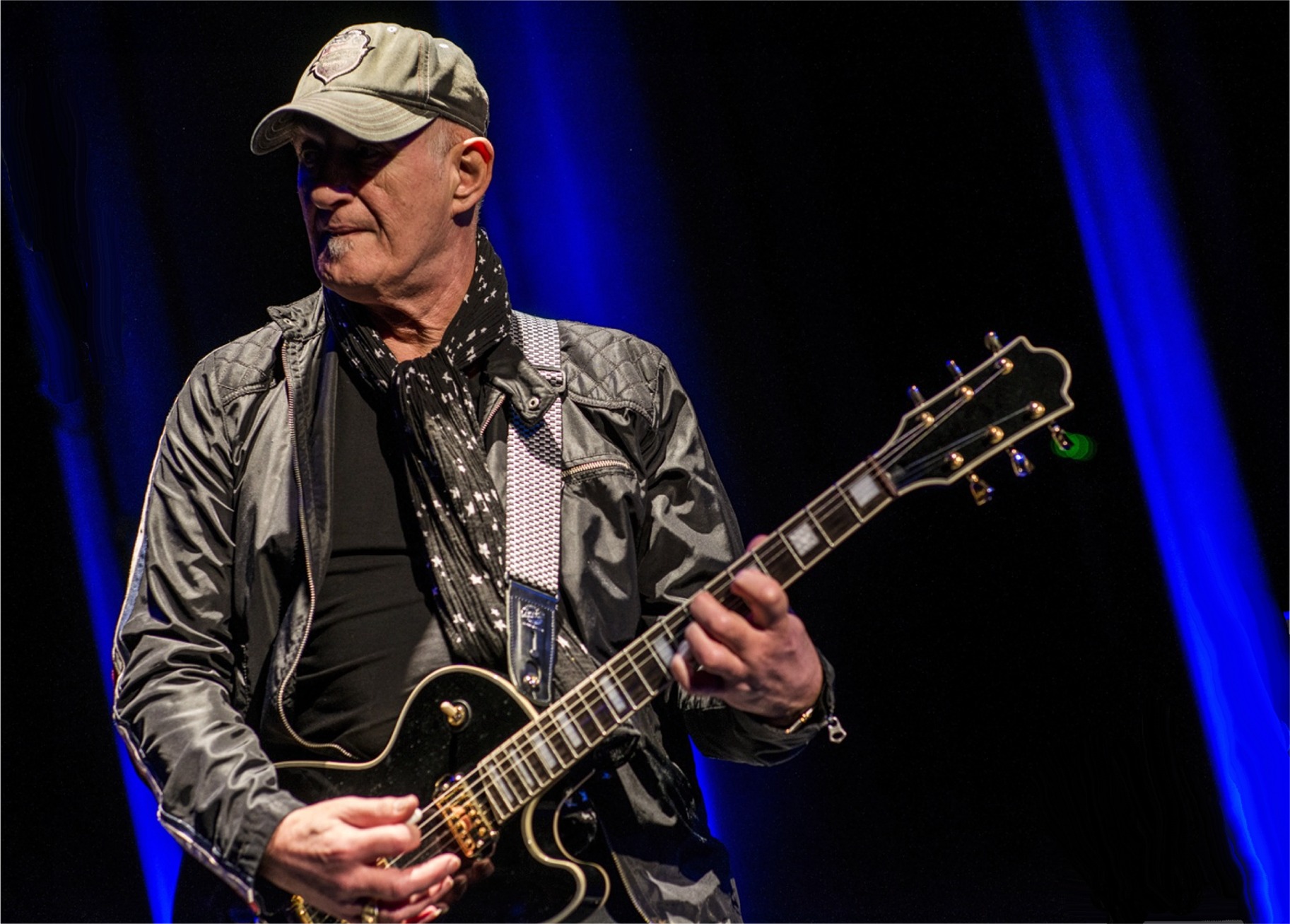 By
He may be largely regarded as the most influential guitarist to emerge from the Netherlands, a country that, bordering on the North Sea, is roughly one-quarter the physical size of England and, with a current number of about seventeen million, has just one-third the population of the UK's largest country. Still, despite garnering major in-country recognition, including the country's most prestigious music prize, the
Golden Harp Award
, being made a Knight of the Order of Orange-Nassau, and winning the
De Eddy Christiani Award
as a guitarist with international recognition, Jan Akkerman remains largely remembered—barring a handful of solo albums that received international distribution—for his six-year stint in '70s progressive rock group Focus, formed when he joined up with keyboardist, flautist, vocalist (and occasional yodeler), Thijs van Leer trio.
Which makes
The Complete Jan Akkerman
all the more a revelation. A massive 26CD box set, it houses: all 21 of the guitarist's studio albums as a leader or featured guest; two live albums (over three CDs); a disc of his favorite Focus recordings, plus a handful of his pre-Focus work with Johnny and His Cellar Rockers (Akkerman releasing his first single with the group when he was just thirteen), The Hunters, and acclaimed Dutch proto-progressive group Brainbox; and a final CD of demos and other previously unreleased material. A comprehensive 64-page booklet includes Wouter Bessels' effusive biography, along with brief comments, from Akkerman, about each of set's albums and track-by-track notes about all the unreleased music on the final CD. Some albums have never been issued in CD before, while many others have been out of print for many years. And many have not been available, in any form, beyond the borders of the Netherlands.
Perhaps the biggest revelation about Akkerman, whose time in Focus was defined by jazz-tinged shredding and paradoxical lyricism on both guitars and lute, is just how
broad
his musical reach has been. While jazz/jazz-rock might be the biggest bucket in which to place his work, his studio albums run the gamut from orchestral collaborations with highly regarded names like
Michael Gibbs
and
Claus Ogerman
, solo acoustic outings, albums combining progressive rock tendencies with excursions into classical and traditional music on both lute and Spanish guitar, hardcore blues, vocal pop music in his reuniting with Brainbox vocalist Kazimierz "Kaz" Lux, jazz- tinged interpretations of popular music of the day and much, much more...all underscored by Akkerman's love of Belgian-born, Romani-French jazz guitar legend
Django Reinhardt
and classical guitarist/lutenist Julian Bream.
Jan Akkerman
The Complete Jan Akkerman
Red Bullet
2018
Some of the music is clearly dated, most notably his '80s/'90s excursions into synth-driven, rhythmically programmed work. Overall, however, the recordings included in
The Complete Jan Akkerman
range from jaw-droppingly superb to, at worst, still very good, with only a couple of albums likely to get no more than a few spins—and that, despite being wholly successful in what they were looking to achieve. All in all, a very good signal-to-noise ratio renders
The Complete Jan Akkerman
a collection that reveals, especially to international audiences only familiar with his previous international releases, a vital and successful career defined by regular gear-shifts and, even at its least compelling, an effortless mastery of Akkerman's chosen instruments.
In addition to his informative liner notes, Bessels does an exceptional job at remastering all of the material: no brick-walling here, just punchy, clean, crisp and clear sonic upgrades that respect the broad dynamic range of Akkerman's far-reaching music, whether it be covers of other material or the original music that dominates the set.
The Complete Jan Akkerman
is the career-spanning tribute to this acclaimed guitarist who has gone much farther than his undeniably staggering work with Focus, subsequently sharing international stages with the likes of
Charlie Byrd
,
Larry Coryell
and
B.B. King
...even ranking ahead of
Eric Clapton
,
Carlos Santana
and
Jimmy Page
in British music paper
Melody Maker
's 1973
Best International Guitarist
poll.
Listening to it on the
My Focus
disc of Focus faves and earlier bands, it's hard to believe that Akkerman was a mere fourteen years old when Decca Netherlands released Johnny and His Cellar Rockers' single in 1961, featuring Shadows/Ventures-informed instrumentals including the theme song from Otto Preminger's 1960 film
Exodus
and a suitably rocked-up version of nineteenth century Russian pianist/composer Anton Rubinstein's "Melody in F" (retitled "Melody in F Rock").
But hearing "Russian Spy and I," a minor Dutch hit from 1966 that, with The Hunters, introduced Akkerman to a wider (albeit still native) audience and features some surprisingly fast lines, it's clear just how far the guitarist had come in five short years, while still not yet twenty.
The progressive blues of "Down Man" and a similarly progressive-leaning version of
George Gershwin
's "Summertime," both from Brainbox and released in 1968 and '69 respectively (sung by Kaz Lux and with Johnny and His Cellar Rockers/future Focus drummer Pierre van der Linden in tow), reveal an even more evolved Akkerman, demonstrating a surprising facility for both remarkable dexterity and an ability to harmonically move his solos "out," while knowing just when to bring them back "in," creating a potent sense of tension and release. That Akkerman was doing this years before
John Scofield
emerged as an American guitarist with a similar inside/outside propensity only serves to show how, to some extent, it's not always how good or groundbreaking you are, but where you are from, that determines potential future international success.
Still, Akkerman's name is well-known amongst progressive rock fans, his star definitely on the rise in the Netherlands with the guitarist awarded a scholarship to attend the prestigious Amsterdam Music Lyceum, where he further developed his abilities as a composer, arranger and instrumentalist, also learning lute around the same time.
Jan Akkerman
Talent for Sale
Universal
1968
That said, in the midst of all this activity, Akkerman managed to release his first solo album,
Talent for Sale
, with Hunters band mates Ron Bijtelaar (bass) and Sydney Wachtel (drums on all but one track). An uncredited pianist, horn section and strings flesh out the session, afforded to Akkerman by the label through his session work at Bovema Studios, and with this ore-Focus album his lithe facility is heard on a variety of covers and originals, including an opening look at
Milt Jackson
's "Bags Groove," played with a more soul-jazz mindset made all the more so with Akkerman feeding his instrument through a Leslie to achieve a sound as close to Hammond organ as possible on electric guitar.
The entire album reflects Akkerman's interest in soul and R&B, with a groove-heavy cover of
Joe Zawinul
's
Cannonball Adderley
hit, "Mercy, Mercy, Mercy," where the guitarist combines soulful, blues-drench lines with some staggeringly rapid-fire phrases. A couple of
Booker T & the MG's
tunes keep the groove happening, including the group's signature "Green Onions" and "Slim Jenkin's Place," from the group's 1962 and '67 Stax albums
Green Onions
and
Hip- Hug-Her
, respectively, along with a surprisingly subtle look at Bobbi Gentry's 1967 mega-hit, "Ode to Billy Joe."
It's an album largely dominated by covers, also including
Steve Winwood
's 1966 non-hit for the Spencer Davis Group, "On the Green Light"—a minor-keyed blues from another musician who emerged, well-formed, in his teen years—and a bright-tempo'd version of
Ray Charles
' signature tune "What'd I Say" (here misnamed "What I'd Say") and
Mel Torme
's lone venture into rock territory, the Tucker/Dorough blues "Comin' Home Baby."
Still, in addition to a balladic interpretation of the traditional Jewish Sabbath song "Hine Ma Tov" (here, "Hinematov"), with lush strings and Akkerman on 12-string acoustic guitar, Akkerman contributes two originals that fit within the album's purview, but don't really hint at his writing to come. That said, the go-go beat of "Revival of the Cat" and more laidback "Moonbeam"—both blues, and both featuring some appropriately blues-drenched bends, light-speed lines and more from Akkerman—fit perfectly on
Talent for Sale
.
It's an album that, for the relative few who noticed, gave at least some indication of what was to come from a guitarist who predated another American guitarist known for similarly staggering dexterity, jazz chops and bluesy predilections in his early days,
Larry Coryell
. And, as Akkerman writes in his notes about the album, "At the Height of Focus' success, the record company (EMI) saw the opportunity to cash in and promptly reissued
Talent for Sale
with a different sleeve." That was in 1973, with the album retitled
Guitar for Sale
, remaining out of print until U.K.'s Esoteric Recordings reissued the album on CD for the first time (and under its original name) in 2012.
Jan Akkerman
Profile
Harvest
1972
Four years were to pass before Akkerman would release another solo record, but during that time his international star was on the ascendancy. Released the same year as
Focus 3
(Sire) but after
Moving Waves
(Imperial, 1971) brought substantial international attention to Focus (despite its single, "Hocus Pocus," curiously not charting in the UK or USA until 1973),
Profile
shone a bright spotlight on the multiplicity of influences that, amongst them, led to Akkerman's playing becoming so influential on the burgeoning heavy metal scene.
Still, even though he could shred and crunch mightily alongside the very best of them, to call Akkerman a metal player would be both reductionist and misleading, as
Profile
makes crystal clear. The side-long opener, "Fresh Air," is an episodic, nearly 20-minute excursion into everything from dreamy atmospherics to jaggedly crunching chords and fourths-informed modal improvisational workouts, with Akkerman's aggressively overdriven tone (often, once again, fed through a Leslie) and a blend of rock-edged bends and frighteningly fast phrases driven by a kind of harmonic sophistication rarely heard from other guitarists in the progressive rock camp, and suggesting a far broader stylistic purview. Bolstered by Focus' Bert Ruiter (bass) and Pierre van der Linden (drums), with a Akkerman overdubbing Fender Rhodes and some additional bass guitar, its mid-section free- for-all resolves into more lyrical balladry, only to gradually build to another climactic peak and completely unfettered conclusion.
Side one of
Profile
is, culled as it was from a lengthy jam session and edited into its final form, a powerful opening statement that could appeal to jazz- rock/fusion-leaning fans of progressive rock, with its Focus on steroids approach, as Akkerman writes: "you can hear the evolution from Brainbox's "Sea of Delight" to the title track and, later, "Eruption" and "Hamburger Concerto." The second side is, however, something else entirely, an eclectic blend of musical styles and instruments, approaches.
A solo alto lute rendition of the oft-covered sixteenth century British traditional "Kemp's Jig" (also interpreted, a year later, by British progressive-folk group Gryphon's on its eponymous 1973 Transatlantic debut) is followed by another solo lute piece, this time from the classical repertoire, nineteenth century Italian guitarist/composer Matteo Carcassi's "Etude," both tracks further demonstration of Akkerman's far-reaching interests and abilities. "Blue Boy" is a bit of funk-rock, with Akkerman heavy on the wah wah pedal on a piece that could easily have fit into the Focus repertoire.
"Andante Sustenuto," by 19th century Austrian composer Anton Diabelli, changes gears once again, a lyrical piece of pastoral writing which Akkerman, this time on nylon- stringed Spanish guitar, plays not just with absolute facility, but utter credibility. Akkerman's melodic electric original, "Maybe Just a Dream," is defined by its strummed and finger- picked steel and nylon-stringed acoustic guitar underpinning, and a singable melody delivered on electric but using volume pedal swells to lend it a more vocal-like complexion.
The Akkerman-penned, alto lute solo medley, "Minstrel / Farmers Dance," continues
Profile
's second side alternation between traditional/classical musings and more electric excursions, but none of what came before is preparation for the album-closing "Stick." Featuring an entirely different lineup, it's a blues-rock number that also features some great barrelhouse piano from Ferry Maat, better known as the DJ who changed the face of Dutch radio with, amongst others, his
Soulshow
program, which ran, on four different stations, from 1972-1990 before more irregular appearances in the mid-'90s, early '00s and, most recently, from 2011-2013.
A curious fact:
Profile
was recorded with vocals by Cyriel Havermans, bassist and occasional "non-lexical" vocalist for Focus on
Moving Waves
, but leaving the group before its followup. For reasons unexplained in the liners, Akkerman recalls that "I wasn't allowed to feature Cyriel's voice on the record and so it was removed."
Released in the UK and USA in addition to the Netherlands,
Profile
helped raise Akkerman's international profile—and, perhaps, fed some of that visibility back into Focus, with whom he remained until early 1976, last appearing on the group's 1975 album,
Mother Focus
(EMI), and
Ship of Memories
(EMI), a 1976 compilation of previously unreleased tracks chosen without the group's involvement. But if, as its title suggests,
Profile
was a window into Akkerman's eclectic spirit, 1973's
Tabernakel
took his manifold tendencies even further.
Jan Akkerman
Tabernakel
Atlantic
1973
"From my perspective," Akkerman writes, "the introduction of new instruments such as Moog synthesizers in the Seventies marked a musical renaissance. I wanted to connect the modern with traditional lute music and that was the general philosophy behind
Tabernakel
." Mission accomplished, as the guitarist and, even more so, lutenist on
Tabernakel
digs even further into the classical repertoire with interpretations of Baroque era composers/lutenists/singers John Dowland ("Britannia," The Earl of Derby," "A Galliard") and Francis Pilkington ("Coranto for Mrs. Murcott"), and Renaissance period composer Anthonie Holborne ("A Galliard"), composer/organist Thomas Morley ("A Pavan") and lutenist/composer Laurencini of Rome ("A Fantasy").
Perhaps Akkerman's most flat-out beautiful record,
Tabernakel
largely eschews any trappings of rock music or instrumentation, barring the participation of ex- Vanilla Fudge rhythm section Tim Bogert (bass guitar) and Carmine Appice (drums) on a new look at the guitarist's "House of the King." First heard with an arrangement akin to contemporaneous group
Jethro Tull
on the American release of Focus' 1970 Sire Records debut,
In and Out of Focus
(later also included on the two LP
Focus 3
), it's taken at a brighter clip here, with Akkerman playing the memorable melody on electric sitar. The trio is also accompanied by the New York Philharmonic, arranged and conducted by George Flynn, who also contributes harpsichord, piano and glockenspiel on "Jaweh," another Akkerman original.
Bogart and Appice also play on the album-closing "Lammy," a fourteen-minute episodic epic co-credited to Akkerman and Flynn, on which, the guitarist plays everything from electric, acoustic and sitar guitars to (church) organ, lute and percussion, further augmented by Flynn's contribution on harpsichord and his choral arrangements. The piece truly spans centuries, with its organ/choral passages redolent of ninth/tenth century Gregorian chant, a bustling middle section that, following a brief drum solo, turns into a bit of fiery, vamp-based funk, with Flynn's harpsichord sounding more like a clavinet as Akkerman solos (on electric guitar) with furious abandon. But the fusion fire soon ends as a gradually dissipating symphony orchestra fades into a Baroque-inspired section for Akkerman (on lute), flautist Daniel Waitzman and Flynn, again on harpsichord, before dissolving into a moving conclusion for choir alone.
The other Akkerman composition, "Jaweh," fits perfectly within
Tabernakel
's overall classical leanings, albeit in a more contemporary context, with Akkerman's nylon-string guitar ranging from rapid, Flamenco-style finger-picking to gentler persuasions, accompanied by Flynn's astute orchestral arrangement. It would be easy to suggest that
Tabernakel
stands out as an anomaly in Akkerman's discography, except that
The Complete Jan Akkerman
demonstrates that Akkerman's eclecticism is defined by anomalies, with barely any release sounding like the one that came before...or after.
Akkerman's next three years were occupied, almost entirely, by Focus as the group toured extensively, even as Akkerman's conflict with van Leer became increasingly problematic. And so, having had enough of Focus but still wanting to work with a vocalist, the guitarist re-recruited Kaz Lux for two recordings, collected onto
The Complete Jan Akkerman
's fourth CD: 1976's
Eli
and, making it the only non-chronological recording of the set, 1980's
Transparental
.
Jan Akkerman & Kaz Lux
Eli / Transparental
Warners
1976 / 1980
With a larger cast of characters on
Eli
and, for the most part, a consistent lineup on
Transparental
, both albums were pop albums of a sort, but only the kind of pop music that could have emerged in the '70s. Still as eclectic as ever, Akkerman sent Lux musical sketches, which the singer used to write the lyrics for
Eli
, a concept album that won the 1976 Dutch
Edison Prize
for Best Album. Pop album though it may be, few such albums then (or now, for that matter) began, as
Eli
does, with a lone voice, heavily reverted and delayed, for over a minute-and-a-half, before the group slowly comes in, Akkerman first (on guitar and bass), followed by keyboards and drums, ultimately turning into a groove-heavy song that sets the tone for the rest of the record.
The album also introduces a number of new concepts into the Akkerman mix. Demonstrating early signs of a disposition towards technology that would expand much further over the ensuing years, Akkerman employs a drum machine, "for which the engineers hated me," recalls the guitarist, "accusing me of 'preferring machines to musicians.' Eventually everyone started using drum machines!" Still, with Pierre van der Linden contributing kit to the up-tempo rocker "Can't Fake a Good Time" (like the vamp-based "Guardian Angel," culled from edited-down in-studio jams), Los Angeles-based drummer David Kemper holding down pulse on the more funkified "There He Still Goes" (also featuring son of legendary Motown bassist James Jamerson, James "Jimmy" Jamieson Jr., also on bass) and Richard DeBois propelling the rest of the album, Akkerman's use of drum machines was far from a "real musician" replacement and, instead, just another sonic color to add to his expanding palette.
Despite its more user-friendly approach, there's no compromising on
Eli
, with songs ranging from the soft, piano-driven ballad "Strindberg" to the similarly down-tempo'd but more machine-driven and atmospheric spoken word piece, "Naked Actress"—even its more ethereal closer, "Fairytale," where Akkerman solos with delicate restraint, over a cushion of synthesizers. The easy-on-the-ears, machine-driven Akkerman shuffle, "Tranquilizer," is a vivid feature for Akkerman's guitar mastery, as he self- accompanies in real time, layering simple bass lines on the lower strings, and chordal movement on the upper, even as the high end delivers its simple but captivating theme. The aptly titled "Wings of Strings," on the other hand, is an acoustic guitar workout, featuring a 12-string guitar that moves from complex voicings to rapid-fire runs, before a series of arpeggios act as the foundation for keyboards from jazzer
Jasper Van't Hof
and Rick van der Linden (he of the dazzling Ekseption and, later, Trace).
That
Eli
won the
Edison
and, furthermore, went gold the following year, with distribution beyond the Netherlands, UK and USA into places farther afield like Australia, France, Germany, Argentina...even Turkey...wasn't enough to force Akkerman and Lux into an immediate followup. And so, four years and five albums later,
Transparental
was released. Less successful than
Eli
(and receiving far less distribution beyond the Netherlands), the album was conceived in a different fashion as well, with Lux writing most of the material and Akkerman then arranging it, adding guitar parts and exploring the possibilities of Roland's then-new GR-300 guitar synthesizer (the same model used by American jazz guitarist
Pat Metheny
).
The result is an album that sounds considerably different while still of a kind. Akkerman is only co-credited on five of its eight tracks, and yet his contributions remain unmistakable and manifold as ever, in particular on the brief, synth and acoustic guitar-heavy title track, composed by Akkerman alone. Still, while the album possesses greater sonic consistency with its fixed lineup, and Akkerman contributes plenty to the album's overall complexion, it reveals Lux as, if not by any means a bad songwriter, then certainly a more conventional one.
But back to the mid-'70s. Following the release of
Eli
, Akkerman focused on completing an album that he'd largely finished during the same sessions, with the same engineer, Jan Schuurman, behind the board at Soundpush Studios, located in the northern Netherlands village of Blaricum, part of the Amsterdam Metropolitan Area. The album was released in 1977 in countries around the globe (some, the following year), and represented the first of a particularly busy couple years for the guitarist. In addition to
Jan Akkerman
, he released one more record that year, with American clarinetist (and occasional vocalist)
Tony Scott
(
Prism
, credited to "Tony Scott featuring Jan Akkerman"). The following year saw the release of
Aranjuez
, an orchestral jazz collaboration with renowned German composer, arranger and conductor
Claus Ogerman
(
Antonio Carlos Jobim
,
Frank Sinatra
,
Michael Brecker
) and co-credited to both musicians. Finally, Akkerman released his first live album as a leader, 1978's simply titled
Live
, a rather short (34 minutes) selection of songs performed at the Montreux Jazz Festival on July 7, the same year.
Jan Akkerman
Jan Akkerman
Atlantic
1977
Despite its famous cover (Akkerman in bed with an acoustic guitar that has an arm reaching out to touch his back),
Jan Akkerman
is not an acoustic record. Instead, it's a groove-laden album of all-Akkerman compositions that easily fits in the space that American guitarists like
Larry Carlton
and
Lee Ritenour
were making in and around that time, in addition to groups like the
Crusaders
. With a top-drawer group of musicians including, most notably, keyboardist
Joachim Kuhn
, who'd already been making a name for himself on albums, in addition to his own recordings like
Hip Elegy
(MPS, 1975) and
Springfever
(Atlantic, 1976), with other artists including Polish violinist
Zbigniew Seifert
(
Man of the Light
(MPS, 1976)) and Association P.C. with flautist
Jeremy Steig
(
Mama Kuku
(MPS, 1974)).
In addition to electric bassist Cees van der Laarse, who would appear on subsequent Akkerman albums including
Live
, Akkerman is joined, on
Jan Akkerman
, by another musician who would figure on other Akkerman albums around the time, drummer
Bruno Castellucci
(
Toots Thielemans
,
Rolf Kuhn
,
Chet Baker
). Bassist James Jameson Jr. and drummer David Kemper, from
Eli
, guest on the propulsive, slightly disco-fueled "Crackers," though his regular group on the record (also including percussionist
Nippy Noya
, who first appeared on
Eli
and would continue to record with Akkerman on
Live
and 1979's
Jan Akkerman 3
) manages to bring the groove just as viscerally on tracks including the string-heavy power ballad "Angel Watch," the atmospheric yet still rhythmic "Pavane," the more decidedly disco-fied "Streetwalker" and gentler "Skydancer."
Drummer Pierre van der Linden makes a guest appearance on "Floatin," which (like much of the album) also possesses a bit of
Weather Report
from the same time, albeit with different instrumentation, while the closing "Gate to Europe" focuses largely (and, for the first time on the album) Akkerman's steel-string acoustic work, supported by the album's orchestral arranger/conductor,
Michael Gibbs
.
It's a beautiful conclusion to an album that may be most decidedly of its time but, between Akkerman and Kühn, still possesses more than its share of harmonic interest, and solos that bridge the gap between simpler lyricism and more potent virtuosity. And Akkerman was still innovating, with a fourths/fifths Baroque lute tuning transferred to his electric 12-string guitar leading to the writing of "Angel Watch" and "Pavane," while "Skydancer" employs the same minor-keyed altered tuning that Akkerman used on
Tabernakel
's "Jaweh."
And so, in many ways,
Jan Akkerman
is one of those deceptive albums whose inner complexities are masked by an easygoing veneer, with plenty of heat also generating from tracks like "Angel Watch," where both Kühn (on acoustic piano) and Akkerman (on electric guitar) deliver some of
Jan Akkerman
's most vivid, electrified moments.
Tony Scott Featuring Jan Akkerman
Prism
Polydor
1977
Prism
, on the other hand, is another of those total surprises from Akkerman, who co-writes three of its four long compositions, all in the eleven to twelve- minute range, with album leader Tony Scott. Not unlike some others of his generation (though Scott was a good five-to-ten years older) including
Joe Zawinul
,
Wayne Shorter
and
Miles Davis
, Scott's early career playing with artists including
Sarah Vaughan
,
Billie Holiday
and
Bill Evans
was eclipsed by later interests in both electric music and, in Scott's case, folk music from around the world. If there's a touchstone for
Prism
, it's albums like Davis'
In a Silent Way
(Columbia, 1969) and, perhaps, touches of
Zawinul
(Atlantic, 1970) and the more ethereal aspects of Weather Report's 1971 eponymous Columbia debut.
Improvisation is clearly the order of the day here, with the writing more a means to set the context than anything else. While Wim Essed is credited as bass guitarist on the album, throughout the album, and in particular during his opening solo to "Blues Blues and Then Some More Blues" sure sounds like an electrified double bass. This track, the only one not co-credited to Scott and Akkerman, also stands out as something entirely different, with pianist Cees Schrama joining Essed a minute in for some free-flowing, in- tandem extemporization. Even when it settles into a slightly more conventional blues—with drummer Bruno Castellucci holding down the pulse with a pair of brushes, and only after Scott introduces the slow groove with some fiery, screaming clarinet work—it remains somehow open-ended and abstract. Akkerman and Schrama ultimately pull everything together with a gradually more swinging pulse, as the guitarist demonstrates lithe dexterity and the pianist delivers a brief history lesson of jazz piano, before Scott contributes some oddly harmonized scatting.
"Blues Blues and Then Some More Blues" is the anomaly on an album that largely leans to the abstract, the atmospheric, the ethereal; but there are all kinds of hints to a multitude of other touchstones throughout, with Scott's viscerally bending approach during the closing "Under the Bo Tree" harkenimg to a Middle Eastern harmonic sensibility, while Akkerman's heavily processed electric 12-string still reflects, albeit in a subtle way, a tinge of
Ralph Towner
.
Recorded in just a single day ("owing," as Akkerman recalls, "to a limited budget"), Akkerman's use of an electric 12-string and Ibanez double-neck guitar (with six and 12- string necks), coupled with some particularly astute use of effects, allows him to create the surprisingly large and, at times, incorporeal sonics that underscore much of the album. Barring Essed's at times similarly ambient yet grounded timbres, this is an acoustic recording, and if Akkerman contributes some impressive solos through the 45-minute set, it's more his approach to color and texture that renders
Prism
such an important addition to his discography, and such an oddity in Scott's discography.
Jan Akkerman / Claus Ogerman
Aranjuez
CBS
1978
With Akkerman clearly not someone to stand still for even a moment, 1977's
Aranjuez
is an altogether different beast. After successfully collaborating with orchestrator Gibbs on
Jan Akkerman
, here the guitarist teams up with Claus Ogerman for a program of largely classical compositions, and one original each from the composer/arranger and guitarist.
In addition to a shorter but just as beautiful version of twentieth century Spanish composer Joaquin Rodrigo's famous "Adagio from
Concierto de Aranjuez
"—by this time, already inspiring multiple definitive looks at the piece by jazz artists including pianist
Chick Corea
, guitarist
Jim Hall
and, perhaps most famously, Miles Davis—Akkerman and Ogerman deliver lushly (but never syrupy) orchestrated versions of music from twentieth century Portuguese composer Heitor Villa-Lobos ("Preludio (from
Mondinha
)," "The Seed of God (from
Magdalena
)" and "Bachiana Brasiliera #5"). The program is fleshed out with twentieth century French composer Maurice Ravel ("Pavane Pour Une Infante Defunte") and Baroque-era Spaniard Gaspar Sanz ("Espanoleta"), in addition to Ogerman's "Nightwings" (released, two years prior, as the title track to saxophonist
Stanley Turrentine
's Fantasy recording and, three years later, on Ogerman's 1982 Warner Bros. collaboration with saxophonist
Michael Brecker
,
Cityscape
) and Akkerman's own poignant "Love Remembered," a significant revision to the version he recorded on
Focus 3
.
What makes
Aranjuez
stand out, not just in Akkerman's discography but as a unique album of its time, period, is the combination of symphony orchestra, double bassist
Niels-Henning Orsted Pedersen
(
Oscar Peterson
,
Kenny Drew
,
Joe Pass
) and Akkerman's largely warm-toned hollow body electric guitar. It would be a rarity in any guitarist's discography, but with Akkerman's ongoing eclecticism, perhaps it shouldn't really come as a surprise, as a connected, but very different, follow-up to
Tabernakel
. Akkerman reflects upon the challenge in making the recording: "Ogerman recorded the orchestral parts with the London Philharmonic at CTS Studios in London. I remember coming over to hear the results and saying to myself, 'what was I thinking, working with Claus Ogerman?,' whilst simultaneously acknowledging 'this is mind-blowing, I have to play on this!' It took me six months to master it. Laying down single lines with the right intention and expression was extremely difficult. I classify this album as easy listening, but with way more tension."
Certainly, it may well be easy on the ears, but
Aranjuez
remains one of Akkerman's greatest achievements, and a complete surprise to any who only know him for his more rock-oriented music, along with earlier albums
Profile
and
Tabernakel
.
Jan Akkerman
Live
Atlantic
1978
Wrapping up his fourth album in just two years, Akkerman's
Live
reflects that he may be a capable virtuoso, but for Akkerman the writing and the overall complexion of the band are clearly of equal importance. With his regular band of the time—keyboardist
Jasper Van't Hof
, bass guitarist Cees van der Laarse, drummer Bruno Castellucci and percussionist Nippy Noya—expanded to a septet with the addition, from Dutch progressive rock group Solution, of saxophonist/keyboardist Tom Barlage and keyboardist William Ennes, this selection of tunes from Akkerman's 1979 Montreux Jazz Festival appearance is, in many ways, not what might be expected while, at the same time, being
exactly
the kind of unexpected gem from a guitarist who never seems to stay in one place for long.
The set list draws heavily from
Jan Akkerman
, with slightly extended versions of "Skydance," "Pavane" and "Cracker," along with a brief, atmospheric excerpt from the two-part title track to van't Hof's 1974 MPS album
Transitory
. The guitarist also extracts Barlage's "Tommy" from
Moving Waves
side-long medley "Eruption"; while it appears mid-medley in Focus' version, here it stands just fine as a stand-alone piece that references the jazzier side of Akkerman's breakout group, though the band also segues comfortably from it into Akkerman's only new piece, the greasy yet buoyant funk of "Azimuth."
While there's plenty of heat to be found—Akkerman delivering characteristic light-speed figures during his solos on "Tommy" and "Azimuth," in particular, what's most notable about his playing here is how much more refined it is, especially when compared to his early work with Focus. While he largely adopts a clean, somewhat warm but nevertheless tart tone throughout, he also contributes plenty of atmospheric work on "Transitory" and lushly constructed chordal voicings on "Pavane." His playing has matured significantly, with his rapid-fire lines far more cleanly articulated than just a few short years prior.
While the album is still somewhat of its time, it's far less overtly so than, in particular, the three tracks drawn from
Jan Akkerman
; while Akkerman has continued to evolve in the ensuing years, of course,
Live
is an album that could just as easily have been recorded in the new millennium rather than, as it was, in the late '70s, with a strong fusion edge that doesn't shy away from virtuosity but remains, indeed, about the writing and the collective ensemble sound.
The entire group is firing on all cylinders, but especially van't Hof, a keyboardist whose resume, by this time, was already very impressive; in addition to his own diverse releases ranging from
Transitory
, with his Pork Pie group, to the triple-LP solo piano excursions of
My World of Music
(Keytone, 1981), the keyboardist could be found participating on albums by Pork Pie band mates
Philip Catherine
(guitar) and
Charlie Mariano
(saxophone), as well as on seminal recordings by
Archie Shepp
and Zbigniew Seifert. Neither van't Hof nor Barlage (on saxophone) get as much solo space as Akkerman, but what space they do get is well-used and impressive. Van der Laarse, Castellucci and Noya make for a rhythm section capable of everything from delicate subtlety to flat-out, hard-edged grooves, while Barlage and fellow keyboardist Ennes help broaden the overall character of the group; even if they're not featured, they are absolutely essential.
It's a shame, however, that
Live
is such a brief set, running just over 34 minutes; particularly well-remastered by Bessels, if only more material was available from the show, it would have made for some terrific bonus material to add to
The Complete Jan Akkerman
. Still, as the only live document from '70s Akkerman (and with the two-CD
10,000 Clowns on a Rainy Day
, also included in the box, capturing the guitarist 18-20 years later), it may be short but it's exceptionally sweet.
Jan Akkerman
Jan Akkerman 3
WEA
1979
Akkerman had just one release for 1979, the curiously titled
Jan Akkerman 3
(WEA), since he'd released far more than two previous solo albums. Keyboardist Peter Schön, bassist Gene Santini, drummer Bruno Castellucci and percussionist Nippy Noya appear, as Akkerman's new band, on all but one track—the vocal "She's So Divine," a well- played but nevertheless dispensable bit of disco fluff featuring bassist
Bunny Brunel
(
Chick Corea
,
Larry Coryell
), drummer David Igefeld (
Alphonso Johnson
) and singer Willie Dee. More than most of his work,
Jan Akkerman 3
is most definitely of its time, the kind of music that artists like
Lee Ritenour
and
Dave Grusin
were moving towards as a more easygoing fusion led towards the emergence of smooth jazz a few years later.
Which means funky and, occasionally, disco-driven grooves drenched in elements of soul and R&B, with the majority of the album recorded (again) at Soundpush Studios, but with string overdubs recorded in London and a kickass horn section of New Yorkers laid down in the Big Apple, both arranged, again, by the inestimable Michael Gibbs. Between Gibbs and name session players including saxophonists
Lou Marini
(
Frank Zappa
,
Levon Helm
),
Howard Johnson
and the late Michael Brecker (who takes a brief solo on the aptly titled "Funk Me"), and brass players like trumpeter
Jon Faddis
and Alan Rubin, trombonists
Tom Malone
and
David Taylor
and French hornists
John Clark
and
Peter Gordon
, the charts are nevertheless exceptional and the playing as tight as it gets. Akkerman once again proves himself a musical chameleon, soloing with aplomb but, even more importantly on an album that's a significant stylistic shift, verisimilitude, as Akkerman's cleaner-toned dexterity fits, hand-in-glove, into the booty-shaking grooves.
Despite the terrific charts that Gibbs adds to give the pieces more heft, the album remains a little lightweight. Still, there are some memorable moments, in particular on "Wait and See," which may still be user-friendly pre-smooth jazz, but without the vocals that render "She's So Divine" and (despite its greasy groove) "Funk Me" somewhat less appealing. A gentle but still pulse-driven ballad, it reflects Akkerman's more lyrical nature, with his volume pedal swells and simple lines, as well as giving pianist Schön some time in the spotlight. The album's only episodic composition, its three sections move from a rubato piano/strings intro (with its foreshadowing of the main theme) to the backbeat-driven main section and slower-tempo'd outro, demonstrating what
Jan Akkerman 3
could, perhaps, have been, had Akkerman not handed the reins over to producer Richard DeBois ("I gave him
carte blanche
," recalls the guitarist).
Not that it's at all bad—with its heavyweight session players and Michael Gibbs, alongside Akkerman and his ace band, which included Young Rascals bassist Santini, who propelled that band's mega hit "Groovin,'" how could it be? But
Jan Akkerman 3
remains one of
The Complete Jan Akkerman
's lesser entries,
Jan Akkerman
Oil in the Family
CNR
1981
That said, as Akkerman entered the '80s he remained tied to the kind of groove-heavy music that alienated his core fan base. That said, despite
Oil in the Family
being still propelled by some disco-centric grooves, its Middle Eastern-tinged harmonies render it a more intriguing entry in the guitarist's discography. Akkerman writes: "The idea for
Oil in the Family
had been around since 1964, when I was on holiday in Tunisia and heard Umm Kluthum singing "Amal Hayati" (folk music from Arabia)...I regard disco music as folk music too, so that's how
Oil in the Family
originated. Eighteen years later, whilst I was finishing my new album,
Pleasure Point
, I recorded a simple demo of that Arabian song using my guitar synthesizer and a rhythm box. Word spread and suddenly label owner Willem van Kooten called me late on a Friday wanting to have an album by Monday. I had to produce an album in two days!"
That alone is reason enough to consider
Oil in the Family
an achievement, despite its disco predilections. Akkerman, contributing guitars, guitar synthesizer and bass, is joined only by saxophonist Jim Campagnola, drummer/vibraphonist Ab Tamboer and percussionist Eddie Conard. If Akkerman's guitar contributions to
Jan Akkerman 3
were relatively small, he's all over
Oil in the Family
. Furthermore, he may have received some too-drawer help in making
Jan Akkerman 3
, but left to his own devices with just his guitars and guitar synth, the orchestrations found on
Oil in the Family
are all the more revelatory. The title track references its intended Middle Eastern roots, while the more blues-informed figure that drives much of "Formula N-One" predates and foreshadows the synth-driven music that ZZ Top began making with the Texan power trio's breakthrough
Eliminator
(Warner Bros., 1983), though Akkerman's contemporary jazz/fusion leanings made
Oil in the Family
something else entirely.
"Disc-O-Asis" returns to the Middle Eastern vibe, its four-on-the-floor pulse driving a more playful melody that underscores a dance-heavy track that's more through- composed and performed, an approach that largely defines
Oil in the Family
. Still, as Akkerman writes, "The album was fun to make but repelled my audience, who hated it. It's a pity, as there's some interesting guitar stuff going on." A legitimate assessment of, at 34 minutes, a relatively short album that may have irked the "Disco Sucks" community, but which is an early example of just how innovative the relatively new Roland GR-300 could be in the right hands. Another album that, following
Jan Akkerman 3
, may represent two back-to-back albums that are far from amongst Akkerman's best, but still merit attention, especially in the context of this box set, where they continue to identify Akkerman as a guitarist with interests that far exceed many of his contemporaries of the time.
Jan Akkerman
Pleasure Point
WEA
1982
After two albums that belong a little more (though not entirely) in the "forgettable" column,
Pleasure Point
is a stellar return to form for Akkerman. The result of three years of effort, and an even deeper exploration into the Roland's guitar synthesizer's potential (which played a central role in both its conception and execution), it's another album recorded largely solo by the guitarist, who also contributes keyboard synthesizers and, on one track, bass guitar and drums, with only percussionist Martino Latupeirissa appearing throughout its six-track, forty-minute runtime.
Joachim Kühn contributes some particularly fine acoustic piano work on the rhythmic yet atmospheric "Cool in the Shadow," where Akkerman's mix of clean-toned and overdriven Stratocaster-like timbres adds to the track's easygoing but compelling nature. It also represents his return to the use of nylon-string guitar, which Akkerman layers extemporaneously over a cushion of synths, suggestive of
Pat Metheny
's similar work with keyboardist
Lyle Mays
and percussionist
Nana Vasconcelos
on
As Fall's Wichita, So Falls Wichita Falls
(ECM, 1981). In fact, while most definitely a European conception that has little to do with the midwestern roots that imbue some of Metheny's most popular work,
Pleasure Point
remains connected to the American guitarist, if not in style and overall approach, then certainly in reach.
Combining nylon-string guitar with volume pedal electric swells during an opening that, like its closing, also features Jasper van't Hof on Fender Rhodes over a cushion of synthesizers, the nine-minute "Visions of Blue" is not just the album's longest track, it's also
Pleasure Point
's centerpiece and high point. Its atmospheric opening turns freer still, as a mid-section duet between Kühn and, on nylon-string guitar and synths, Akkerman, leads to some of the guitarist's paradoxically freest yet most commanding work in years—a gorgeous rubato tone poem that's also redolent, at least to some extent, of
Ralph Towner
's solo classical guitar work. "The extraordinary chord changes, harmonics, fourths and fifths are rarely used anywhere else in pop music," writes Akkerman. "Kühn influenced me more then I was aware and I worked some freestyle harmonics during the second half of 'Visions of Blue.'"
Akkerman's most eclectic album since '77's
Jan Akkerman
, the brief "C.S." is another high watermark for
Pleasure Point
. A solo feature for his warm- toned and slightly chorused electric guitar, it demonstrates his chordal sophistication and the application of a classical guitar approach onto an electric instrument. And, for those who think they know Akkerman through his work with Focus, this track—the entire album, in fact—should come as a warm surprise, as will the album-closing "Bird Island," a delicate but groove-laden composition that, again, features a potent acoustic piano solo from Kühn, which gradually builds in speed and intensity, before Akkerman picks up the baton and delivers a song and album-closing solo of frightening speed and invention, before concluding with some Metheny-esque changes that recall parts of the American guitarist's 1978 ECM eponymous Pat Metheny Group debut.
The CD also comes with a full 25 minutes of bonus material from the sessions, first released on the first-time CD issue of the record by Pseudonym in 1998. The twelve tracks, many of them miniatures only two minutes or less in length, shed additional light on Akkerman's exploratory nature on
Pleasure Point
, surely one of the guitarist's best releases of the decade.
Jan Akkerman
It Could Happen to You
Polydor
1982
That said,
It Could Happen to You
was an equally commanding followup, albeit in a much different space. It was initially conceived while Akkerman was performing in Denmark, with keyboardist Kenneth Knudsen, pianist/flautist Björn Jason Lindh and British drummer
Jon Hiseman
(all part of a special project) in mind alongside the guitarist and bassist Pablo Nahar, but ultimately turned largely into a trio project with Knudsen and drummer Ole Theill. Nahar plays on just one track, the eleven- minute "Funkology," one of
It Could Happen to You
's longest tracks beside the opening "Old Tennis Shoes," whose greasy core riff drives a lengthy jam filled with Knudsen's atmospheric synths, Theill's spare yet effective kit work and some gritty soloing from Akkerman, before its core theme emerges halfway through the tune, leading to a lithe synth solo and a closing guitar solo that, whammy bar-driven and gritty in tone, sets a high bar for the rest of the album.
A high bar that "Funkology" meets...and raises. Similarly celestial in its intro, with some bright acoustic piano work from Knudsen as Nahar comes in with a bass ostinato, the composition suddenly morphs into an up-tempo bit of funk, Akkerman's Strat-driven chords another surprise from a guitarist who just keeps on bringing the unexpected. Between real drums and some drum programming from Akkerman, the groove builds as the guitarist overdubs more unpredictable inside/outside lines over his crisp chordal underpinning. A long jam that ultimately concludes with Akkerman switching to nylon-string guitar, it's the album's most impressive track in its combination of expansive landscapes and, irrespective of the kind of guitar Akkerman employs, almost unmatchable speed and clean six-string articulation.
Elsewhere, "Come Closer" features some complex changes and Akkerman soloing more in Larry Carlton fashion, but differentiating himself from the American guitarist through his use of the Roland guitar synth. The closing title track is a deeply lyrical nylon-string guitar feature, with Akkerman blending form and freedom over a bed of gentle synths, a piece whose gentle, approachable veneer masks its more surprisingly complex compositional constructs.
Jan Akkerman
Can't Stand Noise
CBS
1983
Continuing his winning streak,
Can't Stand Noise
was, like his last few records, only released at home and in some European countries, which is unfortunate as it meant that, at the time, few but the most committed fan in North America were aware of what Akkerman was up to. And while it ultimately saw CD release in Europe, it was really only with the advent of the internet and, ultimately, this box set that many of Akkerman's albums have become readily available outside his home continent. And it
is
unfortunate; not only is it one of his better albums, it's also one of his better-
sounding
records, made even more so thanks to Bessels' careful attention to remastering.
Based on the album-opening "Piétons," which references the theme from Miles Davis' popular '80s track "Jean-Pierre,"
Can't Stand Noise
's easygoing pulse seems inspired by the American groove-heavy group Stuff, right down to some of Akkerman's most tasty guitar tones ever. While still dominated by Akkerman compositions, it's his first album since
Jan Akkerman 3
and, before that,
Live
, to also feature writing from other sources,
"Everything Must Change," Bernard Ighner"s gospel song from the early '70s that's been covered by everyone from
Randy Crawford
and
George Benson
to
Quincy Jones
and later,
Barbra Streisand
and Oleta Adams, is given a more jazz-centric interpretation that's a feature for Akkerman and keyboardist Marc van der Geer (here, on acoustic piano)...and a drum program that makes clear that "Piétons" and its Stuff-like approach was just one more element in Akkerman's bag of tricks.
Akkerman's core quartet with van der Geer, bassist Dino Walcott and drummer Hans Waterman, dominates the recording, barring Akkerman's other cover, a bright-tempo'd look at George Flynn's "Journey (A Real Elegant Gypsy)," which features Joachim Kühn (largely on piano) bassist James Jamieson and drummer Dave Kemper. Recorded in Los Angeles in 1975, that it took eight years for the track to finally make it onto an Akkerman record (and, here, with the musicians properly credited for the first time), it's remarkable how comfortably it fits with music recorded almost a decade later. Even Akkerman's sweet tone and tasteful lines jibe with his overall texture throughout the album.
Two back-to-back tracks—the fiery "Heavy Treasure" and more laidback "Just Because"—were, as Akkerman explains, "recorded in one take with my own band and in exactly the same way we performed them live onstage." For whatever reason, however, they're not as sonically crisp, clear and present as the rest of
Can't Stand Noise
. Still, what they lack in sonics they more than make up for in energy and commitment.
And just to remind his fans how far and wide his tastes run, the original album closes with an eighty-second nylon-string guitar solo, "Who Knows," which combines classical stylings with Flamenco touches...and a curious ending that's, as Akkerman tunes his instrument, followed by assorted voices and noise, reflective of a Dutch sense of humor that defines some of the country's music.
Four bonus tracks, taken from a live performance by his group in support of 1993's
Puccini's Cafe
(with bassist Manuel Hugas and drummer Tom Dijkman) include a light-speed version of
Jan Akkerman
's opener, "Crackers," that outpaces the version on
Live
, with Akkerman delivering at equal speed on nylon-string guitar. "Burger's Blues (Intro)" is an impressive
a cappella
guitar solo, this time on warm-toned electric, while "Prima Donna" is a soft ballad and "Sketches of Pleasure" an eleven-minute CD-closer, rendering crystal clear that Akkerman's facility, a decade after the release of
Can't Stand Noise
, had only improved with time.
Jan Akkerman
Music from the Basement
CBS
1984
For 1984's
From the Basement
, Akkerman takes a side turn and moves away from his recent albums...well, sort of. The music is still largely driven by programmed drum beats—and, on three tracks, drummer Sergio Castillo, but exclusively playing then-nascent Simmonds electronic drums—and loaded with plenty of synth, all played by Akkerman on his Roland GR-300 with the exception of the opening "Headbanger," which also features a guest appearance from his former Focus mate, Thijs van Leer. Still, the guitarist, inspired by ZZ Top and recalling the music he'd made with Brainbox, adopts a far more aggressive tone and bluesy attack than he had in years.
Akkerman even sings on a couple of tracks, including the the sequencer-driven "Dark Rose" and more laidback (but still
very
'80s) "Wallenberg." Not that any of the singers Akkerman has worked with over the years will be fearing for their jobs, but he's credible enough, especially on the four-on-the-floor blues-rock of "P.C.B. Chicken." Akkerman's primary partner on the album is Dino Walcott. In addition to bass guitar, Walcott contributes some spoken word (and, more importantly, harmonica) on the blues of "Status Quo," and vocals on a lengthy take on
Bob Dylan
's classic "All Along the Watchtower," here curiously reinvented as a fourteen-minute reggae workout where Akkerman, alongside his gritty electric tone, explores a myriad of GR-300 tonalities. Surprisingly, for a tune this long, it's more about groove than extensive soloing, though Akkerman does take some time, towards the song's end, to explore an appealing mix of blues-drenched bends and visceral, rapid-fire phrases.
With ZZ Top's
Eliminator
a huge hit the previous year, Akkerman's intersection (and, on
Oil in the Family
, foreshadowing) with the Texas trio works, as Akkerman delivers his most flat-out rock record ever. Still, as Akkerman writes, "CBS were more than happy with
Can't Stand Noise
because of "Piétons," I much prefer this one as. It's more coherent and authentic to my taste."
Van Leer's appearance was largely due to the two reconciling the differences that had led to Akkerman leaving the band in '76 and the release of their 1985 collaboration,
Focus
(Vertigo), though
From the Basement
is an overall better record—both synth-heavy, but Akkerman's record not only feeling better but, as the guitarist admits, "I wanted to save the more solid stuff for my own record. I'm glad I did."
The set also includes 25 minutes of bonus material, first appearing on the album's 1998 Pseudonym reissue, including the seven-part "Love is Uneven Suite," recorded with bassist Freddie Cavalli in Akkerman's garage, and moving from atmospherics to more grounded, crunching guitar work, all propelled by a Roland sequencer. Like the rest of
From the Basement
, it's absolutely of its time, but it's great to hear Akkerman move away from the sophistication of his late '70s/early '80s albums and just rock out...but just for one album, as those previous recordings hold up, for the most part, better with the passage of time. Another bonus track, "When I Was a Cocktail in a Waitress Bar," is a more straightforward blues, with an uncredited pianist and drummer, while "Ellington's Way" is a bit of organ/guitar-drenched soul-jazz.
For reasons unknown, the bonus tracks on
Pleasure Point
,
From the Basement
and some subsequent albums are credited to "M. Muleta." While there is no explanation in the liner notes, that he met his wife, Marian, in Portugal in 1991 suggests that perhaps—perhaps—her maiden name is Muleta and Akkerman is giving her credit for some of the writing, even though it's clearly his work.
Jan Akkerman
Heartware
Skydancer
1987
Three years would pass before Akkerman would release another solo record,
Heartware
and, while Ton Dijkman (with whom the guitarist would continue to work on subsequent releases) contributes drums and percussion, sequencers and drum machines still dominate tracks like the amiable "Just Because, So!," which sounds somehow a bit how singed/songwriter
James Taylor
might, were he to write electric guitar instrumentals.
Akkerman writes about beginning to use Roland's MC-500 sequencer, which "opened new musical doors. Consequently, I was able to program all the background sounds, from the guitar synth, onto the computer and concentrate more fully on the guitar again." With Dijkman and Michael Peet featured on the cover alongside the guitarist (despite the bassist appearing on only three tracks), Akkerman clearly considered
Heartware
more of a group effort, and certainly the guitarist benefits from working with a band on the three tracks to feature the entire trio: the cool funk of "Lost & Found,"where Akkerman solos with unfettered abandon; the opening, fiery samba pulse of "My Pleasure"; and the synth-laden "Lonely Street of Dreams.
The album took a long time to make, not to mention time spent making
Focus
with van Leer, but also signaled a return to greater eclecticism on tracks like the nylon-string guitar closer, "Firenze," a lovely, lyrical miniature with Akkerman accompanied solely by his layers of programmed synths. "Winterborn, Lyric," too, is a synth- accompanied feature created by Akkerman alone, his synthesizers creating a near-orchestral work that features a minute or so of electric guitar layered over top a little over halfway in but is, like the entire album—and much of his '80s output, for that matter—demonstrative of Akkerman's fondness for applying technology to create new musical vistas. He may not be as famous as Pat Metheny, but few other guitarists in jazz (or near-jazz) have so relentlessly pursued the possibilities that guitar synthesis provides.
Eight bonus tracks, recorded by Akkerman alone in 1998 and included on the 1998 Pseudonym CD reissue of
Heartware
(again, all credited to "M. Muleta") fit perfectly with the context of the original album, though it's possible to hear Akkerman even more expansively blending synthesizer technology with both electric and acoustic guitars, alongside his ever-developing technique. It may only last 27 seconds, but "Dompteuse Du Serpent" is still an impressive display of
Lenny Breau
-informed harmonics, while "Dancing in Chains"is a dark-hued ballad and "Fire from Heaven," a more propulsive feature for Akkerman's blues-informed and high-speed electric guitar explorations. "Almost Dawn" is another miniature for
a cappella
guitar, this time lightly tremelo'd and filled with warm voicings.
In many ways, the bonus tracks on
Heartware
feel, collectively, like they could be soundtrack music to a film, with their rich sonics and occasional bursts of guitar pyrotechnics. Taken together, they demonstrate that Akkerman, as a guitarist, has long been a player as disposed towards lyrical simplicity as he has been the monstrous technique for which he is, perhaps, too well-known. There's certainly nothing wrong with mastering an instrument the way Akkerman has, but he's a far more complete guitarist than he is "just" a shredder, whether it's interpreting music from centuries past or using contemporary technology to build compositions from a palette far broader than what a simple guitar can, alone, manage.
Jan Akkerman
The Noise of Art
I.R.S. Records
1990
Another three years would pass before Akkerman released a solo album. But signing to former The Police manager Miles Copeland's I.R.S. Records,
The Noise of Art
(1990) was Akkerman's first album to receive international distribution in over a decade. Working with two bassists (Livingston Brown and Derek Holt) and two drummers (Clive Mayuyu and Brendon Day), Akkerman delivers an exhilarating rock instrumental record that continues his work with synths and sequencers, but with real players throughout, resulting in a more human feel.
From the opening "Trojan Horse," which combines a four-on-the-floor solo section with the memorable melody of its chorus, this is another example of Akkerman rocking out in a more decided fashion, from high velocity shredding to crunching power chords. "You Can't Keep a Bad Man Up" enters more funkified territory, an altered blues with more jazz-centric changes that, bolstered by the rhythm section, provide a foundation for Akkerman, who again demonstrates that, while some guitarists can only shred with an overdrive on, his articulation remains as clean, clear and precise as ever, even with a cleaner, Stratified tone.
Akkerman calls
The Noise of Art
"the best M.O.R. album I've ever made." And yes, it does fit into easy-on-the-ears middle of the road territory; but the playing elevates it far beyond typical albums of the genre. Akkerman revisits some material from past albums, like
Jan Akkerman
's "Skydancer,"
Can't Stand The Noise
's bonus track, "Prima Donna," and
Heartware
's "My Pleasure." But with greater emphasis on band and less on programming, the entire album is imbued with fatter, deeper grooves, inspiring Akkerman to deliver some of his most impressive guitar work in years.
The album did well for the guitarist, and his participation in the "Night of the Guitar" tour, alongside other name guitarists from the '60s and '70s including The Doors' Robbie Krieger, Wishbone Ash's Andy Powell and Spirit's Randy California, helped propel his name back into the spotlight on an international level. Still, compared to his six-string cousins, Akkerman's reach was stylistically (and virtuosically) far greater.
The Noise of Art
simply could not have been made without the kind of harmonic sophistication that has been an evolving part of his DNA, almost from the beginning.
Even in the context of jazzier proclivities, Akkerman's inimitable skill is rare. Yes, he can deliver light-speed lines like
Al Di Meola
, as he does on "Akkerman's Bolero," but with a stronger sense of melody and just plain
feel
, Akkerman has always been a more exhilarating guitarist who never places style over substance.
Jan Akkerman
Puccini's Cafe
EMI
1993
After recording some film music at Copeland's home (well, really, mansion) studio, Akkerman returned to Holland, determined to continue expanding his lifelong explorations. The result, 1993's
Puccini's Cafe
, was a return to Euro-only (Germany and Netherlands only, in fact) distribution but, by this time, it was becoming clear that Akkerman's career had more than sufficient legs to self-sustain, allowing him the freedom to go where his muse took him.
Still, if
Puccini's Cafe
is no less approachable than his other albums of the past decade, it did signal a return to music-making with a consistent lineup: on all but one track, bassist Manuel Hugas, who became Akkerman's bassist of choice through 1997's double-disc live set,
10,000 Clowns on a Rainy Day
(Patio); keyboardist Willem Swikker; and drummer Ton Dijkman, who became Akkerman's most long-standing drummer, appearing on a total of six albums between 1987 and 1997.
The album's genesis was the result of life's uncertainties, as inspired by love as it was loss and near-personal tragedy. Akkerman met his wife, Marian, in Portugal in the fall of '91 ("a joyous period of upheaval during which I found my inner peace," the guitarist writes), lost a roadie, killed in a motorcycle accident (and to which the soulful "Love is Uneven"is dedicated), and, with work already well underway on
Puccini's Cafe
, was then involved in a crash himself, seriously injuring his back, just two months later. As Akkerman recounts, "When I finally got out of hospital in late '92, I was still in a wheelchair. I acquired a Korg T1 [an 88-keyed music workstation] and, with the aid of the Roland sequencer, finished the album."
Still, while the album is clearly defined by programmed sounds and rhythms, it also
feels
like a consistent group album, even if the instrumental rock/jazz hybrid that Akkerman had been pursuing for many years was as heterogeneous as ever. "Love is Uneven" stands out, at nearly nine minutes, as the album's longest track, with a lengthy, heavily overdriven solo that is, nevertheless, a wonderful blend of screaming leaps, high speed excursions and deeply felt lyricism. The opening "Burger's Blues," one of the album's eight originals credited to "M. Muleta," begins in M.O.R. territory, albeit with a theme that, revolving around an altered blues, leads to some impressive embellishments and a solo that, moving from a funky clean tone to more heavily overdriven territory, demonstrates Akkerman's sophisticated language and deft articulation.
The sound of organ is fundamental to a number of
Puccini's Cafe
's nine tracks, bringing a welcome organic feel (alongside that of Akkerman's consistent group) to tracks like "Your Eyes in the Whiskey," a bit of backbeat-driven funk, again in the Stuff mold, but with Akkerman's more virtuosic bent and searing tone complemented by Swikker's acoustic piano work. "Key to the Highway," on the other hand, is a curious blend of programmed beats, sweet-toned electric melodies and nylon-string counterpoint, while two relatively brief compositions provide additional breadth to the program: the synth-orchestrated "Spanish Roads," with Akkerman's nylon-string guitar adding a brief textural shift; and similarly synth-driven "It Comes and Goes," with nylon-string guitar a more dominant voice and a stronger chordal form, bolstered by Hugas, Dijkman and Swikker providing a more natural feel.
Album executive producer Michael Peterson suggested Akkerman re-envision guitarist Peter Green's "Albatross," an instrumental written by the original Fleetwood Mac co- founder and included on that group's early compilation,
The Pious Bird of Good Omen
(Blue Horizon, 1969). As
Puccini's Cafe
's only non-original, it fits perfectly with the rest of the program, the guitarist enthusiastically recalling to have "always regarded it as one of the best compositions for electric guitar." That said, Akkerman's decision to blend nylon-string guitar with warm-toned and, later, overdriven eclectic guitars is an inspired one, as are his use of synth washes and a heartbeat underpinning, which render this a distinctly personal and, in some ways definitive, version of an instrumental that, surprisingly, was a significant one for early Fleetwood Mac as its only number one hit, selling over 900,000 copies in the UK alone.
Jan Akkerman
Blues Hearts
Universal
1994
After a decade releasing new albums only every three years or so,
Puccini's Cafe
was also the beginning of a period of renewal and reinvigoration for Akkerman, with
Blues Hearts
arriving just a year later. With both Hugas and Dijkman back, only the keyboard chair changed, as Tom Salisbury came in and formed a core quartet that remained largely stable for the next three albums. Salisbury's '70s work with The Pointer Sisters and Graham Central Station brought an even deeper soul/R&B perspective to Akkerman's work, as the group reshaped older material into new works.
The Noise of Art
's "Bonnaville" is taken at a slower, funkier pace and notched up a couple of keys, with more chordal movement throughout, as "Wake Up!"—a short but impressive album opener that introduces an even more lively, organic group feel that pervades the entire album. Salisbury delivers some impressive, gospel-tinged piano to "No Gossip," an almost unrecognizable, brighter-tempo'd rework of
From the Basement
's "Headbanger" that, at almost half the original's length, is also a more concise track that's less a solo feature and more a through-composed instrumental, though Akkerman does take a brief solo spot as the song nears its end.
Akkerman and his quartet also revisit music dating even further back, with "Soft Focus" an even more soulful re-imagining of "Focus IV," from 1975's
Mother Focus
(Polydor), while the guitarist returns to his very first solo album,
Talent for Sale
, where he first recorded Joe Zawinul's hit, "Mercy, Mercy, Mercy." This time, Akkerman takes it in a more laidback fashion, augmented by more expansive harmonies and some tasty horns. Akkerman's roots in jazz date right back to those early days, but his clean-toned solo, filled with rapid runs and greater detail, demonstrates just how far he'd come by this time, over a quarter century later.
Akkerman also demonstrates his love for Miles Davis, though it's unlikely that the legendary trumpeter could have envisioned his "Milestones" as a piece of visceral funk when he first recorded it back in 1958 as the title track to his Columbia album released the same year. Neither might Davis have anticipated the track being lent such an unexpected Spanish tinge, bolstered again by the Stylus Horns in its added B section, nor that another musician would draw a direct line from Davis' relatively early classic to the trumpeter's final decade by quoting "Jean-Pierre."
Jan Akkerman
Focus in Time
Patio
1996
The addition of Salisbury to the lineup only serves to render all the more profound Akkerman's existing chemistry with Hugas and Dijkman. And while
Blues Hearts
' '96 follow-up,
Focus in Time
adds some guests to the core quartet while, at the same time, capitalizing on the group's growing chemistry (also built on the guitarist's first theatre tour in four years after the release of
Blues Hearts
); it also signals another return to the grander eclecticism of Akkerman's early albums.
Co-produced with Salisbury, Akkerman returns to adapting music from the classical tradition, including Bach on the surprisingly propulsive, multipart opener, "Home Voyage," Gabriel Fauré on the darker, nylon string-driven "Apres un Reve," Edvard Grieg on the utterly beautiful piano/nylon-string guitar duo "Laurie Anne," and Mozart on "Leading Me There," which largely features old friend Rick van der Linden on church organ, with Akkerman's densely overdriven guitar only joining in halfway through, working towards its virtuosic conclusion.
Focus in Time
is, in fact, Akkerman's most eclectic album in years. In addition to the classical references, Akkerman contributes "Wildflower," a soft, pastoral steel-string acoustic feature, while "Elegy" is a traditional piece arranged by Akkerman and Salisbury, with the keyboardist creating powerfully orchestral colors, with Akkerman's searing guitar soaring over top.
The
Focus in Time
title is appropriate on a couple of levels. First, in its blend of classical and jazz concerns into, at least at times, more rock-centric contexts, it feels like a reference, if not exactly a return, to the music Akkerman made with Focus, though without van Leer's sometimes whackier vocal contributions. Second, time is absolutely a consideration here, as Akkerman draws upon music that spans centuries. Even the album closer, "I'll Find My Own Way Home," despite being co-composed by Muleta/Akkerman and Salisbury, feels as much a Baroque-era piece as Akkerman's arrangement of Bach that opened the record.
And
Focus in Time
is about more than just classical references; it's Akkerman's most progressive-leaning album in decades, all the more a surprise given Salisbury's past history producing and arranging music for soul/R&B and, with San Francisco's Hot Tuna, even blues/roots groups. "Saudade" feels like a song that could have easily fit within the context of Focus, though Akkerman's writing and playing has unmistakably come a long way in the twenty-plus years since he'd left the group. And as much as Focus could (and did) rock out on tracks like "Hocus Pocus," it never went to the same extremes as Akkerman does with his core group on the change/horns-heavy "Nail the Snake," where his grungy, distorted guitar is a soaring, masterful voice over Salisbury's sonically expansive keyboards, the Stylus Horns, and Hugas and Dijkman's grounded propulsion.
Overt virtuosity aside, Akkerman's vernacular had become so much more cosmopolitan by this time, a cross-pollination of so many diverse elements that it's difficult to pin some of them down. Beyond his ever-growing tonal colors from a variety of guitars, amplifiers and effects, the Akkerman of '70s Focus was simply not as evolved as mid-'90s Akkerman, whose relatively faithful look at
Coco Montoya
's melodic ballad, "Am I Losing You," is as much a feature for his group's chemistry as it is his ability to blend tasty tones, sweet lines and grittier, hard rock-edged playing. And, with Salisbury's organ and piano (supported by Hugas and a particularly impressive Dijkman) creating a fusion/funk backdrop for Akkerman's sophisticated yet earthy solo on "On the Table,"
Focus in Time
mixes in some more Stuff-heavy grooves alongside the classical allusions, jazz harmonies and rock attitude.
Jan Akkerman
10,000 Clowns on a Rainy Day
Patio
1997
Hammond organist Nico Brandsen was another key contributor to three
Focus in Time
tracks, and so, when Akkerman hit the road with his by-then working group to support the album, although Salisbury appears on a handful of tracks on the resulting two-CD live set
10,000 Clowns on a Rainy Day
, it's Brandsen who's the group's main keyboardist, adding synthesizers to his main Hammond axe and helping to define this live album as the guitarist's best live album to date.
With Brandsen's focus (no pun intended) on Hammond organ, it also opened Akkerman's live band up to taking some serious looks back at his music with Focus, as well as pieces drawn from across the guitarist's career, making
10,000 Clowns on a Rainy Day
a thrilling, career-spanning set.
Eschewing programming for the more vital feel of a live band,
10,000 Clowns on a Rainy Day
also delivers some definitive versions of Akkerman's music, including a particularly strong version of
Puccini's Cafe
's emotive title track, where Dijkman's delicate, cymbal-driven backbeat is a key differentiator. Like the original version on
Jan Akkerman
and his Montreux
Live
album, "Skydancer" begins with drums, but here Dijkman takes more time setting the stage for the rest of his band mates, as Brandsen creates a sequencer-liking underpinning for Akkerman, whose broad chordal palette gradually turns chunkier, as both he and Dijkman move towards funkier terrain before returning to the more atmospheric ambience of its opening minutes, and ending on a keyboard fade-out.
While there had been very brief attempts to put van Leer and Akkerman back together in Focus, culminating in a one-off forty-minute set that was broadcast as part of the
Oud van Goud
TV show in 1990, it was clear that this was not a direction the guitarist wished to pursue on a regular basis. And while, in the early 2000s, van Leer ultimately put together a brand new Focus lineup that has, with some occasional personnel changes, continued to the present day, in 1996 there were clearly fans out there looking to hear Akkerman's music from his Focus years.
10,000 Clowns On A Rainy Day
may have first seen release in the Netherlands alone, but it was reissued across Europe in 2004, by which time the internet and online shopping was beginning to take a more solid hold, making music with limited release more widely available to an international audience.
And so, Akkerman's inclusion of a healthy chunk of Focus material on
10,000 Clowns On A Rainy Day
was—and continued to be, well into the new millennium- -most welcome to fans who never thought they would hear the guitarist play this music again. An abbreviated (but still twelve-minute) version of
Moving Wave
's side- long "Eruption" suite features Akkerman focusing, as a significant change to the original, on classical guitar until four minutes in, as the group moves into "Tommy." Abbreviated though it may be, it's extended as a continuous piece that then segues into that album's episodic first side closer, "Focus II," here managing to be both reverential and, at the same time, fresh.
The inclusion of not just Focus material, but Focus material written by van Leer, makes clear that, despite not necessarily wanting to work together regularly, Akkerman nevertheless enjoyed bringing some of his Focus mate's music into his own set lists. There is a somewhat faithful look the title track from
Focus 3
, while that same album's hit song, "Sylvia," acts as a bookending theme to an eighteen-minute medley based upon
Focus in Time
's "On the Table," also featuring lengthy (and seriously mighty) drum and bass solos, and some new material that largely acts as a solo vehicle for Akkerman, who delivers some of the most intensely exhilarating moments of the second disc.
Along with the Focus material, Akkerman and his group revisit a number of the guitarist's solo recordings. One of
Can't Stand Noise
's bonus tracks, drawn from Akkerman's '93 tour (also included on
Noise of Art
), "Prima Donna," is delivered as far more organic take here, as "Pre Madonna." There"s also a lengthier version of
Can't Stand Noise
's Stuff-like funk workout "Piétons" (here, using its English translation, "Pedestrians") expanded into something of a medley. Akkerman employs a far sweeter tone than on the studio original, which he uses to great advantage, building one of the first CD's most epic solos that's powered by Brandsen, who's also given a powerful Hammond feature. Amidst all this, the "Pedestrians" medley also tosses in references to Focus' hit "Hocus Pocus" a couple of times, but taken at a slower tempo.
Of Akkerman's solo material,
Blues Hearts
is the album most drawn upon, with the greater frenzy of "Wake Up," a more faithful "Soft Focus" (albeit with heavier emphasis on piano), a blistering "Red Pool House Blues" (here, just "Pool House") and a look at "Virgin Mary" exclusively revolving around Akkerman's nylon-string guitar. In fact, for a tour ostensibly promoting
Focus in Time
, very little of the album is featured: only the powerful ballad, "Am I Losing You," and, as part of the longer medley, "On the Table" are included. Elsewhere, the set closer, "Quiet Storm" is far heavier than the version that concluded
Noise of Art
, with Akkerman's more overdriven tone and Brandsen's densely textured Hammond organ.
"No Hang Ups" is a majestic new ballad that closes the first disc while, elsewhere, Akkerman and his group take
Jan Akkerman
's "Streetwalker" and revise it as "Weedstalker," with Akkerman's heavily chorused guitar a more visceral alternative to the original, supported by a more amiable funk groove than the original's disco pulse and featuring a lengthy solo from Akkerman that explores sweet lines, inside/outside phrases, chordal explorations and some high velocity injections. Gently ending with a flurry of guitar harmonics, "Weedstalker" segues into the even brighter "Akkerstones," a largely vamp-driven solo feature for Akkerman and, again, on Hammond, Brandsen, all anchored by Hugas' Mu-Tron'd electric bass and Dijkman's unshakable pulse.
Jan Akkerman
Passion
Warner Music
1999
It's a set that covers a lot of territory and years across its 130 minute duration, yet it's still not a complete document of the music that Akkerman performed on the tour. Each set began with an acoustic guitar solo, some of which were ultimately culled for
Passion
(Warner Music, 1999), Akkerman's only completely solo guitar album, focusing entirely on steel-string acoustic.
Akkerman draws from a variety of sources. The two lengthy opening suites, ranging from ten to twelve minutes, touch on past music including
Focus in Time
's "Wildflower,"
Noise of Art
's "Friends Always" and
Blues Hearts
's "Virgin Mary," while Akkerman later delivers a stand-alone version of
Eli
's "Tranquilizer." Akkerman also introduces a number of new originals, some within the two medleys but also including a standalone piece, the finger-style "Fellini's Restaurant,."
But much of
Passion
is devoted to personal arrangements of music from other writers. "Classical Gaz Goes to Europe" reimagines Mason Williams' '60s instrumental hit "Classical Gas" (this time on steel rather than nylon strings), while "Mon Amour" is a heartfelt cover of the famous Jacques Brel song. The album's title track is an interpretation of Bach, arranged for guitar by Akkerman, while the guitarist returns to sixteenth century lutenist Anthony Holborne for the first time since
Tabernakel
, transposing the elegantly majestic "Countess of Pembroke's Paradise" (here, "Countess of Pembrooks Paradise") and more delicate "Muy Linda" from lute to guitar.
The spare, anonymously sourced "The Knights of the Lute" is another lute transfer, while
Passion
's closing medley is a curious blending of the ragtime- informed "Whispering," first recorded by Paul Whiteman and his Ambassador Orchestra in 1920, and nineteenth century composer Franz Liszt's well-known "Liebestraum."
Throughout,
Passion
serves as yet another reminder of Akkerman's stylistic breadth and remarkable facility on his instrument. He may have explored many areas that Lenny Breau did not in his too-brief time on earth, but if there's a guitarist with whom Akkerman deserves to be compared it is, indeed, the Canadian-born guitarist who first made a name for himself in the 1970s as a stylistic blender, his tremendous classical technique brought to bear alongside a sophisticated jazz language and interests farther afield, including Indian ragas, Spanish music...even the country music where Breau first got his start at a very early age.
Breau passed away at the age of 43 in 1984, and under circumstances that remain a mystery, but his music has been kept alive through a bevy of archival finds and reissues in the decades since. Thankfully, Akkerman is still with us and making music; but, while the guitarist (born five years after Breau, in 1946) is largely renowned for his electric work, earlier works including
Jan Akkerman
and
Tabernakel
, alongside the even more focused
Passion
, demonstrate his remarkable virtuosity, broad stylistic predilections and the ability to master anything to which he turns his attention, all with a kind of verisimilitude that few but Breau have achieved.
Jan Akkerman
C.U.
Coast to Coast
2003
Akkerman again shifted gears as he entered the new millennium, working with an entirely different group of players on 2003's
C.U.
. Akkerman had been playing with keyboardist/programmer Jeroen Rietbergen since 1999, and when he lost most of the work he'd made on a new album thanks to a hard drive crash, he sent snippets of what remained to Rietbergen and his colleague, drum programmer/keyboardist Ronald Molendijk. Working on Akkerman's music for more than a year, with the guitarist occasionally visiting their studio to lay down guitar tracks, the result was
C.U.
—as Akkerman writes, "a logical extension of what I'd done on earlier records like
Eli
,
Jan Akkerman 3
,
Oil in the Family
and
It Could Happen to You
. But I hate doing the same thing twice. This was industrial music that I didn't have a relationship with."
Indeed,
C.U.
is the closest thing to a techno/industrial album that Akkerman has done, filled with plenty of thumping programmed beats (despite the appearance of bassist Wilbrand Meischke on all but one track and MIchel van Schie augmenting the drum programming with live kit on some tracks). And yet, danceable as much of
C.U.
is, in particular on tracks like the booty-shaking "In Between the Sheets," "Dance the Blues Away," "Kloenk," "Blowing" and "Urbanstring," it remains redolent of the sophisticated harmonic world that Akkerman has gradually build over the decades. In other words, despite being produced by Molendijk and Rietbergen, it's an album that only Akkerman could have made.
And as much as the infusion of fresh, young blood made
C.U
an instrumental, industrial-informed album for the new millennium, the hour-long, nine-track program still includes some more atmospheric and down-tempo material, providing Akkerman the space for the kind of poignant lyricism that was also a part of his DNA. "Cottonbay," with Akkerman's volume pedal-swelling lines, is a gentle ballad that links back to his earlier, more soulfully Larry Carlton/Crusaders-informed work, while "Slow Man" is, despite all its electronics and programming, a slow burning feature for nylon-string guitar. Perhaps not Akkerman's best, but he still performs a couple of tracks from the album to this day.
Jan Akkerman
Minor Details
Digimode Entertainment
2011
The final studio album of the set, 2011's
Minor Details
(Digimode Entertainment), represents a return to making a group record...well, sort of. An album that represents Akkerman's ongoing adapting of technology and its benefits, Akkerman recorded demos of the fourteen largely brief instrumentals. Only three pieces—the centerpiece, back-to-back trifecta that includes the altered blues shuffle "Blind Baby"; the surprisingly swinging, minor-keyed title track; and harmonized groover, "Joy"—break the six minute mark, while the balance of the compositions fall into a more concise three-to-five-minute range.
Akkerman sent the demos off to keyboardist Coen Molenaar, drummer Marijn van den Berg and bassist Wilbrand Meischke, who all recorded their parts in various locations including the keyboardist and drummer's respective home studios—even, for Meischke, on a beach in Brazil (along with Akkerman's studio). It's an album that speaks to the new millennium's DIY approach to album-making, and if the album lacks the intrinsic chemistry of four guys playing together in a room, it's nevertheless a return to a more organic sound.
Dutch trumpet star
Eric Vloeimans
guests on "Joy" and the album's penultimate track, "The Arrogant Frog." Initially a more laidback feature for guitar, bass and trumpet alone, van den Berg enters only after Vloeimans takes a Milesian solo early in the track, supporting Akkerman's more potent guitar work in its more propulsive second half.
The music runs the gamut from the buoyant opener "Free Wheeling," greasier, popping and slapping bass-driven "Big Sir," and the
Steely Dan
-esque "Dinnertime" and shuffle-driven "San Frisky," to the romantic ballad "Love Train," laidback "Kharmah Chantalah," ambling acoustic-electric guitar feature "Searching for Angela," and majestic album-closer, "Mena Muria."
Throughout, Akkerman solos with the kind of astute ear for precisely what each song demands in terms of instrument, tone and approach, whether it's his restrained lyricism on "Mena Muria," gritty-toned but spare work on "San Frisky" or his more appropriate abandon and effortless virtuosity on "Free Wheeling," which also includes an impressive grand piano solo from Molenaar.
If
Minor Details
were to be the final studio outing from the 71 year-old guitarist, it would certainly be a fine way to go out. But in the nearly eight years since the album's release, Akkerman has continued to tour, most recently with his current lineup of keyboardist Molenaar and drummer van den Berg, both continuing with the guitarist ever since
Minor Details
, and relative newcomer, bassist David de Marez Oyens.
The guitarist has also revived some of his early music with a project called My Brainbox, which also covers some music from
Eli
, all sung by hard rock band Vandenberg's singer, Bert Heerink. Revisiting
Jan Akkerman
in its entirety during his 2016
Back to Vinyl
tour has allowed an audience, many of whom were not yet born when the album was first released, to experience it and a variety of Akkerman's other work from across his career, in a live context.
Jan Akkerman
Akkerarchives
Red Bullet
2018
In addition to the bonus disc
My Focus
, which includes a few early tracks and a selection of Akkerman's favorite Focus tracks, the final disc,
Akkerarchives
, includes a number of demos that shed light on both the guitarist's working process and how the music went from conception to ultimate execution on his studio releases.
With Akkerman providing notes on every
Akkerarchives
track, some notable inclusions are: the b-side to the rare "Oil in the Family:" single, where the tracks are similar except that the guitars synth parts are played in reverse; a Reinhardt-informed demo, "General Buckshot & The Blues Waffle" that never made it to release and which features the guitarist waxing virtuosic on steel-string acoustic guitar; and a countrified rock-n-roller, "Yoyo Working," that demonstrates yet another aspect of Akkerman's broad purview (and another rare vocal from the guitarist).
A limited UK radio promo, celebrating the new millennium, the majestic "Song for the Millennium," is also included, along with two solo acoustic guitar pieces, "Plaisir d'Amour" and "Anonymous 4 Blues," that were recorded during Akkerman's 2000
Jan Akkerman Acoustic
tour in support of
Passion
, but here with bassist Wilbrand Meischke and drummer Ton Dijkmam providing additional support. Based on these two tracks, it's a shame that a live album from the tour never materialized.
Finally, closing out the
Akkerarchives
CD and
The Complete Jan Akkerman
box set, two Robert Cray tunes from
False Accusations
(Hitone, 1985), released a year before the American soul/blues guitarist had his major breakthrough with
Strong Persuader
(Mercury, 1986), here from Akkerman's 2016 tour with My Brainbox, featuring vocalist Bertt Heerink: the soulful "She's Gone" and more blues-drenched "Payin' It for Now." "Payin' It for Now," in particular, demonstrates how Akkerman brings a more virtuosic and harmonically expansive approach to his soloing, in contrast to Cray's cleaner-toned and, in relative terms, more concise and constrained style.
It's a terrific way to close
The Complete Jan Akkerman
, as the guitarist continues work on a new studio album slated for the end of 2018 (but more likely to be released in 2019).
The Complete Jan Akkerman
is, for those only familiar with Akkerman's '70s work, a real revelation. From classical predilections and jazzier tendencies to blues-based virtuosity, acoustic/electric explorations and so much more,
The Complete Jan Akkerman
draws a more complete picture of Jan Akkerman's work over the past fifty years. Here's hoping he's still got plenty left in him to engage, entertain and surprise fans old and new...and if there's any justice,
The Complete Jan Akkerman
deserves to broaden his fan base by exposing so much music, originally found only in the Netherlands, to a wider international audience.
Tracks: CD1 (
Talent for Sale
, 1968): Bags Groove; Revival of the Cat; Moonbeam; Mercy, Mercy, Mercy; On the Green Light; What'd I Say; Slim Jenkin's Place; Hineimatov; Green Onions; Ode to Billy Joe; Comin' Home Baby.
CD2 (
Profile
, 1972): Fresh Air (Must Be My Land -Wresting to Get Out -Back Again -The Fight -Fresh Air, Blue Notes for Listening -Water and Skies Are Telling Me -Happy Gabriël?); Kemps Jig; Etude; Blue Boy; Andante Sostenuto; Maybe Just a Dream; Minstrel / Farmers Dance; Stick.
CD3 (
Tabernakel
, 1973): Britannia by John Dowland; Coranto for Mrs. Murcott by Francis Pilkington; The Earl of Derby, His Galliard by John Downland; House of the King; A Galliard by Anthonie Holborne; A Galliard by John Downland; A Pavan by Thomas Morley; Jaweh; A Fantasy of Laurencini of Rome; Lammy (I Am -Asleep, Half Asleep, Awake -She Is, Lammy -We Are, The Last Will and Testament -Amen).
CD4 (
Eli / Transparental
, 1976 / 1980):
Eli
: Eli; Guardian Angel; Tranquilizer; Can't Fake a Good Time; There He Still Goes; Strindberg; Wings of Strings; Naked Actress; Fairytale.
Transparental
: Inspiration; Apocalypso; Concentrate, Don't Hesitate; Transparental; I Don't Take It Much Longer; Marsha; You're Not the Type; The Party is Over.
CD5 (
Jan Akkerman
, 1977): Crackers; Angel Watch; Pavane; Streetwalker; Skydancer; Floatin'; Gate to Europe.
CD6 (
Tony Scott featuring Jan Akkerman: Prism
, 1977): Silmarillion; The Offering; Blues Blues Blues and Then Some More Blues; Under the Bo Tree.
CD7 (
Jan Akkerman & Claus Ogerman: Aranjuez
, 1977): Adagio from 'Concierto de Aranjez'; Nightwings; Mondinha (Preludio); Españoleta; Pavane Pour Une Infante Defunte; Love Remembered; The Seed of God (from 'Magdalena'); Bachinanas Brasileiras No. 5.
CD8 (
Live
, 1978): Transitory; Skydancer; Pavane; Crackers; Tommy; Azimuth.
CD9 (
Jan Akkerman 3
, 1979): Stingray (Get Up With That); Wait and See; Funk Me; This is the One; Nightprayer; Time Out of Mind.
CD10 (
Oil in the Family
, 1981): Oil in the Family; Formula N-One; Disco-O-Asis; No Doubt About It; Family Reprise; Blue in the Shadow.
CD11 (
Pleasure Point
, 1982): Valdez; Heavy Pleasure; Cool in the Shadow; Visions of Blue; C.S.; Bird Island; Atlantan Dew (bonus); Laurie's Dance (bonus); Angel Blue (bonus); Halfway (bonus); 35 Seconds (bonus); Waterfalls of Eden (bonus); Desiderata (bonus); Terra Pax?! (bonus); Guilty By Association (bonus); Communion & Procession (bonus); Near Odessa (bonus); Anne Mia (bonus).
CD12 (
It Could Happen to You
, 1982): Old Tennis Shoes; Come Closer; Funkology (Baby Start -One Way -Free); It Could Happen to You (Free Together).
CD13 (
Can't Stand Noise
, 1983): Piétons; Everything Must Change; Back to the Factory; Journey (A Real Elegant Gypsy); Heavy Treasure; Just Because; Who Knows; Crackers (bonus); Burger's Blues (Intro) (bonus); Prima Donna (bonus); Sketches of Pleasure (bonus).
CD14 (
From the Basement
, 1984): Headbanger; All Along the Watchtower; Dark Rose; Wallenberg (Dedicated to Raoul Wallenberg); From the Basement; P.C.B. Chicken; Status Quo; The Love Is Uneven Suite (She Let Me Do What I Want -Blues From the Tews -Cherubim & Sepharim -She Can't Say Don't -Part 1, Took Her to Locronan -Part 2, Then Rollright Stones (The Tews) -No More Parking) (bonus); When I Was a Cocktail in a Waitress Bar (bonus); Ellington's Way.
CD15 (
Heartware
, 1987): My Pleasure; Just Because, So!; Lost & Found; Heartware; Winterborn, Lyric; Lonely Street of Dreams; Firenze; Apollo's Mask (bonus); Dancing in Chains (Not S.M.) (bonus); Dompteuse Du Serpent (bonus); Fire From Heaven (bonus); Almost Dawn (bonus); Agony & Ecstasy (bonus); Akkermani (bonus); Luxemburger (bonus).
CD16 (
The Noise of Art
, 1990): Trojan Horse; You Can't Keep a Bad Man Up; Bonnavilla; Shame On You; Having Fun; Prima Donna; Prelude: Friends Always; Akkerman's Sombrero; My Pleasure; Quiet Storm.
CD17 (
Puccini's Cafe
, 1993): Burger's Blues; Your Eyes in the Whiskey; Spanish Roads; Key to the Highway; It Comes & Goes; Albatross; Blue Train; Love is Uneven; Puccini's Cafe.
CD18 (
Blues Hearts
, 1994): Wake Up!; Blues Route '94; Milestones; Red Pool House Blues; No Gossip; Virgin Mary; Traffic Jam; Mercy, Mercy, Mercy; Soft Focus.
CD19 (
Focus in Time
, 1996): Home Voyage (Intro -Where Would I Be -I'll Make It Up to You -Extro); Saudade; Nail the Snake; Après Un Rêve; Am I Losing You; Wildflower; On the Table; Elegy; Laurie Anne; Leading Me There; I'll Find My Own Way Home.
CD20 (
10,000 Clowns On a Rainy Day, CD1
, 1997): Intro (10,000 Clowns); Puccini's Cafe; Skydancer; Eruptions (Orpheo -Questions Answers -Distant Drums—Pupilla -Tommy -Answers Questions -The New Bridge -Orpheo); Focus 2; Pre Madonna; Virgin Mary; Soft Focus; Pedestrians (Miss En Scene -Nico's Delight -J's 2000 Flight -Stealth—Hocus Pocus); No Hang UPS.
CD21 (
10,000 Clowns On a Rainy Day, CD2
, 1997): On the Table (Sylvia -Under the Table -Spanish Wood -Antonio (drum solo) -Leaving the Church Before Singin' -Manuel (bass solo) -On the Table -Sylvia's Grandmother); Am I Losing You; Wake Up; Focus 3; Weedstalker; Akkerstones; Pool House; Quiet Storm.
CD22 (
Passion
, 1999): Suite 1 (David's Harp Song -Wildflower -Across the Bridge -In Amorata -Always -David's Harp Song); Suite 2 (Monkey -Sweethearts—Close Enough -Central Park -Ab-so-rocking-lutely -D.Jan.Go -Mary); Mon Amour; Tranquilizer; Classic Gaz; Fellini's Restaurant; Passion; Countess of Pembrooks Paradise; Muy Linda; The Knight of the Lute; Whispering / Liebestraum.
CD23 (
C.U.
, 2003): See You; In Between the Sheets; I'm In the Mood; Dance the Blues Away; Cottonbay; Kloenk; Blowing; Slow Man; Urbanstring.
CD24 (
Minor Details
, 2011): Free Wheeling; Big Sir; Dinner Time; Love Train; Blind Baby; Minor Details; Joy; Fernando's Minibar; Kharman Chantalah; Searching for Angela; As Long As You're Near; San Frisky; The Arrogant Frogs; Mena Muria.
CD25 (
My Focus
, 2018): Exodus (Johnny and His Cellar Rockers); Melody in F Rock (Johnny and His Cellar Rockers); Russian Spy and I (The Hunters); Down Man (Brainbox); Summertime (Brainbox); House of the King (Focus); Le Clouchard (Focus); Answers? Questions! Questions? Answers! (Focus); Love Remembered (Focus); Elspeth of Nottingham (Focus); Hocus Pocus (Live, Focus); Out of Vesuvius (Focus); Hamburger Concerto (Starter -Rare -Medium I -Medium II -Well Done -One For the Road) (Focus).
CD26 (
Akkerarchives
, 2018): Crackers (demo); Angel Watch (demo); Stingray (Get Up With That) (demo); A Family in the Oil; Come Closer (demo); General Buckshot & The Blues Waffle; Yoyo Working; Song For the Millennium; Plaisir d'Amour; Anonymous 4 Blues; She's Gone; Payin' For It Now.
Personnel: Jan Akkerman: guitars (CD1, CD2, CD4-5, CD7-21, CD23-24, CD25#4-13), bass guitar (CD2#1, CD3#1, CD4#1-9, CD10, CD11#3, CD12-13, CD15#4, CD16, CD23#1), alto lute (CD2#2-3, CD2#7), Spanish guitar (CD2#5), Fender Rhodes electric piano (CD2#1), lute (CD3#1-3, CD3#5-7, CD3#9-10, CD25#6-13), electric guitars (CD3#4, CD3#10), electric sitar (CD3#4), percussion (CD3#4, CD3#10), acoustic guitar (CD3#8, CD3#10, CD22), organ (CD3#10), Roland GR-300 guitar synthesizer (CD4#10-17, CD10-15), Ibanez double-neck 6 & 12 string guitar (CD6), synthesizers (CD11, CD16-17), drums (CD11#3), drum programming (CD12, CD15#2, CD15#6, CD16-17), LinnDrum programming (CD13-14), vocals (CD14#3-4, CD14#6), Roland GR-700 guitar synthesizer (CD15), Roland MKS-20 (CD15), MKS-50 sound modules (CD15), Roland Super JX synthesizer (CD15#5), Roland MC-500 sequencer (CD16-17), lead guitar (CD25#1-3), keyboards (CD25#4-5).
With: Ron Bijtelaar: bass guitar (CD1); Sydney Wachtel: drums (CD1#1-6, CD1#8-11, CD25#3); Cocky Akkerman: drums (CD1#7); Pierre van der Linden: drums (CD2#1, CD2#4, CD2#6, CD25#1-2, CD25#4-5, CD25#8-9, CD25#11-12); Bert Ruiter: bass guitar (CD2#1, CD2#4, CD2#6, CD25#6-13); Ferry Maat: piano (CD2#8); Jaap van Eik: bass guitar (CD2#8); Frans Smit: drums (CD2#8); Ray Lucas: drums (CD3#1, CD3#10), Tim Bogart: bass guitar (CD3#4, CD3#10); Carmine Appice: drums (CD3#4, CD3#10); Kaz Lux: vocals (CD4, CD25#4-5), guitar (CD4#10-17); Jasper van't Hof: keyboards (CD4#1-9, CD8), Fender Rhodes electric piano (CD11#4); Rick van der Linden: keyboards (CD4), great church organ (CD19#10); Warwick Reading: bass guitar (CD4#4; James Jamerson: bass guitar (CD4#5, CD5#1, CD13#4); Pierre van der Linden: drums (CD4#4, CD4#10-17, CD5#6); Richard DeBois: drums (CD4#1-9); David Kemper: drums (CD4#5, CD5#1, CD13#4); Nippy Noya: percussion (CD4#1-9, CD5, CD8-9); Margaret Eshuijs: backing vocals (CD4#1-9); Maggie MacNeal: backing vocals (CD4#1-9); Patricia Paay: backing vocals (CD4#1-9); Cees van der Laarse: bass guitar (CD4#10-17, CD5, CD8); Manuel Lopez: drums (CD4#15, CD4#17); Eddie Conrad: percussion (CD4#10-17); Grace van der Laarse: percussion (CD4#10-17); Joachim Kühn: keyboards (CD5, CD13#4), acoustic grand piano (CD11#3-4, CD11#6); Bruno Castellucci: drums (CD5-6, CD8-9); Tony Scott: clarinet (CD6), vocals (CD6); Wim Essed: bass guitar (CD6); Cees Schrama: piano (CD6); Niels Henning Ørsted Pedersen: bass guitar (CD7); Claus Ogerman: symphony orchestra arranger and conductor (CD7); Tom Barlage: saxophones (CD8), keyboards (CD8); Willem Ennes: keyboards (CD8); Peter Schön: keyboards (CD9); Gene Sandinista: bass guitar (CD9); Duane Hitchings: keyboards (CD9#3); Bunny Brunell: bass (CD9#3); David Igelfield: drums (CD9#3); Yvette Carlson: vocals (CD9#4); Willie Dee: vocals (CD9#3); Jody Piper: backing vocals (CD9); Kimm Hekker: backing vocals (CD9); Margo Thunder: backing vocals (CD9); Henry Ronde: steeldrums (CD9); John Faddis: trumpet and flugelhorn (CD9); Alan Rubin: trumpet and flugelhorn (CD9); Tom Malone: trombone (CD9); Jim Ogden: alto saxophone (CD9, solo on CD9#4); Michael Brecker: tenor saxophone (CD9); Lou Marini: tenor saxophone (CD9); Howard Johnson: baritone saxophone (CD9); John Clarke: French horn (CD9); Peter Gordon: French horn (CD9); Jim Campagnola: saxophone (CD10-11); Ab Tamboer: drums (CD10), vibes (CD10), marimba (CD10); Eddie Conard: percussion (CD10); Pablo Nahar: bass guitar (CD11#2, CD11#6), bass (CD12#3); Roland Zeldenrust: drums (CD11#6); Hans Waterman: drums (CD11#2, CD13, CD14#2); Martino Latupeirissa: percussion (CD11); Kenneth Knudsen: keyboards (CD12); Ole Theill: drums (CD12); Marc van der Geer: keyboards (CD13); Dino Walcott: bass guitar (CD13-14), harmonica (CD14), vocals (CD14#2), voice (CD14#7); Piet Eisma: percussion (CD14#2-3, CD14#7); Sergio Castillo: Simmonds electronic drums (CD14#1, CD14#4-5); Ton Dijkman: drums and percussion (CD15, CD17-18), drums (CD19#1, CD19#3-5, CD19#7, CD19#11, CD20-21); Michael Pete: bass guitar (CD15#1, CD15#3, CD15#6); Livingston Brown: bass guitar (CD16); Derek Holt: bass guitar (CD16); Clive Mayuyu: drums (CD16), Brendon Day: drums (CD16); Manuel Hugas: bass (CD17-18, CD19#3, CD19#5, CD19#7, CD20-21); Willey Swikker: keyboards (CD17); Freddie Cavalli: bass guitar (CD17#8); Tom Salisbury: keyboards (CD18-19), programming (CD19), grand piano and synthesizers (CD20#1-2, CD20#8); The Stylus Horns: horns (CD18); Nico Brandsen: Hammond organ (CD19#3, CD19#5, CD19#11, CD20-21); Wilbrand Meischke: bass guitar (CD23#2-9, CD24); MIchel van Schie: drum programming and live drums (CD23); Ronald Molendijk: drum programming and additional keyboards (CD23); Jeroen Rietbergen: keyboards and additional programming (CD23); Cohen Molenaar: Fender Rhodes electric piano (CD24), Hammond organ (CD24), synthesizers (CD24); Marion van den Berg: drums (CD24); Eric Vloeimans: trumpet (CD24#7, CD24#13); Jan Burgers: rhythm guitar (CD25#1-2); Cor Engelsma: bass guitar (CD25#1-2); Hans Kuyt: piano (CD25#1-2); Paul Hubert: rhythm guitar (CD25#3); Ron Bijtelaar: bass guitar (CD25#3); André Reynen: bass guitar (CD25#4-5); Thijs van Leer: Hammond organ (CD25#6-13), keyboards (CD25#6-13), flute (CD25#6-13), vocals (CD25#6-13); Martin Dresden: bass guitar (CD25#6); Hans Cleuver: drums (CD25#6); Colin Allen: drums (CD25#13).
Photo Credit: Sander Drooglever
---
FOR THE LOVE OF JAZZ
All About Jazz has been a pillar of jazz since 1995, championing it as an art form and, more importantly, supporting the musicians who create it. Our enduring commitment has made "AAJ" one of the most culturally important websites of its kind, read by hundreds of thousands of fans, musicians and industry figures every month.
WE NEED YOUR HELP
To expand our coverage even further and develop new means to foster jazz discovery and connectivity we need your help. You can become a sustaining member for a modest $20 and in return, we'll immediately hide those pesky ads plus provide access to
future articles
for a full year. This winning combination will vastly improve your AAJ experience and allow us to vigorously build on the pioneering work we first started in 1995. So enjoy an ad-free AAJ experience and help us remain a positive beacon for jazz by
making a donation today
.
Instrument: Guitar
Article Coverage
|
Calendar
|
Albums
|
Photos
|
Similar Artists
Post a comment