The Complete Jan Akkerman: Focusing on a Life's Work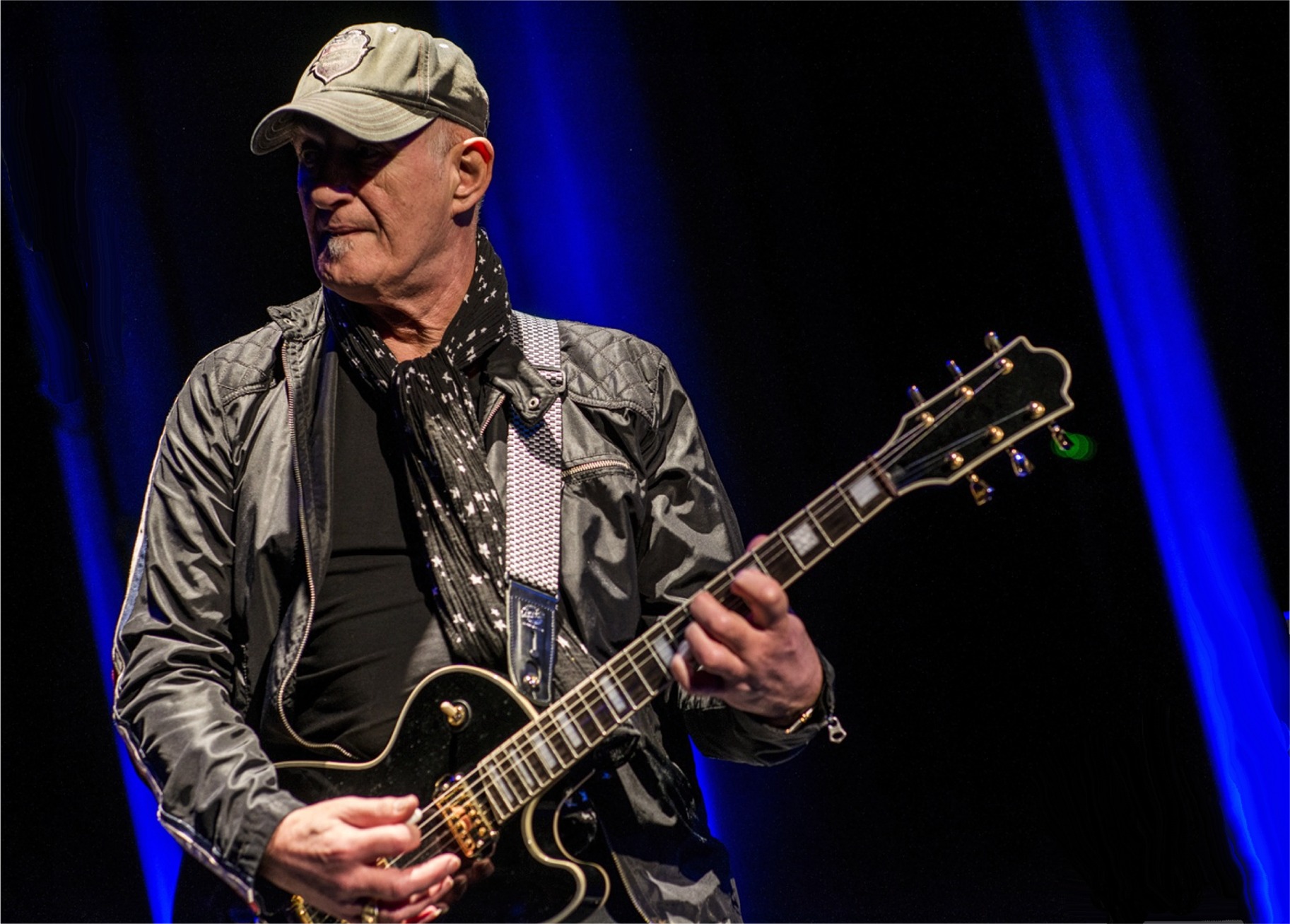 He may be largely regarded as the most influential guitarist to emerge from the Netherlands, a country that, bordering on the North Sea, is roughly one-quarter the physical size of England and, with a current number of about seventeen million, has just one-third the population of the UK's largest country. Still, despite garnering major in-country recognition, including the country's most prestigious music prize, the
Golden Harp Award
, being made a Knight of the Order of Orange-Nassau, and winning the
De Eddy Christiani Award
as a guitarist with international recognition, Jan Akkerman remains largely remembered—barring a handful of solo albums that received international distribution—for his six-year stint in '70s progressive rock group Focus, formed when he joined up with keyboardist, flautist, vocalist (and occasional yodeler), Thijs van Leer trio.
Which makes
The Complete Jan Akkerman
all the more a revelation. A massive 26CD box set, it houses: all 21 of the guitarist's studio albums as a leader or featured guest; two live albums (over three CDs); a disc of his favorite Focus recordings, plus a handful of his pre-Focus work with Johnny and His Cellar Rockers (Akkerman releasing his first single with the group when he was just thirteen), The Hunters, and acclaimed Dutch proto-progressive group Brainbox; and a final CD of demos and other previously unreleased material. A comprehensive 64-page booklet includes Wouter Bessels' effusive biography, along with brief comments, from Akkerman, about each of set's albums and track-by-track notes about all the unreleased music on the final CD. Some albums have never been issued in CD before, while many others have been out of print for many years. And many have not been available, in any form, beyond the borders of the Netherlands.
Perhaps the biggest revelation about Akkerman, whose time in Focus was defined by jazz-tinged shredding and paradoxical lyricism on both guitars and lute, is just how
broad
his musical reach has been. While jazz/jazz-rock might be the biggest bucket in which to place his work, his studio albums run the gamut from orchestral collaborations with highly regarded names like
Michael Gibbs
and
Claus Ogerman
, solo acoustic outings, albums combining progressive rock tendencies with excursions into classical and traditional music on both lute and Spanish guitar, hardcore blues, vocal pop music in his reuniting with Brainbox vocalist Kazimierz "Kaz" Lux, jazz- tinged interpretations of popular music of the day and much, much more...all underscored by Akkerman's love of Belgian-born, Romani-French jazz guitar legend
Django Reinhardt
and classical guitarist/lutenist Julian Bream.
Jan Akkerman
The Complete Jan Akkerman
Red Bullet
2018
Some of the music is clearly dated, most notably his '80s/'90s excursions into synth-driven, rhythmically programmed work. Overall, however, the recordings included in
The Complete Jan Akkerman
range from jaw-droppingly superb to, at worst, still very good, with only a couple of albums likely to get no more than a few spins—and that, despite being wholly successful in what they were looking to achieve. All in all, a very good signal-to-noise ratio renders
The Complete Jan Akkerman
a collection that reveals, especially to international audiences only familiar with his previous international releases, a vital and successful career defined by regular gear-shifts and, even at its least compelling, an effortless mastery of Akkerman's chosen instruments.
In addition to his informative liner notes, Bessels does an exceptional job at remastering all of the material: no brick-walling here, just punchy, clean, crisp and clear sonic upgrades that respect the broad dynamic range of Akkerman's far-reaching music, whether it be covers of other material or the original music that dominates the set.
The Complete Jan Akkerman
is the career-spanning tribute to this acclaimed guitarist who has gone much farther than his undeniably staggering work with Focus, subsequently sharing international stages with the likes of
Charlie Byrd
,
Larry Coryell
and
B.B. King
...even ranking ahead of
Eric Clapton
,
Carlos Santana
and
Jimmy Page
in British music paper
Melody Maker
's 1973
Best International Guitarist
poll.
Listening to it on the
My Focus
disc of Focus faves and earlier bands, it's hard to believe that Akkerman was a mere fourteen years old when Decca Netherlands released Johnny and His Cellar Rockers' single in 1961, featuring Shadows/Ventures-informed instrumentals including the theme song from Otto Preminger's 1960 film
Exodus
and a suitably rocked-up version of nineteenth century Russian pianist/composer Anton Rubinstein's "Melody in F" (retitled "Melody in F Rock").
But hearing "Russian Spy and I," a minor Dutch hit from 1966 that, with The Hunters, introduced Akkerman to a wider (albeit still native) audience and features some surprisingly fast lines, it's clear just how far the guitarist had come in five short years, while still not yet twenty.
The progressive blues of "Down Man" and a similarly progressive-leaning version of
George Gershwin
's "Summertime," both from Brainbox and released in 1968 and '69 respectively (sung by Kaz Lux and with Johnny and His Cellar Rockers/future Focus drummer Pierre van der Linden in tow), reveal an even more evolved Akkerman, demonstrating a surprising facility for both remarkable dexterity and an ability to harmonically move his solos "out," while knowing just when to bring them back "in," creating a potent sense of tension and release. That Akkerman was doing this years before
John Scofield
emerged as an American guitarist with a similar inside/outside propensity only serves to show how, to some extent, it's not always how good or groundbreaking you are, but where you are from, that determines potential future international success.
Still, Akkerman's name is well-known amongst progressive rock fans, his star definitely on the rise in the Netherlands with the guitarist awarded a scholarship to attend the prestigious Amsterdam Music Lyceum, where he further developed his abilities as a composer, arranger and instrumentalist, also learning lute around the same time.
Jan Akkerman
Talent for Sale
Universal
1968
That said, in the midst of all this activity, Akkerman managed to release his first solo album,
Talent for Sale
, with Hunters band mates Ron Bijtelaar (bass) and Sydney Wachtel (drums on all but one track). An uncredited pianist, horn section and strings flesh out the session, afforded to Akkerman by the label through his session work at Bovema Studios, and with this ore-Focus album his lithe facility is heard on a variety of covers and originals, including an opening look at
Milt Jackson
's "Bags Groove," played with a more soul-jazz mindset made all the more so with Akkerman feeding his instrument through a Leslie to achieve a sound as close to Hammond organ as possible on electric guitar.
The entire album reflects Akkerman's interest in soul and R&B, with a groove-heavy cover of
Joe Zawinul
's
Cannonball Adderley
hit, "Mercy, Mercy, Mercy," where the guitarist combines soulful, blues-drench lines with some staggeringly rapid-fire phrases. A couple of
Booker T & the MG's
tunes keep the groove happening, including the group's signature "Green Onions" and "Slim Jenkin's Place," from the group's 1962 and '67 Stax albums
Green Onions
and
Hip- Hug-Her
, respectively, along with a surprisingly subtle look at Bobbi Gentry's 1967 mega-hit, "Ode to Billy Joe."
It's an album largely dominated by covers, also including
Steve Winwood
's 1966 non-hit for the Spencer Davis Group, "On the Green Light"—a minor-keyed blues from another musician who emerged, well-formed, in his teen years—and a bright-tempo'd version of
Ray Charles
' signature tune "What'd I Say" (here misnamed "What I'd Say") and
Mel Torme
's lone venture into rock territory, the Tucker/Dorough blues "Comin' Home Baby."
Still, in addition to a balladic interpretation of the traditional Jewish Sabbath song "Hine Ma Tov" (here, "Hinematov"), with lush strings and Akkerman on 12-string acoustic guitar, Akkerman contributes two originals that fit within the album's purview, but don't really hint at his writing to come. That said, the go-go beat of "Revival of the Cat" and more laidback "Moonbeam"—both blues, and both featuring some appropriately blues-drenched bends, light-speed lines and more from Akkerman—fit perfectly on
Talent for Sale
.
It's an album that, for the relative few who noticed, gave at least some indication of what was to come from a guitarist who predated another American guitarist known for similarly staggering dexterity, jazz chops and bluesy predilections in his early days,
Larry Coryell
. And, as Akkerman writes in his notes about the album, "At the Height of Focus' success, the record company (EMI) saw the opportunity to cash in and promptly reissued
Talent for Sale
with a different sleeve." That was in 1973, with the album retitled
Guitar for Sale
, remaining out of print until U.K.'s Esoteric Recordings reissued the album on CD for the first time (and under its original name) in 2012.
Jan Akkerman
Profile
Harvest
1972
Four years were to pass before Akkerman would release another solo record, but during that time his international star was on the ascendancy. Released the same year as
Focus 3
(Sire) but after
Moving Waves
(Imperial, 1971) brought substantial international attention to Focus (despite its single, "Hocus Pocus," curiously not charting in the UK or USA until 1973),
Profile
shone a bright spotlight on the multiplicity of influences that, amongst them, led to Akkerman's playing becoming so influential on the burgeoning heavy metal scene.
Still, even though he could shred and crunch mightily alongside the very best of them, to call Akkerman a metal player would be both reductionist and misleading, as
Profile
makes crystal clear. The side-long opener, "Fresh Air," is an episodic, nearly 20-minute excursion into everything from dreamy atmospherics to jaggedly crunching chords and fourths-informed modal improvisational workouts, with Akkerman's aggressively overdriven tone (often, once again, fed through a Leslie) and a blend of rock-edged bends and frighteningly fast phrases driven by a kind of harmonic sophistication rarely heard from other guitarists in the progressive rock camp, and suggesting a far broader stylistic purview. Bolstered by Focus' Bert Ruiter (bass) and Pierre van der Linden (drums), with a Akkerman overdubbing Fender Rhodes and some additional bass guitar, its mid-section free- for-all resolves into more lyrical balladry, only to gradually build to another climactic peak and completely unfettered conclusion.
Side one of
Profile
is, culled as it was from a lengthy jam session and edited into its final form, a powerful opening statement that could appeal to jazz- rock/fusion-leaning fans of progressive rock, with its Focus on steroids approach, as Akkerman writes: "you can hear the evolution from Brainbox's "Sea of Delight" to the title track and, later, "Eruption" and "Hamburger Concerto." The second side is, however, something else entirely, an eclectic blend of musical styles and instruments, approaches.
A solo alto lute rendition of the oft-covered sixteenth century British traditional "Kemp's Jig" (also interpreted, a year later, by British progressive-folk group Gryphon's on its eponymous 1973 Transatlantic debut) is followed by another solo lute piece, this time from the classical repertoire, nineteenth century Italian guitarist/composer Matteo Carcassi's "Etude," both tracks further demonstration of Akkerman's far-reaching interests and abilities. "Blue Boy" is a bit of funk-rock, with Akkerman heavy on the wah wah pedal on a piece that could easily have fit into the Focus repertoire.
Listen
Watch
Playlist