Tales of The Mystic Order of the Jazz Obsessed - Jazz Societies, Part II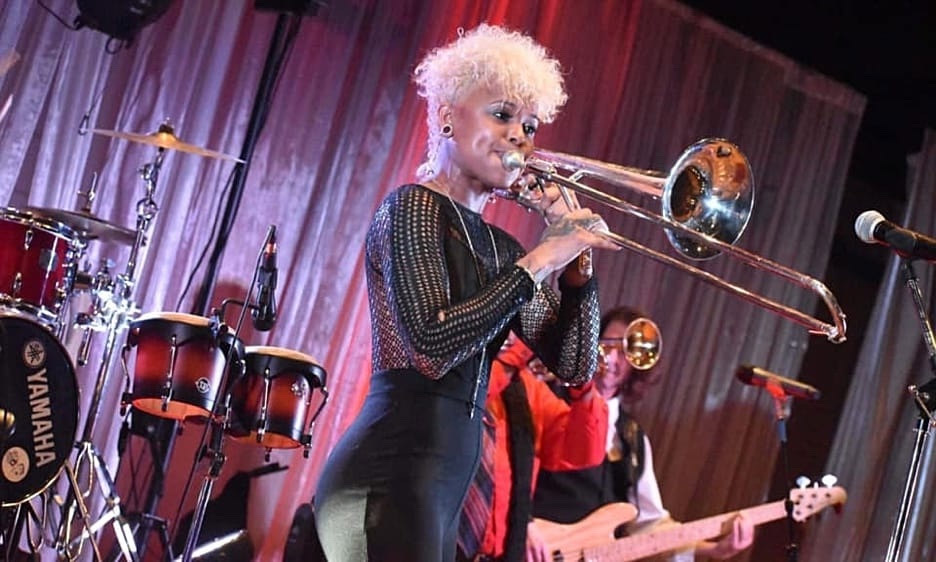 By
Part 1
|
Part 2
Jazz Societies, Part 1
briefly traced the preservation and interpretation of jazz from the oral history of its West African roots through academic and cultural institutions. The article included an overview of jazz societies and foundations that further the fostering of jazz education. The organizations vary in scope, size and objectives with some dedicated to particular artists—such as the
John Coltrane
Foundation—and others devoted to the broader genre. We singled-out Shirley Martin, the Executive Director of The
Skipp Pearson
Jazz Legacy Foundation in Part I and received an education on the under-recognized saxophonist who worked with
Wynton Marsalis
,
Miles Davis
,
Sam Cooke
and many others. Pearson even sat in with
John Lennon
and
Paul McCartney
during a pre-Beatles gig in Liverpool. In Part II, we will compare some jazz societies from across the U.S.
In late 2019 I interviewed Kevin Lee of
The Mystic Order of the Jazz Obsessed
(MOJO), Bobbie Vance of the
Space Coast Jazz Society
in Melbourne, Florida, and Rita Zwern of the
Los Angeles Jazz Society
. Mobile, Alabama has claimed the title of "Mother of Mystics" since at least the 1830s. The city's Mardi Gras celebration and Creole Carnivals pre-date the familiar New Orleans celebration by fifteen years, having begun in 1703. The following year Mobile saw its first of dozens of mystic societies: the Societé de Saint Louise. These mystic societies participated in the Mardi Gras parades as Mobile's version of the New Orleans krewes. When Mobile's Lee founded the
The Mystic Order of the Jazz Obsessed
in 2001, he based the name on the city's heritage and his love of jazz. The
Space Coast Jazz Society
was originally named the "Cocoa Beach Jazz Club" when founded in 1984. Bobbie Vance explains "Later, the Board of Directors changed it to the "Jazz Society of Brevard." Then, it evolved into the "Space Coast Jazz Society" because people were coming from outside of the county and surrounding areas plus this area is most widely known as the "Space Coast" because of NASA and the Kennedy Space Center. Simply put, the name change was more accurate and provided better name recognition."
Missions
I asked each of the societies' representatives to give an example of what their organization was doing to preserve jazz.
LAJS
: "is working to preserve jazz primarily through its free jazz education and support: Jazz in Schools: Every year over 16,000 elementary school children are introduced to the joy of jazz with free jazz education concerts presented in schools during the month of February, Black History Month. They learn about jazz, its history, styles and instruments in an exciting interactive concert performed by professional musicians. Jazz in Schools is a three-part sequential program beginning with a pre-concert teacher preparation package and a concert follow-up reinforcement package." LAJS facilitates the Bill Green Mentorship Program, arranging auditions for selected high school music students. Those designated receive training in advanced music techniques from professional musicians/educators and conclude with a recording session. The society's 'New Note' program offers annual commissions to young jazz musicians/composers to create a new work which is premiered at the Angel City Jazz Festival. The LAJS also presents a series of concerts events during the year. The Jazz Tribute Awards to recognize and honor artists for their contributions to jazz; The Vibe Summit, a concert 'performed by great jazz vibraphone artists who come from all over the West,' and the L.A. Jazz Treasure Award Concert: 'In conjunction with the L.A. County Museum of Art (LACMA), the L.A. Jazz Treasure Award is presented to a jazz musician who has brought honor to the City of Los Angeles and deserves recognition.'"
The Space Coast Jazz Society
(
SCJS
) was founded in 1986 by jazz vocalist Alan Simms and jazz broadcaster Jack Simpson. Simpson, ninety-five at this writing, was the long-time host of the radio program
Jazz on the Beach
, which is still heard in re-broadcasts on WUCF FM radio. The Orlando, Florida station is one of only twenty full-time jazz stations in the U.S. The founders of
SCJS
began with the simple mission to "keep jazz alive." The original statement stands today but with an updated branding line to accurately reflect what
SCJS
does: "Dedicated to Preserve and Promote Live Jazz." A smaller organization compared the
LAJS
,
SCJS
has a less formally structured agenda of programs but their community outreach goals are no less ambitious: "We host monthly live jazz concerts by a variety of professional musicians, award scholarships to graduating Brevard County high school seniors and provide jazz workshops for Brevard County students. We also send out a monthly email newsletter to promote our next upcoming concert, local jazz musicians and venues that feature live jazz. In the earlier years, we had some vocalists/musicians who would go to local schools to perform and teach the children about jazz, but that slowly discontinued."
The
MOJO
organization as seen a shift in goals over its two decades. Kevin Lee explains: "MOJO hosts monthly gatherings we've named Jazz Jambalayas. The event consists of live performances sometimes interspersed with educational narratives and light jambalaya dinner is included in the entrance fee. The shows rotate their focus through genres and artists. Our original aim was to galvanize support for venues already employing jazz musicians, to make an economic impact and motivate business owners to book more jazz shows. Unfortunately, the momentum for those outings waned within a year. We then looked to the
Jazz Society of Pensacola
(
JSOP
) and adapted their monthly Jazz Gumbo events to our market. Hence the Jazz Jambalayas."
Implicit in the missions of these jazz societies is the Hans Christian Andersen adage, "Where words fail, music speaks." Their outreach to the community is rooted in the understanding that they have a universal language at their disposal; one that may date to the earliest forms of human communication. Through their various programs, jazz societies are offering opportunities and breaking down barriers that might otherwise be intractable.
Society Infrastructures
MOJO
,
SCJS
, and
LAJS
operate with all-volunteer staff though
LAJS
employs a part-time grant writer.
MOJO
and
SCJS
staff are almost all from its board of directors.
LAJS
contracts with an administrative services organization (ASO) for some of their tasks.
A "typical" day in the office means something different to each of these societies:
MOJO
: "Our only 'workday' of the month consists of volunteers arriving at our venue as soon as they are able (many hold regular jobs) and doing various things like preparing food, helping with stage set-up or setting the tables and chairs in the hall."
SCJS
: "Most of the work happens behind the scenes, before the concert, and in the planning. We are all volunteers and we all work from home. The entertainment committee researches and books the bands and takes care of the contracts, another board member writes the press releases. And another takes care of social media posts and website information. The Treasurer/Membership Chair manages the money, membership lists, etc. We also have a few volunteers who create the quarterly concert schedule for mailing, the monthly email newsletter and post our concerts to media event calendars."
LAJS
: "Most of the behind-the-scenes work related to our events (primarily, an annual Tribute Concert and a Vibe Summit) is handled by our ASO. This includes scheduling, facilities, marketing, event staffing, etc. The ASO also handles membership maintenance and communication as well as social media and website maintenance. Our all-volunteer Board of Trustees meets once a month and is responsible for grant writing, organizing and managing our Jazz in Schools Program, the Bill Green Mentorship Program, and the New Note Program. They also manage new member outreach and engagement."
Membership Blues
If there is a common struggle among these three jazz societies, it is in their efforts to bolster membership. Both
MOJO
and
LAJS
have watched their demographics age over time, and in the case of the Mobile organization, some diversity has been lost as membership skews toward white constituents.
SCJS
faces similar problems but has been actively pursuing solutions, as Bobbie Vance explains: "Since the Space Coast Jazz Society began in 1986, the membership has been mostly Caucasian, ranging from middle-aged to senior. Through the years, the membership has been aging and passing away so membership has been dwindling without consistent growth. With the advancement of technology and social media, we are working hard to market and advertise within our budget, to those in their 30's through middle-age years. Historically, the jazz of choice has been traditional standards, so we have also expanded to other types of jazz, mixing it with the trad jazz. Although we have lost the interest of some of the older members, other elderly members are enjoying the variety. We are attracting more people by choosing high quality, younger musicians to perform. Folks seem to enjoy and be inspired by the new upcoming talent. And of course, we book more well-known bands as well. Our membership is still dominantly elderly, but we are slowly seeing an increase in new faces and a younger demo."
Health Check
I asked Lee, Vance, and Zwern how they would assess the health of jazz music in the U.S. and the diagnoses varied.
LAJS
: "Naturally, we believe, to paraphrase Mark Twain, that reports of the death of jazz are 'grossly exaggerated.' In high schools (and some middle schools) and colleges around the world, jazz education is growing and quite popular. The word 'Jazz' has blended to include all forms of jazz now: Straight-ahead, Swing, Bop, Cool, Smooth, Pop Jazz. Most jazz festivals include all these forms, including RnB and, of course, Blues. The young elementary school students who are exposed to jazz through our Jazz in Schools Program are amazed to discover that they have actually been listening to jazz all their lives without realizing it."
MOJO
: I can only attest to its health in Mobile and it isn't robust but I don't think it ever was, honestly. Mobile has always had a reputation as being far more receptive to blues than jazz. I once asked an older MOJO member who hosted a jazz radio show in the early 1970s if Mobile had a better jazz scene back in the 1950s when jazz was popular music nationally and he said even then it was hard going in the port city. We have fewer places now to catch live jazz and fewer jazz radio programs than we did when MOJO began in 2001."
SCJS
: "Judging from the number of jazz festivals, national as well as international, colleges and universities with jazz studies programs which offer Masters and Ph.D. degrees, it can be said with conviction that jazz is alive and well. Here in Brevard County, we are seeing more interest in jazz. The challenge is that people don't know where to find it."
The Changing Face of Jazz—Or Not
There has been a market for adulterated jazz from the beginning. Even as
Louis Armstrong
was forever transforming the jazz world with his solo improvisations, popular music was diluting the genre for mass consumption. That practice has continued but there are regenerations of the genre that can be seen as additive, and positive. Hip hop, electronica, poetry, and other variations on the form are no longer uncommon. The jazz societies have varying opinions on such work is a necessary step in the evolution of jazz.
MOJO
's Kevin Lee seems skeptical: "Maybe.
Christian Scott aTunde Adjuah
played Mobile in 2006 (when
Esperanza Spalding
was his bassist). He headlined a free concert in a downtown park and it might have drawn 200 people at the most."
LAJS
: "The survival of jazz depends on future audiences, meaning the students who will grow up and hopefully continue to enjoy and support our American art form. We don't need to discount the value of Straight-ahead and Swing Jazz. The more contemporary forms of pop blended with jazz seem to reach the younger audiences right now, and hopefully, those will graduate into enjoying the more sophisticated presentations of traditional straight-ahead jazz. There's nothing wrong with putting a good funky beat to a good melody. Something with a good groove is always infectious, and helps to keep our bodies moving and grooving."
SCJS
: "Absolutely not. The 'survival' of jazz has gone through many up and down challenges over a period of time. There is the multi-genre approach that seems to be audience and corporate-driven as opposed to jazz that is jazz artist-driven, i.e., it strives to take jazz further through new compositions and approaches that are based on the individuality of the jazz artists and not on the financial gains."
"Can jazz as an art forum creatively move alongside or beyond Coltrane,
Wayne Shorter
,
Miles Davis
,
Charlie Parker
,
Sun Ra
and
Bud Powell
or
Art Tatum
? The answer is YES, but only if upcoming musicians are willing and able to listen and 'do the work.' OR, are the new 'artists willing to do the work and give up making a 'quick buck'? They tend to just go the easy way. Especially, since corporations are looking closely at music which they call 'jazz' and which is easy to market."
"Because jazz has a universal appeal, it is attracting jazz players from many different cultures, i.e. Japan, India, Africa, and Middle Eastern as well as Brazil, bringing their cultural influences into the mix. This is especially true since a huge following of John Coltrane and others who are playing more and more from an auto-physical-psychic approach which is music from one's physical, mental and spiritual self."
"We want to keep the original art form real. What people forget is that the genre of jazz is a smaller target market than other genres (that's why it's so hard for jazz radio stations to survive). It takes good marketing, quality musicians, and a good venue to catch and keep that market."
I asked what jazz societies can do to acquaint future generations with a genre that no longer receives broad exposure.
MOJO
: "That's a good question. Those I've known who fell for jazz did it by two routes, mainly. Either they were around it a lot growing up, perhaps building an emotional, nostalgic connection with family, or they came to it through an academic setting. Then there are others who are just really into music of all types. They're most likely going to find their way to jazz through their own yearning for exploration."
"I do think the internet has not only democratized music but made the discovery that much easier for younger generations. One of the biggest
Fats Waller
fans I know came to his music through the internet and exposure to sounds beyond what terrestrial radio offered."
SCJS
: We award jazz scholarships to graduating high school seniors who are registered for continuing education and provide workshops for Brevard County students. Fortunately, we have quite a few local high schools that have good music programs and even some jazz bands. Our local jazz musicians are really great about featuring some of the more talented students in their own bands. The Brevard County jazz community is pretty tight and everyone encourages performances by the up and coming young musicians."
LAJS
: "The introduction to jazz at the elementary school level is one of the most important ways in which we can acquaint future generations to this indigenous American art form. Unfortunately, due to a lack of arts funding at the elementary school level, programs such as Jazz in Schools are usually the first, and often the only, exposure that inner-city youngsters get to experience jazz. The numerous requests we receive from schools to present these concerts are testimony to how valued they are by school principals and teachers. Similarly, the opportunity to be mentored by a professional jazz musician is often the greatest inspiration for a young aspiring jazz musician to take their relationship with jazz to the next level."
Other Notable Societies
Two of the largest societies, in terms of membership, are the
Sacramento Traditional Jazz Society
(
STJS
) with five-thousand members, and the
St. Louis Jazz Club
(
SLJC
. The
STJS
was founded in 1968 by local jazz musicians and it emphasizes live shows to promote jazz. In little more than one year, the organization was drawing thousands of fans to its concerts and fund-raisers. In 1974
STJS
hosted a twenty-one-band festival that attracted three-thousand listeners and raised over thirty-thousand-dollars. In 1992, the
STJS
announced their own version of the Jazz Ambassadors program, this one covering Northern California and offering multiple programs and events. The
St. Louis Jazz Club
(
SLJC
) is one of the most enduring societies having begun in 1950. They provide monthly concerts featuring local jazz bands and intermittent out-of-town bands. Among their community outreach programs (
SLJC
) facilitates "Evolution of Jazz" presentations and mini-concerts at local high schools. They also offer partial scholarships to students to attend jazz camp at Webster University in St. Louis. Along with multiple societies aimed at preserving the music of
Duke Ellington
, there are similar organizations named for
Ella Fitzgerald
,
Bix Beiderbecke
,
Sidney Bechet
, and others. Some societies are dedicated to preserving specific sub-genres of Ragtime, Dixieland, and Swing music. Across the hundreds of jazz societies in the U.S. and around the world, there are more similarities than differences; each has the goals of safeguarding the legacy of jazz and bringing the music to new generations.
Recommended Listening
Left Bank '66 Live
, Walter Namuth Quintet featuring Mickey Fields (Left Bank Jazz Society, 2013)
A wealth of recorded material with direct links to jazz societies does not exist. The long-defunct
Left Bank Jazz Society
of Baltimore, Maryland had the potential to stand apart in its contribution to the archives of live recorded jazz, but most of those projects sit in mothballs. The society was founded by Vernon L. Welsh and Benny Kearse and Welsh recorded over eight-hundred jazz performances at the
Famous Ballroom
during the 1960s and 1970s. Most of those tapes had been archived at Morgan State University until Label M acquired the collection and released a half-dozen albums, but none since 2001. In its prime, from the mid-1960s to the mid-80s, the
LBJS
hosted almost fifty concerts each year at the
Famous Ballroom
. The venue was a rarity, being a completely integrated site in a Southern city of the 1960s and 70s.
LBJS
presented concerts at other locations such as
Pascal's
and the
Madison Club
, (where Namuth's quintet recorded), but the overwhelming bulk of their projects took place at the "Famous" as locals called it.
LBJS
left that venue in 1984 but their audience did not follow. They meandered through venues unsuccessfully and finally disbanded in the early 1990s.
The
Famous Ballroom
lived up to its name. The venue was on North Charles Street in a space now occupied by the Charles Theater. Less than a block from Baltimore's Penn Station, it was a jumping-off point for musicians traveling back and forth between New York and Washington, D.C. Some of the jazz giants who performed there included Duke Ellington,
Count Basie
,
Stan Kenton
,
Freddie Hubbard
,
Maynard Ferguson
,
Charles Lloyd
,
Charles Mingus
,
Stan Getz
,
Roland Kirk
,
Randy Weston
,
Jackie McLean
,
Sonny Rollins
,
Coleman Hawkins
,
Wes Montgomery
,
Lee Morgan
, and
Ahmad Jamal
. It was the cite of John Coltrane's final live performance, two months before he died. The
Left Bank Jazz Society
brought in close to fifty well-known artists and recorded many but few were ever released due to legal issues. Among those recordings that made it to the market were two by
Joe Henderson
and one from a
Freddie Hubbard
/
Jimmy Heath
led quartet. If under-recognized saxophonist Mickey Fields doesn't seem a good fit with these legends, it's not for lack of talent. The enigmatic Fields was a well-known and highly respected jazz favorite in Baltimore but chose not to play outside the area, turning down offers to tour with popular national artists. It appears he had recorded only three other albums and two single tracks; none of those recordings are currently in print.
Left Bank '66 Live
features covers of
Sam Jones
,
Thelonious Monk
,
Miles Davis
, and
Benny Golson
pieces. Fields decisively launches into Jones' "Unit 7," quickly taking it off-track with impressive and intense expressiveness but without grandstanding. Monk's "Well, You Needn't" doesn't work as well but is quickly forgotten with Davis' "Pfrancing," fifteen-minutes of heated blues melodies and dissonance. Fields' extended solo on "Stablemates" is packed with clever inflections as it snakes its way through another fifteen-minute excursion. Namuth adds some quality solo time of his own and the Baltimore locals—bassist Phil Harris, drummer Purnell Rice, and pianist Claude Hubbard—do an admirable job of keeping up with these frantic hard bop renditions.
Personnel: Walter Namuth: guitar; Mickey Fields: tenor sax; Phil Harris: bass; Claude Hubbard: piano; Purnell Rice: drums.
Track Listing: Unit 7; Well You Needn't; Pfrancing; The Theme; Stablemates; The Gypsy.
Post a comment
---
FOR THE LOVE OF JAZZ
All About Jazz has been a pillar of jazz since 1995, championing it as an art form and, more importantly, supporting the musicians who create it. Our enduring commitment has made "AAJ" one of the most culturally important websites of its kind, read by hundreds of thousands of fans, musicians and industry figures every month.
WE NEED YOUR HELP
To expand our coverage even further and develop new means to foster jazz discovery and connectivity we need your help. You can become a sustaining member for a modest $20 and in return, we'll immediately hide those pesky ads plus provide access to
future articles
for a full year. This winning combination will vastly improve your AAJ experience and allow us to vigorously build on the pioneering work we first started in 1995. So enjoy an ad-free AAJ experience and help us remain a positive beacon for jazz by
making a donation today
.