Live Review
Festival International de Jazz de Montreal 2016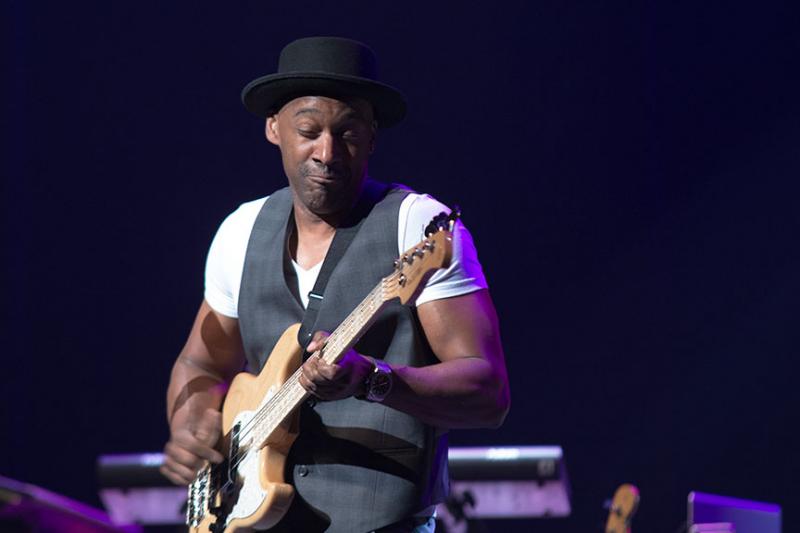 By
Festival International de Jazz de Montréal
Montréal, Canada
July 3-7, 2016
In many ways, the front of one of the festival's new T-Shirt designs said it all:
swing
blues
soul
improvisation
latin
gospel
R 'n' B
crossroads
silence
groove
world
Many festivals once known primarily as jazz festivals have broadened their scope. Whether or not it still gives a festival the right to continue using the term "Jazz Festival"—or, as is the case in Québecois Canada, Montréal's "Festival International de Jazz"—is a topic for some occasionally heated discussion. But perhaps longer than most jazz festivals— certainly for more years than any other North American jazz festival—the Festival International de Jazz de Montréal has significantly expanded its purview; if anything, the words on the above-mentioned T-Shirt aren't sufficiently inclusive, as over the past 37 years, FIJM has spread its reach to also include tangential or completely extracurricular musical genres including electronica, progressive rock, hard rock, pop and many, many others.
Still, despite the shrinking Canadian dollar, reduced funding and other challenges, FIJM has managed to meet the litmus test of a 2011
All About Jazz
article,
When is a Jazz Festival (Not) a Jazz Festival
: that, for those looking to ignore all the extracurricular shows and focus solely on jazz, there are more than enough choices to keep the broadest-minded jazz fan happy, whether they're visiting the festival for a day, a weekend, a week or the entire 10-day run of FIJM's 2016 edition.
That said, FIJM has not emerged unscathed from some of the challenges that face all festivals today, but are perhaps particularly significant for one the size of Montréal's festival—one that has seen literally millions cross, each year, into the six square blocks of a downtown core that are closed by the city every year, so that numerous outdoor stages (nine, at last count) can be erected for the multiplicity of free shows that the festival sponsors every year, augmenting a similar number of indoor venues where multiple ticketed events take place every day. These days, when you're as big as FIJM, it's hard
not
to make each year somehow bigger, somehow better.
And therein lies the rub. FIJM is world-renowned, especially since the completion of its Maison du Festival and Promenade for its
30th Anniversary year
, which acts as the rallying point for the festival's largest outdoor stage—where acts like Stevie Wonder have drawn a quarter of a million people to the streets of downtown Montréal for shows that are replete with spectacular lighting and, occasionally, choreography that uses downtown buildings as projection screens and dance stages.
The cost to fund these festivals continues to rise and, with the expectation that FIJM will put on three of these "Grand Spectacle" outdoor shows each year (one at the beginning, one at midpoint, and one at the end of the festival), in addition to plenty of top-drawer acts in their ticketed venues----has resulted in one apparent casualty: a lack of some of the more intriguing small acts that often made the festival so appealing to those able to see the bigger names more readily in their own home towns.
That's not to say the 2016 festival was without its share of unique performances...especially when one considers that many of them did not appear at any of the other Canadian festivals that largely ran concurrent with FIJM. But, barring the overdue but most welcome appearance of
Punkt Presents
, at the Maison du Festival's own club venue, L'Astral—where
Jan Bang
and
Erik Honore
, the co-artistic directors of Kristiansand, Norway's world-renowned Live Remix festival (coming up on its 12th year), were invited to bring two acts so that Montréal audiences could hear what
All About Jazz
has been covering (and raving about)
every year since 2006
—there was precious little Norwegian content to be found...a presence that, for many years, was a given, a constant.
But it wasn't just Norwegian artists that were missing. While there was sufficient international presence at the festival to justify its moniker, the number of big name acts dwarfed the smaller ones and the weight seemed to be more emphatically North American than in prior years. Perhaps it's the inevitability of an event that has grown into the largest jazz festival in the world, but the programming this year felt a bit like a festival struggling to maintain a balancing act that must be increasingly difficult, year after year.
Still, there were plenty of appealing shows to consider, in this return to the festival after being unable to attend in 2015.
Tord Gustavsen
premiered his relatively new trio and its 2016 ECM Records debut,
What Was Said
, also featuring longtime drummer
Jarle Vespestad
and, for the Norwegian pianist, a relative newcomer in singer
Simin Tander
. Rising star guitarist
Nir Felder
was also invited to L'Astral and delivered a performance that was heavy on a unique blend of cerebral writing with oblique but still catchy pop/rock tendencies. Pianist
Vijay Iyer
and trumpeter
Wadada Leo Smith
reprised music from
A Cosmic Rhythm With Each Stroke
(ECM, 2016) in addition to other selections, while
Tal Wilkenfeld
—the young Australian bass phenom who looked like she was about 15 when she played FIJM with
Jeff Beck
back in 2009
, and, bucking the passage of time, looked about 18 months older for her 2016 appearance—morphed from jazz/funk fusioneer into singer/songwriter.
Absent from the recording arena since 2012's
ATunde Adjuah
(Concord),
Christian Scott aTunde Adjuah
was still hot property as one of this year's
By Invitation
artists at Gesù—possibly the festival's most appealing venue for its intimate size and superb sound—inviting, over three consecutive evenings, his regular group, seven- string guitarist
Charlie Hunter
and singer
Lizz Wright
(both festival regulars), while pianist
Kenny Barron
's
By Invitation
series included stints with his regular trio, in addition to duos with singer/flautist
Elena Pinderhughes
and guitarist
Lionel Loueke
.
Monument National was resurrected as a festival venue, housing (in addition to Gustavsen), artists including the precocious but justifiably lauded
Joey Alexander
, saxophonist
Chris Potter
, Israeli bassist
Avishai Cohen
, five-string acoustic bass virtuoso
Renaud Garcia-Fons
,
Steve Coleman
's Five Elements and organ wizard
Joey DeFrancesco
. Sadly, due to unexpected complications from routine sinus surgery turning very serious, guitarist
Larry Coryell
was forced to cancel his heralded summer tour, reuniting the majority of the founding members to his '70s fusion group The Eleventh House, also meant to perform at Monument Nationale.
As always, pop was a big part of the festival, with new waver-turned-broader spectrum'd pianist/singer
Joe Jackson
delivering an energetic and imaginatively arranged look at some of his many hits at Place des Arts' Théâtre Maisonneuve, while the Beach Boys' Brian Wilson brought his
Pet Sounds 50th Anniversary
show to the arts venue's largest hall, Salle Wilfrid-Pelletier; the mercurial Ms. Lauryn Hill also delivered the goods at the 3,000-seat venue, as did Rufus Wainwright, playing with a large orchestra and performing music from his opera,
Prima Donna
, along with many of his better-known songs.
But there seemed to be so much emphasis on well-known names and considerably less on the smaller ones that have always made FIJM so unique. Whether this is a trend that will drive the festival in future years has yet to be seen; still, in the five nights spent as a guest of the festival—and with its media people once again treating every one of the hundreds of media guests that attend from around the world each year as if they were the only journalist in town—there's still no doubt that Festival International de Jazz de Montréal is, indeed, a
jazz
festival that may be riding the winds of change (as so many others are), but still managed to put together a program with plenty of appeal to everyone walking through its gates.
Tord Gustavsen / Simin Tander / Jarle Vespestad
Monument Nationale
July 3, 2016
After building a strong international following both the trio that released the trifecta of 2003's
Changing Places
, 2005's
The Ground
and 2007's
Being There
, and a second trilogy from his quartet that included 2010's
Restored, Returned
, 2012's
The Well and 2014's
Extended Circle
—all released by Munich's ECM Records—Norwegian pianist
Tord Gustavsen
took a completely different direction with
What Was Said
(ECM, 2016).
Or did he?
Well, while
What Was Said
may be Gustavsen's first ECM recording to more fully feature a singer in Afghan expat
Simin Tander
—who, after spending some years in Amsterdam and delivering
at the 2010 Dutch Jazz & World Meeting
before the release of her first album,
Wagma
(Neuklang), the following year, returned to Germany where she once again resides—the pianist had already recruited Kristin Asbjørnsen for seven of
Restored, Returned
's eleven compositions. A Norwegian vocalist with whom he'd already shared a lengthy history, the two worked together in the singer's group (seen at the
2009 Molde Jazz Festival
), in a duo and in the Nymark Collective, whose 2008 release
Bessie Smith Revisited-Live in Concert
put a most distinctive spin on the music of the American vocal icon.
Still,
What Was Said
brings an even more spiritual sense of purpose to Gustavsen's already carefully considered, painstaking explorations of music that began with a very limited tempo range and, over the years, has expanded gradually—like the extended circle titling his 2014 quartet record. Tander's extant interpretation of Sufi poetry, often sung in the Pashto language of her family and ancestors, blended with English language interpretations of words sourced in Norwegian traditionalism and more recent writings, including San Francisco Renaissance figure Kenneth Rexroth and others, to create an album that is unlike any the pianist had previously recorded.
Another of
What Was Said
's fundamental shifts is Gustavsen's adoption—since his ECM emergence, known steadfastly as an acoustic pianist—of electronics, something with which he'd begun to experiment over the past few years...and which he actually introduced, for the first time (and very subtly), at his
sublime 2014 FIJM quartet performance
. While more dominant on
What Was Said
and at his 2016 FIJM show, it was not a complete surprise to find that Gustavsen's use of both a small keyboard (rested on top of his piano) and the midi plate, placed under his piano strings, that allowed him to trigger various sounds/samples—even create loops—with his grand piano were always employed with great subtlety and the utmost of care and precision.
All of which made his retention of drummer
Jarle Vespestad
—also known, amongst many other things, as a founding member of Norwegian noise improvising group
Supersilent
and the diametrically opposed, complexly constructed
Farmers Market
—an important constant in Gustaven's musical universe. While capable of muscular grooves in Farmers Market, and reckless abandon in Supersilent, Vespestad's role, with Gustavsen as possibly the world's quietest drummer—one who uses a variety of unusual implements to eke some of the softest, most whisper-quiet textures possible from his kit—continued with this new trio...though, just as Gustavsen's quartet represented a broadening of tempo and dynamics over his first ECM trio, the pianist's group with Tander and Vespestad, despite its more reductionist instrumentation, proved capable of even more expansive dynamics.
Both Gustavsen and Tander's song introductions focused on the spiritual aspect of the music and lyrics; if anything, their 2016 FIJM performance may go down as the most positively
Zen
show of this—or any—year. "The two ancient Norwegian hymns," as Gustavsen described the concert's openers including "Sweet Melting," "are based on folks tunes, but traveled through a journey of transformation into Pashto, becoming more like Sufi poems where we can meet." Gustavsen also talked about the focus of his music's lyrics: "to find the divine within ourselves as much as out there" or describing "Imagine the Fog Disappearing," later in the set, as being about "the moment when you finally see clearly again."
While the music possessed, at times, an intrinsic mid-eastern tonality that was no surprise given some of its roots, Gustavsen's existing (and longstanding) interest in gospel music and where Caribbean music and New Orleans jazz meet also colored the trio's 75-minute set...which expanded to 100 minutes with the inclusion of not one, not two but
three
encores. Montréal audiences are known for their enthusiasm, but it's rare to experience this kind of response, where the crowd (about 90% capacity) would simply not let Gustavsen, Tander and Vespestad go home. All the more remarkable for this being a combination of some of Gustavsen's most lyrical music...and, indeed, some of his most angular as well.
Gustavsen's touch was as finely tuned as ever—oftentimes delicate and most specific, but with his gentle electronics creating, at times, a deep, pulsing bass or, elsewhere, gentle synth washes, which he brought to the set-closing "A Castle In Heaven," introduced as being about "finding the place within you that always gives you comfort." Despite a soft, ethereal introduction, the composition—based on a Norwegian traditional with words by Norwegian psalmist/Lutheran Bishop Bernt Støylen (1858-1937), subsequently translated into Pashto and sung by Tander with a combination of elegance and, as it neared its more dramatic conclusion, plaintive wailing—was defined by Gustavsen's reverb-drenched piano and visceral bass synth pulse, as well as the increasingly turbulent nature of Vespestad's accompaniment.
Vespestad may have spent the majority of the set finding ways to encourage audience members to lean forward in their seats to hear both him and Gustavsen, but he did get the chance to flex his muscles a little more decidedly...with primal pulses and a rare solo that, characteristically, constructed in reverse as it went from more dynamic and virtuosic tinges (still quieter than many drummers' softest moments) to a calmer conclusion. Characteristic of Vespestad's work with Gustavsen, perhaps; but still filled with plenty of surprises. As was the case with the entire set—which included some music that didn't make it onto the album, as well as new music that gives promise to this trio hanging around for awhile. Gustavsen continues to gradually open up as a pianist and sonic experimenter; Vespestad's mining of a broader range of dynamics continues to bring more tranquility and, on occasion, fire to the music; and Tander's voice—capable of husky depths and clearer, more piercing heights—also demonstrate more experimentation than in her earlier years, at times seeming to cull a bit from the cell-based linguistics of Norway's
Sidsel Endresen
, but with a more distinctively effeminate bent.
It's hard to know how well Gustavsen's fan base is buying into this significantly altered version of his musical concepts, but based on Montréal's beyond-enthusiastic response—almost paradoxical, given the Zen-like nature of much of the performance—it certainly seems that he's struck yet another vein to successfully mine.
Joe Jackson
Places des Arts, Théâtre Maisonneuve
July 4, 2016
Sometimes, amidst the mix of pop artists invited to FIJM, the festival pulls out a name that is, for most, in the "where are they now?" category...and yet delivers a smoking show filled with hits from decades past but, in some cases, with such major rearrangements that make it perfectly clear that this is not an artist not willing to simply rest on his laurels.
It's been a long time since Joe Jackson has had a hit record, but he's been far from absent, and far from resting on his laurels—far from sitting still period, in fact, having moved into classical music in the 1990s and winning a
Grammy Award
for 1999's
Symphony No. 1
—oddly, still in the "Best Pop Instrumental" category (sadly, it seems, artists can't be recognized for making major shifts).
But significant shifts are nothing new for Jackson, a talented pianist who first emerged in the late '70s on the crest of the punk/new wave scene, delivering two successful A&M albums—1979's
Look Sharp!
and
I'm the Man
—that fit comfortably within the space defined by Elvis Costello and Graham Parker, and featuring hits like "Is She Really Going Out With Him," "Sunday Papers," "One More Time" and "It's Different for Girls," before shifting to reggae with 1980's
Beat Crazy
, 1981's
Cab Calloway
, swing and jump blues-informed
Jumpin' Jive
, 1982's million-selling, percussion and Latin-infused
Night and Day
and 1983's jazz, pop and salsa blend,
Body and Soul
.
And that was just the first four years of his career. After taking a break and releasing the ambitious
Big World
in 1986, Jackson's profile seemed to dissipate, even though he continued to release albums on a regular basis over the next 30 years, including film soundtracks and classical music.
Fast Forward
(Caroline, 2015) is Jackson's thirteenth solo album excluding classical and film work, and was originally planned as four EPs, recorded in four different locations but, as Jackson quipped in his introduction to the title track, "nobody liked that, so I did an album instead."
"Fast Forward" was the fifth (and transitional) song in an opening mini-set of Jackson alone onstage, playing (sampled) piano and proving that popular songs like
Body and Soul
's "Be My Number Two" (which begins as a piano/voice duo anyway),
Big World
's "Home Town" and
I'm The Man
's "It's Different for Girls" all worked perfectly well in that context...more so, in some ways, with Jackson's sometimes pithy, sometimes dryly witty introductions. He also delivered an unexpectedly raucous, barrelhouse New Orleans ragtime version of
Joni Mitchell
's "Big Yellow Taxi" that drew plenty of laughter from the audience when, explaining how he'd been asked to contribute to a Joni Mitchell tribute project, he revealed that "it scared the shit out of me, and so became a musical game of 'What if'—'What if, instead of being a guitarist from Fort McMurray, Alberta, I was a pianist from New Orleans?'"
It was a terrific rendition. As was his drum machine-driven version of "Fast Forward," which was followed by the appearance of Jackson's first band mate, longtime (dating back to his '70s albums) bassist Graham Maby, who began playing bass along to the same drum machine pulse, but then moving into "Is She Really Going Out With Him?" Moving from a first verse with Jackson singing over Maby's bass line and the drum machine, it didn't take long for the audience to clap along and regularly respond "THERE!," after Jackson sang "Look over there" during each verse; with the drum machine and Maby leaving Jackson to sing the first chorus alone, accompanied only by piano, Maby then rejoined, without drum machine, to join the pianist for the second verse. As they neared the song's end drummer Doug Yowell arrived onstage, as did guitarist Ted Kumpel—two well-seasoned veterans of studio and stage, with a collective resume including Rickie Lee Jones, Omar Hakim, Tower of Power, Suzanne Vega, Phoebe Snow and Norah Jones.
From there the set kicked into high gear with a buoyant look at
Night and Day
's "Another World" and an up-tempo version of
Body and Soul
's "You Can't Get What You Want (Till You Know What You Want)." Beyond Mabey's unshakable anchor, Yowell provided just the right blend of powerful grooves and virtuosic fills, while Kumpel added plenty of tasty lines redolent of
Steely Dan
-era
Larry Carlton
and
Chick Corea
-period
Frank Gambale
. Nowhere was this more evident than on one of two other covers Jackson introduced to the set: Steely Dan's "Night By Night," from
Pretzel Logic
(MCA, 1973), where Jackson took an impressive solo mid-song before Kumpel took over at the song's end for another polished performance.
If anything, however, the polish that both Yowell and Kumpel brought to Jackson's band had its advantages and disadvantages. On songs like "Another World,"
Fast Forward
's balladic "King of the City" and the final encore of the evening,
Night and Day
's anthemic "Slow Song," their slick, studio-capable playing was a real advantage, as was a clear affiliation with the more jazz-centric aspects of some of Jackson's music. However, on the earlier, New Wave-style music like
Look Sharp
's frenetic "One More Time" and
Fast Forward
's cover of Television's punk- infused "See No Evil," the pair played the parts with precision...but lacked the raw energy that both tunes really needed.
Still, it was a relatively small quibble. From a balladic reading of
Night and Day
's normally disco- fied "Stepping Out" to new material like "Ode to Joy" (containing, as Jackson quipped, a bit from a "popular classical composer"), with the band building to a frenzied climax where, drenched in red light, they all stopped, mid-motion, remaining completely still for easily 30 seconds before reentering with the song's main theme to finish.
Despite not coming to Canada for many years, Jackson managed to sell out the 1,500-seat Théâtre Maissoneuve—an impressive showing considering his last solo album before
Fast>Forward
(not including 2012's
Duke Ellington
homage,
The Duke
(Razor & Tie)) was 2008's
Rain
(Rykodisk) and he's been off the charts, for the most part, since the early 1990s. Still, with a crack band, a collection of some of his best- known songs along with a few impressive new ones from
Fast Forward
, Jackson delivered a show that had everything it needed: energy, razor-sharp wit and arrangements that respected their sources but didn't hesitate to give the material a 21st century update.
Punkt Presents: Nils Petter Molvær Solo, Eivind Aarset Band with Jan Bang, remixes by Erik Honoré and Stian Balducci
L'Astral
July 5, 2016
It's been in discussion for a few years now...and finally, it happened. While the Punkt Live Remix Festival— which has garnered the attention of high profile artists including
David Sylvian
,
John Paul Jones
,
Laurie Anderson
and
Gavin Bryars
, amongst many others—is about to enter its 12th year in its home base of Kristiansand, Norway—and has become a moveable feast that festivals including Germany's
Enjoy Jazz
and Estonia's
Jazzkaar
have already brought as a festival-within-a-festival—coming to FIJM has taken a little longer to orchestrate. And for Punkt's first Montréal appearance, it was given a mere two hours in a venue with but a single hall to accomplish what it normally does over the course of, at the very least, a full evening—
and
in venues with at least two performance spaces.
Why is this important? Because the very thing that distinguishes Punkt from other festivals and makes it a moveable feast is that it's
not
just a music festival; it's a music festival with a
concept
. That concept is that audiences enter one room, where they see a performance that can range from jazz/improvised music or classical to pop/rock, folk or more; then, immediately upon completion of that show, they move to another room, the "Alfa Room," where they experience a live remix of the performance they'd just seen, with other musicians engaging with the remixer(s): in-the-moment, spontaneous music creation without a safety net.
Ever adaptable, however, Punkt has learned, in its few years on the road, how to work with any potential challenges (and, with a concept as complex to execute, the challenges can be many). Confined to just two hours in one room, however, co-artistic directors
Jan Bang
and
Erik Honore
were unable to do what they usually do: put together a program that looks to include performances by well-known Norwegian artists long affiliated with the festival, as well as artists from the location where it takes place (examples: Ensemble Modern in Germany, and Weekend Guitar Trio in Estonia). Instead, for Punkt's FIJM debut, Bang and Honoré invited longtime Punkt friends and colleagues, trumpeter
Nils Petter Molvaer
along with guitarist
Eivind Aarset
's Band (with Bang as a guest), to each put on a set, with both shows then remixed by Honoré and Stian Balducci—the latter a name new to even most seasoned Punkt fans, but a promising young electronic artist currently studying with Bang, who is also a Professor of the Department of Popular Music at Kristiansand's Agder University.
And so, Punkt's FIJM debut might be considered a bit like "Punkt Lite," but that should in no way suggest that the performances and remix were anything but top-notch; in fact, the packed house at L'Astral was treated to a particularly superb remix...and a rarity with Punkt festivals but
de rigueur
with enthusiastic Montréalers: an encore. After eight consecutive years
covering the Punkt festival from 2006- 2013
, having been unable to attend Punkt for the past two years made even a "Punkt Lite" an eagerly anticipated opportunity to reconnect with the very event (and friends) that ultimately led to years of travel to Europe and farther abroad.
Nils Petter Molvær is no stranger to Montréal; since releasing his groundbreaking leader debut,
Khmer
(ECM, 1997), the trumpeter has returned to Montréal a number of times, but never as a solo performer. Molvær's roughly thirty-minute set was a quick lesson in the myriad of elements that have brought the trumpeter to international attention for albums including
Hamada
(Sula, 2009),
Baboon Moon
(Sula, 2011) and his most recent,
Switch
(Okeh, 2014): an unmistakable tone and innate lyricism; use of electronics to broaden the palette of his horn from his warm, burnished natural tone to harmonized, looped, reverb-drenched and overdriven, amongst others; and the judicious inclusion of preprogrammed tracks—usually beat-driven but also texturally expansive; as well as unusual techniques to further expand his sonic potential, ranging from extended embouchure concepts to singing into the bell of his horn and further augmenting that sound through use of effects.
It seemed to a bit of time for Molvær to catch his stride—and with only a short set there wasn't much time to lose—but within minutes the trumpeter began to build a compelling, cinematic suite that moved, episodically, from ethereal passages, where his clean-toned horn cut through a swatch of synthesized colors, through to techno-driven, beat-infused sections that were reminiscent of his collaboration with techno producer Moritz von Oswald on
1/1
(EmArcy, 2013), but also included samples that evoked images of busy Moroccan markets. The real magic in Molvær's set was the way he tied seemingly disparate sections together, using connective threads that made each one relevant and related.
It was a short but thoroughly satisfying set that had the packed venue in an uproar. Little did they know that, as commanding an opener as Molvær was, there was even more excitement coming up. With virtually no break, Eivind Aarset came onstage with his current group, which featured longtime drummers/percussionists
Wetle Holte
and
Erland Dahlen
(also a member of Molvær's recent groups) alongside bassist Audun Erlien and, in his capacity as live sampler, Bang: literally sampling everything that was being played onstage by his bandmates, selecting fragments on the fly and, after oftentimes feeding them through processors/looping devices, sending them back to the band so that the group was, in fact, responding to itself...as played by Bang.
Over the years, Aarset—a busy session guitarist in Norway before he garnered significant critical and popular acclaim for his first solo album,
Electronique Noire
(Jazzland, 2008)—has become known, through his own releases, his decade-long tenure (with Bang) in Molvær's touring group and work with artists ranging from
Ketil Bjornstad
and
Arild Andersen
to
Andy Sheppard
and
Jon Hassell
, as a bit of a "guitar anti-hero," as he was dubbed in a
2010 All About Jazz interview
. His overall eschewal of traditional guitar tones and, instead, being more about textures and colors rarely heard on the instrument made a worldwide name for the Norwegian guitarist, but in recent years he has slowly begun to return to sounds more like a guitarist—though that's needn't mean that his effects/computer-driven bevy of tones and textures has been reduced. If anything, Aarset has begun to overlay more guitar-centric sounds over other colors developed over decades, such as: reverb-filled surf guitar; his longtime use of an eBow to create snaking, serpentine and often Middle Eastern-inflected melodies; and heavily overdriven, rapid strumming to create harsh chordal constructs that, in his FIJM Punkt performance, was bolstered by Erlien's rock-steady lines, and the dual-assault of Holte and Dahlen.
Dahlen and Holte also utilized a myriad of percussion instruments so that they often spent as much time as drummer and percussionist as they did two drummers together—though when they did come together as two kit players, their approach to playing together was so intuitive and so open-ended that they both locked in with each other perfectly while, at the same time, delivering a constant flow of surprises that helped drive the show to even greater heights. Adding Bang to the mix as a guest only made it more difficult, at times, to determine who was doing what, but with Punkt's usual attention to visuals, Jonas Magnussen made sure that watching the performance was less about watching musicians play and more about the overall
experience
.
After a stylistic departure with his ECM leader debut (and Bang collaboration)
Dream Logic
(ECM, 2012), Aarset has returned both to his label of two decades (Jazzland) and an album,
I.E.
(Jazzland, 2015), that continues the evolution of albums including 2010's
Live Extracts
and
Sonic Codex
, but introduces new elements as well, including harsher sonics on some tracks and, on one track, "One and the Same Again," an almost soulful introduction and that leads to a more progressive-leaning middle section with a positively scorching solo that also represents change (or, perhaps, return) for the guitarist.
While Aarset's show drew from
I.E.
, much of the music was so radically transformed through the entire group's spontaneous approach as to be often difficult to discern. But it mattered not; between Aarset's mesh of ethereal sonics and more grounded guitaristics, Holte and Dahlen's joined-at-the-hip collaborations and Erlien's ever-perfect choices—all twisted, turned around and reintroduced to the mix by the groove-driven Bang—it was another short but very sweet set that may have pushed the boundaries of hearing at times, but was equally about space and music so quiet that only longtime front of house engineer Johnny Skalleberg could make sure it still filled the room. In a nutshell, it was as potent a set as Aarset has delivered...though, like Molvær, virtually
every
show in which the the guitarist participates tends to reflect a consistent excellence...and, at the same time, a consistent sound of surprise.
Again, following an enthusiastic response from the crowd, the evening moved to its third and final act: a live remix of what had come before, at first featuring the stoic Erik Honoré and Stian Balducci, in particularly drawing upon Dahlen's xylophone fragment and Holte's processed kit and turning them into a loop over which other fragments were layered along with additional synth textures. But the surprise of the evening came when Molvær, first, followed by Aarset's band plus Bang, gradually reentered the stage and began contributing to the remix. While uncertain about all of Punkt's extra- Kristiansand events, it was certainly something that Kristiansand audiences have not seen before: the artists involved in remixing themselves. One of the defining characteristics of Punkt is that there is invariably something unique that audiences on any given night will
only
experience, whether it was the Wagner Reloaded Project that was so compelling
at Punkt 2006
or
a one-time performance
of trumpeter
Arve Henriksen
's
Cartography
(ECM, 2008) with almost all the original members (including
David Sylvian
's spoken words), at the 2011 festival in Kristiansand. And so, the special one-time event that makes every Punkt so special may have been, for Punkt at FIJM, hearing the artists actually remixing themselves.
Whether or not this is a truth is irrelevant; suffice to say that the remix was one of the best ones in recent memory—and that, after attending nearly a dozen Punkts in various locations. With Honoré and Balducci setting the remix's foundation and initial
raison d'être
, with each musician who reentered the stage the thirty-minute remix picked up energy and density, gradually building to a climactic peak that led to an instantaneous standing ovation and, for Punkt, a rare (if ever) encore where, once again, everyone was in the pool but this time working a landscape that moved from gorgeous celestial music to more propulsive and, at times, even jaggedly free territory. Watching closely, the question of how a remix draws to its conclusion was answered....well, at least, in part, since every remix is different, and so how they end is also something that can change from night to night. In this case, after building to another climax, Molvær signalled everyone to drop down dynamically, leading to an atmospheric ending that gradually faded to black, ending what may have been "Punkt Lite" but was still filled with thrilling performances and the kind of "without a net" improvisational forays that make every opportunity to experience Punkt worth having.
And the good news? The festival was so excited with what it heard that there is already talk about bringing Punkt back to FIJM—as early, possibly, as next year—for a proper two-evening event in a different performance space with two venues. So the roughly 350 people who had the chance to experience Punkt in a reduced format will be able to experience something closer to the real thing.
Marcus Miller
Places des Arts, Théâtre Maisonneuve
July 6, 2016
With unexpected complications from a routine surgery scuttling guitarist
Larry Coryell
's summer tour (and FIJM performance at Monument Nationale) reuniting his '70s fusion group Eleventh House, a quick alternate choice had to be made. Having not seen him in some time, the best one was an opportunity to catch one of today's best-known electric bassists,
Marcus Miller
, in Montréal to promote his latest album, 2015's
Afrodeezia
. Miller's Blue Note debut was based upon impressions culled from travels across the United States, West Africa, South America and the Caribbean, and is one of the bassist's best in years, focusing a spotlight (in a particularly relevant time) to centuries of ancestors forced into slavery but who, nevertheless, significantly contributed to the world of music...jazz, in particular.
Miller's band was also one of his strongest in some time, with nary a weak link to be found. Form the opening "Panther"—a piece of visceral funk dating back to 1993's
The Sun Don't Lie
(PRA) which, in addition to featuring Miller, thumb-slapping and string-yanking his way through a characteristically virtuosic solo, also provided some space for trumpeter
Marquis Hill
and keyboardist
Brett Williams
. With drummer
Alex "Bisqit" Bailey
and saxophonist
Alex Han
rounding out Miller's quintet, there was plenty of juice for a set high on energy and booty-shaking grooves, but also with plenty of fine spotlights for every member of the bassist's band.
Han, in particular, was most impressive on "Hylife,"
Afrodeezia
's opener and a buoyant track that, with Miller singing "Party vocal," afforded altoist Han plenty of time to develop a searing solo that came clearly from the
Kenny Garrett
school of showmanship, but with more than enough substance to make crowd-pleasing altissimo screeches and wails completely relevant climaxes to a song that garnered Miller's first standing ovation of the night, from a close-to-sold out audience.
Moving to bass guimbri (a three-string, bass-range instrument from West Africa), Miller introduced "B's River," another
Afrodeezia
track that relaxed the show's initially high-energy vibe. Like the two that preceded it—and those that followed—there was plenty of solo space, with Williams' delay-drenched electric piano solo the highlight of a song that, after Miller switched to electric bass for the majority of the tune, ended as it began, with Miller closing the song, once again on guimbri.
In some ways, the rest of the set was much of a muchness, though there were still plenty of exhilarating solos and easy-on-the-ears material. Hill proved an exciting player with plenty of his own showmanship, but Han seemed to draw the most applause as he built solo-after-solo, delivered on both alto and soprano saxophones, filled with light-speed lines and high octane wails. Miller was, of course, as impressive as ever on electric bass, though there were times when a shorter bass solo—or no bass solo at all—might have been a better decision. Still, the crowd clearly loved it, and this is far from Miller's first FIJM appearance, so he was clearly doing something right...and giving the audience exactly what they wanted.
---
FOR THE LOVE OF JAZZ
All About Jazz has been a pillar of jazz since 1995, championing it as an art form and, more importantly, supporting the musicians who create it. Our enduring commitment has made "AAJ" one of the most culturally important websites of its kind, read by hundreds of thousands of fans, musicians and industry figures every month.
WE NEED YOUR HELP
To expand our coverage even further and develop new means to foster jazz discovery and connectivity we need your help. You can become a sustaining member for a modest $20 and in return, we'll immediately hide those pesky ads plus provide access to
future articles
for a full year. This winning combination will vastly improve your AAJ experience and allow us to vigorously build on the pioneering work we first started in 1995. So enjoy an ad-free AAJ experience and help us remain a positive beacon for jazz by
making a donation today
.
Instrument: Bass
Article Coverage
|
Calendar
|
Albums
|
Photos
|
Similar Artists
Post a comment