Record Label Profile
ears&eyes Records: From Chicago to the World
By
The requirement of constant motion, forward motion and creativity. Those are the underlying driving forces, I'd say. I also like diversity.
—Matthew Golombisky
Those who feel that jazz has run out of steam, that there is nothing new to say, should encounter bassist and renaissance man,
Matthew Golombisky
, who runs the Chicago-based label ears&eyes. The name says it all. Golombisky is interested in what is going on around him. He is not only curious about music, but also passionate when it comes to art, movies, design and so much more. However, music is where it all comes together and this year, 2017, marks the 10th anniversary of ears&eyes.
ears&eyes is a label driven by community spirit, enthusiasm and creative generosity. The sense of generosity and enthusiasm also comes through in the following interview where Golombisky tells about the label, the music and the paths that have lead him to where he is today.
All About Jazz
: First of all. Could you tell how you got into music and highlight some of the albums that have been important in your own musical journey?
Matthew Golombisky
: In the 6th grade, I was to choose music, drama or sports as my extra class, my elective. I chose music and I wanted to play alto sax, but it was too expensive and my dad had an old cornet in the attic. So I started on cornet. In the 8th grade I sat next to a tuba player and we became close friends. He had recently obtained an electric guitar, so of course, we decided to start a band. I think we came up with the band name, "Hykura" (no meaning), before I actually bought an instrument.
Like most kids, I wanted to play drums, but once again, drum kits were too expensive and I already had a guitar and complained of the too many strings. So I saved up and bought an electric bass as a last resort. We met a drummer soon after and started a metal band! I was a big metal head. At first I was into Nirvana, Metallica, Living Colour, KMFDM, Faith No More, Primus, Infectious Grooves, and NIN but later fell in love with Scandinavian metal; sighting some important records would be Opeth's
Orchid
, Katatonia's
Brave Murder Day
, October Tide's
Rain Without End
and In Flames'
The Jester Race
.
In high school, I dropped the cornet but started playing bass in the school big band and fell in love with jazz music. We played a lot of
Count Basie
and
Duke Ellington
charts. I didn't fall in love with jazz because of jazz per se, but because of the freedom it gave me; the requirement of creativity. After getting into walking my own basslines and learning chord/scale theory, I was fascinated that I could play the same song over and over, and play it different every single time, expressing different ideas and/or feelings each time. That, I was in love with; the creative process. My first jazz record was
Miles Davis
'
Volume 1
. Later, in college (1997-2001), I came across other albums that became super intriguing to me like
Miles Smiles
, Davis'
My Funny Valentine
('64),
A Love Supreme
,
Giant Steps
,
Wayne Shorter
's
Juju
,
Bitches Brew
, and
In A Silent Way
.
Ornette Coleman
, his aesthetics and music, especially with Charlie Haden,
Don Cherry
and Blackwell/Higgins, blew me away. By far,
Charlie Haden
became my biggest influence and inspiration as a musician! I bought all of the
Haden Montreal Tapes
immediately after hearing the one with Cherry and Blackwell! I also got heavy into Mingus, Monk,
Charles Lloyd
,
Jim Hall
,
Brad Mehldau
(falling in love again, this time with
Larry Grenadier
),
Brian Blade
Fellowship,
Drew Gress
,
Eric Dolphy
,
Dave Douglas
,
Kurt Rosenwinkel
,
Paul Motian
,
Lee Konitz
, Chicago Underground Duo, Sex Mob, Isotope 217, seeing the "new" Wayne Shorter quartet in 2001, and more.
But also very important during this time was the discovery of Steve Reich, Stravinsky, Bartok, Rachmaninoff, Ralph Vaughan Williams, and Debussy. I was lucky that even though I was earning a jazz performance degree, thanks to an amazing professor, Dr. Joyce Dorr, my university required not only years of classical music history and theory classes, but a lot of 20th Century Classical music classes as well. Instead of bass lessons, for a year, I also took private Afro-Cuban percussion lessons and got heavy into Cachao, as well as Brasilian bossa nova. And this was in Asheville NC, where I was discovering a lot of new music; my good friend and music cohort, guitarist Sam Macy, is to thank a lot for that.
Sam and I's duo was my very first CD release! I was also lucky that Asheville was a city that loved the arts in general and had quite a number of clubs, cafes and restaurants that wanted live jazz, and paid well for it. Being one of the few contrabassists in the city, I was gigging almost every night of the week and sometimes up to 10 or 11 times a week, making really good money and learning a lot because I was always playing with folks much better and experienced than I was. It was exciting! After college, I moved to New Orleans where I was able to explore new ideas with loads of like-minded musicians, most notably
Will Thompson
,
Quin Kirchner
, Matthew McClimon, Robin Boudreaux,
Milton Villarrubia
,
Simon Lott
, and where I got to hear (and play with) folks like
James Singleton
,
Tim Green
,
Ed Petersen
,
Rob Wagner
and
Johnny Vidacovich
. We'd form groups and would play free for hours on end, forming groups, writing tunes, going on short tours, and really finding out what possibilities there were in our music and between our different backgrounds and personalities.
During this time (2001-2005), jazz/classical-wise, I was getting into the Esbjörn Svensson Trio,
Nils Petter Molvaer
,
Erik Truffaz
, Gavin Bryars,
Ben Monder
,
Jim Black
, Kornstad Trio,
Jan Garbarek
,
John Hollenbeck
, The Bad Plus,
Skuli Sverrisson
,
Hamid Drake
,
William Parker
, Cinematic Orchestra,
Tony Malaby
, Ken Vandermark, Arvo Pärt, Henryk Gorecki, and Richard Wagner and earning a Master's in composition (classical) under one of the most important professors of mine, Dr. Jerry Sieg. After some years in New Orleans and after Hurricane Katrina, I moved to Chicago which was an incredible experience and that allowed me to try even more things out and in a community of musicians with an audience that was super open to anything new and far out.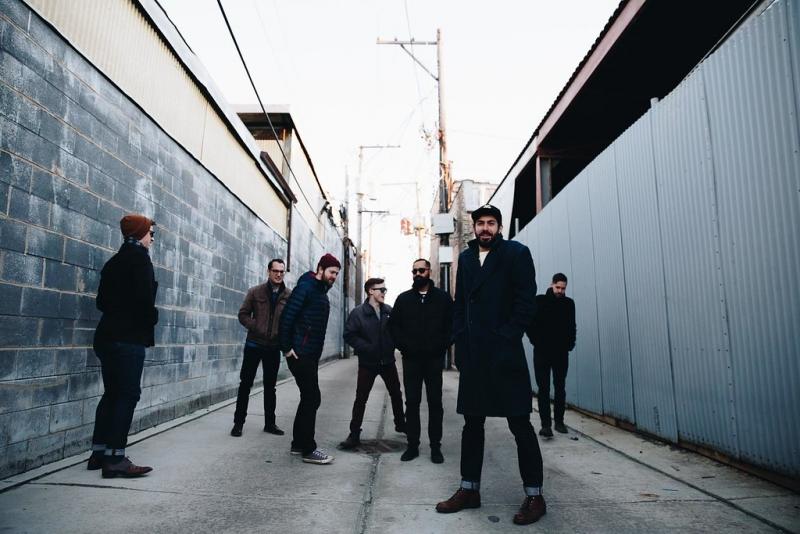 AAJ
: At this point, you have done and are doing many things: working with films, composing, teaching, engineering, designing, arranging festivals and concerts, playing music and, of course, running a label. Do you find that there is connection between the many different "hats" you wear and have worn? Do the different activities exist separately or feed off each other?
MG
: I think the underlying factor to most of what you listed is again why I fell in love with playing jazz or jazz-type music: the requirement of constant motion, forward motion and creativity. Those are the underlying driving forces, I'd say. I also like diversity; it's exciting to experience all those hats and to discover constantly.
AAJ
: ears&eyes is based in Chicago, but you are not born there. How did you end up in the city?
MG
: I grew up in North Carolina and when I was 15, I visited Chicago with my grandmother and mother and fell in love, 100%! After college I moved to New Orleans with a drummer friend. I loved New Orleans and what I got out of that musical environment and met/played with some of my most influential musicians. Though I was studying classical composition, I was playing new music every night. After Hurricane Katrina, I thought it'd be best to keep the energy of performing and curating going strong. One of my groups with Quin Kirchner, QMRplus had played a week's worth of shows in Chicago, thankfully curated by
Tim Daisy
, two weeks before Katrina, so it felt right to move there. Also, I was finishing my Master's and most schools around the country were offering students to temporarily transfer to their school for the semester and I had always thought Northwestern in Chicago would be a great place; so I attended for a semester. And Quin is originally from a suburb of Chicago and we talked about heading there together, so again it just seemed right. And it was!
AAJ
: When did you form the label and how did it happen?
MG
: In 2006, a friend from New Orleans and band leader of The Other Planets was playing some shows in Chicago. One night we were playing at Silvie's Lounge and he was having a beer outside the bar on the sidewalk; totally legal in New Orleans, totally illegal in Chicago. He was ticketed and paid a $250 fine. The club owner felt bad for him and offered a date to organize a fundraiser to pay the ticket. So Quin Kirchner and I curated a one-day festival in late 2006 to help raise funds. We booked a whole slew of bands. We also had the idea to, instead of having "down time" between sets, why not invite local filmmakers to show their films? So "eyes" was put into the equation. And why not invite local artists to display work too? And live improvised art? And live projectionists? And art project tables where folks could make their own buttons? And so began, the ears&eyes Festival. The label kind of grew out of that first festival. It also started like many labels start: folks wanting to put out records and not getting support from already established labels. If I was going to make records regardless of label support, I wanted something to connect them. In 2006, a scene of like-minded (mostly jazz- schooled) musicians were getting together more and more and making records. ears&eyes Records was formed to give these groups a sort of communal home.
A lot of the early releases were little pieces of art too. For example, the first Tomorrow Music Orchestra (TMO) record was hand oil painted with original art, all distinct little works. The second TMO album had velcro and when opened, out folded a bit of origami containing the liner notes. The Golombisky-Kirchner Duo album had individual hand-sewn packaging. There was a lot of silk-screening and spray painting too. To this day, we try to put a lot of conscious energy into the art and design of a release. Right now, we work with a super talented artist/designer in Buenos Aires, Federico Maksimiuk, who does a lot of our recent releases (ie.
Jon Deitemyer
,
Jeremy Cunningham
,
Matija Dedić
, Major Player,
Clark Sommers
and coming up
George Freeman
,
Daniel Bruce
, Phil Schurger). He's amazing!
AAJ
: Could you tell how many people are involved with the label on a practical level and what they do? Do you have many people who help or is it more or less a one-man operation?
MG
: Ha! I'm looking for interns! It's more or less a one-man outfit. I have help with physical mailings in North Carolina. My 10-year old niece fulfills orders and I pay her extra if she decorates the mailer. So if you've received something from ears&eyes that have some doodles, drawings, or googly eyes glued on the package, now you know why. And also with all the work our artists put into a release, I'd have to say they play a really big part in their particular release and all the work involved. We form lots of mini teams to conquer as much promotional things as possible and share ideas with one another. It's always evolving.
AAJ
: How do you see your role as founder of the label and how would you characterize the sound(s) you are looking for?
MG
: My motto has always been that I release great music. Period. It has to be fresh, interesting, intriguing and sincere. My goal is to continue to release, what I believe, to be incredibly awesome music. Most of the releases come from a jazz/creative music mentality, but we're not limited to only jazz-type music. We have a handful of pop, rock/soul, folk, and electronic releases as well.
AAJ
: How much are you involved with the different projects? As understand it, you have contributed with design on some releases and played as a musician on others. Do you also play an active part as a producer on some of the projects?
MG
: For sure, I do a lot of marketing guidance for the artists, taking on a big role in trying to get releases into as many ears as possible, fans and reviewers included. I'm behind the scenes getting a release ready for digital distribution and put together marketing plans and timelines. This happens on all releases. I offer art consultation or sometimes do the whole or partial design. Sometimes, I will offer a lot of guidance on a release that it feels a bit like the role of a producer, but my name as producer has only showed up on one release, Matija Dedic's
Dedicated
. I spend a lot of time talking with artists on how best to approach many things, including "band names," art direction, pricing, media, trailer creation, exclusive streams/premieres, ideas on timelines, where their music might fit into different circles and the like; it's always a different conversation resulting in new ideas for the next release. Starting in late 2014, when ears&eyes started on a really big transformation, I was rapping with drummer, composer and good friend,
Charles Rumback
on how to "up the game" of what we could do and accomplish as a label. My conversations with him over the last almost three years have a lot to do with where ears&eyes is now.
AAJ
: You're a musician yourself. How does that influence the way you run the label?
MG
: I'm not sure it really influences much other than I have a, no pun intended, "tuned in" ear when evaluating whether I think I can get some positive feedback on a potential release or not. And being a curious musician, I always invite and love to hear brand new music, no matter the style, and running a label, I get a lot of new music in my inbox; though I can't release everything that comes my way, I do listen to it all!
AAJ
: Chicago has a very rich tradition of creating progressive jazz labels. I'm thinking of labels like Delmark, Okka Disk, Nessa Records and, lately, International Anthem. Do you see yourself as part of that lineage and tradition?
MG
: Those are some heavy and important Chicago labels and they play a huge part in conserving the Chicago sounds, new and old, and I think there are a number of musicians and fans in Chicago that would say that ears&eyes is playing a role in that conservation as well. At least, I hope so.
AAJ
: I would like to hear your take on the Chicago scene. Is there a Chicago sound these days and how would you describe the musical environment in the city?
MG
: I haven't lived in Chicago since late 2008, but of course, I visit, play and record there off and on and most of my artists are Chicago-based so I pay attention to the scene from afar. I would describe the scene in Chicago as extremely special and a bit unique in that there's a real sense of collaboration and community; an exchange of several ideas across genres and styles. I think of examples like Ken Vandermark playing with The Ex; or the fact that Josh Abrams is on the first Roots album;
Jeb Bishop
with Stereolab;
Rob Mazurek
, Josh Abrams, and
Chad Taylor
with Sam Prekop;
Matthew Lux
and Taylor with Iron & Wine;
Dustin Laurenzi
recording and touring with Bon Iver; or Charles Rumback and my Tomorrow Music Orchestra's work with Australian singer/songwriter Via Tania; the list goes on and on! Although those rock bands aren't based in Chicago, the exchange and crossover I see as a general theme in Chicago and it's something I quite enjoyed as a player/composer when living there. There are always folks that are excited to try out whatever crazy, genre bending/breaking idea you might have. For me, there was always a sense of community and connection and from what I can tell, it's still strong. Just look at all the crossover that exists on our releases. I was just adding up that Charles Rumback is on nine releases (three as leader), Clark Sommers on four,
Jeff Parker
on three, and Quin Kirchner on sixteen! I've often thought of creating a Venn Diagram of our leaders and sideman; ears&eyes is a bit incestuous, musically speaking, that is. I love it!
AAJ
: Saxophonists
Von Freeman
and
Fred Anderson
played an important role as mentors on the Chicago jazz scene. They were both brilliant musicians who stayed in Chicago instead of moving to New York. Who would you say have picked up the baton these days? You are doing important work yourself, but are there others you know of?
MG
: That's a question with a lot of answers; there are quite a few I could name. Though Vandermark plays more abroad than in Chicago these past few years, he is an important influence on where the current improvised music scene is in Chicago. And before him, you can currently hear the importance and legacy of the AACM (and the Art Ensemble of Chicago) with over 50 years of creative music in Chicago! I would say there are quite a number of important Chicago figures like
Bobby Broom
,
Dana Hall
,
George Freeman
,
Harrison Bankhead
,
Ernie Adams
,
Mike Reed
,
Jim Baker
, and my generation's folks like Tim Daisy, Charles Rumback,
Nate LePine
,
Bill MacKay
,
Keefe Jackson
, Clark Sommers,
James Davis
,
Jason Stein
, Quin Kirchner,
Matt Ulery
,
Greg Ward
,
Dave Miller
,
Rob Clearfield
,
Geof Bradfield
,
Chad McCullough
,
Nick Mazzarella
, and on and on. That's what makes Chicago so great: there are so many influential, hard working, creative and active folks. And on a related note, check out
Caroline Davis
' half music—half history lesson, Doors: Chicago Storylines. It speaks to what the Chicago scene was like in 80s/90s as told from some of the most important players during that time like
Art Davis
,
Joan Hickey
,
Ted Sirota
,
Mike Allemana
, Ed Petersen, Von Freeman and more.
AAJ
: New Chicago musicians are starting to establish themselves, but there are still many players I'm not familiar with. Trumpeter
Marquis Hill
is one of the rising stars on your label, but could you tell me about some of the other names the listeners should look out for?
AAJ
: Marquis is super! He appears on a couple of our releases; Paul Bedal's
Chatter
and Juan Pastor's
Chinchano
. It's funny you should mention the younger crowd because I feel like I'm getting older because there is an entire younger generation that is making big waves in Chicago. Check out Dustin Laurenzi,
Andrew Green
,
Katie Ernst
,
Jeremy Cunningham
,
Jeff Swanson
,
Matt Gold
,
Makaya McCraven
,
Paul Bedal
and again, the list can go on.
AAJ
: A thing that is great about the label is that there is dialog between different generations of Chicago musicians. I have listened to musicians like bassist Matthew Lux and guitarist Jeff Parker, and their appearance on the label has been a reference for a listener like myself who was heavily into the Chicago sound created by those people and an artist like trumpeter Rob Mazurek. Has it been a conscious choice that you wanted to connect different generations or is it just a coincidence? Do you see a link between the Chicago sound of the past and now?
MG
: On a day to day basis, I'm not trying to connect different generations. I'm simply looking out for amazing music. Because Chicago in and of itself is all about collaboration in general, I don't think folks are necessarily thinking about connecting generations as a priority as much as creating new music. This being said, on a couple occasions I find ears&eyes trying to preserve and prolong some of Chicago's legends including drummer
Rusty Jones
on guitarist Sam Möshing's
Some Other Tree
which was released a year after Rusty's passing. This summer, on vinyl, George Freeman (who is 90 years old!) and Mike Allemana's Organ Quartet featuring
Bernard Purdie
will be released too!
AAJ
: Which venues would you recommend for live listening? Where is it possible to hear ears&eyes artists live?
MG
: Every night of the week, I can almost guarantee you that there are several ears&eyes artists playing live and if not, there are still amazing shows to see... every night of the week! I would definitely check out what's happening at Constellation, Hungry Brain, Café Mustache's Rachtet series curated by
Frank Rosaly
and Nick Mazzarella and the Flood Music Series curated by Matt Gold, California Clipper, The Hideout, Elastic Arts, Comfort Station, Experimental Sound Studio, The Green Mill, The Whistler, to start. I remember living there, I could always count on Chicago creative music scene supporter Malachi Ritscher's website for what was happening each night, www.now-is.org. He was really special for Chicago in the 90s/00s, often recording live shows and giving the audio to the bands for free. Luckily, his website has been maintained by another really special Chicago music fan, Tushar Samant; that's a really good resource.
AAJ
: ears&eyes is a local label, but it also a global label, as you point out on the website where it says: "Born in Chicago, with roots in New Orleans, and branches in New York, Bay Area, Argentina, Croatia & Belgium." Could you comment on the global nature of the label and explain how working across different geographical areas has influenced the identity and aesthetics of the label?
MG
: Out of the some 75 records we have, I would guess only a dozen of them aren't Chicago-based groups. So though we have these other connections, there aren't many. The main goal is to release great music and the truth is, there's a lot of it in Chicago! And with my playing and curating while living there, ears&eyes is a label that a lot folks know of in Chicago. One recent goal though is to expand and extend our audience. Of course, we can do this with online resources and social media, but I think working with artists outside of Chicago can offer something different.
The New Orleans "roots" addresses the fact that Quin Kirchner, Matthew McClimon and I relocated to Chicago after Katrina and were releasing some projects we were involved with in New Orleans. We continued that connection on a few more records thereafter. The "branches" refers to places I've lived and/or newer artists, and bands I've released while living in those different cities. The New York connection refers to a group I released and then played/recorded with, Quintopus (our last record,
Prehistoric Beach
, I'd call... fun/obnoxious jazz) and I also played in rock band, Animal Pants. The guitarist/songwriter from Animal Pants, Jeff York and his new band, Major Player, has a trip-rock album (Extended Play) out with us. Curt Sydnor, out of Brooklyn released a synth-bass, aural "telling" record of architect Louis Sullivan's theories on architectural ornamentation; my longtime band mate Caroline Davis is on that record. Now, Chicago- based Chad McCullough has four records out with Belgian pianist Bram Weijters; they attended BANFF together.
I live in Buenos Aires now and am planning to work with artists here in the near future, most notably bassist Juan Bayón. Funny story: Juan and I were talking about different projects of ours and I shared a video from a TMO, and he said, "hey, I know that trumpet player! That's Chad McCullough! We went to BANFF together!" So Juan, Chad and Bram have known each other since 2009. The world grows even smaller.
AAJ
: as you mentioned, you have ties to New Orleans, Chicago and Buenos Aires. Could you tell me about the different musical scenes and how you experience the differences or similarities between them?
MG
: I also lived in the Bay Area, California and the main thing I'd say about what they all have in common is quite a bit of very open, forward moving and creative thinking. It's incredibly easy to find folks that want to try any/everything. There's also an audience for these aural experiments. Some of the generalizations I think hold true; for example, yes New Orleans has quite a bit more funk, gritty groove and moving bodies.
(However), I experience music in all the cities very similar: don't play with jerks, avoid the egotistical, find like-minded folks and have fun! Some of the pockets of musicians between Buenos Aires and Chicago are very similar. For example, if I had to name a "sister label" to ears&eyes like major cities have "sister cities," I would definitely name indie label, KUAI Music, as our sister label. They curate mini-festivals like ears&eyes did and there's a communal vibe among them. There is a big group of musicians who are all getting together in slightly different formations and making new music. On a "freer" level of jazz, I'd say that the Umbrella scene in Chicago has a lot in common with the Nendo Dango label in Buenos Aires.
AAJ
: Speaking about the musical connection between Buenos Aires and Chicago, I would like to discuss a particular project of yours, Tomorrow Music Orchestra. In many ways, it seems to embody the open-minded aesthetics of the label where different musical worlds meet. Could you tell about this particular project and the records you have made?
MG
: Tomorrow Music Orchestra was my baby (I say was even though I'm forming another version in Buenos Aires and did reunite with a lot of my Chicago friends last year for a release show). But the heyday for TMO was 2006-2009. I had about 35 people on the roster from different backgrounds but mostly either from the jazz or classically trained worlds, including folks from the Chicago Symphony Orchestra. I had a full string, woodwind, and brass sections along with drums, vibes, accordion and guitar. It was a mixed bag of folks that wanted to play my usually odd, often soaring, harmonically rich or bland, odd-metered, through-composed and/or free, sometimes graphically scored and audience guided, sometimes with conduction, often chaotic, loud, but also quiet, beautiful, ugly music.
We would sometimes be 25 folks trying to fit on a stage in a rock club designed for 4 or 5-piece band. Sometimes we'd spill out into the audience. Sound guys hated us. But it was the perfect tool for me coming out of a composition degree and wanting to mix aural colors and experiment with combinations of instruments. With TMO, I had a group of, not only talented musicians, but really fun, supportive, kind, and fun people. I was able to really get to know each musician and highlight their strengths in pieces, music written especially for the folks in the group. For the first year or so, I remember trying to write brand new music for each performance as to mock the days before recording; if you didn't see Mozart's 40th in concert, you may never hear it, kind-of-vibe (just without the greatness of Mozart). And as far as the different musical worlds meeting and the embodiment of the open-minded aesthetic that is Chicago, it was a big part of TMO.
The first TMO record was a live recording of our first show. Well, actually the very very first show for TMO was while I was still in New Orleans; Quin Kirchner was on that gig as well. But the first Chicago show was at a warehouse-type living space called the Ice Factory, where the folks living there put on shows and dance parties. It's not around anymore but it was a go-to venue for a really great time and hosted some of Chicago's most adventuresome improvised, rock and experimental music. Some of the folks from Ice Factory still curate under the "Homeroom" name. For that particular show, nine of us got together the day of the show, learned brand new music, ate some pasta, and went to the gig.
From there, TMO grew fast. The second recording,
neon jesus garage
, was taken from two live shows; one at the opening party of a practice warehouse, Music Garage, and the other at an old baptist church where instead of a typical wooden or brass crucifix, there was a huge crucifix made of neon tube lights! Often the venue turned off the neon lights for performances; of course, we insisted they stay on. What a trip! We also recorded some backing tracks for the metal band, Daylight Dies, a band I was in in high school and into college, the guys I learned to play bass with and who are still putting out amazing albums and touring the world. TMO is on
Lost to the Living
. As mentioned before, I composed and orchestrated music for Via Tania's last record and used TMO as the backing band. And last year, I finally released a concerto featuring New Orleans/Belgian cellist Helen Gillet. It was recorded in 2008 but just last year released. If you want to get a sense of TMO in one 11-minute piece, it would be the release:
Gustav 29 Hanna Concerto
.
AAJ
: Speaking of records, could you highlight some of the key albums that have been important in the label's development and sound? Which albums would you include if you were to compile a shortlist of albums to someone who has not heard about the label before (excluding the compilations)?
MG
: This is a difficult question to answer, wow. In the early days, I have to thank the very first official release (2007) as a leaping point: the Jason Steele Ensemble, which included a vibe, a hang, a something that was super common in Chicago: the Jason Steele gig. A lot of us eventually played it. And it had a vibe that was incredibly fulfilling and sincere. The actual release had some heavy hitters too including Ron Miles, Matt Ulery, Josh Sclar and Charles Rumback. Also, I was a big fan of the
Video Gum Culture
release with Charles Gorczynski, Brian Citro, Ernie Adams, Nate Lepine and Harrison Bankhead. Zing!'s
Magnetic Flux
, a group I was in with James Davis, Caroline Davis, Dave Miller and Quin Kirchner was a release very important for ears&eyes' diverse catalog as it was a semi-punk/metal, electric, loud jazz record. Dave Miller's Algernon band with their
Familiar Espionage
album was also an exciting play on post-rock, jazz-type music.
Later on, during the "quiet years" (2009-2014), I'd have to point out James Davis' double flugelhorn, double bass clarinet release,
Beveled
, Pedway's
Passion Ball
, Dan Thatcher's solo bass record
Playing Favorites
, Quintopus' debut
Voyage to Ornoc
(includes an awesome Björk cover), and Paul Bedal's
Chatter
.
More recently, to get a sense of ears&eyes' diversity, check out blink's
The Delicate Beast
with Greg Ward, traditional Japanese music-influenced group Hanami's vinyl release
The Only Way To Float Free
, Twin Talk's
Twin Talk
, Jon Deitemyer's
Tall Tales
, Matija Dedic's
Dedicated
with Chris Cheek, Noah Hoffeld, Matt Brewer, Dave Miller's instrumental, Neil Young-esque, rocking
Old Door Phantoms
, Jeremy Cunningham's
re: dawn (from far)
with Josh Johnson and Jeff Parker, Belgian Bram Weijters & Chad McCullough with the synth driven
Feather
, Rob Clearfield's
Islands
, Nate Lepine's debut as leader
Quartet: Vortices
with Nick Mazzarella, Quin Kirchner and Clark Sommers, Dustin Laurenzi's
Natural Language
, Greg Uhlmann's
Typical Sisters
, Charles Rumback's various releases including
Whirlpool
with Ron Miles,
In The New Year
with Jeff Parker and Jason Stein, and most recently in an acoustic piano trio with Jim Baker. Wow, I could really just name all the more recent releases; I dig them all!
AAJ
: The compilations you have released are also perfect for new listeners. How do you compile these albums? Do you try to create a certain type of mood or a musical narrative or do you simply highlight the best tracks from the artists?
MG
: The goal is to create something that represents what happened in the previous year, a taste of everything released. So yes, I first go through each album and pick my favorite tracks and then try to arrange them in a way that flows as perhaps a radio DJ would.
AAJ
: Tell me about the package and design of your albums. You are a designer yourself. Do you prefer a particular design and do you include liner notes and/or photography in your physical releases?
MG
: The packaging has changed over the years. I think the most important aspect is that it's visually appealing and interesting. I like that ears&eyes allows for all styles and vibes of artwork. Don't get me wrong, what ECM has done as a visual brand is super, super cool and recognizable in a second, but I don't have a "vision" per se that I'd want to place on every release because each release is so different aurally, I like to let that visual life live through the artwork. As far as liner notes are concerned, it's up to the artist. I love reading liner notes myself, but only after listening to the record a few times first; I want to get my impressions first, without the influence of the author. If I remember correctly, I think there's only one release with liner notes but done by one of the finest writers, Neil Tesser.
Photography is tricky; it has to be done really well, especially pertaining to photos of the musicians. It's hard to place a photo of the musicians without it being odd and out-of-place. But if done well, it can be very effective. Check out what our in-house designer, Fede, did with Ashley Summers portrait photo on
True North
or how amazing illustrator Luke Etcheverry transformed the portraits of the George Freeman/Mike Allemana Organ Quartet on
Live at The Green Mill
. Though that LP cover is completely different alongside all of our other releases, it fits the music and energy perfectly, and ears&eyes totally accepts and embraces it.
AAJ
: Do you favor a "live" feel on your recordings or do you prefer the sound of the studio? Is there a particular studio and engineer you work with?
MG
: For me personally, it depends on the album and the intention of the artist. If it's more of a "living" (ie. live) performance, I like to hear the life of the instruments and performers, and the room as it becomes an extra instrument in a way. I want to feel like I'm right there in the same room as the performers.
But if the artist intends for a crisp and clean album, I like to get into the audio and really try to dissect it. I like to imagine where mics were placed, how much compression is on the snare, is that a ribbon mic, what's panned hard and where, etc; I like to get nerdy on the technical side. I remember a couple classes in a recording technology class in grad school where we spent hours trying out different "one- mic drum kit recording" technique.
---
FOR THE LOVE OF JAZZ
All About Jazz has been a pillar of jazz since 1995, championing it as an art form and, more importantly, supporting the musicians who create it. Our enduring commitment has made "AAJ" one of the most culturally important websites of its kind, read by hundreds of thousands of fans, musicians and industry figures every month.
WE NEED YOUR HELP
To expand our coverage even further and develop new means to foster jazz discovery and connectivity we need your help. You can become a sustaining member for a modest $20 and in return, we'll immediately hide those pesky ads plus provide access to
future articles
for a full year. This winning combination will vastly improve your AAJ experience and allow us to vigorously build on the pioneering work we first started in 1995. So enjoy an ad-free AAJ experience and help us remain a positive beacon for jazz by
making a donation today
.
Post a comment