Interview
Ron Carter: Detroit Jazz Festival 2016 Artist-In-Residence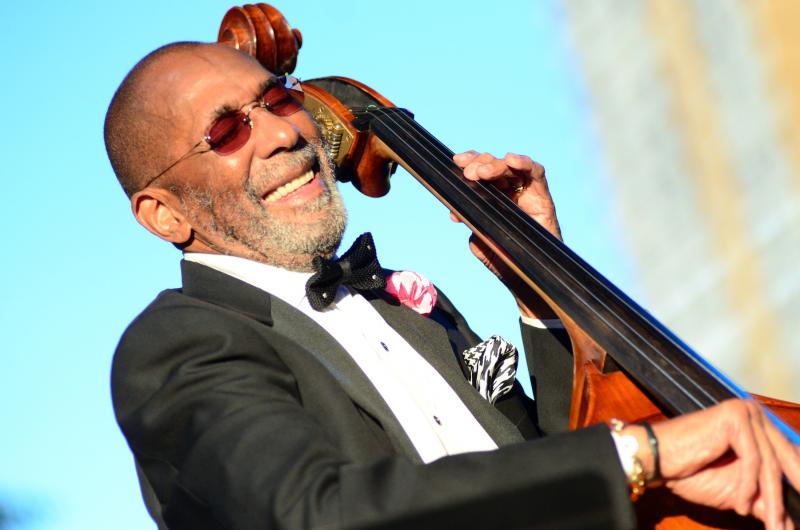 By
I am trying to show the audience how I am making music without the normal musical components.
—Ron Carter
As the artist-in-residence for the 37th Annual Detroit Jazz Festival,
Ron Carter
maintained an active role in both the artistic and educational functions that accompanied this distinguished position, made even more extraordinary by the fact that it was all happening in his hometown. Having teamed with
Pat Metheny
last year for a stellar duo set at the festival, artistic director Chris Collins got the idea that the time was ripe for the seventy-nine-year-old bassist to return to Detroit for an extended residency. On the last day of the festival, Mr. Carter graciously sat in a conference room on the 70th floor of the Marriot Rennaisance to chat about his stay in Detroit, the state of music education, and some of his most memorable moments in music.
All About Jazz:
What chain of events led you to become artist-in-residence for this year's Detroit Jazz Festival?
Ron Carter:
Someone had a plan and they have had this artist-in-residence program in place for a while. I mean, Pat Metheny was here last year and they have had Joshua Redman and Terrence Blanchard come through. It gives an artist a chance to have his musical views heard in as many different formats as he can think of and then present it to an audience of Detroit jazz fans. Of course, I was with Pat last year and so the director asked me if I would be able to make myself available to be artist-in-residence for the following year.
AAJ:
How did you decide which types of ensemble you would feature for this year's event?
RC:
Well, all these groups I have for this festival are ones that I work with regularly. They are not just put together for this festival. I picked the nonet for the opening night because I thought the sound was so unusual and that it was an unusual looking group of four cellos and jazz quartet. I felt that audience would be quite surprised to see this physical presentation of the music. I was concerned though that if we didn't get a great sound, it wouldn't be as effective. I am happy to say that we had a sound check and the sound guys got a great sound and with the big screens it was a very impressive opening for my view of music.
The second unit was my quartet and I picked it because it is a quartet without a horn player. I thought if I could get a great sound from this group, it would show the audience another stage of my musical interests. The third group is a trio and has no drums. So I am trying to show the audience how I am making music without the normal musical components. That trio, with piano, bass, and guitar, the older members of the audience might recognize from
Nat King Cole
recordings or the early
Ahmad Jamal
trio called the Three Strings. But, the newer generation clearly is not familiar with these things, so I hope this is an eye-opener for them. The sixteen-piece big band will be closing out the festival tonight. I made a record with them so I feel that I owe them a chance to come to a festival outside of New York, where they can show off what they do every night.
AAJ:
How has Detroit changed from the days when you were here as a budding musician?
RC:
One of the problems with so many big cities is that there are no arts programs at the elementary, junior and high school levels. Because there is not this early exposure to music, I know there is some great talent that is not getting a chance to do this. There is no program to encourage them to develop this thing in their ear that they can define like I had when I was twelve years old. There is interest, but by the time they are eighteen or nineteen it is like delayed development. The only way that is going to come to fruition is if someone like me comes into town to give them direction and this week is my chance to do that kind of interaction. As it currently is, those guys that need that kind of encouragement don't get it because the audience is smaller. They don't see
Kenny Barron
, or
Randy Weston
, and they don't hear jazz on the radio so they miss the opportunity to make the sonic connection with this music. I rue the day there are no more piano players because they didn't hear about it until they got too old or too busy to delve into this thing called piano.
AAJ:
I have to ask about
Rudy Van Gelder
in light of his recent passing. What things do you recall or come to mind when you think about the many years spent at his studio making jazz records?
RC:
Rudy and I worked on that bass sound for a very long time. You know that Saturday was generally his off day. So, I would go out on Saturdays about 9:30 in the morning. I would bring my two sons with me and they would take books and read in the corner. Meanwhile, Rudy and I would try to figure out how we could record the bass so it sounded on a disc at your house the same way it sounded at Rudy's. We tried different pickups, different microphones, different locations in the room, and I tried different strings and basses. We were both scientists who were really happy to have someone to experiment with in this process. It didn't make us close physically, but it made us so close scientifically that each time I went out there it was another chance to see if we got it right. When I went to see him at his 90th birthday last year I hadn't seen him in a while and I saw that he was not in good health. I felt sad for him because he was such a physically active guy, you know moving from machine to machine. So when I got the e-mail that he passed away two weeks ago, I was really saddened because he was one of my friends and I have been making records with him since 1960. To know that this person who set the standard of jazz sound on disc took time out of his schedule to work with me to include my sound as a sound on disc that he was not only responsible for, but happy to show off, [is something special.]
AAJ:
You know, the obvious question would be to ask about your time spent with
Miles Davis
. But I would like to know about other musical experiences you have had that clearly stand out for you. What are the musical accomplishments you are most proud of?
RC:
You mean besides playing with Miles Davis? I'm happy he played with me! That's a kind of difficult question for me to answer because if I don't mention someone's name, some guy is going to feel that my musical relationship was not as rewarding as this one over here. But, I'll take a chance. I think
Houston Person
and I did Rudy Van Gelder's last recording project. I saw his assistant, Maureen Sickler, and I told her to tell him that I heard the final CD and heard that chemistry and I couldn't thank him enough again for capturing the sound of the bass so well. I enjoy playing with
Herbie Hancock
because of his ability to be so flexible in paying attention to my lines. I enjoyed playing with
Connie Kay
because he had such a great drum sound, of course so did
Jack DeJohnette
, and
Tony Williams
, and
Art Blakey
and I played with all those guys. Connie's sound was so engrained in the Modern Jazz Quartet that just to be a part of his sound in a
Paul Desmond
setting was fascinating to me. I got to know him well and we had some nice life conversations. I cherish those kind of things. It is so difficult to share those kinds of thoughts because they are so personal to me. I am not really ready to let them go. And probably the last name on that list would be
Sonny Rollins
. And his name comes to my head because we worked at the original Five Spot for six straight weeks. You can't imagine the choices I had by the way he played and how he directed the trio with bass and drums. We played two sets a night and it was phenomenal. I miss that opportunity to develop my note choices and to develop a following that wanted to see what we were going to do that night. And I developed these ideas because Sonny Rollins plays the way he does. As forceful as he played, he was so aware of my harmonies that he didn't mind changing his direction if I came up with an idea that was better than his idea. But only for a moment, and then he was back on his way again.
AAJ:
It is like how you have different types of conversations with different people.
RC:
Right, and I try to find the same language. Sometimes I get it right and sometimes they get it right.
Photo credit: C. Andrew Hovan
---
FOR THE LOVE OF JAZZ
All About Jazz has been a pillar of jazz since 1995, championing it as an art form and, more importantly, supporting the musicians who create it. Our enduring commitment has made "AAJ" one of the most culturally important websites of its kind, read by hundreds of thousands of fans, musicians and industry figures every month.
WE NEED YOUR HELP
To expand our coverage even further and develop new means to foster jazz discovery and connectivity we need your help. You can become a sustaining member for a modest $20 and in return, we'll immediately hide those pesky ads plus provide access to
future articles
for a full year. This winning combination will vastly improve your AAJ experience and allow us to vigorously build on the pioneering work we first started in 1995. So enjoy an ad-free AAJ experience and help us remain a positive beacon for jazz by
making a donation today
.
Instrument: Bass
Article Coverage
|
Calendar
|
Albums
|
Photos
|
Similar Artists
Post a comment