Bern Nix: A History In Harmolodics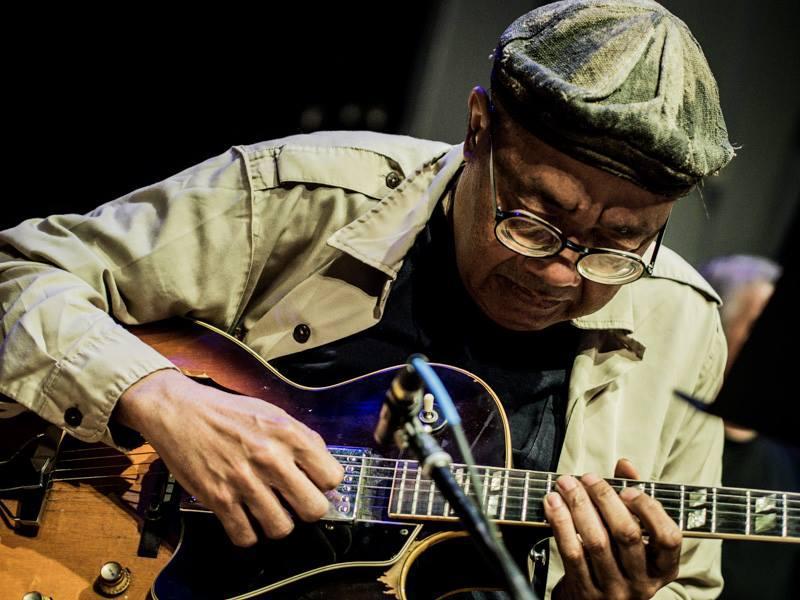 By
The harmony doesn't dictate the direction, the melody does.
New York-based free jazz guitarist Bern Nix is one of the few people who are well-versed in
Ornette Coleman
's "harmolodics" style. He played with Coleman from 1975-1987, and now leads the Bern Nix Trio in New York City. In his compositions and his intriguing covers of standards, he is always looking in the corners of the music for something new.
Described recently by a viewer on YouTube as being "the Billy Bang of the guitar," Nix's sound is both spare and full, melding
Wes Montgomery
(for example, as on Montgomery's stops and starts in "Four On Six") and references to guitarists from Tiny Grimes and
Barney Kessel
to
Derek Bailey
. His free explorations are couched in a smooth Jimmy Raney-style accent and flow, with his compositions and improvisations based largely on Coleman's harmolodics.
Joining Ornette Coleman
Before joining Coleman, Nix was a student at Berklee School of Music. "At Berklee, they used to give the guitar players hell," he says. "They'd say, 'You can't read.'" One of his teachers, who taught the guitar ensemble class and his arranging class, said: "The only thing to do is to do it every day." Nix still practices reading sheet music daily—he buys classical music and big band music. With classical scores, he will often read off the first violin part. It was also a technique practiced by one of Nix's main influences, guitarist
Jimmy Raney
.
After graduating from Berklee in 1975, Nix heard that Coleman was looking for a guitarist, so he found Coleman's phone number and rang him up. Nix went to New York and auditioned with Coleman in his loft apartment in Manhattan. Coleman's guitarist at the time was
James Blood Ulmer
. Nix says, "I first saw Blood in 1975, when he came up to Boston when I was at Berklee. He was playing with Larry Young on organ (and) it was a free concert. He had also played with Joe Henderson on one or two LPs."
Then, in Coleman's apartment, Nix saw Ulmer walk into the room. "I saw him and I said to myself, 'Oh, that's the guy who was playing at Berklee with Larry Young.'" Nix adds, "I was looking for a gig—I didn't want to go back to Ohio." He found his gig, with Coleman's Prime Time electric band, where he played from that year until 1987.
Harmolodics
To play with Coleman, it was necessary for Nix to become accustomed to Coleman's musical approach, the famous style that Coleman named "harmolodics." What is harmolodics? Nix began to answer this question by saying, "Well, that's the big question!" Nix explains that it is melody that leads the way in harmolodics. Indeed, a few moments on a guitar will show that improvising a free (and solo) melody is the easiest way to change key—you don't do it by trying to improvise a series of chord changes.
"It's a different approach to playing," Nix says. He listened to Ulmer to see what was going on with harmolodics and Coleman's sound. "I needed to listen to him play. [Harmolodics] is like [playing] a standard jazz guitar, but only more contemporary—it's a fresh approach to playing jazz guitar. [It's] just a way of looking at music—It's not a system. It's a way of... [handling] the difficulty of dealing with melody, rhythm and harmony... [by way of utilizing] melodic variables... [It's] exploratory. [You find] direction with the melody. The harmony doesn't dictate the direction, the melody does."
He adds, "I see it like counterpoint—contrapuntal lines—so I guess that's one way of looking at it. Somebody once told me they thought harmolodics was counterpoint carried to extremes. I was doing a gig once in Canada with this band. We were playing music that was kind of similar to what we were playing with Ornette. We were doing a gig one night at the club and this guy came up—I think he was with the local university or something—and he said that what we were doing sounded like counterpoint taken to its extremes.
"I [once] said to Ornette that it seemed like counterpoint. I was working with him, rehearsing with him, and we were getting down to a couple of different lines... and I said to him, 'You know, to me this sounds like counterpoint.' He said, 'Well, it's not exactly counterpoint, it's something else.' You know what I mean? The way Ornette uses language, he likes to put his own spin on everything. But to me, it's contrapuntal. I talk to other people and they say the same thing.
"I always thought harmolodics was an open-ended exploration of the meaning of melody, rhythm and harmony; that's the way I see it. [You're asking] what is melody, what is rhythm—what it is. It's more like that, than a big system, you know—it's ways of dealing with it. [You] figure out the different ways of doing [it]."
Prime Time, a twin electric guitar band plus Coleman and the rhythm section, released a number of albums, and Nix played on six, beginning with
Dancing In Your Head
(A&M, 1975) and ending with
Virgin Beauty
(CBS, 1988). The albums in between were
Body Meta
(Artist House, 1976),
Of Human Feelings
(Antilles, 1979),
In All Languages
(Caravan Of Dreams, 1987) and
Live At Jazzbuehne Berlin
(Repertoire, 1988).
He describes the journey on the albums: "We were basically working on the same concept with all the albums. Essentially it was an evolving thing, really—the same concept, the whole idea of compositional improvisation and just trying to develop it. If you get a band, you try and develop it, to try to make it better. It was basically the same kind of idea—composing, orchestrating as you play."
Nix goes further: "You shouldn't have to think in terms of the traditional role on your instrument. The guitarist [can be] thinking like a drummer, a bassist. You can change at any given minute. It's like an organic kind of music-making. It's constantly changing—the whole idea is to keep it changing, trying to avoid making it sound too formulaic or predictable." He describes the result: The music develops "in an open-ended way."
Of the bouncing and distinctive title track of Prime Time's first album,
Dancing In Your Head
, Nix says, "That tune was originally from 'Skies in America.' You see, the thing about Ornette is that he keeps on changing the titles to different things. 'Cause when I first joined the band, I would always ask him, 'What do you call this tune?' It used to annoy him because I'd want to know the title—it's not just what you play that changes; the titles change too." The album,
Skies In America
(CBS, 1972), is an orchestral album on which Coleman formally first used the term "harmolodics."
Nix went with Prime Time to Europe on several occasions: "In Germany they like interesting bands—we toured a lot in Germany. I remember Berlin and Munich. We played a lot in France, Italy and England, and Belgium. We went to Japan in about 1985."
Nix's guitar colleague in the band was Charlie Ellerbie. Ellerbie's role differed from that of Nix, who played (and plays) a straight electric sound without effects. Nix says of Ellerbie, "Charlie Ellerbie was more of a rock player. He used a lot of things rock guitarists use, like the effects and the pedals. He was listening more to rock than he was to jazz. One thing he told me once—he said that the only jazz he's ever been digging was McCoy Tyner... because the music McCoy Tyner played reminded him of acid rock! That was his take. He was into Hendrix... I last saw him two years ago. He's like the rest of us, trying to get gigs. You're always trying to look for a gig."
One interesting gig Prime Time played was on Saturday Night Live in the late '70s, when Milton Berle was the host. "I think we played this tune called 'Times Square.' We recorded that record around the time we were on Saturday Night Live. Milton Berle wanted more time, so we could only do one tune." Nix relates the experience of appearing on television: "You went out and did the song, and before you knew it, it was over."
"Dancing In Your Head" may seem to some people reminiscent of African music. Nix says, "Yeah, probably North African because Ornette has spent a lot of time [there]. Some of the rhythms, I listened to some of that music in North Africa [when] Ornette went there. Sometimes the way the drummers play, something about [Prime Time] reminds me of the playing in Joujouka, Morocco. I hear that similarity. Ornette spent some time in North Africa hanging out with these guys and playing the music." (Coleman went to Morocco in 1973 with authors Robert Palmer and William Burroughs).
"It's almost like what we were doing is kind of like what they do. [There are] similarities between how they played and how Prime Time played. It's like everyone is playing a separate melody or a unison but everyone's got... everyone's playing, like, an independent lead."
This description—everyone playing an independent lead—may be getting close to what harmolodics is: "Yeah, well, I'm sure Ornette was influenced by all that, 'cause I know when he went there, he went with Robert Palmer, the writer... and then there are the pictures of Ornette and Robert Palmer encountering the musicians with people like William Burroughs [Coleman wrote the soundtrack for the film adaptation of Burrough's book,
Naked Lunch
]. Ornette made videos with him and Robert Palmer with the North African musicians. He spent a couple of months up there. I don't know what he did but he was there for a while. So I'm sure that [was an] influence."
Here is a clip of Prime Time from 1986:
In music, in addition to melody and harmony, there is, of course, rhythm. Nix speaks of the three elements, phrasing them in the order "melody, rhythm and harmony," implying, even in his speech, that in harmolodics, melody is the first item of interest, then time. Harmony is, by default, last, or at least follows automatically from the melody.
Of rhythm in his playing, Nix says that, while bar lines are not necessarily adhered to, everything works together: "It makes sense—everything is together. There's a logic to it. That's how I see it—I like to think it makes sense and is viable. It's an experiment in melody and rhythm."
There is still a rooting in conventional time somewhere: "[Percussionist]
Jerome Cooper
said, 'In order to play free time, you have to know how to play normal time.' He had played with
Rahsaan Roland Kirk
and
Cecil Taylor
, so he had seen both sides. Also, when he first came to New York, he played in the house band at the Apollo.
"Robert Palmer wrote the liner notes on one of Ornette's records on Columbia, and he was trying to explain Ornette's music. He was saying how Ornette's music was 'based on biological rhythms,' as he put it. I always thought that made sense. [It's] a fairly good description of his sound—organic rhythms instead of thinking about bar lines.
"The thing that is interesting is that, at this rehearsal we had yesterday, the guy who was putting the rehearsal together was playing this video about Miles, his acoustic music. The trio, with that rhythm section—I think it was
Ron Carter
and
Tony Williams
and
Herbie Hancock
—some of the stuff they did rhythmically, if you listen to the Plugged Nickel recordings, they're not playing like straight 4/4 time or straight any kind of time. The time is very free, and[yet] everybody knows where everybody is. And I've heard some people say at that point that, even though Miles is [not] Ornette, it was obvious that that rhythm section had been listening to Ornette's rhythm section. [They're] not playing it straight—it's straight, but it goes in and out, so it's kind of like what Ornette was doing with his rhythm section."
Nix draws attention to how the concept of rhythm has changed over time: "It's happened over the years [that] the whole concept of what a rhythm section does is becoming more open and more flexible as the music changes. I mean, if you listen to what a rhythm section was doing in the '20s, or the '40s, or the '50s, the whole concept [has] got more open. [That is], it
was
until, I guess, now with a lot of younger players. I was talking to these younger bass players, more traditional younger players, and some people were saying that people like Scott LaFaro and what they were doing—they don't want to do that. They want to go back to a more traditional way of playing the bass, having more clearly defined roles for the bass, but... I don't really agree with that.
"The rhythm section has evolved with the music: somebody like Sunny Murray—he plays in free time. Sunny Murray did an interview with a magazine and he was talking about these wild stories—how he was with Miles one night and Miles was giving [him] a hard time because he said Tony Williams was having [too much of] an impact on how he was playing.
"The whole concept of time is getting freer and freer. Like I said, Jerome Cooper said, 'In order to play free time, you have to play traditional time as well.' You can't do one without doing the other. You can play straight-up time, traditional swing time, but you can open it up and go to a different place—but everyone knows how to come back to that other thing, what they call so-called "good time." But we [free jazz musicians] start opening [it] up: we start exploring. There are some guys, they only like traditional straight ahead time—but other people need to be flexible. They want to explore more."
Jazz could be said to be one of the best areas for musical exploration. "Yeah, yeah," agrees Nix.
Nix explains the use of harmolodics when he plays a standard, rather than one of his own tunes: "[You] just start off playing the tune as is. With what you know about all these different chords and scales, you can superimpose things on top of them—different substitute chords and things... I apply some of Ornette's ideas, like some of the stuff he did with chords such as—he showed me about minor seventh chords, some stuff about playing with the minor seventh chord. You can expand the harmony, open it up. That was one thing he showed me. [There are] all kinds of possibilities, trying to find another way to play that stuff (the traditional harmonic structures) and expand on it. It was something like a transposition thing that he would do.
"I take the traditional harmonies and traditional notions, and try to put the harmolodic spin on that. A lot of what I play is really based on very traditional stuff, but I try to approach it from a harmolodic vantage point. It's like, if you're a writer and you're writing with the alphabet, you can use the alphabet a lot of different ways. It's all common property. It depends on how you look at it. That's basically how I see it—you have the common grammar and the vocabulary. You just try to use it in a different way."
Coleman is reported to have said of Nix that he "has the clearest tone of a guitarist for playing harmolodics." Nix says, "I don't think I've got a particularly clear tone. But sometimes you don't notice something you do. You make peace with your limitations."
The albums that Prime Time recorded are now a legendary part of the jazz catalogue.
Nix's Guitar Influences
Nix grew up in Toledo, Ohio in the '50s and '60s with the standard jazz guitar tradition. The desire to play jazz was paramount. "It was always in my head that I was thinking, 'I'm going to be a jazz player,'" he says.
R&B was big in Toledo at the time, along with the rock sound. "Different bands I was in wanted me to get a wah wah pedal. They'd say, 'Play wah wah, Bern.' I had a Vox for two months, but... I like Coryell [and] McLaughlin, [and] I wanted to be a 'real jazz guitarist,' whatever that is. I admire [their] stuff—it's part of the vocabulary—[but] when I was 14 or 15, I thought of the more traditional jazz guitarists like
Charlie Christian
, Barney Kessel, etc, that 'this is real jazz guitar.'
Here is a great clip of Kessel playing "Gypsy In My Soul" in 1962—the introduction has a sliding chordal sound similar to Nix's.
"I always liked the sound of the guitar as it is. My parents wanted to give me an electric, but I wanted to keep the acoustic. I can admire the boxes, [the use of effects] pedals, but I always have a certain sound in my mind, or an idea of the sound that I want." He says he liked Hendrix, but jazz was the thing for him.
"But," he continues, "there were just R&B bands in Ohio when I was growing up! Toledo was just R&B in the '60s. You had to get out of there if you wanted to play jazz. Everyone was playing R&B. If you were trying to play jazz, you were kind of weird in the 50s and the '60s. Some people played just the blues, but nobody wanted to play jazz. They thought you were from another planet if you wanted to play jazz."
Perhaps not surprisingly, given the gap between R&B and jazz at the time, there is a '70s release of Jimi Hendrix studio tracks where Hendrix himself can be heard saying in an incredulous voice, "Jazz?" when some modern jazz is heard playing briefly over the studio speakers. Hendrix had, of course, developed on the R&B "Chitlin Circuit" in the '60s.
However, in addition to straight-ahead jazz, Nix was also drawn to the avant-garde. "I also had a thing I always wanted to do," he says. "Part of me is contradictory. Part of me is jazz, another part of me wanted to play avant-garde.
In any event, at first Nix listened to Charlie Christian, Wes Montgomery, Jimmy Raney,
Jim Hall
,
Grant Green
,
Kenny Burrell
,
Chuck Wayne
, and
George Shearing
. "A lot of my guitar teachers were from the '40s and the '50s, so they were into mainstream jazz guitar—'real jazz guitar.' I liked Howard Roberts, a session guitarist who recorded a lot of elevator music—he played the tempo of horn players. Not many can do that—just Wes Montgomery and
Pat Martino
."
Chuck Wayne plays "Bernie's Tune" with the Mike Morreale Quartet—he is almost like a saxophonist, exhibiting chromatic aspects and some of the flavor of early Charlie Parker and Dizzy Gillespie:
Bernie's Tune
For a guitarist to be able to play a guitar at the speed of a Charlie Parker lick is certainly appealing, but it is hard to do—Nix comments, "One school of thought is that you can try to play like the horn players. Another school of thought is that a guitar is a guitar, a sax is a sax. George Benson was talking about it a few years ago, [suggesting] using a different way of tuning [to do it]. A horn player has a better grasp of phrasing because they have to breathe. Hence they used to say guitar players don't know how to phrase, as well as that they don't know how to read!"
Nix points out the important factor of the overlapping of influence of earlier guitarists on each other: "A lot of early rock players in the '50s and early '60s were into real players. For example, (Elvis' guitarist) Scotty Moore was into Barney Kessel, who was into Charlie Christian. Chuck Berry was into Charlie Christian. But the '60s was more diverse. It was [just] either blues or jazz in the old days."
And T-Bone Walker: Nix says he had some of Walker's records. "I had old B&W (the Black And White label) 78s around the house of T-Bone. Seminal people. The traditions overlapped. There is a record of T-Bone and Charlie Christian doing a duet as kids."
"Cross-generational influence" applies to all jazz musicians, even to some names that may be surprising. Nix says, "Hanging out with Ornette Coleman, I would see him play a carbon copy of Charlie Parker, all the licks, but when he was being 'an artist,' he wouldn't play that. Jackson Krall told me once that Cecil Taylor could play like Bud Powell. [There was also] a book written by a guitarist who said that Monk could play like Art Tatum, but he wanted to play his angular style. Once Monk was listening to a playback and he said, 'It sounds like James P Johnson!'"
Nix spoke more about his "special" guitar influences, names not so "run of the mill" (if one could ever call Christian, Montgomery, etc. "run of the mill"). Of Pat Martino's excellent piece, "The Great Stream," he says "Yeah, I've heard that. He's amazing, he's amazing. The first I ever heard of him he was playing with (altoist) John Handy. He took Jerry Hahn's place in John Handy's band, in the 1960s. Then I started investigating some of his other recordings. I went to one of his clinics at the Guitar Centre on 14th Street about five years ago. He was explaining his approach to the fingerboard. It's all like geometry or something—It's all very geometric. He picks up the guitar like an engineer, you know? So it's amazing, but I could never think about the guitar that way."
As with the Chuck Wayne clip above, this clip of Martino playing "The Great Stream" live is extremely instructive. It is very well filmed, with plenty of attention to the guitarist's approach to the fretboard.
But he says "I've never thought of myself as being a technician—some people do both—be musicians and technicians. I practice the basic scales. I do them every day. [It gives you] more dexterity... if I don't do it every so often then my fingers get—somebody told me once, [it's good] if you can play all the places on the neck, but everybody's different. I have the fingerboard in my mind and in my ear." Some non-musicians may see playing scales as a childhood task, devoid of musicality, but Nix knows that a musician does not see it like that. "You can see a scale is like a melody, a parent or a primary melody, a root melody," he says.
There is a tune of Nix's, entitled "To Paris" (see below), where he sounds, in the riff figure at the beginning, a little like '40s bebop guitarist Tiny Grimes. Nix says, "A lot of people say that. I've had people tell me I sound like all sorts of people. I've had people tell me I sound like Alan Holdsworth, Jim Hall, Grant Green, Kenny Burrell. Everybody hears in different ways, but I was surprised that somebody said that. I mean, Tiny Grimes is a great player. There's nothing wrong... I just can't see the similarity! Sometimes you don't have any objectivity about what it is you're doing. It's hard to be totally objective about your own work.
"It's funny, I was listening to the radio earlier this evening. They were doing [a program on] John Cage. There's a John Cage festival coming up. At a certain point you have to get beyond wondering about whether what you are doing is good or bad—not getting hung up about it."
Yet, later in "To Paris," you have the feeling of a subtle Charlie Christian being evoked.
Broader Jazz Influences
In addition to guitarists, Nix grew up listening to a lot of Duke Ellington. Ellington was a composer. By way of example, his piece "Rocking In Rhythm" (1930), which includes a figure frequently employed by later bop pianists such as Bud Powell, is through-composed, written in sections. "I hadn't thought about that. I liked them [Ellington's records] when I was a kid. I used to listen to them all the time—Johnny Hodges, Jimmy Blanton. It's just great music, it sounds great. It feels great." A possible connection is that Nix's pieces are also frequently comprised of small neat sections through-composed in a single stream, with the main figure returning when appropriate. He says, "I'm thinking about theme and variations, the musical equivalent of trying to develop a topic. Some writer once said, 'If you have one true sentence, you can just keep going'—I think it was Hemingway."
Cecil Taylor is another major influence. "I just like his playing," says Nix. "He's like Ornette; he's very courageous. He's stuck to it. I liked it when he had Jimmy Lyons in the band. I like different things, different periods—I like his version of "What's New." He did that with Sunny Murray and Jimmy Lyons with the band in Scandinavia in '61, '62 something like that." The track is from a recording of a radio broadcast of a gig by Taylor and his quartet in Sweden on October 14, 1962. That tune appears to be available only on radio transcriptions, but two other tunes from the same gig, "Spontaneous Improvisation" and "Flamingo," are available on
The Early Unit
(Ingo, 1962).
"And 'Enter Evening'—that's a great recording. [There's] something about the music. I guess if you like something, it influences you in some way." "Enter Evening" is an 11-minute track from
Unit Structures
(Blue Note Records, 1966).
Avant-garde bassist William Parker, an early member of Nix's mid-'80s trio, joined Taylor in the early '90s in Taylor's "Feel Trio."
Of Thelonius Monk, Nix says, "I like his harmonic sense, the way he voiced chords. He had a great sense of humor. The way he played, he makes you laugh! His sense of humor is his point. His sound is quite deadpan. If you look at it, it's like James P Johnson, but it's more a way of playing. He was another original guy. He had a very uncompromising vision. He never compromised in his harmonic sense—he caught a lot of flak for that. People didn't want to hire him. There's that story that he and Miles had a fist fight on a record date, because Miles didn't want Monk to play behind him. On the solo, Miles told Monk to lay out. He didn't want to play with him and it [turned into] a fight!"
In saying, "It's more a way of playing," Nix is again using the phrase that is also his essential broader description of what harmolodics is, a way of simply using the available vocabulary and grammar.
"There was also that time when Kenny Dorham and Cecil Taylor—that record that Coltrane did called
Coltrane Time
in the early '60s, and Cecil was on it—I heard Kenny Dorham and Cecil Taylor almost got into a fight [because] Kenny Dorham made some crack about avant-garde." [The album was technically Taylor's session, but has been released under Coltrane's name as well as under Taylor's. It was first released under Taylor's name as
Coltrane Time
(United Artists, 1959).]
From the guitar perspective, perhaps the clearest influence on Nix is Jimmy Raney. Nix appears to confirm this, saying descriptively: "I just like the way he plays, his sound. His playing [has] sort of a whistle quality—just like it's a whistle, and it's Texas... [it's], if you like, lyric poetry." A recording of Raney playing "Autumn In New York" may show the link:
His Music
Not too long before leaving Coleman, Nix formed his own trio. "It was '84 or '85, somewhere there in the middle '80s. (Bassist) William Parker was with me for a while."
The first album by the Bern Nix Trio was
Alarms And Excursions
(New World Records, 1993). The record is a nine-track album, mainly of Nix compositions, but also with his distinctive take on a standard, "Just Friends."
He says, "All this stuff is stuff I keep in notebooks, [things I] accumulate. You know how you write something and you keep it on pieces of paper—and you try and shape it. So this is all the stuff I've been writing over the years."
The album was recorded with Fred Hopkins on bass and Newman Baker on drums. The album contains neat, intense and at times almost cinematic compositions. Hopkins is superb. The first track is a signature turn of Nix's, "Z Jam Blues." Nix says, "It's a play on words, on Duke Ellington's 'C Jam Blues.'" Even the music at the close of the main theme is perhaps a musical play on "C Jam Blues."
The track sees, at one point, Nix playing 3/4 over a 12/8 time signature background. Nix elaborates again on his treatment of time: "Any time changes are not consistently worked out. I don't think in terms of bar lines. It's more like an organic rhythm," he adds, alluding to the "biorhythm"' description of Robert Parker. "Time is elastic," he says. Nix also stresses the word "organic" in his discussion.
Growing up, Nix was also a fan of blues guitarist Freddie King, famous for his records on the Federal label, with songs like "Hideaway," from
Let's Hide Away and Dance Away with Freddy King
(Federal, 1961). Nix's track, "Driving Sideways Backwards," is a re-drawing of King's tune "Driving Sideways." He says the track was an experiment in melody and rhythm, the two main areas for exploration in harmolodics. The music sounds as though we are watching a vehicle skidding off to the side of a road, and maybe backwards a little, too. Another interesting track on the album is "Desert Storm," where the music gives you the feel of diving forward into a conflict.
Nix also scored a film. In 2002, a letter asking him to write a film score arrived in his mailbox. It was from Raymond Bally, the director of a proposed documentary about the American arts biographer James Lord, entitled
A James Lord Portrait
. Nix continues, "I wrote the film score for this movie about James Lord. He's a lovely guy. He's lived in Paris for maybe about the last 60 years. He's in his 80s now. He went to Paris after World War II and he had the ambition of becoming a novelist. As it turned out, he started writing memoirs.
"The thing is, he knows everybody. He befriended Picasso and then Picasso introduced him to Cocteau, who introduced him to Gertrude Stein. So he knew all these people. He wrote all these books and memoirs about these people. He was a better memoir writer than novelist! He befriended Alberto Giacometti—he was Giacometti's official biographer. So all his books are about these people—anybody [who was anybody] over the last sixty years—Jean Genet. I met him when we did the screening. He was a very quiet, unassuming kind of guy. So this film is a documentary on his life."
Although excerpts from the film are on YouTube, it has not been officially released. "But nobody wanted to release the film or do anything with it," says Nix.
"I guess (Lord's) written about five or six books—they're all memoirs about hanging out with these people. I started working on it in 2002, 2003. I went to the mailbox one day and I had a letter from the filmmaker Raymond with a check in it. He was telling me to start writing music. The [film's] cameraman used to work with Orson Welles. He also did a film with the guy who used to play organ with The Doors, Ray Manzerak."
Of The Doors in general, Nix displays his reverence for study: "I preferred the instrumental stuff more than the Jim Morrison [music] but I always thought they were probably one of the more interesting bands at that time. They (the instrumentalists) were a little bit more trained than Morrison."
Two of the tunes Nix wrote for
A James Lord Portrait
are on his
Myspace
site.
"To Paris" (mentioned above) is one, a typically concise yet flowing piece. "It's kind of like straight swing, but not exactly," says Nix. "I [wrote] seven or eight tunes—you get so immersed in it, at a certain point you can't deal with it anymore," he adds, trying to get familiar with the music again. "You spend such a long time... living with it."
"'The Plaster Bird'—that's from a scene in the film. They're showing Picasso's work and he's looking at this little bird Picasso made in the studio, and he looks at the bird and he's talking about it, so I called it "The Plaster Bird." It's on YouTube."
The "Plaster Bird" scene:
Nix reflects on the art world: "It's such a lot of money—thousands and thousands for a little bauble Picasso put together in the studio—I'm not demeaning the work he's talking about, but... the amount of money!"
"I just took the tape recorder one day and I started improvising. The bassist on the tracks was Bill Zola. He was in my old band. The drummer was Adrian Valosin. He played with Joe Morello at one time. Bill used to play with Dave Holland, he used to study with him."
Nix's most recent album is
Low Barometer
(Tomkins Square, 2006), a solo guitar album of tunes performed on a steel string acoustic guitar. The music ranges from airy chordal sounds to the vibrato twangs that punctuate the elegant track, "Love's Enigma," all played with a Webern-like sparseness. The sound is rich and eminently appealing, and is similar in sound to that of avant-garde guitarist Derek Bailey's album,
Ballads
(Tzadik, 2002). But Nix's record has, also, his trademark musical question marks and sideways explorations—though this time in the solo context. The album is available as a download album from eMusic.
Nix explains that the music arose from sketches he made during his time with Coleman and Prime Time—further works from Nix's notebooks. "The tunes on
Low Barometer
are derived from exercises I did when I was with Ornette Coleman," says Nix. "They were practical applications of harmolodics. I was trying to get used to the whole process of harmolodics. Ornette gave us all these notebooks. We had to write out ideas in the notebooks. These things I have had for years."
The label, Tompkins Square, specializes in (but is by no means restricted to) releases of acoustic guitar recordings, and the title track from
Low Barometer
is also on a highly-rated (by All Music Guide) acoustic guitar anthology entitled
Imaginational Anthems Vol 1—3"
(Tompkins Square, 2007).
Another track is entitled "Les Is More." Nix explains that it is about a poet friend named Lester Afflick. "He was a poet, a good up-and-coming young poet. He died about ten years ago. He was a man about town. He died on New Year's Eve, more like New Year's Day. When he got home, he found out his brother—he had a half brother who lived in England—had died. So he died [too]—had a heart attack. He was 42, 43."
"Objects of Correlation" is a very energetic tune, seeming to reflect the vibrancy of New York with an "up from the streets" feel. Nix says of the title, "I was playing with an emotional idea, trying to find a way of musicalizing an emotional idea." This may be yet another influence from Nix's time with Coleman: in an interview in 2007, Coleman said he "prefer[red] to think of sound as a form of invisible emotion."
Post a comment
---
FOR THE LOVE OF JAZZ
All About Jazz has been a pillar of jazz since 1995, championing it as an art form and, more importantly, supporting the musicians who create it. Our enduring commitment has made "AAJ" one of the most culturally important websites of its kind, read by hundreds of thousands of fans, musicians and industry figures every month.
WE NEED YOUR HELP
To expand our coverage even further and develop new means to foster jazz discovery and connectivity we need your help. You can become a sustaining member for a modest $20 and in return, we'll immediately hide those pesky ads plus provide access to
future articles
for a full year. This winning combination will vastly improve your AAJ experience and allow us to vigorously build on the pioneering work we first started in 1995. So enjoy an ad-free AAJ experience and help us remain a positive beacon for jazz by
making a donation today
.
Instrument: Guitar
Article Coverage
|
Albums
|
Photos
|
Similar Artists