New York @ Night
The Cookers, Mingus Big Band and Cyrus Chestnut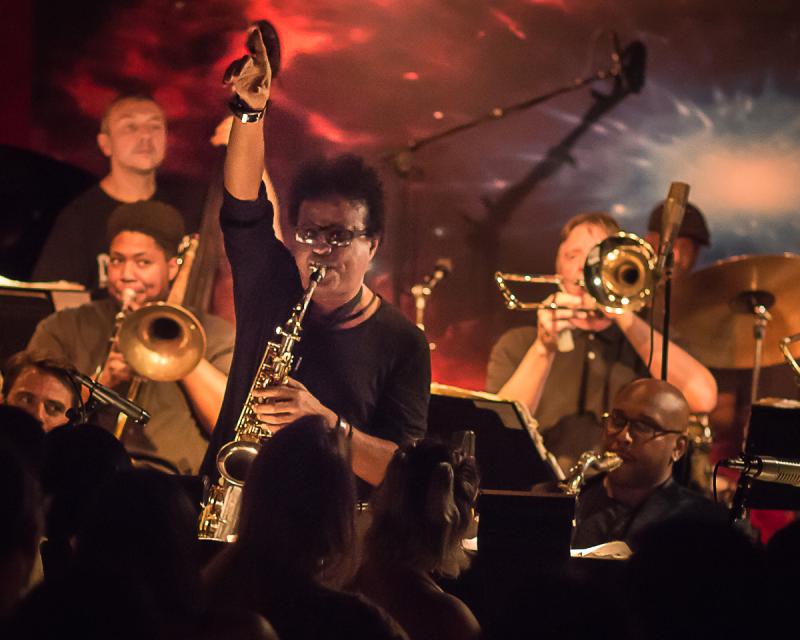 By
The Cookers
Birdland
New York, NY
September 15, 2016
The Cookers are an all-star septet that takes its name from the classic
Freddie Hubbard
album,
The Night Of The Cookers
, a 1965 live effort from the master trumpeter who passed in 2008. A somewhat fluid lineup earlier in the group's seven year existence has solidified with trumpeters
David Weiss
and
Eddie Henderson
out front with
Billy Harper
on tenor and
Donald Harrison
on alto saxophone, anchored by the superb rhythm section of
George Cables
, piano,
Cecil McBee
, bass, and
Billy Hart
, drums.
It was my first time witnessing the Cookers in action, but in the time it took Hart's sensational drumming to smack me in the face (i.e., in no time at all), I came to see that the jazz writer who had called them "the greatest jazz super-band working" may have been onto something. And this is a smart super-band. Much more than a festival pick-up super-group (as great as festival pick-up super-groups can be), the Cookers are a working band with deadly serious chops and the ability to write, record and—as I witnessed this night—perform at a level that pushes the music forward. In performance, harmonized horns and reeds float above Hart and McBee's sonic pulse, Cables punctuating and filling; soloists step forward to trade off ideas, trumpets jacked up and urgent, saxophones deep and momentous.
As a unit, the Cookers encompass
John Coltrane
and
Charles Mingus
and other post-bop conceptualists and turn that mid-1960's freedom into a music that is fresh, modern, exciting, irresistible. The Cookers may be one of the benchmarks for contemporary jazz mastery, expressing the latest wave of an art form that always seems on alert for its next "new paradigm" to emerge. Maybe this is it? Wow.
Cyrus Chestnut
SMOKE Jazz & Supper Club
New York, NY
September 18, 2016
Sitting at the Steinway grand like a Buddha who swings,
Cyrus Chestnut
completed a triumphant early set on his third and final night at
SMOKE Jazz & Supper Club
with a shout-out to his colleagues,
Eric Wheeler
on bass and
Chris Beck
on drums, and a big grin and wave to the packed house. He'd just torn the roof off the intimate club and left its patrons—who had turned out in numbers on this Sunday night—agog at his keyboard virtuosity.
Swinging seemingly with the greatest of ease, Chestnut's utter mastery at the piano can hit hard like
McCoy Tyner
, go mellow like
Bill Evans
, be playfully brilliant in the
Art Tatum
tradition, and go big in the
Oscar Peterson
mode—sometimes all within one sustained medley. But as much as he quotes and references some of the gods of the eighty-eights, Chestnut creates original music that is all at once brilliant, bluesy, and charismatic.
A showman in full control of enormous creative powers, Chestnut melds found styles and sounds and to re-invent such jazz "chestnuts" as
Duke Jordan
's "No Problem" and
Charlie Parker
's "Ornithology" as his very own. Everything the Cyrus Chestnut Trio plays can leave the listener breathless and feeling as if it's music being heard for the first time. As the pianist said from the bandstand, "We will not play these notes the same way ever again, so you will not hear them played the same way ever again."
If you love the purity of the jazz piano trio, you'll want to check out Cyrus Chestnut live—or check out the live album,
Midnight Melodies
(SMOKE Sessions Records) he recorded with
Curtis Lundy
on bass and
Victor Lewis
on drums.
Mingus Big Band
Jazz Standard
New York, NY
September 19, 2016
Mingus lives! Yes, that's right:
Charles Mingus
may have died in 1979, but for the past 25 years, the musical legacy of the great and thoroughly original bassist-pianist-composer-bandleader has continued in numerous enterprises dedicated to keeping his brilliantly complex and unique compositions and arrangements very much alive. Among these efforts are the Mingus Orchestra,
Mingus Dynasty
and the
Mingus Big Band
; there's also a Mingus Institute, the Mingus Festival, an annual Charles Mingus High School Competition, recordings old and new, and global tours. All of it is managed and directed by Sue Mingus, a tiny dynamo with a singular passion to not just keep her late husband's legacy alive but also to spread his musical ideas to new audiences around the world.
Since 2008, the 14-piece Mingus Big Band has had a Monday night residency at
Jazz Standard
, a fine subterranean venue where we chatted with Sue one night before an early set. "The music inspires the musicians," she said. "And the musicians love the challenge of playing these intricate arrangements. Of course what may have seemed very complex 30 or 40 years ago is less so today, and the guys have fun playing it."
Complex but still rooted in blues, Mingus music is arranged for multiple instruments in swirling layers of sound that create an effect of sonic movement sometimes approaching madness—shouts, claps, drums, piano and bass, baritone, alto and tenor saxophones, trombones, the oompah of a tuba, all unleashed, wilder and crazier, 14 instruments simultaneous screaming for attention, verging on chaos before coming into more and less unified coherence. In Mingus music, the titanic whole will exceed the sum of the many interlocking, alternating, dark, bluesy, quirky, lighthearted parts.
Alto saxophonist
Alex Foster
is the only current member who played in the band while Mingus was alive, but the rest of the crew is well-schooled in the master's lore. Foster and bassist
Boris Kozlov
take the audience through stories about tunes in the band's repertoire; the rest of the scintillating group does its talking musically.
Some of the best featured solos this night included work by
Philip Harper
on trumpet,
Conrad Herwig
on trombone, and
Helen Sung
on piano, but all the players, alone and collectively, got lots of space to make instrumental statements:
Tatum Greenblatt
and
Alex Sipiagin
on trumpets;
Alex Terrier
,
Abraham Burton
,
Brandon Wright
and
Ron Blake
on saxophones;
Chris Bates
and
Clark Gayton
on trombones; with
Donald Edwards
on the drums.
From "So Long Eric," a tune written for
Eric Dolphy
, to "New York Sketchbook" and "Peggy's Blue Skylight," the music stretched the Mingus Big Band to its collective limits—at times the band sounded as if their instruments were about to explode; other times the tempo slowed, yielding surprising beauty in unexpected places. Affecting, mesmerizing, sublime Mingus music, still alive and well.
Photo credit: Alex Foster/Mingus Big Band by Lou Montesano
---
FOR THE LOVE OF JAZZ
All About Jazz has been a pillar of jazz since 1995, championing it as an art form and, more importantly, supporting the musicians who create it. Our enduring commitment has made "AAJ" one of the most culturally important websites of its kind, read by hundreds of thousands of fans, musicians and industry figures every month.
WE NEED YOUR HELP
To expand our coverage even further and develop new means to foster jazz discovery and connectivity we need your help. You can become a sustaining member for a modest $20 and in return, we'll immediately hide those pesky ads plus provide access to
future articles
for a full year. This winning combination will vastly improve your AAJ experience and allow us to vigorously build on the pioneering work we first started in 1995. So enjoy an ad-free AAJ experience and help us remain a positive beacon for jazz by
making a donation today
.
Instrument: Band/orchestra
Article Coverage
|
Calendar
|
Albums
|
Photos
|
Similar Artists
Post a comment