Cecile McLorin Salvant: Dreams and Daggers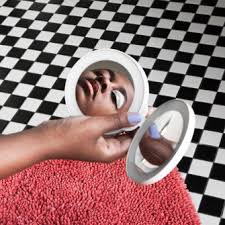 È un disco importante questo di
Cecile McLorin Salvant
. Il disco della piena maturità, quello che segna la consacrazione della giovane vocalist nell'olimpo del canto jazz. Dopo tre lavori in studio (l'ultimo dei quali vincitore di un Grammy) Cécile dimostra con questo doppio live di non essere solo la voce afro-americana più avvincente del presente ma un'artista che porta avanti la discendenza delle grandi interpreti. In lei ritroviamo la grazia, la leggerezza e la perfetta intonazione di
Ella Fitzgerald
, la ricchezza timbrica e la vivacità ritmica di
Sarah Vaughan
, l'immaginazione musicale di
Betty Carter
, la calda colloquialità di
Carmen McRae
e
Nancy Wilson
. Nel recente passato solo
Cassandra Wilson
ha ottenuto simili risultati.
Dreams and Daggers
documenta il meglio di tre serate del settembre 2016 al Village Vanguard di New York con la cantante e il suo trio abituale, più l'aggiunta (in alcuni brani ripresi in studio) del quartetto d'archi Catalyst.
I pochi anni trascorsi dal suo esordio del 2010 (
Cécile & the Jean-François Bonnel Paris Quintet
, autoprodotto) e dal primo lavoro importante (
Woman Child
, Mack Avenue 2013) hanno visto una crescita costante della cantante franco-americana in termini d'intensità espressiva, duttilità interpretativa e originalità delle scelte.
Tutto è ben evidente in questo doppio album ben registrato e appassionante al primo ascolto. Cécile si mostra perfetta padrona di casa e interpreta con slancio, forza persuasiva, ironia e qualche eccentricità un repertorio in parte nuovo. Accanto a famosi standard troviamo brani originali, altri poco frequentati e alcuni arcaici blues. Tra questi ultimi spicca un vero manifesto d'indipendenza femminile come «Sam Jones Blues» di
Bessie Smith
e «Wild Women Don't Have the Blues» di
Ida Cox
; tra i temi poco frequentati spiccano la personale versione di «Somehow I Never Could Believe» di Kurt Weill e Langston Hughes finora eseguita in ambito lirico, il vibrante «Never Will I Marry» (la più eccitante versione tra quelle note) o il brillante bozzetto colloquiale «If a Girl Isn't Pretty» dal musical «Funny Girl». Come si vede tutte scelte mirate a esaltare, con grazia, la dignità femminile. Tra i brani eseguiti in studio spiccano la magistrale, drammatica, rilettura con quartetto d'archi di «My Man's Gone Now» e il duo col pianista
Sullivan Fortner
in «You've Got to Give Me Some», splendida occasione per rileggere con arguzia e padronanza la tradizione.
I want to be natural and free and adventurous
ha detto Cécile in un'intervista al «New Yorker». Questo splendido disco lo dimostra in pieno.
CD della settimana
Track Listing
And Yet; Devil May Care; Mad About The Boy; Sam Jones' Blues; More; Never Will I Marry; Somehow I Never Could Believe; If a Girl Isn't Pretty; Red Instead; Runnin' Wild; The Best Thing; For You (Would Be Me); You're My Thrill; I Didn't Know What Time It Was; Tell Me What They're Saying Can't Be True; Nothing Like You; You've Got to Give Me Some; The Worm; My Man's Gone Now; Let's Face the Music and Dance; Si J'étais Blanche; Fascination; Wild Women Don't Have the Blues; You're Getting to Be a Habit with Me.
Personnel
Cecile McLorin Salvant: Vocals; Aaron Diehl: Piano; Paul Sikivie: Double Bass; Lawrence Leathers: Drums; Catalyst Quartet: Strings; Sullivan Fortner: Piano.
Album information
Title: Dreams and Daggers | Year Released: 2017 | Record Label: Mack Avenue Records
Post a comment about this album
Watch