Amersfoort World Jazz Festival 2021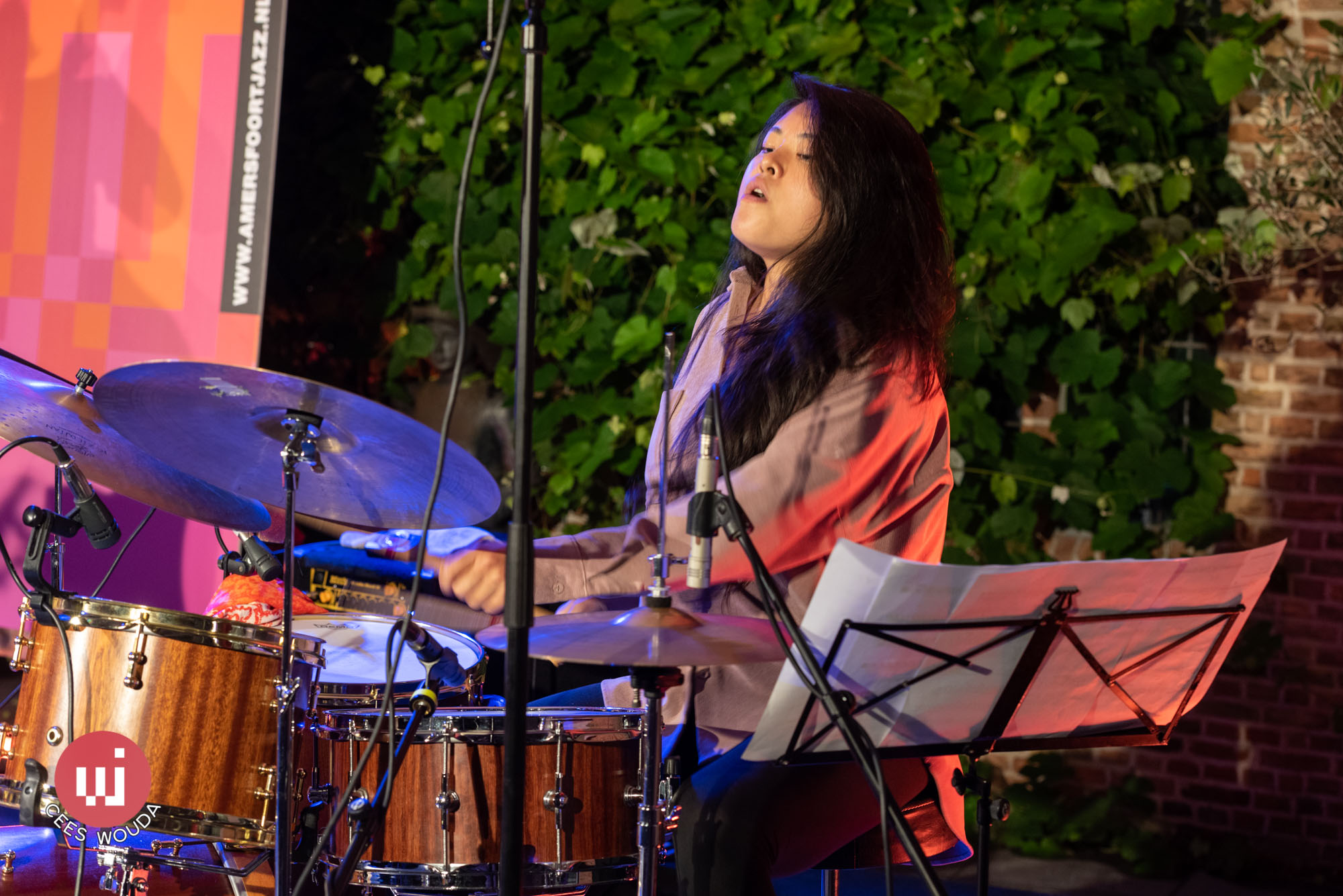 By
Amersfoort World Jazz Festival
Amersfoort, Netherlands
August 9-15, 2021
As with so many festivals during the last 18 months, the Amersfoort World Jazz Festival was forced to concentrate on local talent. Although steering away from big name international visitors, this summer edition offered a prime opportunity to familiarise our ears with key players on the Dutch scene. The Amersfoort festival is no particular champion of out-there jazz perimeter sounds, but they produce a calendar that's crammed with mainline jazz, whether swing, bebop, funk or fusion orientated. There were also a few acts that operated in freer, improvisational zones.
The head honcho of the festival is
Alexander Beets
, a honkin,' robustly warm-toned tenor man, in love with the catalogues of such rugged blowers as
Stanley Turrentine
and
Dexter Gordon
. Beets is a central presence on the Amersfoort scene, and his own jazz club, De Observant, was one of the two main venues for the festival. The other was a large outdoor stage on the central Lieve Vrouwekerhof square.
At the Observant, gigs were staged in the back garden area, with the deeply concentrating Oak outfit opening on your scribe's first night at the festival. A line-up of trumpet, piano, bass and drums produced a relaxed chamber resonance, with an unavoidable ECM comparison prompted. They became more active quite quickly, with Koen Smits choosing flugelhorn to negotiate this classicist landscape, painterly and precise. Alessandro Fongaro's sparse bass plucks lent a percussive quality, coupled with interior piano work from Sjoerd Van Eijck, then the horn mouthpiece was removed, replaced by a bunched fist, through which vocalisations passed. A bow caressed the sighing strings. This was a delicate tiptoe-ing into the
Tord Gustavsen
church, "Three Mystic Airs" being a dirge, with puffball drumsticks, frosted trumpet and icy piano.
These Observant evenings were all double bills, so the Israeli guitarist
Eran Har Even
was next up, playing material from his
World Citizen
album, with a vibraphone, bass and drums line-up. The band were mellow and shiny, all rippling and shimmering together, with Korean drummer
Sun Mi Hong
tackling much of the opening stretch by direct hand-tapping on snare, then finding a timbale resonance when picking up her sticks. Written in response to a friend's suicide, "At The End" possessed an abstracted quality, Sun-Mi again playing with her hands, confirming a serial technique. Even opted for a very smooth
Gilad Hekselman
sort of sound, sliding in well beside the vibraphone. A couple of
Wayne Shorter
tunes ran together, with "The Big Push" and "This Is For Albert" heading into the original "Wiener Of The Cosmic Lottery," featuring a notably strong rapport between bass and drums.
The following evening's double-header presented Peax and Soujourner's Truth. The duo of saxophonist/keyboardist Ties Mellema and percussionist Barry Jurjus call themselves Peax, with both of them employing liberal amounts of electronic matter, headphones clamped on their heads. The chosen instruments at first were baritone saxophone and drums, the chosen jackets lavishly patterned, almost in the glam rock realm. Backing tracks of keyboards/sequencers/loops abounded, but there were also chances for duck growls or goose rattles to leap out of the pulsing minimalism. Sometimes the baritone sounded like an ewi (electronic wind instrument), which seemed to defeat its advantage. A reggae lope appeared for the second piece, which had Mellema sounding like
Colin Stetson
. Jurjus had moved over to his vibraphone, and also had a tiny drum pad perched on its edge. Or was it a small plate of metal?
Moondog
and Nyman were invoked, or perhaps Louis Andriessen, to keep things local. Mellema kept his horns alternating, with a brief flourish of soprano, while Jurjus played with hands on his vibes, creating a fresh loop. At their peak, the pair developed a fast-stutter complexity, their compositions steeped in detailed invention, even if they sometimes sounded unintentionally dated in their electro-sonic tonalities.
Sojourner's Truth came next, tipping the hat to female activists, with compositions specially prepared by flautist
Mark Alban Lotz
. He was joined by guitar, bass, and drums, with Sun-Mi Hong returning from the previous evening. She was one of the most striking discoveries of this festival, formally precise, but not at the expense of spontaneous wildness. The guitar had an almost rockabilly twang, deep and percussively picked, sporting an unusual tonal selection. The bass was frequently transformed via effects. Sun-Mi's dub-style drum decays buoyed up the leader's vocalised flute, stacking up very different note-layers. The band often snagged onto a compulsive groove, with "AOC" dedicated to Alexandria Ocasio-Cortez, briskly stepping, Lotz now blowing a bansuri flute. This compulsive sequence of music was all the more impressive given that this was a new band playing new compositions. This particular Dutch audience wasn't so enamoured with the concept of applauding solos, which was startling, following the abundance of such spotlight triumphs within Sojourner's Truth.
Another night at Observant. The
Dick de Graaf
Quartet operated in the vintage post-bop mode, providing a welcome injection of mainline jazz. Tenor man De Graaf was joined by an expected crew of piano, bass and drums, spreading out into a finger-clickin' coast, which upped to a much greater pace-chase around 30 minutes in, featuring a storming (and inventive) drum solo. Not often considered as a jazz standard, "Eleanor Rigby" offered a platform for set-climaxing, becoming surprisingly freer and funkier.
One of the highest of festival highlights was
Udo Pannekeet
's Electric Regions, led by the bassist from Focus, the veteran Dutch prog-jazz band. This was the ultimate in electro-funk fusion, with twinned drums, double keyboards, a trumpet and, of course, the leader's slippery, blobular, nimbly fingered six-string basslines. All of the tunes rotated around a wobbling bass spine, with each drummer changing their levels of dominance in the panorama. The trumpet was often muted, the keys cheebling in the high ranges, negotiating a set of varied incarnations (and incantations) of the funk. Compulsive rhythms set the heads bobbin,' with electro-harmonised trumpet and some almost-samba rim-snicks, coupled with a clippin'-tight snare. Pannekeet consistently held the sprung motion down inside his resourceful arrangements, instruments dropping in and out unpredictably.
By this time your scribe had moved into Observant permanently. The
Ben van den Dungen
Quartet anticipated the festival's weekend expansion on the Thursday night. The saxophonist was paying homage to John Coltrane, setting off with "Afro Blue," confident, engaging and besuited, brandishing his soprano as the band bled into "My Favourite Things." There was a riffin' circularity found in "Like Sonny," suspended above a forest of drum hyperactivity, progressions set upon progressions. Van Den Dungen took his soprano on an impressionistic journey through "After The Rain," with a steadily smokin' increase in strength and firmness. Then there was a rollicking reading of "Mister Syms," from
Coltrane Plays The Blues
, with another soprano waterfall.
The Gidon Nunes Vaz Sextet appeared second at Observant, delivering their "Celebration Suite," marking the band's return to live performance after the lockdowns. There were honeyed alto saxophone solos, and a precisely measured and enunciated trombone spotlight, muted and throaty, heralding the leader's own flugelhorn statement.
On Friday, the shows on the Lieve Vrouwekerhof square began, drawing in a much larger audience. The Belgian pianist
Jef Neve
performed his new "Mysterium" suite, experienced the previous month at the Gent Jazz festival. This time, the line-up lacked bassist
Jasper Høiby
, of Phronesis, and the saxophonist Nicolas Kummert, but the work retained its atmospheric glow. Experiencing the music outside, in daylight, made it seem sharper, brighter and more playful. Back in Gent, with tented dimness and a moody lightshow, a more melancholy mood pervaded. Then came "Desert Walk," with deep tonal colourations, cuttingly high horns and a ragtime-style piano. Saxophonist
Steven Delannoye
was the replacement for Kummert, and he excelled on "Exhilaration," taking an extended solo, eventually passing the baton around the other tenors. There was a
Tadd Dameron
arrangement of "If You Could See Me Now," a number penned to recapture the experience of a magnificent moon-showing on the way from Moscow to St. Petersburg, titled "Night Train Nostalgia," and a climactic
Kenny Dorham
number, "Tumbleweeds."
The Observant pulled your scribe back afterwards, for a set by Montis, Goudsmit and Directie, a spirited guitar-Hammond organ-drums trio in the classic formation, loaded with energy, push and extroversion. Each member wields an equal strength, making them a formidable jazz-soul-funk force, with guitarist
Anton Goudsmit
radiating a mischievous humour, and drummer
Cyril Directie
being a manic audience communicator. They acted as their own warm-up outfit during the soundcheck, before hiking up the intensity for their actual set. The trio worked at the slickest extreme of bullish grooving, occasionally breaking into the cowpoke
Ray Charles
field, with "I Got A Woman" being a stand-out strutter.
Saturday's Lieve Vrouwekerhof programme opened with the Jazz Orchestra Of The Concertgebouw, Polish saxophonist
Sylwester Ostrowski
guesting. They made a robust big band swing roll, as his tenor ripped out with a raw blues tone, threaded with high-squeal embellishments. The second number had singer Sabrina Starke in the role of Nina Simone, paying tribute to her old repertoire, starting with the 1969 song "Revolution," piano and guitar prominent in the swinging spread. Most of the ensemble ended up being featured at some point in the set. One particular highlight was "Mississippi Goddam," appearing in the guise of a yee-haw hoedown, complete with a group-shout chorus and a capering clarinet solo. The obvious (and irritatingly rigid) "My Baby Just Cares For Me" happened to be a reasonable reading of an inferior song, and was followed by a return to the stage by Ostrowski, for a solo topping.
One odd act out was Kuenta i Tambú, an Amsterdam outfit who are steeped in the music of the Caribbean island Curaçao, teetering almost exactly halfway between fierce electronic bassbooms and acoustic percussion freak-outs. It's a successful blend, particularly when the sonic mix was balanced so that all elements were equally audible. They even opened with a goat-horn fanfare! Two percussionists worked beside a turntablist, with density on the decks, shaping a drum thunder that was closer to the Burundi sound than any island intricacy.
Heading back to Observant, another artist joined a growing cluster of remarkable discoveries for your scribe. The young Israeli reedsman Aviv Noam won the Dutch Jazz Prize in 2020, releasing his
This Is In Everything We Do
quartet debut album. Partnered by bass clarinet, upright bass and drums, Noam began on the alto saxophone, initially streaming with a serene, impressionistic flow, nestled reeds aligning.
Ornette Coleman
has to be an important influence in the restless wriggling of parts, sharp breakdowns abounding, such as a completely alone alto excursion, followed by a variety of combo permutations. There's a delicate sensitivity to Noam's tone. There were a couple of tunes penned by bass clarinetist Federico Calcagno, "Liberation" and "Something Changes." Each band member hails from a different land, all having studied in Amsterdam. Bassman Louis J. Bourhis also contributed a composition, with a lightness of flow just right for the birdsong reeds. By the fourth tune they were tackling Johnny Hodges, but Noam also mentioned
Eric Dolphy
and
Charles Mingus
as other important inspirations. "A Multi-Spiritual Canon" was Noam's own work, possibly revealing
Jimmy Giuffre
as another progenitor of this band's sound. A gleaming unity inhabited "Ornette Is The Answer!," scintillating and inlaid with fine details: high-strain alto precision, a dainty expulsion, resolved with outbursts of vibrating clarity. A festival hit!
The biggest name artists outside of the Netherlands were probably saxophonist
Candy Dulfer
and her father
Hans Dulfer
, making a tenor team. They appeared back at Lieve Vrouwekerhof, with Candy playing much tougher and harder than she used to when she first emerged on the funksome jazz scene. The pair began with some reggae, evolving towards Afrobeat, with one solo after another passing through the band's ranks. By the third tune, matters had turned funky, speeding up with some searing rawk guitar. A set highlight was "Soul Makossa," paying homage to the departed
Manu Dibango
, in a funkin,' hi-hat-sizzlin' version, the set eventually turning into a series of escalating solos, with a jammin' vibe.
The last day of this Amersfoort festival once more oscillated between the venues, with larger and smaller gigs. Artistic director Alexander Beets invited his guest Sylwester Ostrowski to play in a no-messin' old school sextet at Observant, a gig that was only arranged the day before. A tribute to
Hank Mobley
was paid via "Brother Hank," opening up what seemed to be a spontaneous set-list. After "A Night In Tunisia," Ostrowski embraced "You Don't Know What Love Is," slow and slinky, in a funk-tinged incarnation, played as a quartet when Beets left the stage. Ostrowski cued a sudden drum solo, sparking towards "Junebug," by Stanley Turrentine, foraying further into the funk, with piano pushing an upfront theme. Ostrowski and Beets traded swift solos, squealing higher as the groove bubbled over the limit.
The trio of
John Engels
,
Joris Teepe
and
Benjamin Herman
took over the next set, on drums, bass and saxophone, respectively. They were pushing the recent album,
When Will The Blues Leave?
, beginning with its Ornette title tune. The brushy shuffle of "How Deep Is The Ocean?" came next, a burred rasp signalling the end of its drum solo, and an alto return, boasting a very 1950s noir feeling. Whoever the composer might be, this trio retains its signature Ornettian aura, with a dash of
Lee Konitz
. An alto and drum exchange became quite heated, during "Minority," and the furry mallets came out for "The Peacocks," which was savoured and drawn out to the full. This band bent their ears together, always searching, as Engels pulled out sour striations from his horn.
The big show climax arrived with a Jazz At The Philharmonic concept presentation, Ostrowski showing up again, pushing to the edge with some immediately wild blowing, although still retaining his low tones. The full line-up had taken to the stage by the time "Fly Me To The Moon" launched, another guest in the form of guitarist Anton Goudsmit, wading through a chicken shack groove, alto and tenors fully firing.
Although nowhere near as 'international' as usual, the Amersfoort festival offered an excellent opportunity to take a crash course in the current Dutch scene, with multiple introductions being made to completely unfamiliar bands, many of whom were outstanding, very worthy of wider touring around Europe, or even much further beyond.
Post a comment
---
FOR THE LOVE OF JAZZ
All About Jazz has been a pillar of jazz since 1995, championing it as an art form and, more importantly, supporting the musicians who create it. Our enduring commitment has made "AAJ" one of the most culturally important websites of its kind, read by hundreds of thousands of fans, musicians and industry figures every month.
WE NEED YOUR HELP
To expand our coverage even further and develop new means to foster jazz discovery and connectivity we need your help. You can become a sustaining member for a modest $20 and in return, we'll immediately hide those pesky ads plus provide access to
future articles
for a full year. This winning combination will vastly improve your AAJ experience and allow us to vigorously build on the pioneering work we first started in 1995. So enjoy an ad-free AAJ experience and help us remain a positive beacon for jazz by
making a donation today
.
Instrument: Drums
Article Coverage
|
Calendar
|
Albums
|
Photos
|
Similar Artists