U.S. Jazz From Denmark: Six Recent SteepleChase Releases
By
The opportunity to listen to six recently released discs on the venerable SteepleChase label (and the SteepleChase LookOut branch) is a little like reading an anthology of short stories by distinguished authors from a particular year or period. You get a hearty helping of vital, mature voices, most of whom operate somewhere in the jazz mainstream, without too much of an overlap of the artists' values, proclivities, and preferences. By and large, each leader and his cohort make a legitimate claim to the listener's attention. Founder/producer Nils Winther should be given credit for continuing to present memorable work, mostly by veteran artists who otherwise might remain undocumented.
Andy Fusco
Whirlwind
SteepleChase
2016
From the perspective of a longtime fan of alto saxophonist Andy Fusco (and of each member of his band as well), it's difficult to comprehend why
Whirlwind
wasn't issued for over twelve years after it was initially recorded. The briefest of back-stories is that trombonist
John Mosca
of the
Vanguard Jazz Orchestra
brought the original tape to Nils Winther, who recognized the music's value and took care of the business of getting it out and available to the public.
Whirlwind
is one of those rare releases that exceeds craft and competence, and establishes its own reasons for being. Among other things, it's a bottomless well of a jazz record. The more you play it, the more discoveries you make. The music offers multiple perspectives and can be enjoyed in a number of ways. The chemistry between members of the quintet and their collective wisdom is on a level seldom attained on contemporary mainstream jazz recordings.
In terms of personnel and execution the recording is a prequel of sorts to
Sight To Sound
(Criss Cross),
Walt Weiskopf
's magnum opus recorded just a few months after, which featured Fusco—who once mentored Weiskopf in the reed section of Buddy Rich's Big Band—Mosca, pianist Joel Weiskopf (Walt's brother), and drummer
Billy Drummond
. The late
Dennis Irwin
is the bassist in Fusco's group. Walt Weiskopf's fingerprints are also on Whirlwind, in the form of two of his compositions, the title track and "Waltz For Judy."
It simply doesn't pay to make any blanket statements about the efforts of the record's primary soloists. Fusco, Mosca, and Weiskopf all have a knack for adapting their styles to the material at hand. Fusco's tone—keening, tightly wound, sometimes sounding as if he's yanking notes out of the horn—conditions much of what he plays. His phrases throughout "Count's The Thing" are measured, balanced, and contain a sense of urgency. A treatment of Irving Berlin's "How About Me"—patient, romantic, and searching—is a brilliant example of bebop balladry. Particularly on "Count's The Thing," Mosca manages to be everywhere at once, slippery and direct within the space of a couple of bars, without ever sounding particularly notey or busy. Throughout "In Dominic's Time" the trombonist creates something new and consistently breaks ground while clearly staying inside of the tune's parameters. Joel Weiskopf's virtues include a medium weight touch and the ability to swing with authority (he's so simpatico with Irwin and Drummond) without playing a lot of notes. Check out the title track for an example of a turn that's more effusive and emphatic then some of his other efforts on the record.
It's enjoyable to isolate some of the couplings within the ensemble. Joel Weiskopf's sensitive, knowing comping amidst Fusco's solos often anticipates or inspires the saxophonist's next move. Fusco's "Count's The Thing" improv and his turn on "How About Me" are good examples of their rapport. Contrary to conventional wisdom regarding the necessity of a drummer's diminished role behind a piano soloist, some of Drummond's most aggressive—and effective—playing on the record is behind Weiskopf. For instance, during
John Lewis
' "Django," accents to the snare and toms carry just the right amount of weight and spread out a bit, giving the music a slightly agitated vibe that never turns excessive. In other instances, such as the title track, he executes extended, contrapuntal lines behind the pianist. The widely imitated Coltrane/Jones saxophone and drum segments are given a new lease on life during a part of the head and some of Fusco's solo during "Whirlwind." In particular, the duo creates a long percussive rush, as Drummond chews on and spits out Fusco's litany of brief, agitated phrases.
It was indeed an exceptionally fine day in the studio. Many thanks to Nils Winther for enabling
Whirlwind
to escape the dustbin of history.
Joel Weiskopf
Where Angels Fear to Tread
SteepleChase
2016
Joel Weiskopf's
Where Angels Fear To Tread
succeeds admirably on the basis of his compositions and performances by an excellent band, which includes Andy Fusco, trumpeter/flugelhornist
Joe Magnarelli
, bassist Doug Weiss, and drummer
Jaimeo Brown
. Mostly written in the 1980s and early 1990s with horns in mind, the compositions were never recorded because Weiskopf's opportunities to lead record dates were, for the most part, limited to a piano trio format. Not unlike the discovery of Fusco's recording, the performance of the pianist's material for a quintet is something of a revelation. Pieces like "Patience" and "Free Fall" are lively, meaty and make a rapid, direct impact. "Came To Believe," "Elegy For D Sharpe," and "Lonely Evening" are meticulously structured, unfold patiently, and contain hummable melodies. It's also important to note that, during the early stages of "Came To Believe," Weiskopf's piano plays an essential role in supporting the horns and contributing to the development of the tune as a whole.
Though Fusco has his share of bright moments (check out his turn on "Breakthrough"), Weiskopf and Magnarelli consistently vie for the solo honors. Weiskopf's introductions on "Breakthrough" and "Elegy For D Sharpe" set up the compositions in fine style, and almost work as pieces in themselves. Not unlike his songs, the pianist's improvisations evolve in intriguing ways. There is always a sense of an orderly mind at work, even while he opens up a continuous chain of possibilities on the up tempo "Breakthrough" and "Free Fall," the slow, somber "Elegy," and the affable bossa "Came To Believe." Unlike trumpeters who work their way up to blasting, high note climaxes, Magnarelli has fashioned an original style out of an unpredictable, intoxicating mix of taut, medium length lines and ostensibly hesitant digressions that float in and out of time, sometimes abruptly ending a phrase in a near whisper. "Came To Believe," "Lonely Evening" and "Free Fall" are fitting examples of Magnarelli's art.
Where Angeles Fear To Tread
is highly recommended for the excellence of Weiskopf's writing, smart ensemble work, and three first-rate soloists.
Dave Scott
Brooklyn Aura
SteepleChase
2015
Dave Scott's
Brooklyn Aura
is comprised of six tracks, five of which are between eleven and fifteen minutes in length. The performances of the trumpeter's original compositions reward close attention, but have no intention of demanding it. Regular, repeated structures morph into areas that are looser and less tethered, creating a rambling momentum that doesn't swing in conventional terms and offers its own standards and rewards. A rhythm section consisting of pianist Jacob Sacks, bassist John Hebert and drummer Satoshi Takeishi plays together and supports soloists in ways that aren't particularly doctrinaire or obvious. During the ostensibly adamant parts of Scott's compositions, they find variations and small ways that keep things from turning rigid or tiresome. On the ballad-like title track, they proffer a skeletal momentum, both light and weighty, that causes the music to gently float and bob.
Throughout the record, Takeishi is effective in deceptive, mercurial ways. His liberties aren't synonymous with disorganization. He often pounces on the drum kit, spraying brief poking rhythms that don't contain much bulk. Moving briskly from fairly dense textures to sparse beats that leave considerable open space, he's never neat, tidy, or overbearing.
"Eccentricities" contains a lot of the ways and means of the record in its entirety. The rhythm section trudges along, frees up, and snaps back into an order (of sorts) once again. For a time Hebert sagely holds the music together by the slimmest of threads until an obsessive, repetitive pattern emerges during Scott's solo, which is an engaging, cogent, hopscotch of childlike rhymes. His improvisation and the things going on around it plod down parallel paths, converging and then marching off on their own terms. When tenor saxophonist Rich Perry lazily begins, the band goes in and out of focus. Perry gradually builds and gets more intense, crying and whinnying as the resolute slogging surrounds him.
The most "outside" of the six discs under consideration,
Brooklyn Aura
amply rewards listening with a headset and no distractions.
Bernd Reiter
Workout
SteepleChase LookOut
2016
Workout
, drummer Bernd Reiter's live recording, features a band of individuals who are hell-bent on making things happen. At times the date brings to mind a track and field event clothed in recognizable jazz attire. The music often sounds anxious and seldom breathes easy. Everyone's trying hard to make an impact; everyone's working up a sweat, always reaching for yet another climax. The result is straight-ahead jazz of no particular distinction that puts an obstinate spin on some of the significant
Hank Mobley
Blue Note sides with guitarist
Grant Green
.
Eric Alexander
's (the band's featured performer and biggest name) virtuosic bag of tracks quickly becomes too familiar. The tenor saxophonist's solos often amount to a series of disparate, formulaic segments that give the impression that he's striving to bend the music to his will. There's something perfunctory about his ballad treatment of "All The Way," in which prolix variations overwhelm Jimmy Van Heusen's melody.
Pianist Olivier Hutman's busy accompaniment, particularly during the solos of guitarist Helmut Kagerer, sometimes resembles a motorist who has blown a stop sign and stubbornly continues to careen into oncoming traffic. Viktor Nyberg's thoughtful, stimulating bass solo breaks up an otherwise pedestrian take on Mobley's "Un Huh." The leader's claustrophobic drum solos offer a welter of neatly executed snare drum strokes, making little impact apart from his capacity to play rapidly for long periods of time.
Perhaps an Alexander completest will enjoy this record.
Peter and Will Anderson
A Sax Supreme
SteepleChase LookOut
2015
A Sax Supreme
, the other live date in the batch of SteepleChase sides under consideration, is vastly different from Reiter's relentless, solo-centric effort.
Peter and Will Anderson
lead a septet with four saxophones and a rhythm section. The emphasis is on their imaginative, carefully drawn arrangements of jazz standards, plus a medley of choice items from the Great American Songbook. The record feels like an all-star group without the weight or distraction of any large egos. Solos, generally no more than a couple of choruses apiece, are integrated into the arrangements as a whole, and you get enough exposure to each player to get a good idea of their personalities. Pianist
Ehud Asherie
, for example, has no difficulty in forging a complete statement in a mere sixteen bars on Victor Young's "Love Letters." One of the saxophonists,
Grant Stewart
, occasionally co-leads record dates with Eric Alexander, under the name of Reeds and Deeds, in which they both stretch out at length. It's interesting to hear Stewart play just as effectively in a much more framed, disciplined context. A ballad medley gives each of the horns (Peter Anderson's tenor, Stewart's tenor,
Ken Peplowski
's tenor, and Will Anderson's alto) a chance to shine. There's enough of a contrast between them to keep things interesting.
The band expertly manages the stops, starts, and pauses of "Let's." Drummer Aaron Kimmel executes brief, tasty fills that don't tear the fabric of
Thad Jones
' composition. Bassist
Neal Miner
's judicious comments on the head of "Walkin'" enhance the smooth blend of the horns.
Billy Strayhorn
's "U.M.M.G" opens with the horns alone and evolves into an up-tempo romp powered by Miner and Kimmel. A brisk treatment of
Sonny Stitt
's "Whoops" is notable for the manner in which the rhythm section functions in a noticeably different—yet no less effective—manner on the first and second choruses of Peplowski's solo. Following eight and four bar trades between the horns, Kimmel's two chorus solo swings mightily, utilizing a variety of textures across the drum kit and, most of all, makes sense as a whole.
Moderation and good taste seldom sounds as good as they do on
A Sax Supreme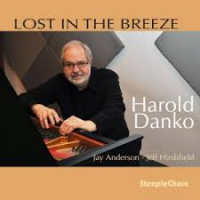 Harold Danko
Lost In The Breeze
SteepleChase Records
2016
Harold Danko
's
Lost In The Breeze
is reminiscent of a playground in which all of the kids are poised, well-behaved, cooperative, and more than willing to embrace the rules of the games they play. There's no such thing as "me first." Despite the absence of flashes of impulsive behavior and displays of individual anarchy, the kids are all having a swell time. Camaraderie and teamwork wins the day.
Dreamy snippets of "Happy Days Are Here Again" drift through the beginning of "Fall Splits," the disc's opener that sets the tone for much of what is to come. Danko is the first of equals, but one simply cannot imagine the record without bassist
Jay Anderson
and drummer
Jeff Hirshfield
. On the one hand, things are constantly evolving; on the other, this movement is somewhat deliberate and never evokes a mediocre jazz band's standard bag of tricks. While it's a pleasure to isolate individual voices, the constant, genial give and take between them is what makes the record special.
Anderson is a constant presence, but not obtrusive or even particularly busy; he's incapable of playing a note or a phrase that fails to nourish the music. The greatest compliment one can pay Hirshfield is that he's more felt than heard. He specializes in the vanishing art of understatement, moving along with Anderson and responding to Danko with no wasted effort. Danko never feels the urge to reach for dramatic climaxes, and the development of his solos always feels natural and organic. Even at his most active, the pianist never plays over Anderson and Hirshfield. The unit always remains fully functioning.
The medium-to-up pace of "Homing Instinct" feels locked in from the first note. A relaxed, firm sense of swing ensues. Danko's solo is a model of thoughtful economy. "Big Squeeze" is sparse, incisive funk that expands and contracts while always managing to stay on point. Danko often lets a couple of beats go by without making a sound, and these silences are nearly as eloquent as the notes. He and Anderson frequently converse in terse, funky snippets. The up-tempo "Fish Pond" may be the most assertive of the record's ten tracks. Danko's sparkling single note lines are often enhanced by Anderson's talky, irregular commentary. "If I Did—Would You?," one of two
Duke Jordan
tunes on the record (the rest are Danko's contrafacts of standard songs), luxuriates in a slow-to-medium pace. Danko takes all the time in the world to express himself, yet never sounds particularly cautious.
Lost In The Breeze
is highly recommended to anyone who enjoys an articulate piano trio that isn't especially dense or busy.
Post a comment
---
FOR THE LOVE OF JAZZ
All About Jazz has been a pillar of jazz since 1995, championing it as an art form and, more importantly, supporting the musicians who create it. Our enduring commitment has made "AAJ" one of the most culturally important websites of its kind, read by hundreds of thousands of fans, musicians and industry figures every month.
WE NEED YOUR HELP
To expand our coverage even further and develop new means to foster jazz discovery and connectivity we need your help. You can become a sustaining member for a modest $20 and in return, we'll immediately hide those pesky ads plus provide access to
future articles
for a full year. This winning combination will vastly improve your AAJ experience and allow us to vigorously build on the pioneering work we first started in 1995. So enjoy an ad-free AAJ experience and help us remain a positive beacon for jazz by
making a donation today
.
Instrument: Saxophone, alto
Article Coverage
|
Calendar
|
Albums
|
Photos
|
Similar Artists