Meet Drummer Allison Miller
By
A child of the '80s, drummer Allison Miller came of age outside Washington, DC listening to jazz, funk, rock and pop. Studying with Walter Salb and later Michael Carvin, she has developed a personal technique that uses an exceptional command of phrasing to allow for what can best be described as a "melodic" approach to drumming. As she tells it, melody is paramount. "I base everything off of the melody. It's the way I play naturally—it's how I hear the music. When I started focusing on the melody, I would learn Monk tunes on the drums and just go from there soloing wise."
Since her 1996 NYC arrival, Allison has become a multifaceted, versatile musician who is in demand locally and internationally. "When I first moved to NYC, I put the pressure on myself of getting into one scene and just doing that; then I realized that's just not me." A recent world tour with pop songstress Natalie Merchant, playing at last month's Baku Jazz festival in Azerbaijan with pianist Shahin Novrasli and projects with post bop tenor/soprano saxophonist Virginia Mayhew (
No Walls and Phantoms
), are but a small tip of the Allison Miller stylistic iceberg. Much sought after by vocalists wanting an artistic yet steady rhythm section, Allison has also lent her skills to multiple offerings by the likes of Kitty Margolis (
Heart & Soul: Live In San Francisco
), Nadine Goellner (
Sing It to Me Anyway
), Lauren Cregor (
No Time For Shy
) and Nora York (
What I Want
). When guitarist Joel Harrison wanted to commit his fascinating meld of country music with free jazz (
Free Country
) to disc, he sought out Allison as the perfect person to keep things rhythmically in focus. Similarly, Allison's excitement about her association with multi-reedist and composer Marty Ehrlich is infectious and has apparently already borne captivating musical fruit, with an album forthcoming on Palmetto Records. "It's been a blast. I love Marty's music. The record is a sextet record—it's really cool music—Greg Cohen on bass, James Zollar on trumpet, Howard Johnson on tuba and baritone and James Weidman on piano. When you hear it you are gonna be like...wow...they play so many different styles."
Straddling free and straight ahead genres, Allison keeps things interesting no matter with whom she is playing. When asked if there is sometimes the temptation to play "out" behind a straight ahead vocalist, she admitted to doing so in an intriguing way. "In a deceptive way I do. I will be playing straight time with my right hand but my left hand is playing free. There's that whole myth that you have to play one style of music. I am sitting here looking at my living room right now and instrumentally I have a four octave beautiful marimba. I play classical on that and I have percussion instruments from India and Africa. I seem not to have a tough time switching gears."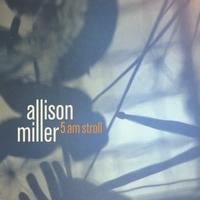 It is no surprise that for her debut as a leader,
5 AM Stroll
(Foxhaven), Miller assembled a top notch band consisting of bassist Ray Drummond, Steve Wilson on alto and flute and pianist Bruce Barth. Featuring seven self-composed pieces and a reworked version of Monk's "Evidence," Miller mixes her cross-style mastery into an adventurous whole. Studying composition with Ehrlich and pianist/composer Roberta Piket has expanded Miller's horizon. "My direction of writing is changing. I kind of feel like that's where a lot of my creative energy is going and I think my composing is really affecting my drumming, and it is making me play even more melodically than I did before. It is interesting because it is a whole other door to open to a whole other world." The title piece, with its double-take on the leader's initials and the dawning of a new day is an apt wake up call, featuring burning Wilson alto work, Drummond power and melodic Miller methodology. It is apparent that Drummond and Miller have developed a special connection. "I was fortunate enough back in February to do a tour with that band. Ray Drummond was able to make the tour and it was just heaven. He's a master—it's like walking on air." Drummond is a master and the trans-generational interplay between Miller and him was a joy to behold at the recent East Coast Jazz Festival.
A relationship with her rhythmical partner is key for Allison to keep up with the differing demands of divergent forms. "For me, the main quality that I notice from a bassist immediately is where they place their beat. the more I am into my career, the more I have certain bass players that I want to play with. There are certain bass players that play on top of the beat and that makes me have to play, not behind the beat, but just make sure that I hold the time where it is because I have a tendency to want to play ahead of the beat too." With three kindred spirits, Miller has formed an exciting quartet, Agrazing Maze. Consisting of pianist Enrique Haneine, Shane Endsley on trumpet and bassist Carlo DeRosa, their new CD,
At the End of the Day
, features a quick-stepping "5 am Stroll" thanks to Haneine and an appealing mix of styles. Strong compositions from DeRosa reveal that Miller has found a like-minded colleague with whom to share the stage. "Carlo and I know each other so well, that we really open up and almost stretch the time. I mean that's when you can really play organically." Endsley, who himself is one of NYC's finest up and coming trumpet players has also formed a musical dialogue with Miller. Their soon -to-be-released joint project entitled
TILT
has Endsley and tenorist Mark Small providing some crisp and adventuresome in tandem playing and finds Miller paired with bassist Thomson Kneeland.
Being a woman in a still male-dominated musical genre has special meaning for Allison and she is committed to being a role model for younger female musicians. "One of my dreams is to have a school for young girls. I love teaching and if I can pass on the tradition to young girls, that's more important to me than anything." Miller believes that diversity brings innovative energy and results in a stronger session. She realizes that one of the most important things that musicians bring with them is their own experience and individuality. "Jazz musicians play like their life. The older you get, and the more experiences you have, changes the way you play, so I think a man plays like what is given to him in his life and a woman plays the same way. Women go through different situations than men do, so how can you deny that?" When things get rough she relies on some sage advice, "Straight ahead and strive for tone, Ray Drummond says that all the time. Keep your vision and keep doin' what you're doin' and stay positive, then you will rise above the negativity that could pull you down." With her ability to stylistically adapt while maintaining a solid sense of self, drummer Allison Miller is setting a torrid pace.
Recommended Listening:
Rachel Z, On the Milky Way Express: The Music of Wayne Shorter (Shrapnel-Tone Center, 2000)
Virginia Mayhew, No Walls (Foxhaven, 2001)
Virginia Mayhew, Phantoms (Renma, 2002)
Kitty Margolis, Heart & Soul: Live in San Francisco (Mad-Kat, 2003)
Allison Miller, 5AM Stroll (Foxhaven, 2003)
Agrazing Maze (with Allison Miller), At the End of the Day (Foxhaven, 2004)
Post a comment
---
FOR THE LOVE OF JAZZ
All About Jazz has been a pillar of jazz since 1995, championing it as an art form and, more importantly, supporting the musicians who create it. Our enduring commitment has made "AAJ" one of the most culturally important websites of its kind, read by hundreds of thousands of fans, musicians and industry figures every month.
WE NEED YOUR HELP
To expand our coverage even further and develop new means to foster jazz discovery and connectivity we need your help. You can become a sustaining member for a modest $20 and in return, we'll immediately hide those pesky ads plus provide access to
future articles
for a full year. This winning combination will vastly improve your AAJ experience and allow us to vigorously build on the pioneering work we first started in 1995. So enjoy an ad-free AAJ experience and help us remain a positive beacon for jazz by
making a donation today
.
Instrument: Drums
Article Coverage
|
Calendar
|
Albums
|
Photos
|
Similar Artists