Carla Marciano Quartet: Stream of Consciousness
By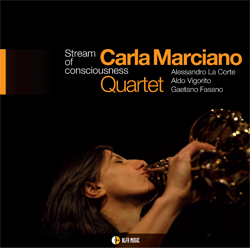 Si avverte l'influenza di John Coltrane in Stream of Consciousness, l'album firmato dal quartetto capitanato da Carla Marciano. Un'idea non solo musicale, ma di approccio, di spiritualità e modo di plasmare la materia sonora. La leader, che si destreggia sia al sax alto che al sopranino, spiega nelle note di copertina il carattere dell'intera registrazione: un flusso di pensieri, emozioni e sensazioni che scorrono in maniera spontanea, senza un preciso ordine preorganizzato.
Del resto la presa diretta in sudio di ogni brano restituisce una tensione creativa che si avverte durante l'ascolto del CD. Una sorta di filo elettrico che unisce le tracce in scaletta, dall'iniziale "God Rest ye Merry, Gentlemen," al trittico che dà il nome all'album, alla conclusiva "Handshake". Si tratta di brani articolati, nei quali il suono della Marciano ricopre spesso il ruolo di primaria importanza, con assoli prolungati che ne evidenziano sia la grande forza narrativa che un'energica voglia - a tratti furiosa - di mettersi in discussione in ogni passaggio, come se volesse spingere la musica sempre in avanti, rinnovandone di volta in volta confini e significati. In questo è sorretta in maniera egregia dagli altri componenti della band. Si tratta di una realtà attiva da un decennio, che ormai evidenzia coesione granitica e precisa unione d'intenti, nella quale tutti trovano il loro spazio creativo.
A conti fatti, Coltrane risulta, oltre come faro illuminante, un ottimo pretesto per prendere il largo verso la libertà espressiva, che prescinde la tradizione, elude ogni manierismo di sorta e riflette di luce propria.
Eccitante.
Track Listing
1. God rest ye merry, gentlemen
STREAM OF CONSCIOUSNESS
2. Preceding/Inner blast (Introduction/Part I)
3. Consequence (Part II)
4. Turning point (Part III)
5. Inside
6. Handshake
All compositions by Carla Marciano except #1 (English traditional elaborated by Alessandsro La Corte)
Personnel
Carla Marciano: alto saxophone, sopranino saxophone; Alessandro La Corte: piano; Aldo Vigorito: bass; Gaetano Fasano: drums.
Album information
Title: STREAM OF CONSCIOUSNESS | Year Released: 2012 | Record Label: Black Saint
Post a comment about this album
---
FOR THE LOVE OF JAZZ
All About Jazz has been a pillar of jazz since 1995, championing it as an art form and, more importantly, supporting the musicians who create it. Our enduring commitment has made "AAJ" one of the most culturally important websites of its kind, read by hundreds of thousands of fans, musicians and industry figures every month.
WE NEED YOUR HELP
To expand our coverage even further and develop new means to foster jazz discovery and connectivity we need your help. You can become a sustaining member for a modest $20 and in return, we'll immediately hide those pesky ads plus provide access to
future articles
for a full year. This winning combination will vastly improve your AAJ experience and allow us to vigorously build on the pioneering work we first started in 1995. So enjoy an ad-free AAJ experience and help us remain a positive beacon for jazz by
making a donation today
.
Instrument: Saxophone, alto
Article Coverage
|
Calendar
|
Albums
|
Photos
|
Similar Artists