Results for "Carla Marciano Quartet"
Instrument: Saxophone, alto
Article Coverage
|
Calendar
|
Albums
|
Photos
|
Similar Artists
Results for pages tagged "Carla Marciano Quartet"...
Musician
Carla Marciano is an Italian saxophonist and composer from Salerno considered by specialized critics among the best talents of European jazz. She is an alto saxophone specialist, appreciated for her great passion and energy, her strong expressiveness, her advanced tecnique as well as her distinctive performative and compositional streak. She is also one of the leading experts of the rarely used and hard to master sopranino saxophone. She has performed her music projects, with her quartet, around the world at a lot of prestigious international jazz festivals, theaters and clubs as well as at most of the major Italian jazz festivals and clubs and she has under her belt some tours in America and in Russia
Article: Album Review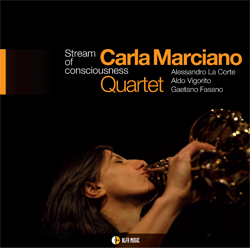 by AAJ Italy Staff

Si avverte l'influenza di John Coltrane in Stream of Consciousness, l'album firmato dal quartetto capitanato da Carla Marciano. Un'idea non solo musicale, ma di approccio, di spiritualità e modo di plasmare la materia sonora. La leader, che si destreggia sia al sax alto che al sopranino, spiega nelle note di copertina il carattere dell'intera registrazione: un ...