Five on Cellar Live
By
Corey Weeds' Cellar Live label is dedicated to the most organic of jazz: small ensemble acoustic performance. In 2000, Weeds had opened his Cellar Jazz Club, originally located at 3611 W Broadway, Vancouver, BC. A year later followed the inauguration of the Cellar Live imprint. In spite of the club's closing in 2014, the label remains a durable and vibrant outlet for modern mainstream jazz recording, having released more than 120 well received performances to date. Considered here are five recent recordings released on the label.
Spike Wilner Trio
Odalisque
Cellar Live
2017
Manhattan-based pianist Spike Wilner is a mad mathematician of the keyboard. His compositions and performances are like finely-wrought equations whose proofs are both elegant and inventive. Proof exists in the opener, a Wilner original, entitled "The Upasaka." This piece rests on an ascending figure, a scale rendered with authority and swing. The right angles of this piece give way to the maze-like creation of the title cut featuring some deft drumming and cymbal work by
Anthony Pinciotti
. Wilner again employs a repetitive left-had figure to propel the music forward in a probing and seeking fashion. Walter Donaldson's "You" is the first standard of the set, played at considerable velocity but never at the expense of precision. "Little Girl Blue" is given the light touch by Wilner, who displays some of his best Red Garland block chord playing, giving the interpretation an easy, orchestral, swing with a bit of church thrown in. Wilner applies his special calculus to the warhorse "Sweet Georgia Brown" spinning the standard off in a regimented fashion before applying a bit of postmodern deconstructionism to the melody, stripping the classic down to the studs revealing only tones and rhythm.
Grant Stewart Trio
Roll On
Cellar Live
2017
Ah, a tenor saxophone trio,
a la
Sonny Rollins
. Saxophonist Grant Stewart returns to the edgy climes of
A Night at the Village Vanguard
in a 21st Century fashion on his rollicking
Roll On
. Joined by the decisive rhythm section of bassist Paul Kikivie and drummer Phil Stewart, the saxophonist channels all of the innovation and excitement that a high-wire act like a saxophone trio can provide. With so much space in which to play, it takes a considerable reeds personality to the inherit challenge. In such a format, the rhythm section becomes an integral solo unit equal to that of the leader. Here, the rhythm section not only executes its myriad of responsibilities well, it does so delightfully. Throughout the entire nine song set list of standards, Stewart confidently directs his limited instrumental forces in a way to maximize their overall sonic impact. Stewart's inclusion of
Bud Powell
's piano juggernaut, "Un Poco Loco" reveals the saxophonist's sheer fearlessness in his repertoire. The piece has the faintest hint of the sepia tone that has settled on Powell's 1951 recording. Stewart closes the performance with
Elmo Hope
's "Roll On," giving it a kinetic character punctuated by Phil Stewart's tasteful, yet assertive, drumming. A total pack, this one.
Corey Weeds & the Jeff Hamilton Trio
Dreamsville
Cellar Live
2017
Dreamsville
finds the Cellar Live founder, tenor saxophonist Cory Weeds in the company of drummer
Jeff Hamilton
's current trio, including bassist
Christoph Luty
and pianist
Tamir Hendelman
. This is Weeds' eighth recording for his label and his second with the Jeff Hamilton Trio. Listening to Weeds' tenor style, I was trying to identify whose sound his was comparable to and it popped right up on his website...
Scott Hamilton
. Both men share a broad and solid tone largely devoid of vibrato and deeply rooted in the transitional musical period between the swing and be bop eras. Weeds' tone is beautifully traditional and his approach melodic. His repertoire on
Dreamsville
beyond covering the Henry Mancini title piece (Mancini's "Nothing to Lose" is included also) is a bit of sweet rarity. There are no weary standards already played to death here. In fact there are some fun surprises. Of note are the rocking "Hammer's Tones" which is performed with impressive drama and precision. The arrangement betrays that this is decidedly not a blowing tune. It is refined and exact, providing Hamilton some solo brush time and Hendelman plenty of room to move. Illinois Jacquet's "Robbins Nest" is breezily played, capturing a swing era diamond in an intimate format.
Dreamsville
is the most fully realized of the fine recordings considered here.
Tardo Hammer Trio
Swinging on a Star
Cellar Live
2017
Queens-native and New York fixture, Tardo Hammer has been performing teaching and performing locally since the 1970s. He has four previous recordings on Sharp Nine Records and the release,
Simple Pleasure
(2013) on Cellar Live is now joined by the present
Swinging on a Star
. On
Swinging
, Tardo retains bassist
Lee Hudson
and replaces drummer Jimmy Wormsworth with Steve Williams, from the previous Cellar Live outing. Tardo's nine-song set reflects the pianists appreciation for the late'50s-early 60s collaborations between
Miles Davis
and
Gil Evans
with an abrupt and punctuated performance of Evans' reimagining of Gershwin on "Gone" and on the title piece. The pianist displays solid be bop credentials on Miles Davis'
Little Willie Leaps
, which he performs at a greater than brisk pace. The 1931 Warren/Dixon/Rose song, "I found a Million Dollar Baby" is transformed in to a piano trio staple by Tardo, who reads the piece as classical hard bop fodder. Tardo and band prove up to the challenge of Monk with a wide-open interpretation of "Monk's Dream," introduced by Williams and consummated with the familiar craggy Monk melody. Tardo provides a solid, mainstream jazz trio recording that is long on Grace and short on cliché.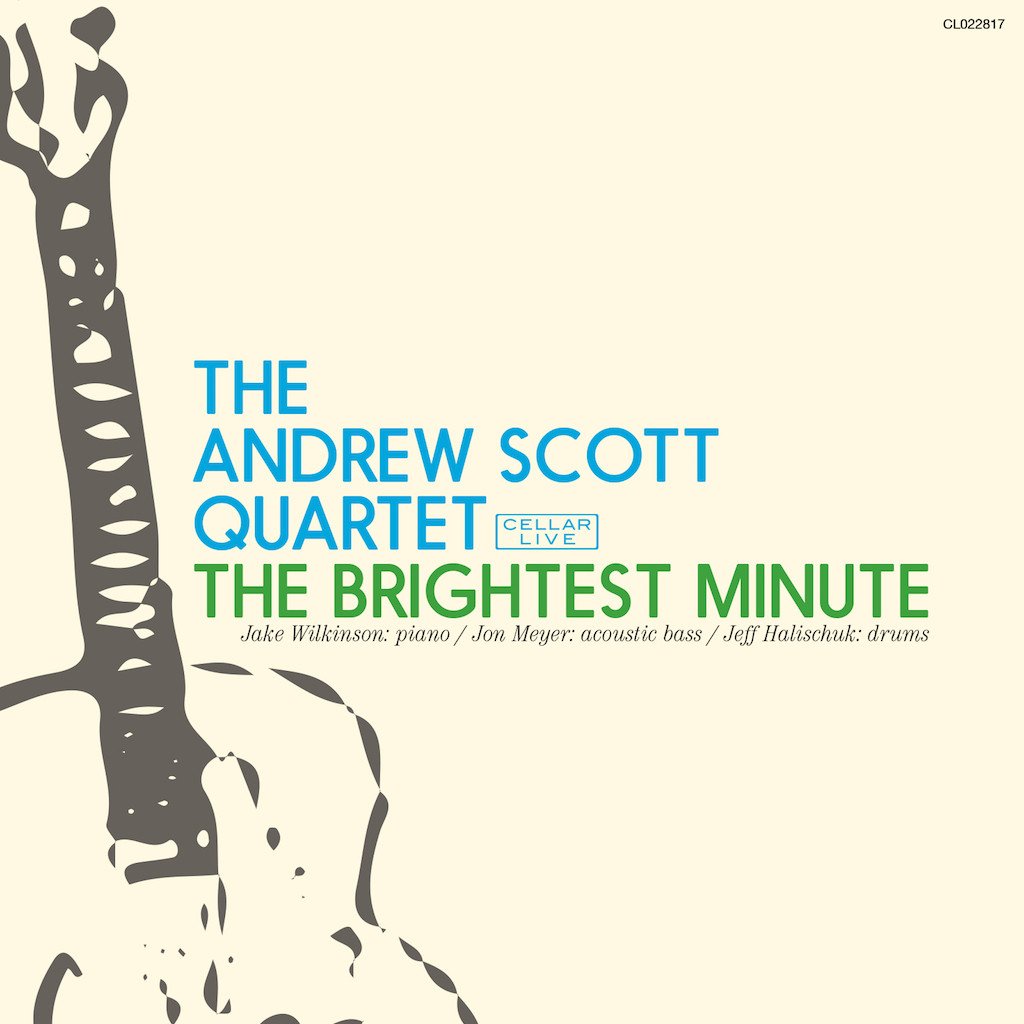 The Andrew Scott Quartet
The Brightest Minute
Cellar Live
2017
Guitarist
Andrew Scott
presents a recital of eight original compositions on
The Brightest Minute
supported by a traditional jazz piano trio. Scott sports a very clean guitar tone, much like that of George Benson with the flair of a...who?
Joe Pass
? No, not wordy enough and not near enough chording. Scott's guitar style is crystal clear, like that of a
Grant Green
or a
Kenny Burrell
. Or, a Andrew Scott. The guitarist is both a unique player and composer of complex and sometimes cranky mainstream jazz pieces that swing with a kinetically deliberate effort. ""My Ears Can't Hear Your Voice" is tuneful and perhaps the center point of Scott properly chowing off his chops. "Moody Blues" is a slick "Birk's Works" inspired blues in a minor key that gives Scott and pianist Jake Wilkinson plenty of space to spread out and ingest the ample solo area. Scott stakes out a wide berth in the middle of mainstream jazz with
The Brightest Minute
and he does so with his own compositions. In as crowded a field as jazz proves to be, it is difficult to set yourself apart, yet Scott does.
Post a comment
Instrument: Saxophone, alto
Related Articles
|
Calendar
|
Albums
|
Photos
|
Similar Artists
---
FOR THE LOVE OF JAZZ
All About Jazz has been a pillar of jazz since 1995, championing it as an art form and, more importantly, supporting the musicians who create it. Our enduring commitment has made "AAJ" one of the most culturally important websites of its kind, read by hundreds of thousands of fans, musicians and industry figures every month.
WE NEED YOUR HELP
To expand our coverage even further and develop new means to foster jazz discovery and connectivity we need your help. You can become a sustaining member for a modest $20 and in return, we'll immediately hide those pesky ads plus provide access to
future articles
for a full year. This winning combination will vastly improve your AAJ experience and allow us to vigorously build on the pioneering work we first started in 1995. So enjoy an ad-free AAJ experience and help us remain a positive beacon for jazz by
making a donation today
.