Michael Vlatkovich: Mortality & Myrnofant's Kiss
By
Michael Vlatkovich
è un trombonista e compositore di St. Louis attivo dal 1973 a Los Angeles, parte di quella nicchia sperimentale presente dagli anni cinquanta nella West Coast. È membro regolare del
Vinny Golia
Large Ensemble e del
Rob Blakeslee
Quartet ma collabora anche con artisti di varie tendenze espressive:
Bobby Bradford
e
Gerry Hemingway
ma anche
Solomon Burke
, Ricky Lee Jones e
Medeski Martin & Wood
. La sua recente attività discografica è documentata dall'etichetta pfMentum di
Jeff Kaiser
e questi due ensemble rappresentano bene le sue linee di ricerca:
Myrnofant's Kiss
è il più recente mentre
Mortality
è stato inciso nel 2014.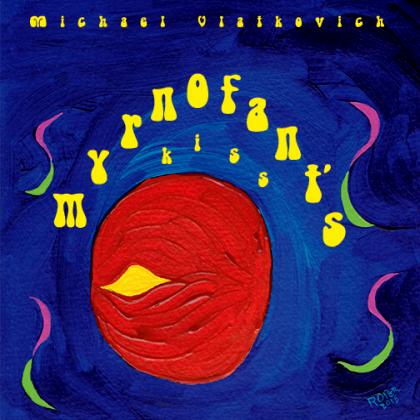 Michael Vlatkovich Quartet
Myrnofant's Kiss
pfMentum
2016
Valutazione: * * * ½
Per quest'incisione, effettuata in Canada, Vlatkovich ha assemblato un quartetto comprendente solisti di tre generazioni: il veterano
David Mott
, noto virtuoso del baritono con una lunga carriera di musicista e insegnante, il batterista e percussionista
Christopher Garcia
e il più giovane violoncellista
Jonathan Golove
, musicista che opera sia in contesti classici che nella libera improvvisazione.
Il repertorio è dato da otto avventurosi brani del leader dai titoli talvolta bizzarri: una musica generalmente vibrante, dove la libera improvvisazione di taglio post free si lega a momenti d'astratto camerismo. L'impianto strutturale dei brani è vario. Austere composizioni di taglio classico convivono con altre strutturalmente più semplici (frammenti tematici da cui partono le libere interazioni tra i solisti) ma timbricamente laceranti e ricche di soluzioni inattese. Non mancano poi momenti tradizionali con lunghi assoli su basi ritmiche regolari o personali riletture del blues. Una musica più incisiva e comunicativa che in passato, coinvolgente anche per chi non segue l'avanguardia post free.
Michael Vlatkovich Quartet
Mortality
pfMentum
2016
Valutazione: * * *
Particolarmente denso di motivi musicali diversi è questo disco inciso nel settembre 2014 da un'ensemble di 14 elementi che esegue otto brani del trombonista (ma la copertina ne indica sette con alcune discordanze sui tempi). Episodi cameristici si specchiano in orchestrazioni veementi, con frammenti di free o di modern mainstream, in un accumulo schizoide che può ricordare Frank Zappa. La ricchezza dei motivi in gioco è talvolta disomogenea e qualche brano si sviluppa senza un'apparente direzione logica.
Ad esempio la brillante tensione della prima parte di "Or Do You Have Change for a $20" (con un acceso intervento boppistico di Andrew Pask) si spegne in una palude di rumorismo e astrazioni cameristiche fino all'affrettata chiusura. "Sometimes a Red Nose and Big Shoes Aren't Enough" sembra promettere sviluppi orchestrali ma il collettivo si limita a sostenere con brevi stacchi il lungo assolo di batteria.
Per fortuna non è tutto così e ben più coerenti risultano il camerismo sperimentale di "As Quickly As It Came" o la lirica "Ghost Track" finale con protagonisti il trombone di Vlatkovich e il pianoforte di Wayne Peet.
Elenco dei brani e musicisti:
Myrnofant's Kiss
No Victims Just Volunteers; Stop Scaring the Toddlers and Farm Animals; Hold on to Your Chair Watch Out for Snakes; Myrnofant's Kiss; On the Corner of a Purple Saturday; An Illness with a Countdown; Leave the Worrying to the Professionals; A Tree Falls in the Forest while an Orange Rolls in Circles Watching a Pickle Kiss a Banana Goodbye.
Michael Vlatkovich: trombone; David Mott: sax baritone; Jonathan Golove: violoncello elettrico; Christopher Garcia: batteria.
Mortality
Adeptly Disguised as Chairs and Tables the Audience Listened Quietly; As Quickly as It Came; Or Do You Have Change for a $20; Out of the Wall and Into The Night; Sometimes a Red Nose And Big Shoes Aren't Enough; Mortality; Hiding Out as a Verb; Goodbye.
Michael Vlatkovich: trombone, leader; Dan Clucas: tromba; Jill Torberson: corno francese; Bill Roper: tuba, bombardino; Bill Plake: sax tenore; David Riddles: fagotto, flauto, sax soprano, clarinetto; Andrew Pask: sax contralto, sax baritono , clarinetto basso; Harry Scorzo: violino; Jonathan Golove: violoncello; Tom McNalley: chitarra elettrica; Wayne Peet: pianoforte, tastiere; Dominic Genova: contrabbasso; Ken Park: batteria, percussioni; Carol Sawyer: voce.
Post a comment
Instrument: Trombone
Related Articles
|
Calendar
|
Albums
|
Photos
|
Similar Artists
---
For the Love of Jazz
All About Jazz has been a pillar of jazz since 1995, championing it as an art form and, more importantly, supporting the musicians who create it. Our enduring commitment has made "AAJ" one of the most culturally important websites of its kind, read by hundreds of thousands of fans, musicians and industry figures every month.
You Can Help
To expand our coverage even further and develop new means to foster jazz discovery and connectivity we need your help. You can become a sustaining member for a modest $20 and in return, we'll immediately hide those pesky ads plus provide access to
future articles
for a full year. This winning combination will vastly improve your AAJ experience and allow us to vigorously build on the pioneering work we first started in 1995. So enjoy an ad-free AAJ experience and help us remain a positive beacon for jazz by
making a donation today
.