Live Review
Al Maniscalco Quartet CD Release
By
Maniscalco presents a pastiche of styles, and though he possesses a warm tone, especially in the lower register, the final effect leans heavily toward the sweet.
Borders Books & Music
Washinton,D.C.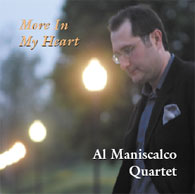 Baltimore resident, quartet leader, and saxophone instructor Al Maniscalco premiered his latest album release
More In My Heart
on Friday, June 13 at the Borders Books and Music on 18th and L, in D.C. While this was a difficult environment for musical transportation, for either players or audience, Maniscalco played with an earnest sincerity that made the best of the situation. Most of the pieces the quartet played were from Maniscalco's new release or previous cd, with a few classics included for variety. Comparatively standard fair, Maniscalco seems to draw most of his compositional and instrumental inspiration from the pre-bop era. Maniscalco presents a pastiche of styles, and though he possesses a warm tone, especially in the lower register, the final effect leans heavily toward the sweet. Pianist Darius Scott (not featured on the latest release, but on the previous) suffered from the poor quality of the resident piano, and relied on relatively standard chord changes, taking few risks. Bassist Jeff Reed kept up a simple backing pulse with the aid of drummer Eric Kennedy. Occasionally, the group lost cohesion, but would soon draw back together.
Warming up with their own arrangement of "It Could Happen to You," the Maniscalco quartet moved on to three of their own compositions: "New Beginnings," on the new release, followed by "Alicia" and "Inspiration," from their previous cd. More adept at a slightly faster tempo, "Inspiration" stood out as an engaging piece with a catchy melody and satisfying rhythmic figure. Maniscalco followed this with his own version of Bill Evan's "Time Remembered." Unfortunately, this felt flat, the group lacking the necessary palette to get beneath the surface of this classic.
After a quick jamming "Melody in C," Maniscalco performed the title track of his cd, "More in My Heart." By far the most moving piece of the evening, all four musicians seemed to come alive on this one. Arranged as a long crescendo, Maniscalco relied on his tone control to evoke a touchingly yearning mood.
Overall, the set lacked a certain fire, likely due in part to the surroundings, and it seemed that Maniscalco's compositions left too much space for the group to maintain momentum and devise inventive solos. The pieces wandered at times, leaving the players to rely on repeated, well-worn figures. Still, this is pleasant listening, and Maniscalco knows his way around a saxaphone, coaxing a sonorous resonance from both tenor and soprano saxophones.
It should be noted that the cd sounds worlds apart from the live performance. George Colligan provides much more dynamic piano work, both during accompaniment and solos. This breathes life into Maniscalco's compositions, and highlights his facility with arrangement. Unusually, sound quality improved in the studio, Jeff Reed's bass gaining a somewhat deeper, less muted tone and Eric Kennedy's drumming coming further under control, both his dynamics and rhythm choices meshing more closely with the overall feel of the works. Not featured at the release, "12/10," taken at a faster tempo than most of Maniscalco's other material, is a snappy piece which provides each player a chance to shine.
Again, this is standard material, but the recording has a nice feel that takes better advantage of the Maniscalco Quarter's talent.
Post a comment