John Handy Tribute At SFJAZZ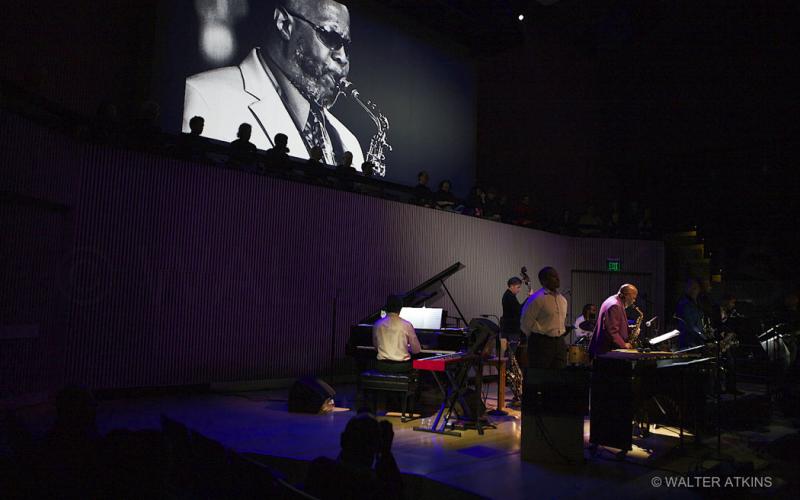 I have known many horn players and John Handy was the one that inspired me, and stood out in my mind...I adore (Handy) so much.
—Mary Stallings, vocalist
John Handy Tribute
SFJAZZ Miner Auditorium
SFJAZZ Fifth Season Celebration
San Francisco CA
January 22, 2017
The
SFJAZZ Center
ignited its fifth season celebration with two extraordinary weeks that included the Dr. Martin Luther King Day Open House and the star studded
Zakir Hussain
Gala Night (
covered here
). There were tribute nights this week for legendary drummer
Tony Williams
, prominent Bay Area saxophonist
Joe Henderson
, and the late inaugural SFJAZZ Collective member/vibraphonist
Bobby Hutcherson
(
covered here
). The musical directors for each extra special performance were Cindy Blackman Santana,
Joshua Redman
and
Stefon Harris
respectively.
Tonight's stellar tribute was for the esteemed jazz saxophonist
John Handy
. Each night of SFJAZZ's musical spotlight featured a phenomenal artist line up, and this evening was no exception. Our musical curator was the enthusiastic Collective saxophonist and arranger Miguel Zenón. Under his direction, the bandstand featured some dazzling musicians and guests including:
Terence Blanchard
, Redman, vocalist
Mary Stallings
,
Warren Wolf
,
Joe Lovano
,
Bill Frisell
,
Stefon Harris
,
Eric Harland
,
John Santos
and members of the Center's Collective.
The set included memorable compositions: "Ganesha's Jubilee," "Scheme #1," "Hard Work," and Duke Ellington's "Sound of Love." Zenón started with Handy's "Spanish Lady" which the respected altoist performed at the 1966 Monterey Jazz Festival to much acclaim. Vibraphonist Wolf played with exuberance on "I Will Leave You" and his solo garnered some howls and serious applause from the lively room.
Accomplished
San Francisco
vocalist Stallings stated, "I have known many horn players and John Handy was the one that inspired me," and "stood out in my mind." She added, "I adore (Handy) so much." After mentioning she and Handy had different names for the next song, Stallings performed a melodic "World on A String" to hardy applause.
The moving "Tears of Ole Miss," was written by Handy and dedicated to the late Civil Rights champion Medger Evers. The group played "Scheme #1" that featured a scintillating solo by Terence Blanchard just before the intermission.
During the break, numerous friends and admirers stopped by to say "hi" and gave congratulations to Handy's wife, retired Bay Area educator, Del Anderson.
After the intermission, Zenón introduced the celebrated Handy and the Collective. The group went into "Little B's Poem." Handy who worked with influential bassist
Charles Mingus
, played his haunting elergy to saxophonist Lester Young, "Goodbye Pork Pie Hat," with poignant tones.
With joyful anticipation, Zenón talked about Handy's classic hit track "Hard Work." Handy and the Collective heartily plunged into the song with funky precision. Redman's blistering playing was well received by the hall.
Despite recovering from a nasty flu, Handy played his signature composition with a tonal power and soaring grace that belied his octogenarian status. The enthralled crowd responded with a standing ovation and euphoric cheers. The many talented musicians, guests and Center staff helped make the John Handy testimonial one engaging and fun night.
This writer shared a story of loaning a personal copy of
Work
to a good buddy who fell sleep with the needle on the record-wearing out the vinyl. Upon a sincere promise of bodily harm, the album was quickly replaced and a no-loaning-records-to-friends policy was instituted. Handy laughed and said, "That's what you're suppose to do!"
As part of it's extensive two week Fifth Season Celebration, SFJAZZ with Zenón presented a satisfying evening of magnificent music saluting the life and brilliant career of jazz lion and Bay Area treasure John Handy.
Post a comment
Watch