Live Review
Jazztopad 2016, Part 1
By
National Forum of Music
Jazztopad 2016
Wroclaw
November 22-24, 2016
Wroclaw was this year's European Capital of Culture, sharing that title with Donostia/San Sebastian, a landmark of importance. But it isn't the only distinctive 'C' connected with the annual Jazztopad festival organized by the National Forum of Music, the representative center of musical culture in Poland. High-ranking commissions, international collaborations and sharp artistic choices form the other important C's (for the C's see also my report of last year's edition). This year's edition presented three commissions: "Wind" by
Jason Moran
, "The Unfolding" by
Wayne Shorter
and "We Are Crying" by Polish pianist/composer
Marcin Masecki
. The commissions are reviewed by Yahvé M. de la Cavada in a second article. The present article reviews the Canadian, Australian and especially the Japanese collaboration in the second week of the festival.
Triosm (Canada, USA, Australia)
Tuesday and Wednesday night of the festival's second week offered three trios, one without a bass and two without a horn, equating to two basses in the game, that of
Brad Jones
and that of
Lloyd Swanton
. And as we know the bass is a crucial game maker. Tuesday started off, in the Black Hall, with the trio of guitarist
Gordon Grdina
, drummer Kenton Loewen and clarinetist
Francois Houle
from Vancouver followed by the New Yorkian trio of pianist
Aruán Ortiz
, culminating the next day with legendary Australian trio The Necks presenting its vibes entering the third decade.
Gordon Grdina (1977) is one of the few fully dual musicians on western electric guitar and eastern acoustic lute, the ûd. With great self-assurance he covers a broad range, from rock to traditional Near Eastern music, as well as bop-based and faced jazz but also raucous free improvisation. He is inside as well as outside when he is playing (something he has in common with
Marc Ribot
). His guitar playing is influenced by ûd-sonorities as his ûd playing by rock-and jazz-sonorities. At the core of his guitar playing, however, is a firm jazz flow enabling him to merge raucousness with a soaring voice into a climaxing explosion. In that quality he often sounds like a saxophonist. His trio with bassist Tommy Babin and drummer Kenton Loewen is one of the most longstanding on the Vancouver scene, especially his partnership with drummer Kenton Loewen. Loewen is a heavily propulsive drummer, bashing and splitting as counterpart of Grdina. But also the intense and continuous collaboration and partnership with clarinetist François Houle (1961) is a long-standing one. Houle, a genuine clarinet clarinetist, is one of the key figures of the Vancouver scene. It was Steve Lacy who helped him discover the clarinet is his thing and made him decide to focus exclusively on 'his' instrument. As a consequence Houle is striving to extend the sound of his instrument, for instance by using parts of it as sound source or by using electronic emulation or distortion like he did in "Lemmium," the concluding piece of their performance dedicated to Lemmy Kilmister, who recently passed away, the bassist of notorious metal band Motörhead. In "Lemmium" Houle enriched the music by emulating something of a heavy bass guitar.
The threesome navigated through a wider landscape of sound with meandering lyrical passages, encircling eerie plateaus and sudden about-turns into wild abysses triggering raucous rides and accumulation of sound that went hazy and eventually dissolved, giving leeway to bouncing, hard hitting maneuvers. It sounded familiar to the Wroclaw audience with respect to elements of it, but the whole, its emergence, the lively live shaping with a right-in-your-face mentality was an overwhelming new thing that was revealed too in the appearance the following night at Mleczarnia club (next door at Pawła Włodkowica nr. 5).
In recent years Brooklyn pianist Aruan Ortiz (1973), originally from Santiago de Cuba, consequently developed into a resistant distinctive voice. In Wroclaw it quickly became apparent he has his very own, intriguing way of working with repetition and variation as was already manifested on his latest album
Hidden Voices
with bassist
Eric Revis
and drummer
Gerald Cleaver
(on Swiss Intakt label). During the tour the Wroclaw appearance was part of, Ortiz played that music with a different trio, namely with bassist Brad Jones and drummer
Chad Taylor
, two top notch musicians operating on the same level as those of the recording but each bringing in their own characteristics.
At first it might appear that Ortiz 'overwrites' the initially introduced rhythmic-melodic motifs but getting into it, listening closer, it had more of what in photography is indicated as double exposure. There is a vague contour against a clear contour both 'connected' by a seemingly vibrating interspace. Sometimes it was also like the breaking of light caused by undulating water. This way Ortiz created moving spaces, rotating, mirroring, zooming in and out. Everything was crooked as well as straight depending on the listeners' point of view or their listening perspective. If that perspective was too fixed, one would stumble. If it was too loose, one would get dizzy. Crucial were the firm and luscious rhythmical-melodic motifs that attracted the listener and held him/her in or let him/her return. The performance of Ortiz' trio was a manifestation of a strong generative and at the same time open approach allowing rich variations in dynamics, coloring, tempo and temperature. It rendered intensely varying sound spaces with luminous views, dancing layers and dense polyphonic ingredients. Brad Jones was the playfully coloring part of the trio, Chad Taylor the sober exact and blazing hot one.
Next night was solely reserved for legendary trio The Necks from Australia. The trio has entered its third decade of continued unique sound making. From a simple basis and some seemingly simple elements the three musicians are used to cooking a soup of confluent and merging sound clouds, out of which gradually a mighty sound wave -larger than the sum of the parts—emerges and eventually transcends the actual sound produced. It is a process taking a whole set. That means a set normally consists of one single slowly growing piece.
The tides of The Necks
What are pianist Chris Abrahams, drummer
Tony Buck
and bassist Lloyd Swanton doing to keep their performances fascinating after thirty years, not losing those magic effects? A possible answer is manifold with at least five complementing parts: (1) in each sound lurks a musical universe—(2) our imaginative listening is actively searching/giving shape—(3) play with the merging of sound layers—(4) intuition and irregularities—(5) slow grow(th).
(1) The musicians of The Necks rely on the phenomenon that in each sound and the space between sounds a musical universe is lurking. It can be awakened, uncaged, get to unfold itself and to grow into something bigger than itself. The Necks go through this process in a floating slow motion magnifier mode that makes it highly tangible.
(2) Humans confronted with the swishing, whispering sounds of the wind have a strong tendency to hear a contour, something of a shape and to make it identifiable, recognizable and, when getting it fixed, imitable, reproducible. As long as a contour is merely hinted at, stays in limbo, it remains open for active projection, association, completion and increases tension, which happens in The Necks' performance, too.
(3) A musical sound is not an unequivocally defined, clearly delimited entity. It has a more or less fuzzy rim, an (open) zone of transition and there is a shifting of core and context. More or less strong overlaying can be caused by it in our perception. It is a rich and delectable source to play with, zoom in and out, cause crossfading and let layers merge and melt into each other, something happening all the time in The Necks' performance.
(4) The Neck's music might be informed by the minimal music of La Monte Young ea., but it is clearly different in that sense that it is not following a patterned procedure. Because it is created in real time it has to rely strongly on the intuition of the moment, which leads away from strict regularity. However certain switches, detours, jumps and clashes in certain concatenation or configuration can yield magic effects, can outgrow itself. That is when the music itself is taking the lead. The musicians of The Neck are experienced masters of that on the spot creation.
(5) The (on the spot) creation of a (magical) ascending-hovering-descending curve is a slow growing affair. That does not mean that only low tempo movements happen. At certain moments there can be rapid movements especially in the middle part. The rapid stroke of hummingbirds' wings for instance shows how a certain form of stasis can be yielded. Even when certain parts may proceed at high(er) speed, as a whole it is necessarily growing slowly.
Contrary to expectations it turned out the trio was to play two sets with an intermission. One set of music by The Necks is normally a quite intense affair with a longer interior fade away period needed. As a listener you are not inclined to immerse in the same (intensity) again after just a short while. The announcement of two sets made the night extra exciting and evoked quite some curiosity as to how the group would manage it.
The first set went from sounds of falling raindrops into the shimmery of something like the high speed whirring of hummingbirds eventually passing into the sound of falling waters of a mountain creek. This is, of course, only one out of many more possible sound associations but it corresponds quite well with the three phases of extension/ascension—intense hovering—downturn/descent that are constitutive of and recurrent in performances by The Necks. A notable circumstance was the immediate applause of the Wroclaw audience. It seems to happen regularly at concerts of The Necks. It felt almost as an intrusion into or disruption of a still continuing musical process. It shows how strongly ritualized musical performances are.
The start of the second set was quite perplexing. The group began with a heavy blues motif a la boogie man John Lee Hooker. It went on for a while before it imperceptibly submersed into an uplifting, ascending trail bursting into a heavily stomping and grooving part that strongly reminded (me) of the "Tammurriata Negra" of Naples, a famous conjuring anti-war chant. These are again personal associations strongly triggered by the The Necks' sound making. However Hooker's "Boogie Man" from 1948 and "Trammurriata Nera" from 1944 are not so far apart musically and in time of origin. The trio came out on related territory it seemed.
The musicians of the Necks dig into a deep end area with open connections to strong existing musical configurations and forms that are rooting in the same basic things The Necks give rise to in their performances. It can be considered as a mediation process, not a conscious and intentional process but a result coming into being by working on a deep(er) intuitive level and go for one hundred per cent for what sound itself tells their ears and take that seriously. Remarkably that approach also worked when they took a start from a stylistically recognizable motif as in the second set. The musicians of The Necks do not try to establish a new language themselves. Instead they follow what sounds themselves tell them in the moment of coming into being.
Far Out East
The next two nights presented two "Far Out East" concerts. The first night focused mainly on traditional Japanese instruments like the koto harp (
Michiyo Yagi
), the shakuhachi bamboo fluit (Akikazu Nakamura), the shamisen three-string banjo (Yumiko Tanaka) and the tsuzumi hand drum (Chizuru Fukuhara). The second night offered a stage to Japanese free improvising musicians on (modern) Western instruments as tuba (Daisuke Takaoka), violin (Keisuke Ohta), piano (
Masahiko Satoh
), saxophone (
Akira Sakata
) and drum set (
Tamaya Honda
).
The oldest traditional instrument is the human voice, of course. It was (re)present(ed) in the person of remarkable vocalist and multi-instrumentalist (jaw harp, shakuhachi, theremin, cornet)
Makigami Koichi
. His performance, solo and as a member of the group, spanned a broad range of the low, high, double etc. articulation of the human voice. Not a split second it became a form of showcasing verbal acrobatics. As an improviser he was a subtle actor with an amazing timing and a good dose of apt humor—all based on a sophisticated tacit dramaturgical line. The confrontation with the bare intimacy of his verbal expression became a deep experience and honest affair.
The concert started in total darkness, w ciemności, introducing one by one each instrument before all together entered a group improvisation of tsuzumi hand drum, shakuhachi, voice and assorted instruments working towards a thunderous apotheosis of two koto and Tamaya Honda on western drum set as a prospect to the next night. Michiyo Yagi started on the special 17 string bass koto accompanied by her singing. Later she switched to plugging and bowing the 23 strings koto, while looping the bass koto, which had a magical effect.
The koto's elegant shape speaks, fascinates and inspires. It's an icon of its own sound. Koto player Michiyo Yagi (1962) is a musical elementary force with phenomenal range and power. She is at home in rock music as well as in mood music and in the wildest free music, created real-time. With her instrument, especially the bass koto, she rules. Its sound permeated everything, gently, fiercely, low, high, tinkling, clanging, humming, and buzzing. It became manifest in every phase of the concert and culminated in the crashing and thrilling apotheosis with drummer Tanaka Honda when Yagi's two koto and Honda's drums blended brilliantly and finally merged into one greatly vibrating organism (for a visual impression see the DrawNotes made during the performance).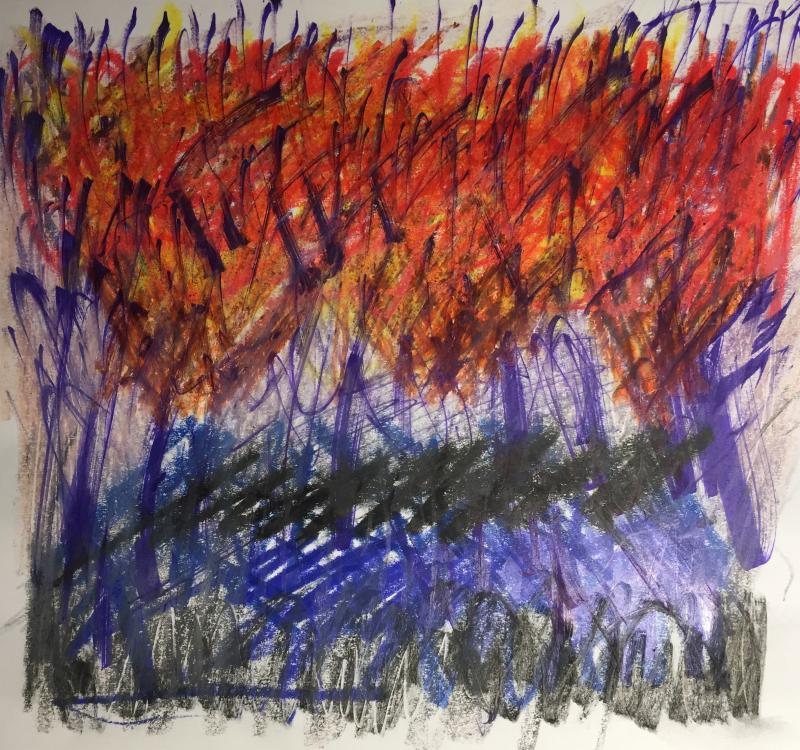 It is remarkable how these instruments suit to a contemporary context of expressive sound, exploring music and adding something real, sharp, cutting and essential. The sound potential, delicate and rough, big and small, airy and thundering, abrasive and ringing, that inheres within these instruments and the way it was awakened by these performers was an impressing revelation -even when the shamisen, the crucial Japanese banjo, unfortunately could not make an appearance due to circumstances unforeseen.
Conclusion/konkluzja
Not only the high profile commissions are a distinctive feature of Jazztopad. The international co-operations are a crucial part of it as well. As a young festival Jazztopad has drawn a strong line in that respect, building up a growing tradition under its agile artistic director Piotr Turkiewicz. In recent years especially Jazztopad festival cut deeper than before. In a profound way it introduced me to enthralling music and musicians from Asia, like no other festival I visited.
This year's Far Out East program was another example of a good concept, structure and performance. The program was established in cooperation with several other venues in Europe. The other venues used parts of the Wroclaw pool of nine musicians and augmented the selected ones with European musicians of their own choice. It enabled the Japanese musicians, including Michiyo Yagi as a key figure, to tour venues in Slovenia, The Netherlands, Denmark, Norway, and later on with Norwegian musicians in Tokyo. The broader/deeper and unfolding introductory part of the Wroclaw presentation was lost in most of those re-combinations that served other functions.
Combined, the approach, structure, time course and dosing at the Jazztopad festival allow for a deeper acquaintance with the not obvious. As becomes apparent from last year's report, the list of involved pianists could give an indication of the cultural and geographical spread of the artists involved: Chris Abrahams (Australia), Ricardo Gallo (Columbia), Marcin Masecki (Poland), Afrika Mkhize (South Africa), Jason Moran (United States), Johan Mthethwa (South Africa), Aruan Ortiz, (United States/Cuba), Danilo Perez (United States/Panama), Maté Poszár (Hungary), Arnaud Raulin (France), Masahiko Satoh (Japan). Somehow only a pianist from Canada was missing. The list reflects the variety and broad range of a conscious and targeted, in-depth approach (not a nice potpourri to cheer up). What will be looming out of the dark at the next edition? Where will the limelight be? It shall remain an exciting mystery for now.
Post a comment