Rolling Stones From The Vault: Sticky Fingers Live at the Fonda Theatre 2015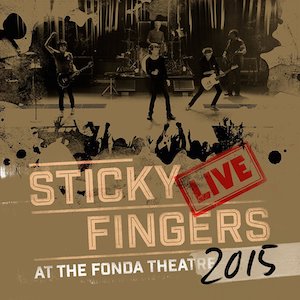 Rolling Stones
Sticky Fingers at the Fonda Theatre 2015
Eagle Rock Video
2017
The
The Rolling Stones
have been nothing if not savvy (most of the time) throughout their fifty- year plus history, so it's no surprise the release of their latest
title, Sticky Fingers Live at the Fonda Theatre 2015, is simultaneous with their 'No Filter' tour of Europe. But this is no better timed than the show itself, the first of their 'Zip Code' tour of America: the only appearance not in a mega-venue, it was also comprised largely of the entire Sticky Fingers (Rolling Stones, 1971) album, which had just been reissued as well.

None of this would matter much if the Stones were not at the top of their game as musicians as well as marketers. But with this set available in all manner of configurations, the absence of the entire show on compact disc is but a minor drawback. In fact, the mobility quotient of the CD aside, this exception turns into a reminder of how gripping an experience is the vide; the intermittent interviews between individual numbers on DVD, Blu-Ray and digital makes good sense in terms of pacing and in providing insight, often comical, into this landmark record of the band's (including the famous Andy Warhol cover).

As with the theater shows documented on the other superb title Totally Stripped (Eagle Rock, 2016), the Stones compensate for the absence of their usual monumental stage production with the electricity of intimacy in a one-thousand three hundred fifty seat Fonda, an intense atmosphere ratcheted up further by the distinction of the Sticky Fingers presentation. And yet just in playing "When the Whip Comes Down," another notable track from a significant Seventies entry in their discography, Some Girls (Rolling Stones, 1978), the band refuses to indulge in nostalgia. Rather, they're calling attention to the durability of their best material, a premise echoed equally well,and even more loudly, via that eternally potent riff in "Start Me Up," from Tattoo You (Rolling Stones, 1981).

Sans the usual big production values-Jagger's costume changes are confined to changing shirts-the presentation here is stripped down to the essentials. The lead vocalist is careful to get out of the way of the soloists at any given juncture, but on this smaller stage, Mick can't run around at expense of his vocals, so lyrics to these songs get their proper due, as on "Sway." Meanwhile, the ringing guttural guitars prove the vigor of Richards and Wood, individually and as a team. And that's not to mention drummer Charlie Watts, the booming thrust of whose playing is now as much a distinction of the Rolling Stones' sound as his two peers in the current lineup.

Not an improvisational band to speak of, the Rolling Stones contain themselves within compact arrangements here, with requisite solo breaks as often as not by guitarist Ronnie Wood. The sole exception is the extended 'coda' highlighting saxophonist Karl Denson's solo on "Can't You Hear Me Knockin,'" captured here in an accurate, panoramic recording of the Los Angeles venue's ambiance, as noted in a photo-laden sixteen page booklet, re-mixed by bob Clearmountain and mastered by Stephen Marcussen. In its own way, this is an interval as welcome at beginning of the show's home stretch as is "You Gotta Move" as band hits its stride earlier on.

This confined setting of space and song selection only highlights the strength of such material, relatively so in the case of "Dead Flowers," but even more so with "Wild Horses" immediately following in a country couplet: it's a distinct advantage to not proffer this landmark album in its original running order and, with Jagger on guitar for "Moonlight Mile," complete with Denson's flute, this great ballad sounds all the more delicate, not to mention dramatic, preceding "Brown Sugar."

All this comes before, "Rock Me Baby," a nod to B.B. King and the blues presaging the Blue and Lonesome studio effort (Rolling Stones, 2016). With more nods to a depth of repertoire and a generally uniform excellence of performance-even rarely performed tunes like "Sister Morphine" sound tight-this approximately two-hour set has its own dynamic logic to which Paul Dugdale tailors the video; the director of recent Stones documentaries such as ¡Olé, Olé, Olé! A Trip Across Latin America (Eagle Rock, 2016) knows knows how to capture the essence of the Rolling Stones performance because he knows the music well, so his focused shots from above are rare flashes of pure creative license that enhance the vivid kinetics of this band in action.

Shots of glamorous show biz kids in the audience, not to mention celebrities shown at outset of film, may seem to be just going thru the motions in their studied, stilted acclamation, especially during Jagger's rabble rousing during encore. But the music there, even on the hurried homage to

Otis Redding

via "Can't Turn You Loose," no doubt elicits genuine rapture elsewhere in the theater. There may be plenty of Rolling Stones bootlegs still around, but they only become increasingly obsolete with the release of each title like Sticky Fingers Live at The Fonda Theatre 2015.
Post a comment