Art Ensemble of Chicago: Rarum: Selected Recordings of the Art Ensemble of Chicago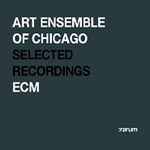 If there's one thing Chicago brought into the jazz tradition, it's a palpable sense of freedom. Not just in the sense of "free jazz" (which certainly has its own deep roots in the Windy City), but also in the sense of free personal expression. Individuality is a premium export from Chicago, and few groups have brought this spirit to the listening public like the Art Ensemble. Since the mid-'60s, the AEC has combined an enduring respect for the roots of the jazz tradition (eg. blues, spirituals, swing) with a very personal kind of expression (eg. idiosyncratic styles of performance and a strong theatrical element).
Of the zillion records the Art Ensemble has made, four of their most memorable have been released by ECM. This retrospective includes material from all four ECM quintet albums, as well as solo efforts from Lester Bowie and Roscoe Mitchell. For the most part, the tunes are substantial in length and quite musically involving. Lester Bowie's "Charlie M" (from Full Force ) opens the set with a nostalgic sense of swing. As the piece gets up to speed, Bowie extracts an astounding range of timbres from his horn. Ten minutes later, Malachi Favors' "Magg Zelma" leads off with a soft trance-like combination of bells and drones, only to devolve into restless play. The absurd runs rampant here. Significantly, the contrast between these tunes illustrates the group's motto: "Great Black Music: Ancient to the Future."


Other highlights from the disc include the title track from Roscoe Mitchell's 1997 Nine to Get Ready, a large-group discursion into focused free jazz. (Advice from this reviewer: run, don't walk, to get Mitchell's disc. It's profound in every way.) By 1984, Joseph Jarman was experimenting with the synthesizer, and his extremely melodic "Prayer for Jimbo Kwesi" places primitive simplicity within a sophisticated jazz context. Not to neglect the group's double live set Urban Bushmen, "Odwalla/Theme" channels a sizzling burst of energy through amazingly cohesive improvisation.


Luminaries: one and all. Surprises: (perhaps not for some) Joseph Jarman's use of electronics from The Third Decade is artful and coherent, and quite inspiring.
(Note: this disc represents the sixth volume of :rarum, a series of artist-picked compilations from ECM Records. It comes with brief notes by the artists, an extensive biography, and discographical information.)

Track Listing: Charlie M ('80); Magg Zelma ('80); Rios Negroes ('81); Folkus ('78); Nine to Get Ready ('97); Prayer for Jimbo Kwesi ('84); Odwalla/Theme ('80); Nice Guys ('78).
Personnel: Lester Bowie: trumpet, flugelhorn, bass drum, percussion; Roscoe Mitchell: saxophones, clarinets, flutes, whistles, percussion; Joseph Jarman: saxophones, clarinets, flutes, synthesizer, bassoon, whistles, percussion; Malachi Favors Maghostus: basses, melodica, percussion; Famoudou Don Moye: drums, congas, tympani, percussion; Donald Smith: p; Fred Williams: b; Philip Wilson: d; Hugh Ragin: tpt; George Lewis: tb; Matthew Shipp: p; Craig Taborn: p; Jaribu Shahid:b; William Parker: b; Tani Tabbal: d; Gerald Cleaver: d.
---