July 2007
By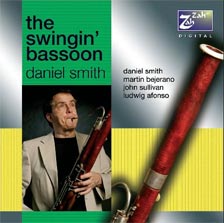 Daniel Smith
The Swingin' Bassoon
Guild Music
2007


Bassoonist Daniel Smith switch hits from classical to swing to hard bop on this rewarding studio set. Other than some choice solos by pianist Martin Bejerano, the quartet stays in the background, providing support to Smith's amazingly fluid lines, which shine forth through a set of jazz standards. You can just imagine saxophonist Charlie Parker on bassoon during the band's take on "Scrapple From The Apple. Here and throughout, Smith's spiky phrasings are balanced by brisk runs fortified by lots of pop, zip and seemingly effortless control.


Enhanced by a varied mix of tunes, the album is much more than a novelty excursion. On "Summer Samba, the leader is well paired by Bejerano's upper register choruses, the duo's blithe unison passages running atop a delicate samba pulse. Smith's imaginative and technically impressive performances are complemented by his band-mates' deft touch and judicious use of dynamics.


Bobby Sanabria Big Band

Urban Folktales

Jazzheads

2007


One of the great musical minds in the jazz pantheon, drummer, percussionist, composer and arranger Bobby Sanabria pulls out the proverbial stops on this riveting big band outing. Though steeped in Latin jazz, the music is rooted in a broader swing and post-swing tradition, and Sanabria's crew kicks up a storm as boundaries cohere and coalesce.


The arrangements set Brazilian motifs over pumping Afro-Cuban percussion grooves, and the horns often soar skyward like rockets. At other times Sanabria turns down the heat with space for lyrical melodies and intimate dialogues. Among the highlights is a witty, high-impact reading of Frank Zappa's masterpiece, "The Grand Wazoo. Sanabria is in peak musical form here and the album is a magnificently arranged feast for the ears.


At War With Self

Acts Of God

Sluggo's Goon Music

2007


Directed by guitarist/composer Glenn Snelwar, this follow-up to Acts Of God's Torn Between Dimensions (Free Electric Sound, 2005) is a solid development to the first album, organized as a suite and including layered arrangements with plenty of depth. Snelwar's writing offers stimulating contrasts, employing asymmetrical arrangements, soaring prog-metal guitar lines, and windswept acoustic-electric interludes. Guest artists chip in on various tracks to assist with the electronics. Snelwar's brainchild is far from being prog-rock ear candy. On the contrary, it's complex and coherent.


Raymond MacDonald & Gunter Baby Sommer

Delphinius & Lyra

Clean Feed

2007


Swiss drummer Gunter Baby Sommer is no stranger to duo settings, as evidenced by recent work with trumpeter Wadada Leo Smith. Here, Sommer teams up with Scottish saxophonist Raymond MacDonald on a search and destroy mission. It's free-form style collision at its finest, with the duo toggling between minimalism and groove, energised by MacDonald's roaring frenzies in the upper-register of his alto.


The duo perform on a horizontal plane of sorts, where Sommer sets the pace and occasionally jumps ahead of MacDonald's weaving lines. The drummer uses a Jew's Harp and harmonica on the oddball "I'm OK, a track which introduces wit and whimsy to the overall game plan. There's lots going on here and the music keeps you on the edge of your seat from start to finish.


Carole King

Love Makes The World Deluxe Edition

Carole King

2007


Legendary pop singer/songwriter Carole King's 2001 studio album is reissued here as a 2-disc set, complete with bonus and video tracks. Highpoints include previously unreleased duets with Graham Nash, and there is sympathetic support throughout from a line-up of session aces including bassist Nathan East. Guest appearances by vocalists K.D. Lang and Celine Dion add spice to the mix, while King's soothing yet spirited vocals sound as warm and communicative as they did first time around.
Post a comment
---
FOR THE LOVE OF JAZZ
All About Jazz has been a pillar of jazz since 1995, championing it as an art form and, more importantly, supporting the musicians who create it. Our enduring commitment has made "AAJ" one of the most culturally important websites of its kind, read by hundreds of thousands of fans, musicians and industry figures every month.
WE NEED YOUR HELP
To expand our coverage even further and develop new means to foster jazz discovery and connectivity we need your help. You can become a sustaining member for a modest $20 and in return, we'll immediately hide those pesky ads plus provide access to
future articles
for a full year. This winning combination will vastly improve your AAJ experience and allow us to vigorously build on the pioneering work we first started in 1995. So enjoy an ad-free AAJ experience and help us remain a positive beacon for jazz by
making a donation today
.