June 2007
By
Kiko Loureiro
Universo Inverso
Independent
2007
Brazilian jazz-fusion guitarist Kiko Loureiro's scorching, plugged-in guitar licks create a compelling contrast here with Yaniel Matos' acoustic piano work. Loureiro is a precocious young chops-meister who favors climax-driven solos colored by sustain and distortion effects—plus an occasional nod towards Allan Holdsworth during some of the more legato-based passages. Less frenetic than some of his American peers, Loureiro's clean licks and advanced grasp of dynamics offer a knockout blow.


Jerry Granelli V16

The Sonic Temple: Monday and Tuesday

Songlines

2007
Drummer/bandleader Jerry Granelli has enjoyed a richly varied career. He's performed with legendary keyboardist/vocalist Mose Allison, funk god Sly Stone and many others of note. These two live sets, recorded at the Halifax, Nova Scotia venue the Sonic Temple, feature E-slide guitarist Dave Tronzo sharing the frontline with guitarist Christian Kogel. Tronzo's weepy, gliding slide guitar licks are set against gently surging band motifs. In automobile lingo, this V16 performs more like a 4-cyclinder machine. The band rev up the momentum in spots, although they rarely break into high torque free-for-alls. Think improvised, progressive jazz with ethereal characteristics.


Eldar

Re-Imagination

Sony Masterworks

2007
With his fourth solo effort, Russian keyboardist Eldar enlists turntablist DJ Logic. Eldar doesn't sacrifice strong tunes and hook lines on the altar of dazzling technique and uses synth effects sparingly. On piano, Oscar Peterson influences shine through: he covers Peterson's "Place St. Henri, among a host of solid originals. In addition to cascading chord progressions and flailing right-hand single note runs, he's adept at breaking into honky-tonk and blues-based passages. Eldar's varied musical language is unusual in an artist so young, and is notable for avoiding rambling electronic over-indulgence.


Charmaine Clamor

Flippin' Out

FreeHam

2007
Filipina diva Charlene Clamor grew up listening to Ella Fitzgerald and Mario Lanza and moved to southern California at the age of sixteen. Against spare and tasteful arrangements led by pianist Christian Jacob, Clamor ventures into jazz, world and blues territories while occasionally toggling between American and her native tongue, and she effectively integrates Filipino folk melodies into the jazz vernacular. She conveys a pleasing intimacy on the lullaby-like "Sa Ugoy Ng Duyan, spiced-up by Richard Ickard's gentle acoustic guitar, then shows a bit of spunk during the up-tempo Latin groove of "I Need A Lot Of Love.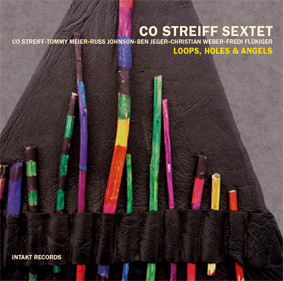 Co Streiff Sextet

Loops, Holes & Angels

Intakt

2007
Swiss saxophonist Co Streiff and her sextet offer a virtual sightseeing tour of progressive jazz dipped in a variety of world-music including Middle Eastern modal structures. Barriers don't exist here as the band take in avant-blues riffs, torrid improvisational maneuvers and much more. It's an entertaining ride. On "Chtau, Ben Jeger's revved-up Farfisa keyboard sounds like a mini-Moog. Or is it an analogue synth? Whatever it is, on this track Jeger multitasks with his accordion, creating a North African/progressive jazz groove accentuated by Streiff's rippling soprano saxophone solo. Overall, Streiff's classy stylizations and fertile imagination yield bountiful dividends.
Post a comment
---
FOR THE LOVE OF JAZZ
All About Jazz has been a pillar of jazz since 1995, championing it as an art form and, more importantly, supporting the musicians who create it. Our enduring commitment has made "AAJ" one of the most culturally important websites of its kind, read by hundreds of thousands of fans, musicians and industry figures every month.
WE NEED YOUR HELP
To expand our coverage even further and develop new means to foster jazz discovery and connectivity we need your help. You can become a sustaining member for a modest $20 and in return, we'll immediately hide those pesky ads plus provide access to
future articles
for a full year. This winning combination will vastly improve your AAJ experience and allow us to vigorously build on the pioneering work we first started in 1995. So enjoy an ad-free AAJ experience and help us remain a positive beacon for jazz by
making a donation today
.