May 2007
By
Adam Lane/Ken Vandermark/Magnus Broo/Paal Nilssen-Love
4 Corners
Clean Feed
2007
Here's an early contender for my 2007 best-of list, in which Adam Lane continues his progress towards the top echelon of modern jazz bassists/improvisers. The band combines turbo-mode power and semi-structured pieces—and rattles the senses. At times, Lane amps up his double bass and the quartet's blistering, groove-oriented persona glows in mottled fashion. Lane and drummer Paal Nilssen-Love's dual polyrhythmic attack creates a massive but pliant undercurrent for reedman Ken Vandermark and trumpeter Magbus Broo's torrid soloing maneuvers. Recorded at a Portuguese jazz festival, the audience's jubilant reaction to the music seems jointly founded in utter disbelief and awe. One of those special occasions when a band is captured live performing at the very top of its game.


Knight Area

Under A New Sign

Laser's Edge

2007
This Dutch progressive-rock septet made a splash with its 2004 debut, The Sun Also Rises. With this latest release, their sprawling wall-of-sound features layered keyboards and shimmering guitar licks. In effect, they merge the old with the new. Fans of Genesis and other classic 1970s prog-rock bands should welcome this outing with open arms. Featuring guest musicians, the core septet generates engaging themes, spiced with Mark Smit's airy vocals, in which notions of phantasmagoric soundscapes loom large. But the musicians deliver an extra edge via driving rock patterns and some tricky time changes. Moreover, the music is effectively counterbalanced by sweeping synth treatments, harmonically attractive flute passages and melodic choruses. The ensemble retrofits the wonderful days of classic prog-rock with an upbeat, hip and contemporary slant.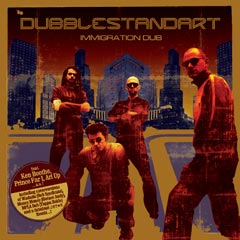 Dubblestandart

Immigration Dub

Collision: Cause of Chapter 3

2007
This Austrian unit launched its career in the early 1990s. And with its tenth release, they take the common-man's version of dub onto a new level with glistening covers of "Money Money (Dub Syndicate) and "When I Fall In Love (Horace Andy). There are huge bass lines, catchy hooks and carefully developed studio-processing effects—and guest vocalists on some of tracks. The overall program is coordinated and arranged with a balance of reggae-centric guitar licks and spacey overlays, as part of a vast wall-of-sound. It's a modish offering which takes traditional dub into the digital age with clarity and imagination and warrants repeated listening.


The Clay People

Waking The Dead

Overit

2007
Based in Albany, NY., Overit's manifesto is geared towards working with "talented and hardworking rock acts. With that notion in mind, this progressive-metal outfit showcases the finer points of fear, death and the macabre, capped by pumping rhythms, steaming crunch chords and off-kilter deviations. The opening track, "Supersonic Overdrive, commences with an all-out blitz, setting the rather raucous festivities into full-stride. Unlike many power-rock vocalists, Daniel Neet transmits a variety of tones and textures, from gruff-toned incantations to plaintive cries. Think of Nirvana on steroids plus Yardbirds-like background vocals, then add elements of industrial rock for what stacks up into an energized recalibration of the worn out music pumped out by more run of the mill metal bands. This one's a keeper.


Hiroshima

Little Tokyo

Heads Up

2007
This radio-friendly Los Angeles-based sextet's three decades of recording and performing has so far yielded an impressive total of three million LPs and CDs sold. The musicians' contemporary jazz persona lean heavily towards Japanese melodies. They create a singular sound partly due to Okida Kuramoto's koto and new member Shoji Kameda's use of the taiko drum and other traditional percussion. With this latest release, the ensemble fuses driving backbeats, soulful saxophone choruses, Caribbean themes, synth strings and world-beat rhythm grooves into a cheery musical portrait. Call it pop-jazz or feel-good music, it somehow encourages smiling, optimistic thinking.
Post a comment
---
FOR THE LOVE OF JAZZ
All About Jazz has been a pillar of jazz since 1995, championing it as an art form and, more importantly, supporting the musicians who create it. Our enduring commitment has made "AAJ" one of the most culturally important websites of its kind, read by hundreds of thousands of fans, musicians and industry figures every month.
WE NEED YOUR HELP
To expand our coverage even further and develop new means to foster jazz discovery and connectivity we need your help. You can become a sustaining member for a modest $20 and in return, we'll immediately hide those pesky ads plus provide access to
future articles
for a full year. This winning combination will vastly improve your AAJ experience and allow us to vigorously build on the pioneering work we first started in 1995. So enjoy an ad-free AAJ experience and help us remain a positive beacon for jazz by
making a donation today
.