Mark Whitecage: Ducks on Acid
BY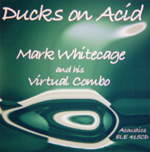 Mark Whitecage, whose preferred instruments are the alto saxophone and clarinet, has supplemented his recorded acoustic endeavors with the plugged-in variety since the '70s, though the last decade has been his most fertile period. His acoustic work has placed him in the frequent company of Dominic Duval, Jay Rosen, Joe Fonda, and Michael Jefry Stevens. His electric side has surfaced mostly on his own Acoustics label, including four trio records with Duval and Rosen.
Ducks on Acid holds true to its name, bringing reedy adventures into a most surreal realm with more than a few aquatic features. Whitecage uses a rather complicated branching path to bring his instrument from mike to tape; suffice to say it involves separate processing of both channels through independent gizmos which get together and talk at the end.
This particular recording sees Whitecage mostly on the clarinet with an openly improvised approach. Given the many voices that seep out of his horn, he is compelled to keep his tone mellow. He tends toward short and gentle phrases spaced by pauses of reflection and reverberation, though occasional stabs make use of a deliberately syncopated rhythmic approach.
The lone standard, Sonny Rollins' "Oleo," rips through a minute and a half without detouring far beyond its main theme. But the superimposition of a thousand eerie supporting voices makes it a truly psychedelic experience. A fitting way to open (and close) this particular can of worms.
"See No Evil" develops from a simple rising and falling melody, eventually splitting the two fluxes into separate phrases which serve as a foundation for stepwise variation and interplay. Repeated riffing settles into a rippling aquatic background for melodic expression using a doubly voiced clarinet before Whitecage turns toward blues, swinging lyricism, and wide open exploration.
"Pong" is where the ducks come out to play. Whitecage dips, warbles, quacks, and nips along, convening an imaginary avian gathering where the conversation has a sense of storytelling at one moment, heated argument the next, sympathetic agreement later on. The piece cleverly exemplifies the way Whitecage has chosen to reinvent his instrument through voicing.
This experimental work has moments of extreme brilliance sprinkled amidst generally agreeable but less striking material. Give the man credit for putting together a collection of pieces that flows very evenly from start to end. Other than its diminished sound quality, which reveals the lo-fi nature of the electronics used, the recording serves very well as a snapshot of a creative force in progress and a floating vision with many reflections.
This limited edition recording is available at concerts and from Mark Whitecage and The Jazz Loft on the web.
Track Listing
Oleo; Simple Entry; Snip-it; See No Evin; Synare Samba; Let's Make Believe; Transparency; DD's Acid Trip; Pong; Morning Wood; Really Two; Oleo.
Personnel
Mark Whitecage: clarinet, alto saxophone, voice, and electronics.
Album information
Title: Ducks On Acid | Year Released: 2003 | Record Label: W.E.R.F.
Post a comment about this album