Vijay Iyer at Sonic Laboratory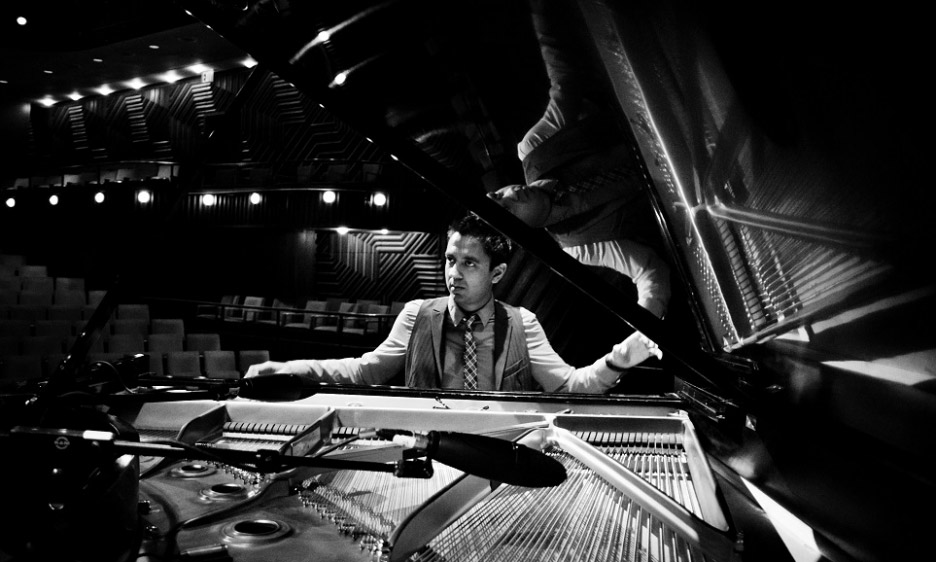 As soon as we inaugurate some sense of community it is already an automatic manifestation of exclusion, of most people.
—Vijay Iyer
Vijay Iyer
Sonic Laboratory, Sonic Arts Research Centre
Belfast
, N. Ireland
January 13-14, 2020
Queen's University's world-renowned Sonic Laboratory, at the Sonic Arts Research Centre (SARC) in Belfast, got the new decade off to fine start, with two evenings in the company of
Vijay Iyer
. The first evening was a solo piano performance; the second, a presentation-cum-Q&A session. Iyer's concert came almost a year after the
solo piano gig in SARC
by
Craig Taborn
, whose recent duo collaboration with Iyer,
The Transitory Poems
(ECM, 2019) ended up on numerous Best of Year lists. Iyer is, like Taborn, a dynamic pianist with just a little of
Cecil Taylor
's penchant for rhythmically dense, percussively choppy play. This ninety-minute show found Iyer in animated form.
In front of an almost-full house, Iyer opened his account with a thirty-minute, suite-like tapestry of several of his compositions. The opening piece—like nearly every piece throughout the set—began with a sombre, bottom end motif that rumbled continuously, as his right hand climbed methodically and tumbled freely. Though the majority of Iyer's twenty-plus album's as leader/co-leader reveal a frequently cerebral composer, the New York pianist is nevertheless well-versed in the jazz tradition, as witnessed on his only solo piano album to date,
Solo
(ACT Music, 2010), which tackled
Duke Ellington
, Jimmy van Heusen and
Thelonious Monk
. It was to Monk's "Work" that Iyer steered the suite -his stabbing notes more forceful than playful, his cross rhythms complex—the overall effect unsettling, yet compelling.
Yet in the midst of the pianist's dense clusters and fast, spidery runs from the middle to the high end of the key, were flashes of Monk's melodic blueprint. Even in the music's most challenging passages melody was never far from Iyer's design. There was no letting up in the intensity as "Work" bled into two episodes from "Time, Place, Action," a 2014 commission for strings and piano: on "Libra," jangling motifs and heavy, ascending riffs contrasted starkly with fluid glissandi going in the opposite direction; the tumult petered out, though the gravitas remained on "A Tribute to Amiri Baraka," as Iyer jammed on the darkly handsome melodic motif.
Iyer rolled back the clock with "Spellbound and Sacrosanct," from
Memorophilia
(Asian Improv, 1995) his first recording as leader. From its glacial intro, right and left hand passed the distinctive motif back and forth. Inevitably, right soon ventured forth, as Iyer roamed up and down in tumbling cascades. All the while, Iyer's left hand maintained the defining motif. Following a dramatic flourish—a surging jangling in the mid to upper registers, and a tumbling return—the piece climaxed with a single, sharply defined note.
A deep rumbling like an angry sea announced "Autoscopy," a restless meditation on the phenomenon of out-of-body experiences. This was Iyer at his most unfettered, and arguably most adventurous, the early intense barrage of two-handed thrash and dissonance giving way, eventually, to calm and quiet resolution. Iyer's improvisations were shaped within strong, through-composed frameworks, none more so than on the sunny romp that was
Cole Porter
's "Night and Day." Eschewing the ritual of walking off the stage only to return for an encore, Iyer skipped straight to the finale with "Remembrance"—an elegiac number full of emotionally charged language that ended on a dissonant, almost questioning note.
The following afternoon Iyer returned to SARC, and, before a much-reduced audience, gave a thirty-minute presentation entitled
Our Musicalities
. The paper, while academic in tone, was punctuated by earthier, explanatory asides. The central theme of Iyer's talk hinged on the difference between musicality—a communicative value—and musicianship—denoting a technical ability. As far as scientists are concerned, Iyer said, musicality is common to all human beings, whereas according to music critics, this quality is rare, possessed by a few, and even then only expressed in fleeting moments.
For Iyer, musicality and music itself are often difficult to measure, identify or even detect. Iyer noted that scientific generalisations about musicality—and cultural ideologies surrounding the value of music—do not hold up well under scrutiny. He cited the widespread backlash that greeted hip-hop artist Kendrick Lamar on winning the 2018 Pulitzer Prize For Music, from those who rejected hip-hop as music. It is surely difficult to make convincing scientific studies of music as an aesthetic if we cannot define it, Iyer suggested.
As music both includes and excludes, meaning very different things to different people, it is perhaps dangerous to make species-wide claims about music. Subjectivity, Iyer said, is "an inner world." Equally, the term
music
automatically invites mental boundaries as to what is, and what is not, music, with definitions based not on objectivity but on cultural factors. The notion of music, Iyer said, is "an ideologically and politically charged one..."
In this frequently thought-provoking presentation, Iyer invited new lines of enquiry regarding musicality and music. For example, he suggested a move away from considering musicality as an inherent quality, and instead suggested considering music as a verb—an act of doing something musical, or musically. Before the advent of recorded music, music was primarily made and heard in a social context, he added. People participated in "musiking." Then there is the music in one's own head, "musicality for one," as Iyer put it. Is musicality our capacity to hear music and be affected by it, Iyer asked, or is it rather, the capacity to be heard as musical?
In an essentially philosophical talk, which became more deeply so once the Q&A began, dominated as it was by academics from Queen's University, Iyer touched on: the concepts of music versus noise; empathy in music and collective modes of response to music; corporeal temporalities that govern the way we listen; and auditory versus visual responses to music. A question on risk-taking in music prompted Iyer to question how much risk there is in something he has been doing for such a long time. Expanding a little more, he highlighted the skill, learned from older musicians, of salvaging a 'bad' moment and turn it into something great, carrying both musician and audience into an unknown area.
Turning to Iyer's music, the pianist was asked to talk about the challenges of responding musically to Prashant Bhargava's riotously vivid film of the Indian festival Holi, or the festival of spring. On the overhead screen Iyer showed a fifteen-minute clip of his collaboration with the late film maker that rendered the extraordinary DVD
Radhe Radhe: Rites of Holi
(ECM, 2014). In this way, Iyer allowed the film, with his powerful musical soundtrack, to do most of the talking.
Afterwards, Iyer described how, for him,
Radhe Radhe...
had always been about the live experience, of playing the music before an audience to a projection of the film, with the aim of matching or eclipsing the intensity of the images on the screen. "It gave us something to reach for," Iyer explained.
Everyone will have gone away from Iyer's performance the day before, and from this talk, with something—an ear worm, an insight, a measure of inspiration, or conversely, of doubt. Some might even ask, is this music? Who knows what songs and dances, what rants or philosophizing are still going on internally in the audience's minds?
It was, however, unlikely that anyone remained indifferent to Iyer's musical or intellectual stimuli. For the small number who attended Iyer's talk, there was fascinating insight into the musical and personal philosophy of one of the most significant figures in contemporary music. It felt like a privilege to be present, a notion, in fact, that Iyer had touched upon during his talk when he lamented how jazz has been relegated from a mode of discourse, to the margins of the privileged class—background music for people drinking Frappuccinos.
"As soon as we inaugurate some sense of community it is already an automatic manifestation of exclusion, of most people," Iyer had said, with an ironic laugh. "We can remind ourselves that there are some people who could not find themselves in this room...ever. Under no circumstances would they ever be in this room." Food for thought, indeed.
Photo credit: Leana Adasheva
Post a comment
Watch