October 2006
Spontaneous Music Ensemble
Biosystem
psi
2006
A re-issue of the original 1977 Incus LP featuring thirty-five additional minutes of previously unreleased music. Drummer and cornetist John Stevens' groundbreaking freedom-of-expression unit is given some nice packaging, featuring historical factoids by Ian Vickers and former SME member, saxophonist Evan Parker. The band itself was akin to a collective, yet this outing marked a diversion, largely due to the absence of horns (although Stevens blows the cornet in spots). The organic, homespun stylization of the music emanates from Nigel Coombes' salty violin lines complementing acoustic guitarist Roger Smith and cellist Colin Wood's nip and tuck forays. The frenetic perimeters of the music demand the listener's utmost attention. There is mention of the original, negative Melody Maker review, which apparently caused Stevens some dismay at the time. But as history frequently demonstrates, innovation does not necessarily become recognized until years after-the-fact.


Danik Lazro/Thierry Madiot/Dominque Repecaud/Camel Zekri

Rekmazladzep

Vand' Oeuvre

2006
This French avant-garde quartet presents an album title that is a play on the musicians' names, while signifying the understated complexities of group-based interplay. With its asymmetrical structures, angst and minimalism, the music is quite didactic, especially from a free-form improvisational stance. Slow burningly climactic, it's partly about grunge style distortion-based guitars, layered horns and jagged dialogues. Overall, the artists pursue an evolutionary and unhurried discourse, spanning various cycles in parallel fashion. The coarse tone of the proceedings present a few challenges to the discerning ear, but the free-floating nature of the program reveals hidden surprises upon repeated listens.


Cactus

V

Escapi

2006
In 1970, they were hailed as "The American Led Zeppelin, and released four albums, straddling a brief life cycle that ended in 1973. Thirty-years later, the ex-Vanilla Fudge and Jeff Beck Band rhythm section of Carmine Appice (drums) and Tim Bogert (bass) realign with guitarist Jim McCarty. Vocalist Jimmy Kunes replaces the quartet's original singer, Rusty Day, who passed away in 1982. Nonetheless, this is a worthy reinstatement of what was a truly powerful and rollicking boogie/blues/rock outfit. Consisting of tuneful themes, McCarty slams the pedal to the proverbial metal here. In essence, he extrapolates upon motifs founded by Beck and Jimmy Page. Appice's pounding double-bass pedal movements add oomph and zest to hard-driving tracks featuring Kunes' high-spirited vocalizations. In sum, this is a worthy re-entry into the rock scene by a band that made an indelible impression during its prime.


White Willow

Signal To Noise

Laser's Edge

2006
This Scandinavian unit commenced as a folk-rock aggregation in the mid-1990s. Now, with its fifth release, the band has projected a multi-hued aura, steeped in memorable compositions. The group effectively overcomes that sometimes opaque musical terrain in which progressive rock can lean towards the neurotic-rhythmic. To that end, the unit saves some of the technical gymnastics for choice segments, but it's the attractive harmonic interplay that separates the music from the humdrum. Female lead singer Trude Eidtang's angelic iterations are enhanced by radiance and confident projection. She handles herself with aplomb atop her band-mates' wall-of-sound. It's a quasi, pop-progressive, rock date, awash with divergent angles along with odes to early-1970s prog and 1960s West Coast psychedelics. A standout effort that reaps voluminous dividends upon repeated spins.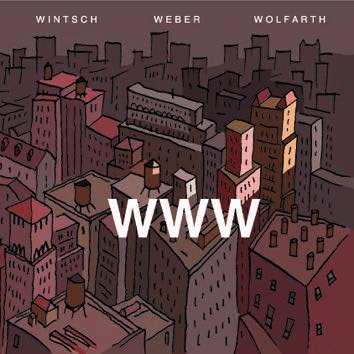 Wintsch/Weber/Wolfarth

WWW

Leo

2006
Swiss pianist Michel Wintsch has produced some of the WWW record label's finest recorded moments. With the WWW trio, he pursues a polytonal and largely improvised path, where airy passages enable the listener to digest the acute three-way dialogues. The unit explores darkly-hued soundscapes in often turbulent flurries. Amidst characteristically ascending choruses, the musicians join in contrapuntal exchanges embedded in fractured swing vamps and expansive rhythmic constructs. They attempt, no doubt, to keep the listener on guard. Drummer Christian Wolfarth is a textural rhythmic machine who occasionally accents his band-mates' probing developments with oscillating cymbal swashes and polyrhythmic drum rolls. In sum, this outing generates a comprehensive study in the art of intuitive improvisation—at its very finest.


Rob Symeonn

The Chosen One

Redbud

2006
To complement his active touring schedule, Rasta man Rob Symeonn's misty vocals and emphatic reggae musings are augmented by a talented ensemble of groove-meisters. Symeonn sings with zeal and a noticeable sense of endearment throughout. Pulses vary somewhat on a per track basis, where harmonica-like synth tones often enamor a given groove. With DJs, and monster dub forays, the music floats like a butterfly while Symeonn's iterations of good cheer portray a blissful sequence of musical events. Thus, he makes it easier for us to veer away from life's blasé issues with these works seeped in warmth and good karma.


Derek Sherinian

Blood Of The Snake

InsideOut Music

2006
Southern California area keyboardist Derek Sherinian builds a bridge between thrusting progressive-rock motifs with snaky time changes and strong compositions that stick. Perhaps less athletic and complex than previous ventures, this album—featuring an all-star ensemble—offers a healthy dose of turbo-mode soloing jaunts by guitarist Zack Wylde and others. Drumming legend Simon Phillips and guitar god Yngwie Malmsteen generate excitement, as Sherinian morphs interesting synth/midi sounds into his rapid-fire attack. The ensemble mixes it up nicely. They touch upon contemporary jazz and world music during these often-relentless arrangements. Sherinian's sometimes employer, Billy Idol, concludes the heated session with a genial rendition of the 1970s pop hit, "In The Summertime.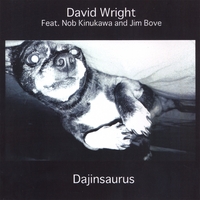 David Wright Feat: Nob Kinukawa and Jim Bove

Dajinsaurus

Dinosaurus

2006
This trio undertaking should rouse some interest for hardcore jazz-fusion aficionados. Guitarist David Wright's debut is a sprightly one. Indeed, fans of Steve Vai, Allan Holdsworth and other guitar elitists should take note. Wright has absorbed the genre credibly, evidenced by these nineteen workouts. With in-the-pocket grooves, shifts in tempo and numerous improvisational jaunts, the trio performs with vim, vigor and monster chops. Wright inflicts some hurt on his electric and Midi-guitars via brisk, legato phrasings and ascending single-note flurries. He employs distortion, odd-tunings and jazzy chord voicings to augment his attack. Wright and his band-mates deliver an action-packed, yet not overbearing string of events. It all flows rather well.
Post a comment