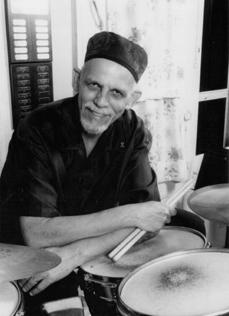 JAZZ ROAD WARRIOR AND FOUNDING MEMBER OF THE PHIL WOODS QUARTET, BILL GOODWIN, CELEBRATES ONE YEAR ANNIVERSARY OF LEADING JAM SESSIONS AT THE DEER HEAD INN.
With a career that spans over 50 years,
Bill Goodwin
has played every major jazz festival and hundreds of venues in the United States and abroad. This jazz road warrior also leads the weekly Jam Session at the historic Deer Head Inn. On August 25, 2011, Goodwin will celebrate his one year leading these sessions which are a favorite with both locals and the jazz community.
Deer Head Inn Restaurant and Lounge
5 Main Street, Delaware Water Gap, PA 18327
570.424.2000
Thursday, August 25, 2011 at 8PM until 11PM
Jam Session every Thursday from 8PM until 11PM
COST: Free
New York, NY—On August 25, 2011, drumming guru and Grammy winner, Bill Goodwin, will celebrate his one year anniversary of leading the Dear Head Inn Jam Sessions. A resident at the Inn, Goodwin volunteered his leadership when there was a lull in the weekly sessions— and added his own twist to the weekly event. "My idea was to run it like an old fashioned jam session," says Goodwin, "I wanted to have a regular band, and musicians would come play with us. They would play the band's tunes or tunes they know. They had to come prepared." As part of that band, Goodwin called saxophonist
Adam Niewood
. Niewood speaks fondly of playing with Goodwin this past year, "When Bill called me and asked if I would be interested in playing with him every Thursday night, I had to pinch myself. Did he really need an answer to that question??? Now almost a year later, I find myself so very fortunate, feeling so at home in my favorite jazz club. I'm now part of a family. The folks that work at the Deer Head are stellar human beings, they treat me with dignity and respect, and I couldn't be happier with this scenario." Since Goodwin's residency, the Jam Session has been growing steadily, and has turned into a magnet for both young and experienced players, with well-known talent appearing including
Phil Woods
and
DAVID LIEBMAN
. Loyal regulars also include guitarist BILL WASHER and bass players including
ADRIAN MORING
,
Tony Marino
,
Chris Higgins
and others. Goodwin notes, "Everyone intermixes and learns from the experience, and we have a good time."
"Bill makes the jam session what it is. But in addition to that, the venue is magic, as are the people—the Deer Head Inn family. It's simple, start with good ingredients, and everything else blossoms from there." —Adam Niewood