Ivan Valentini: Light and Darkness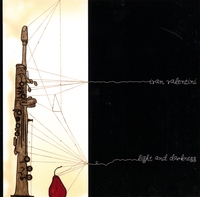 Non smentisce il titolo del primo brano, perché Light and Darkness, il nuovo disco di Ivan Valentini, parte proprio in quarta. Corde pizzicate, ritmo danzante, il sax soprano che guizza, surfando sulla trama metrica, la chitarra elettrica distorta lanciata in un solo dalla geometria irregolare e la sensazione che i cinque musicisti abbiano in poco conto la prevedibilità.
La musica contenuta in Light and Darkness è libera come lo spirito dei protagonisti dell'incisione, accomunati da esperienze professionali nelle quali curiosità e trasversalità sono le parole d'ordine. Libera, dicevamo, ma non per questo priva di solide architetture compositive, a volte quasi impalpabili, a volte dense e magmatiche come colate laviche, altre volte meditative, dai tenui risvolti cameristici.
Ma i cinque si divertono soprattutto a confondere le acque, in modo discreto e contagioso come ben evidenzia "Be Bop". Partenza canonica, esposizione del tema a ritmo vertiginoso, assoli al fulmicotone nella miglior tradizione americana e poi, improvviso, lo sconfinamento in un blues indolente, che sarebbe piaciuto al detective Marlowe.
Ecco, se vi è da ricercare un elemento di unitarietà in Light and Darkness, nel suo alternarsi di luccichii e di penombre, di gioiose cadenze - "Riflessi di Viola" - e scure atmosfere - "Gatta ci cova" - è proprio nella capacità di scivolare tra i diversi umori delle composizioni con estrema naturalezza e con altrettanto vivace creatività.
Stimolante.
Personnel
Ivan Valentini: saxophone.
Album information
Title: Light and Darkness | Year Released: 2008 | Record Label: Music Center
Post a comment about this album