Kurt Rosenwinkel Trio at Germantown Settlement School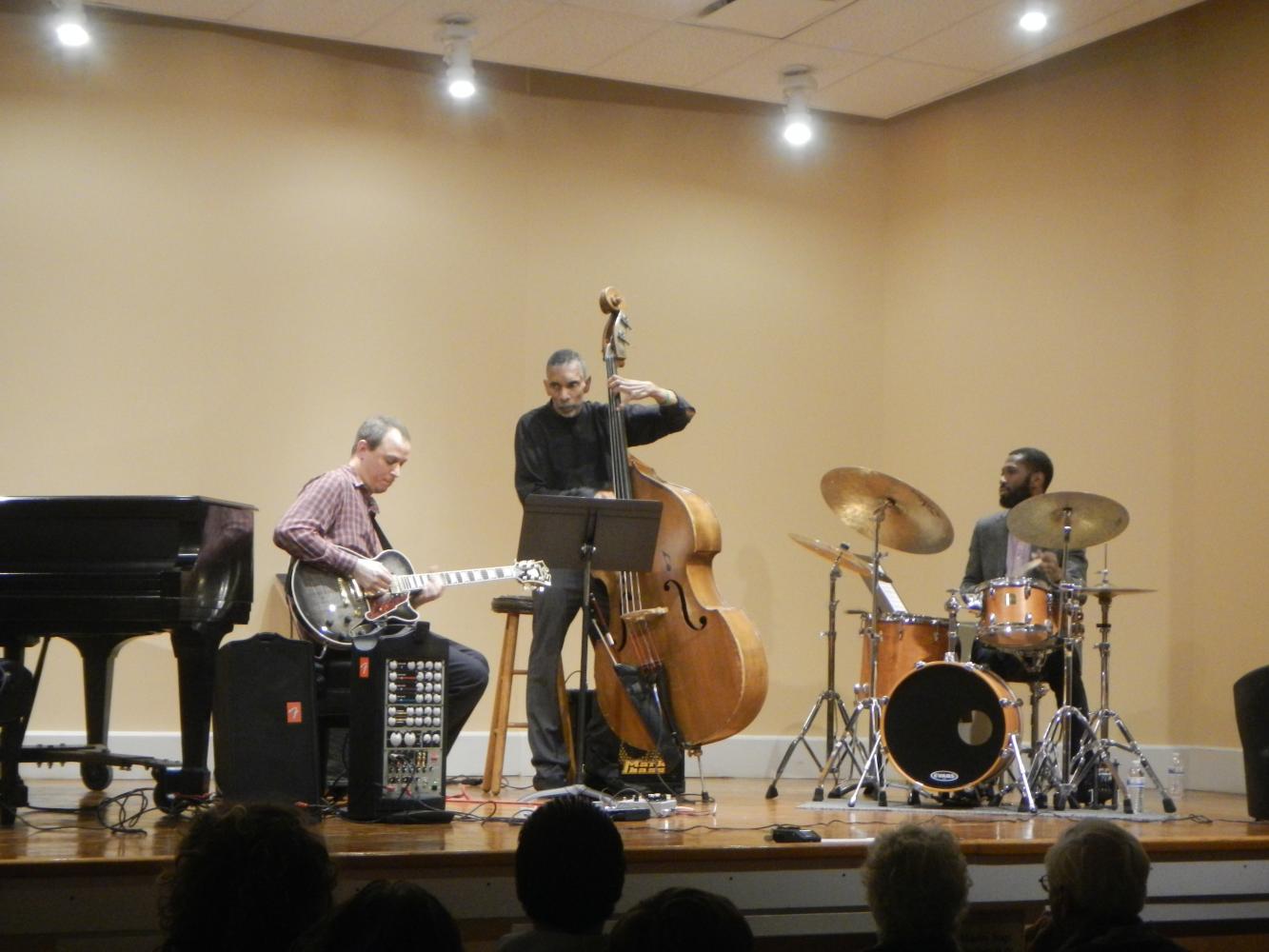 Kurt Rosenwinkel Trio
Settlement Music School
Philadelphia
, PA
December 23, 2016
He's come a long way since first starting lessons at Philadelphia's
Settlement Music School
, but city native
Kurt Rosenwinkel
has never forgotten those roots. On a night when they could have been squeezing in a little last-minute shopping or relaxing beside the tree with some good eggnog, he and a pair of good friends were happy to come out to the Germantown branch of SMS instead and spread the love with a handful of the city's future jazz players in training.
Under the banner "Igniting Philly's Jazz Future," the event was both a benefit show for Settlement and a densely packed tutorial in the possibilities of the guitar. The evening kicked off with a complimentary beer tasting courtesy of Pennsauken's Double Nickel Brewing Company, followed by a quintet of top-tier students performing under the expert direction of vibraphonist
Tony Miceli
. Though Rosenwinkel's name topped the bill, he was clearly happy to give any up-and-comers their time in the spotlight.
That generosity naturally extended to the trio's performance as well. The 90-minute headline show felt like it breezed by in a blink, but the guitarist's fleet fretwork says a whole lot within the space of each piece. The night made a break from some of the wider-ranging endeavors he's done in the solo or fusion realms; this set instead stuck to a program of standards that convincingly reinforced his place as a preeminent heir to
Jim Hall
. Tumbling chords and quicksilver solo lines flowed together like a rushing stream, always fluid and seemingly effortless.
The smooth pieces still found plenty of space for groove and swing. The propulsive yet tasteful foundation work by
Lawrence Leathers
had the mostly-sedate audience swaying and bobbing their heads from time to time, while Rosenwinkel's longtime partner
Mike Boone
held the center with an easy flair on the bass. He fittingly got his share of features during others bassists' songs, adding colorful touches to
Paul Chambers
' "Ease It" and a particularly eloquent read of
Charles Mingus
' "Self Portrait in Three Colors."
The recital room had a plain vibe under simple white lights and the group barely left a pause for breath between pieces, but it was a performance that needed no trimmings. Teens and retirees alike all found something to appreciate; the important things were the chance to come together for an important occasion, enjoy a mighty impressive group at work, and help the school continue producing more fine successful performers well into the future.
Post a comment