Arthur Blythe: Exhale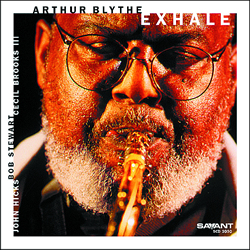 Arthur Blythe continues his fruitful association with producer/drummer Cecil Brooks III on
Exhale
, his latest for the Savant label, also teaming up with longtime partner and tuba player Bob Stewart, plus John Hicks on piano. The eclectic playlist conveys the many facets of the musicians involved.
Coltrane's "Cousin Mary" gets the party started in swing time with Stewart pumping the bass line. Blythe sneaks a little 'Trane phrasing in, but stays true to himself. His short, full toned solo sets the stage for Hicks, whose fingers find much to say while dancing on the keyboard. Stewart takes a turn that flows with surprising ease. Ellington's "Come Sunday" receives an emotionally rich reading by Blythe in duet with Hicks. He lets a ravishing romanticism and the pure beauty of the piece lead him around by his heart.
The four-part "Exhaust Suite" has Brooks and Stewart opening, the former playing intriguing patterns on drums. Hicks enters on a light Hammond B3, the piece taking on a circular feel. Blythe contributes a theme and variations before turning it back over to Hicks. Part two, "Surrender," returns Hicks to piano and takes on an early Impulse! Coltrane flavor. From circular to swirling, Blythe's spacious composition leaves room for Brooks' subtle ongoing attack. "LC" features Brooks like a herd of spiders in tap shoes running across his cymbals. "Phase Two" returns to the organ driven music of "Nonnette," which opened the suite.
To change channels, Hicks opens Jimmy Forrest's "Night Train" with a ten fingered blues intro that doesn't prepare you for Blythe's sensuous wail. Stewart's tuba takes the whole thing to New Orleans. Like a storm gathering on the horizon, Coltrane's "Equinox" grows out of a dark rumble by Stewart. Blythe initially states the theme humbled and chastened, but then the band straightens out and he repeats it with authority.
From that intensity, the band shifts into an affectionate take on the old chestnut "Just Friends," Blythe again constructing solos that uncannily walk the line between traditional and futuristic. Brooks gets busy with brushes and a snare, and Hicks plays quick orchestral chords like train clicking tracks. Stewart contributes "CJ."
Stewart hums the theme in unison to his playing it on tuba to interesting effect. Blythe picks it up and they duet through changing moods. Stewart's unison hum introduces Miles Davis' "All Blues," before settling into the tune's familiar sway. He uses some clever Ron Carter phrasing at one point. Blythe plays it hard edged and thoughtful. Hicks employs a light touch with sparse chords to accompany and solo.
Blythe continues to be hard man to pigeonhole and market. This continues to be good news for Blythe fans.
Savant on the web: www.jazzdepot.com
This review first appeared in All About Jazz: Los Angeles .
Track Listing
Cousin Mary, Come Sunday, Exhaust Suite, Night Train, 7/4 Thang, Equinox, Just Friends, CJ, All Blues, Straighten Up and Fly Right, Exhale
Personnel
Arthur Blythe- alto saxophone; John Hicks- piano, B3 organ; Bob Stewart- tuba; Cecil Brooks III- drums
Album information
Title: Exhale | Year Released: 2003 | Record Label: Savant Records
Post a comment about this album