Mark Taylor: Circle Squared
By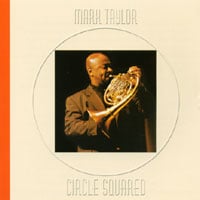 How often do you hear the French horn used in a jazz context as a solo instrument—especially a modern jazz context? Not often!
Mark Taylor's playing brought new colors and subtle nuance to Muhal Richard Abrams' Blu Blu Blu album back in 1990, and in '92 he contributed to the remarkable Jazz Composers Alliance Orchestra's Flux. He was a integral part of the Ebony Brass Quintet '95 record Brand New Bag —which in many ways mirrored the concepts of the World Saxophone Quartet and Lester Bowie's Brass Fantasy group.
On this new recording he employs the awesome talents of pianist Myra Melford (who appeared on Taylor's first solo album, Quiet Land on Mapleshade), bassist Brad Jones, and drummer Matt Wilson. The results are somewhat mixed.
First off, let it be known that every player represented on this album is a master of his or her chosen instrument, and all are capable of stunning improvisations. But somehow this music doesn't entirely transcend the medium. Whether it's good or bad, we're constantly aware that it is a French horn we're listening to, even when the instrument in Mr. Taylor's able hands sounds more like a trombone (in the 'bone's higher register). Couple that overall characteristic with the abstract pointillism that Melford brings to this project and things start to fall apart. Ironically, the rhythm section of Jones and Wilson is rock solid and provides the music with some of its richest moments, but the juxtaposition between the driving keyboard style used throughout this recording and the more straightforward harmonic and rhythmic aspects explored by the bass and drums may simply be too great a chasm for Mr. Taylor to leap.
Circle Squared brings up another interesting question. Is the French horn such an usual and fresh sound in the world of jazz soloists that we can't help but notice its presence in this context? In that regard, this recording is a success. Mr. Taylor takes lots of chances with this music and he definitely covers some new ground in relation to his chosen instrument. In the liner notes he says of the music, "It's beautiful—and terrible and free and ugly and structured and unpredictable, completely under control and utterly ridiculous. Just like life."
That sums this album up pretty well. There is a lot of great playing on this effort, but the end result is not entirely compelling.
This album also brings up some very interesting questions, always a welcome thing in the world of jazz. Give it a listen and decide on the answers for yourself.
Visit the artist at: www.marktaylormusicgroup.com .
Track Listing
Osmium Zamindar and the Fire Demons of Praethor; Broken; Ten Thousand Things; Oni; Alexia's Resue; Circle Squared; Helix
Personnel
Mark Taylor: French horn; Myra Melford: piano; Brad jones: bass; Matt Wilson: drums
Album information
Title: Circle Squared | Year Released: 2003 | Record Label: Mark Taylor Music Group
Post a comment about this album