Mark Taylor
Mark Taylor's work with Max Roach, Henry Threadgill and Muhal Richard Abrams, among many others, established his reputation as a go-to French Hornist in the jazz and improvised music communities. Putting aside the Horn for the composer's pen, Taylor's newest work continues the spirit that won him recognition from legendary artist Max Roach, who said, "there is no one dealing with the music the way Mark is."
Taylor, a native of Chattanooga, TN, has been commissioned to compose for theatre, dance, and the concert stage. He placed two songs in the Dollface Productions independent feature film "The Girl" and scored the documentaries "9/11 Fear In Silence" for JadeFilms and Camille Billops' "A String of Pearls". He has written transcriptions of the work of seminal jazz bandleader James Reese Europe's "Hellfighters" military band for the Brooklyn Repertory Ensemble and composed a multi-movement orchestral work commissioned by Anthony Braxton's Tri-Centric Foundation and premiered by the Tri-Centric Orchestra in New York City in the Fall of 2013.
Mark has also released four CDs of all original material, QuietLand, Circle Squared, At What Age and Live At The Freight (co- led with composer/saxophonist Jessica Jones).



March 03, 2014
April 08, 2009
August 15, 2008
July 25, 2007
"Mark Taylor is a virtuoso instrumentalist...there is no one dealing with the french horn or the music the way he is." - Max Roach
"The French horn is a notoriously finicky beast to master in a fast- paced improv setting which is probably why not many players have made their mark with the instrument. Add Mark Taylor's name to the list of the chosen few." - - Time Out New York
"Mark Taylor's quartet certainly is unlike any other performing in today's jazz scene." - Don Williamson, JazzReview.com
Primary Instrument
Composer/conductor
Credentials/Background
I work with Horn players of all levels with a special emphasis on those interested in improvisation and jazz. I also work with beginning and intermediate theory, arranging and composition students.
Contact me for availability. Rates: $65/hour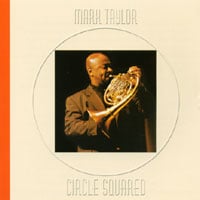 Mark Taylor Music Group
2003
buy
Papillon Recordings
2000
buy