Jazz Articles
Daily articles including interviews, profiles, live reviews, film reviews and more... all carefully curated by the All About Jazz staff. You can find more articles by searching our website, see what's trending on our popular articles page or read articles ahead of their published dates on our future articles page. Read our daily album reviews.
Instrument: Bass, acoustic
Article Coverage
|
Calendar
|
Album Discography
|
Photo Gallery
|
Similar Artists
Album Review
by Elliott Simon

With the Afro-Semitic Experience, bassist David Chevan and pianist Warren Byrd use jazz to entice African American and Jewish spiritual music to meet as brothers. On Chevan's first solo effort, The Days of Awe , he instead chooses to filter Jewish High Holy Day melodies through a multifaceted "jazz prism." The outcome is highly accessible music that retains its original dignity. Six of the nine pieces are from the repertoire of Cantor Yoselle Rosenblatt (1882-1933), arguably the most famous Jewish ...
read more
Album Review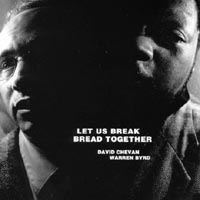 by AAJ Staff

The title of this disc--along with its subtitle, "Further explorations of the Afro-Semitic experience"--may suggest difficult listening. (Ceremonial, restrictive, and heavy are a few words that may come to mind.) But rest assured, that's not at all the case. Let Us Break Bread Together is more a joyous celebration of diversity than it is any kind of solemn piece of gravity.
Pianist Warren Byrd and bassist David Chevan work together on these duo improvisations, melding a variety of approaches into ...
read more
---