Album Review
David Chevan and Warren Byrd: Let Us Break Bread Together
By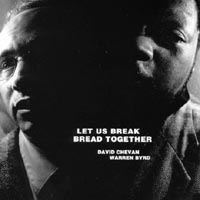 The title of this disc—along with its subtitle, "Further explorations of the Afro-Semitic experience"—may suggest difficult listening. (Ceremonial, restrictive, and heavy are a few words that may come to mind.) But rest assured, that's not at all the case.
Let Us Break Bread Together
is more a joyous celebration of diversity than it is any kind of solemn piece of gravity.
Pianist Warren Byrd and bassist David Chevan work together on these duo improvisations, melding a variety of approaches into a coherent whole. Much of the music borrows heavily from a blues-rich gospel sound, while other portions represent more traditional jazz. The spirituals feature rolling piano trills and a relaxed, sauntering feel. The Jewish tune "Oseh Shalom," with its unspoken prayer book lyrics and synagogue origins, receives straight-ahead jazz treatment. And the duo perform the traditional "Eliyahu HaNavi" with a up-tempo swinging feel, featuring solos by both players. On other selections they broaden their sound with the used of extended techniques. Let Us Break Bread Together successfully accomplishes its goal of combining African-American and Jewish experiences, offering a mixture of music which can be appreciated from any cultural perspective. And there's no reason not to tap your toes while the music dances forward.
Track Listing
Let Us Break Bread Together; Oseh Shalom (take 2); If I Can Help Somebody; Eliyahu HaNavi; Little David, Play on Your Harp; Etz Chaim Hi (Tanchum Portnoy); How Much More (of Life's Burdens Must We Bear); Etz Chaim Hi (traditional); Soon I Will Be Done; Hineh Mah Tov; Oseh Shalom (take 1).
Personnel
David Chevan, bass; Warren Byrd, piano.
Album information
Title: Let Us Break Bread Together | Year Released: 2001 | Record Label: Reckless DC Music
Post a comment about this album