Jackie Ryan: This Heart of Mine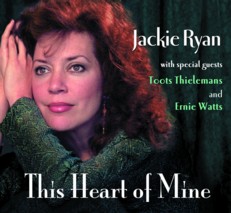 The thing that first struck me about this fine recording was the concrete accompaniment provided Ms. Ryan. Solid, effortless swing is what propels this veteran vocalist through
This Heart of Mine
.  The high quality of this swing, which I credit to crack arranging, is that much more a surprise when considering that the arrangements on this recording were very much a concerted effort.  All are uniformly fine, but I must tip my hat to pianist Jon Meyer for his astute direction on the title cut, Truman Capote's, "Sleepin' Bee" (with the superb Ernie Watts) and "Maybe September," where the keyboardist achieves a perfect balance between high, feather-light solos and Ms. Ryan's dense and smoky timbre.
Ms. Ryan is no novice in the arrangement department either.  "Estate," arranged with Amina Figarova, is set beautifully with Toots Thielmans harmonica.  An additional kick is that it is sung in the original Italian, again beautifully.  If Italian was not enough, Ms. Ryan knocks down Jobim's "Anos Dourados" in the original Portuguese, and "Sari" in the original Surinamese.  All are beautiful and convey the lyrics, while those lyrics may be incomprehensible.  Ms. Ryan could more than likely make German sound divine.


The disc highlight has to be the Duke Ellington/Ben Webster "Jump For Joy," sounding 1920s and 2020s at the same time.  Allen Smith's muted trumpet lends an almost Vaudeville feel to the song, while John Eiitala's bass keeps everything very modern (almost post-modern).  It is this type of universal musicianship that makes recordings like This Heart of Mine shine.


For more information, please visit Jackie Ryan and OpenArt Records on the web.
Track Listing
1. This Heart of Mine (Warren/Freed) - 3:11 2. A Sleepin' Bee (Arlen/Capote) - 3:46 3. Estate (Summer) (Brighetti/Martino) - 6:34 4. East of the Sun (Bowman) - 5:50 5. Jump for Joy (Ellington/Webster) - 4:00 6. Make It Last (Haynes/Paxton) - 5:45 7. Anos Dourados (Buarque/Jobim) - 3:59 8. Maybe September (Evans/Faith/Livingston) - 5:15 9. When I Grow Too Old to Dream (Hammerstein/Romberg) - 3:39 10. Moon and Sand (Engvi
Personnel
Steve Erquiaga - Guitar; Barry Zweig - Guitar; Ruth Davies - Bass; Roy McCurdy - Drums; Jon Mayer - Piano; Darek Oles - Bass; Toots Thielemans - Harmonica; Ernie Watts - Sax; John Wiitala - Bass; Jason Lewis - Drums; Amina Figarova - Piano; Yutaka Yokokura - Strings; Jackie Ryan - Vocals; Leonard Thompson - Piano; Bart Plateau - Flute; Derek Oles - Bass.
Album information
Title: This Heart of Mine | Year Released: 2004 | Record Label: OpenArt