The Delmark Sound: Jason Stein Quartet and Corey Dennison Band
Delmark Records has been a
Chicago
institution for better than 60 years, most under the watchful eye of founder Bob Koester. The label remains the oldest jazz and blues record label operating in the United States. Like its fabled successor, ECM, the label sports a sonic world all its own. While an odd comparison, any jazz enthusiast breathing air recognizes and understands the "ECM Sound." Demark has a similar distinctive sound. No, it is not that light and vaporous atmosphere so successfully achieved by Manfred Eicher with his label. The sound of Demark Records is an organic one, one unencumbered by synthesizes ambience. It is a dry, honest sound and a similar honest silence in the rests. Presently, are two recordings: one jazz and one blues, both contemporary, that bear the same sound found on
Roscoe Mitchell
's
Sound
(1966) and Junior Well's
Hoodoo Man Blues
(1965).
Jason Stein Quartet
Lucille!
Delmark
2017
Only the oboe would supersede the bass clarinet as the oddest "lead instrument" in jazz. That said Long Island native Jason Stein makes the unruly reed exactly that, a lead instrument. He leads an unusual quartet: bass, drums, tenor saxophone, and his instrument in a survey of nine original and standard tunes very much in the vein of
Ornette Coleman
's early free jazz work. Stein's clarinet is necessarily woody with a raspy fecund growl. His command of the instrument is impressive, considering that the standard clarinet is a bear to master. Stein shares his reed obsession with tenor saxophonist Keefe Jackson. The two properly knock heads on
Charlie Parker
's "Dexterity" and
Thelonious Monk
's "Little Rootie Tootie" while dancing around one another on
Warne Marsh
's "Marshmallow" and Robert Hurst III's "Rousted About." The rhythm section of bassist Joshua Abrams and drummer Tom Rainey keeps the two lead instruments between the ditches while spreading some mayhem of their own.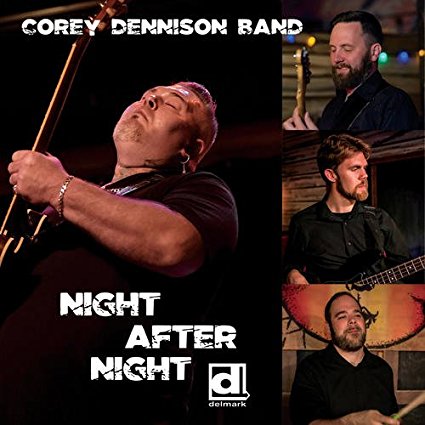 Corey Dennison Band
Night After Night
Delmark
2017
Looking at guitarist Corey Dennison makes one think curiously of Freddie King. He is a big man, given to a thin, sinewy guitar sound that he coaxes from a hollow body Gibson. He is more given to R&B than straight 12-bar blues, but he is more than proficient at both. Dennison has a voice made for the music he makes. While all his own, there are traces of all of the greats: Otis Redding, Al Green, but mostly Wilson Pickett. His song writing provides him the perfect material. His writing and arranging are endlessly creative, providing a groove that is new, but at once, familiar. His guitar playing is precise and well informed. He is not a flashy soloist, in spite of having pretty impressive shops.
Night After Night
follows up an impressive eponymous debut recording in 2016. The music is a direct evolutionary extension of his grass-roots-meets- Chicago vide. I have listened to a legion of lesser talents in the blues this year. Dennison take his part in this music making seriously and rightfully belongs exactly where he is.
Critic's Note:
Anno Domini
2017, marks the 100th Anniversary of recorded jazz, deftly noted by the release of the Original Dixieland Jazz Band's shellac "Dixieland Jass Band One-Step (A)/Livery Stable Blues (B)," Victor 18255, recorded February 26, 1917 and released March 7, 1917. Just for perspective, in 1917, my father was 18 months old and my mother was yet to be born for two years. It is also the twentieth anniversary of me writing for
All About Jazz
. The first recording I reviewed for the magazine was Art Pepper's
San Francisco Samba
(Contemporary, 1997), published December 1, 1997. I am using this article as part of a series noting my twentieth anniversary with the magazine and paying special tribute to my fellow writers at
All About Jazz
and Publisher Michael Ricci.
Post a comment