Results for "When Winter Comes"
Album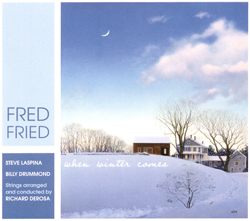 By Fred Fried
Label: Ballet Tree
Released: 2003
Track listing: 1. When Winter Comes 2. Patty's Song 3. Into The Wind 4. Hold Your Breath 5. Let's Go For A Ride 6. Pathos 7. The Rain 8. Children Can Fly 9. The Things That Happen
Article: Album Review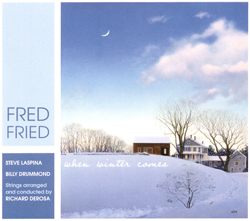 by C. Michael Bailey

When Winter Comes is feather-light 7-string acoustic guitar lying on a bed of gossamer strings. That may be a bit of hyperbole, but this disc by Cape Cod guitarist Fred Fried is a collection of spatial and plush original recordings. Mr. Fried plays his guitar more like a piano than a stringed instrument, with the effect ...
Article: Album Review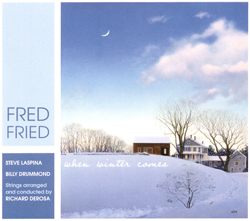 by Franz A. Matzner

The use of "classically" arranged string sections within jazz compositions has been relatively commonplace since Charlie Parker's breakthrough 1949 recording With Strings, more seminal due to its unbridled success than the singularity of the concept. Thus, Fred Fried's latest release, When Winter Comes , which unites his trio with a string ensemble arranged by Richard DeRosa, ...