Album Review
Fred Fried: When Winter Comes
By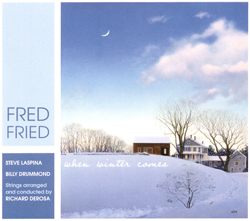 The use of "classically" arranged string sections within jazz compositions has been relatively commonplace since Charlie Parker's breakthrough 1949 recording
With Strings,
more seminal due to its unbridled success than the singularity of the concept. Thus, Fred Fried's latest release,
When Winter Comes
, which unites his trio with a string ensemble arranged by Richard DeRosa, is not a particularly outlandish endeavor. However this is far from its intent, and what is unusual is the level of synthesis attained between the album's "classical" and "jazz" elements.
This does not mean Fried has abandoned the jazz idiom, or the classical for that matter. Nor has he realized some epiphany of Third Stream construction. The trio swings and jazz styled improvisation remains prominently identifiable, along with a plethora of other idiomatic devices common to the jazz milieu. Significantly, however, the same holds true of DeRosa's string arrangement, which blends impressionistic and romantic coloring to emphasize the balance and depth of Fried's compositions.
Moreover, and most importantly, the interplay between the trio and string section sounds smooth, without cramping the trio's capacity for improvisation and more traditional group interaction. Full integration has always presented the fundamental obstacle to such cross-pollination experiments, but when overcome, the efforts produce intriguing, and often unexpected, results. Particularly when the compositions, arrangements, and instrumental skill of all involved are as proven as these musicians.

Tracks like the opening "When Winter Comes," the gorgeous "Children Can Fly," and the solemn "Hold Your Breath" strike the often treacherous balance between romanticism and sobriety, drifting neither toward the saccharine nor the melodramatic. Questions of technique and specific musical bravura appropriately evaporate when approaching material like this, subsumed by the conceptual clarity and emotive strength of the material.


That said, it is evident that Fried has dramatic command over his 7-string guitar, and that a keen rapport has developed between his trio mates, Steve LaSpina (bass), and Billy Drummond (drums). This becomes particularly evident on the three tracks performed sans strings, an important contribution to the album's overall tone and rhythm. On all occasions, the trio plays well together, and the key to Fried's work seems to be a combination of sensitive interpretation, a willingness to play slowly, deeply, and to use space and silence as expressive elements.

Clearly, Fried operates in the same realm as Bill Evans, his self-proclaimed early influence. He has achieved, with DeRosa's orchestral support, a pristine and highly articulate work of acute feeling.
Track Listing
1. When Winter Comes 2. Patty's Song 3. Into The Wind 4. Hold Your Breath 5. Let's Go For A Ride 6. Pathos 7. The Rain 8. Children Can Fly 9. The Things That Happen
Personnel
Fred Fried: 7-String Guitar; Stave LaSpinna: Bass; Billy Drummond: Drums.
Album information
Title: When Winter Comes | Year Released: 2003 | Record Label: Ballet Tree
Post a comment about this album