Fred Fried: When Winter Comes
BY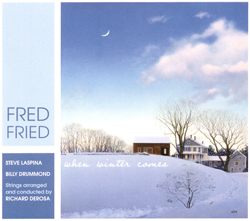 When Winter Comes
is feather-light 7-string acoustic guitar lying on a bed of gossamer strings. That may be a bit of hyperbole, but this disc by Cape Cod guitarist Fred Fried is a collection of spatial and plush original recordings. Mr. Fried plays his guitar more like a piano than a stringed instrument, with the effect of notes cascading rather than marching ahead. Notable on the recording are the two ballads "Hold Your Breath" and "Pathos," where Fried is introspective and his rhythm section retains the same aspect.
Fried is joined by veterans Steve LaSpina and Billy Drummond on bass and drums, respectively. Their playing is appropriate, sensitive and intelligent. Richard De Rosa, whose arrangements smack of rich texture and delicate temperament, capably scored the strings for six of the nine tunes. The result is a beautifully atmospheric and seasonal music carefully crocheted into a cool winter theme.
Visit Fred Fried on the web.
Track Listing
1. When Winter Comes 2. Patty's Song 3. Into The Wind 4. Hold Your Breath 5. Let's Go For A Ride 6. Pathos 7. The Rain 8. Children Can Fly 9. The Things That Happen
Personnel
Fred Fried: 7-String Guitar; Stave LaSpinna: Bass; Billy Drummond: Drums.
Album information
Title: When Winter Comes | Year Released: 2003 | Record Label: Ballet Tree
Post a comment about this album