Results for "Michelle Webb"
Musician
Multi-String instrumentalist Michelle Webb is a restless collaborator who is engaged in exploring and extending the boundaries of her instruments. Michelle Webb's guitar playing is often described as incredibly creative and innovative. A FORCE OF NATURE. Her playing is visceral, with a expressionistic approach to creating timbre and velocities. Constantly discovering new sonorities on her guitar, she has created a uniquely personal language which speaks to audiences. Influenced at first by Allan Holdsworth, Don Mock & B.B. King, Michelle found great inspiration in the highly charged expression of their music
Album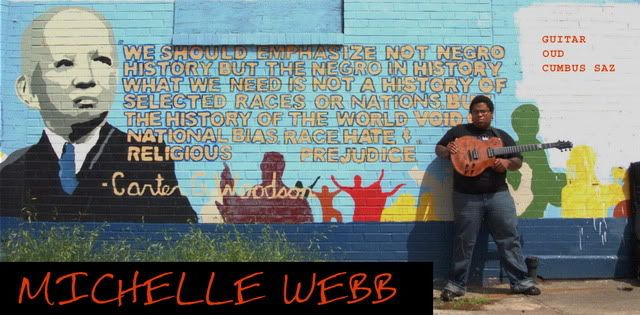 Label: Unknown label
Released: 2010
News: Performance / Tour
Tuesday, September 7, 2010 Blues Alley 8pm & 10pm The Michelle Webb Trio: Michelle Webb ( Guitar & Oud ) Warren Pedersen ( Bass ) Alfred Adams ( Drums ) 1073 Wisconsin Ave NW, Washington, DC Thursday, September 16, 2010 ...