Marilyn Scott: Standard Blue
BY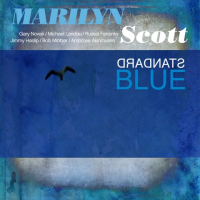 With an album title like this, some may be expecting boilerplate jazz that hews closely to some sort of straight-and-narrow musical orthodoxy. That, however, isn't what you get from vocalist Marilyn Scott. While it's true that
Standard Blue
is filled with familiar titles, these performances never sound platitudinous.
Scott paints standards with a cool-headed attitude, exhibiting a strong appreciation for dialed- down fusion, straight ahead sounds, semi-smooth aesthetics, blues feeling, and, most importantly, hybridization. From the first moments of the opener—a "Willow Weep For Me" that subscribes to a stylistic thread that could best be described as ambient neo-soul jazz—it's clear that this isn't your run-of-the-mill offering. As the album moves along, Scott continues to captivate with quiet energy. But that's not to say she doesn't exhibit range or vary her approach at different points. Performances like "Speak Low," a hip scene that's introduced with an understated touch of neo-noir before picking up a taste for swing and sass, and "Blue Prelude," which finds Scott reveling in ultramarine waters, demonstrate that she knows how to turn up the heat when needed. And if anybody remains skeptical after hearing those numbers, they need only listen to her rollicking farewell—"The Joint Is Jumpin,'" with the Perri Sisters joining her on vocals—to have those doubts washed away. Scott may often present with a form of equanimity, but there's a smoldering side to her art that brings everything into balance and perspective. Her voice could best be described as icy hot.
While Scott remains the rightful central figure in these songs, much of the credit for the success of this music has to go to keyboardist-arranger
Russell Ferrante
. He coats the walls of each song with attractively complex and glossy patinas that perfectly support Scott's vocals. Moreover, he managed to put together a series of arrangements that successfully walk the dividing line(s) between several stylistic sub-categories without ever betraying any of them. An ace crew that includes drummer
Gary Novak
, guitarist
Michael Landau
, and bassist
Jimmy Haslip
helps to bring his work to life with the perfect blend of sophistication and soulfulness.
With great material, winning arrangements, a strong stable of collaborators, and fine vocal work, all of the bases seem to be covered here. Everything clearly fell into place for
Standard Blue
. It's a fine addition to Scott's discography and, quite possibly, her strongest date yet.
Track Listing
Willow Weep for Me; Speak Low; A Flower is a Lovesome Thing; Never Let Me Go; Day Dream; Blue Prelude; I Wouldn't Change It; East of the Sun; I've Got It Bad and That Ain't Good; The Joint is Jumpin'
Personnel
Marilyn Scott: vocals; Gary Novak: drums; Michael Landau: guitar; Russell Ferrante: keyboards; Jimmy Haslip: bass; Bob Mintzer: bass clarinet; Ambrose Akinmusire: trumpet. Produced by Jimmy Haslip, Erik Zobler and Marilyn Scott
Album information
Title: Standard Blue | Year Released: 2017 | Record Label: Prana Entertainment
Post a comment about this album
Watch