Results for "Gary Novak"
Article: Radio & Podcasts
by Len Davis

On today's program we begin with two dynamic piano players, Cameron Graves and Hiromi. Saxophonist Randal Despommier with his latestDio C'e and Space-Time from Jeff Lorber Fusion with Jimmy Haslip and Gary Novak. Playlist Cameron Graves "Sacred Spheres" from Seven (Mack Avenuel) 00:00 Hiromi "Double Personality" from Another Mind (Telarc) 06:18 Randal Despommier "Big ...
Article: Album Review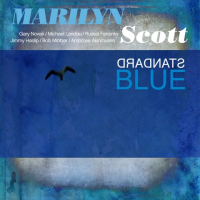 by Dan Bilawsky

With an album title like this, some may be expecting boilerplate jazz that hews closely to some sort of straight-and-narrow musical orthodoxy. That, however, isn't what you get from vocalist Marilyn Scott. While it's true that Standard Blue is filled with familiar titles, these performances never sound platitudinous. Scott paints standards with a ...