Anthony Braxton: Ninetet (Yoshi's) 1997 Volume 4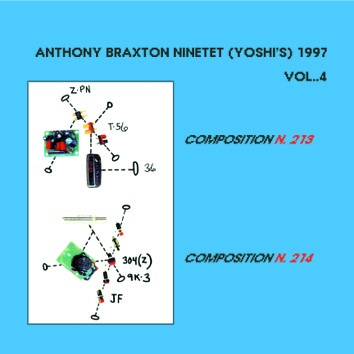 Recorded over five days in August 1997 at Yoshi's in Oakland, California this recording is from the early phase of reed player/composer Anthony Braxton's Ghost Trance Music (GTM) period. Originally planned to be released as a 12-CD box set on Braxton's own (now dormant) Braxton House label, these ninetet recordings have instead slowly emerged, two discs at a time, on Leo.
Given that the climax of the GTM period, the 2006 Iridium club 12+1tet recordings, came out all at once as a nine-CD box set in 2007, it seems a little odd only now to be reviewing this music—as though discussing an early part of a story of which the end is known. GTM went through several distinct phases, culminating in the so-called Accelerated GTM of the Iridium set; the Yoshi's recordings exemplify its first "species."
As this release is the fourth volume of the Yoshi's recordings, it seems unlikely to attract listeners who have not already heard the previous volumes. The scored music is entirely consistent with those preceding releases; highly structured and rhythmically tight, it gets into a groove and then stays there for a long time. There are solos on top of the repeated patterns that define each composition, but that is where they are—on top.


With soloists of the quality of reed players J. D. Perran, Brandon Evans, James Fei (all Braxton regulars) plus the professor himself, there is an ever changing kaleidoscope here to savour. However, solos are ultimately largely irrelevant to the forward impetus of the music, as is group interaction. The ensemble sections alternate with slower, freer sections featuring duos or trios, but the ensemble is never far away from returning to march things forward.
One day, when all of the GTM recordings are out (for instance, Braxton House advertised a ten-CD set recorded in 1997 in New York that has never, so far as this writer knows, emerged in any form) we will be able to have a proper overview of its variations, twists and turns. Until that day arrives, let's just revel in the sheer pleasure of this music....which is Anthony Braxton at his quirky, unpredictable best.

Track Listing: Composition N. 213; Composition N. 214.
Personnel: Anthony Braxton: E flat alto saxophone, F alto saxophone, C melody saxophone, flute, B flat clarinet, bass clarinet, contrabass clarinet; Brandon Evans: tenor saxophone, C soprano saxophone, sopranino saxophone, bass clarinet, flute; James Fei: E flat alto saxophone, soprano saxophone, bass clarinet; Jackson Moore: E flat alto saxophone, B flat clarinet; Andre Vida: tenor saxophone, E flat alto saxophone, soprano saxophone, baritone saxophone; J. D. Parran: soprano saxophone, bass saxophone, flute; Kevin O?Neill: electric guitar; Joe Fonda: bass; Kevin Norton: drums, marimba, percussion, vibraphone.
---
Multiple Reviews
CD/LP/Track Review
Live Reviews
CD/LP/Track Review
Live Reviews
CD/LP/Track Review
Read more articles