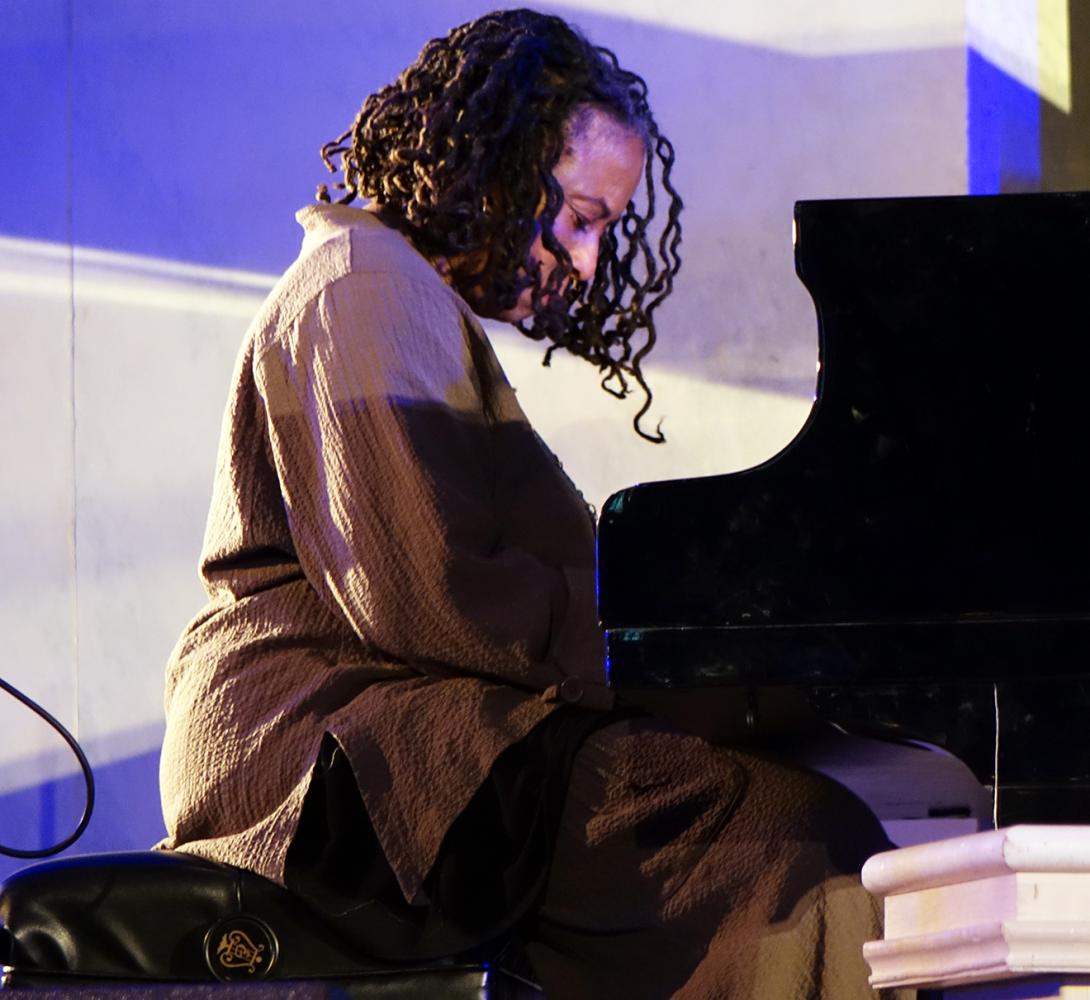 If you were to guess what pianist Geri Allen is like to talk to on the phone based solely on her music, you might say, "stormy," "short on patience" and "booming." Actually, the opposite is true on all counts. Geri is gentle, patient and embracing. In conversation, you hear the lyrical voice of a kind, caring person—which may seem in stark contrast with the powerful, energetic and domineering artist you hear on disc. [Photo by
Alan Jackman
]
Geri will be performing in New York on Saturday night at
92YTribeca
, located at 200 Hudson St. in Manhattan. She's on the same bill as Jason Moran & The Bandwagon. Tickets ($25) are still available.
For information and ticket purchases, go here
. Or call 212-601-1000.
In Part 3
of my conversation with Geri, the pianist and associate professor at the
University of Michigan
talks about how she prepares for a gig, why she doesn't like listening to her recordings and what she'll be playing on Saturday night...
JazzWax:
Do you practice?
Geri Allen:
Yes, usually very late at night and into the morning hours. I mostly work to prepare the foundational aspects of my compositions. I do this so I understand the structure and the inner workings of the music. As I practice, I am striving to feeling free, and that feeling only comes after a certain amount of foundational study.
JW:
Is practicing a chore?
GA:
Never. When I became a jazz musician, I knew it was for life. I learned quickly that with each new breakthrough, a whole new world of challenges would emerge. So a dedication to life and to art exist in simpatico.
JW:
Do you ever sit at the piano and apply your approach to the music heard on the radio as a teen in the '70s?
GA:
Yes. I find that songs by Motown composers are agreat inspiration. Their classic compositions form an exciting platform for improvisation. For example, Smokey Robinson's
Tears of a Clown
as well as songs by Stevie Wonder suit my style perfectly.
JW:
You seem to be most animated when the tempo picks up. Is it thrilling to hear yourself on recordings?
GA:
Actually, I don't like listening to myself. It's very difficult, and I tend to avoid doing so unless I am in the throes of working on a  new  project. The problem is I hear things I wished I had done differently and want to do them over.
JW:
When was the last time you and your mentor and trumpeter Marcus Belgrave played together?
GA:
In October of 2011. He was brilliant as always. I am so grateful to him for his innovative, speed-of-light artistry and his willingness to slow down so others can commune with him. [Photo by Scott Soderberg]
JW:
What did you think of
The Mosaic Project?
GA:
Terri Lyne Carrington [pictured] is a visionary, a master drummer and one of the most important musicians of our time. Our gig last week at the Village Vanguard with bassist Esperanza Spalding was one of the absolute highlights of my musical journey so far. On
The Mosaic Project,
Terri brought together an extraordinary group of brilliant musicians to share  a moment in time, when people are listening for a sound. Embracing that moment with all of the women on the recording was thrilling.
JW:
I know you eschew labels, but does the term "jazz-feelings" somewhat categorize the new jazz sound?
GA:
Let's talk about that sometime. I'd like to know more about your perspective on that particular choice.
JW:
Your most recent album was
A Child Is Born
, released last year in advance of the holidays.
GA:
Yes, Motema Music liked the idea of me playing solopiano backed by four voices and vintage keyboards, including a concert celeste. My father, Mount V. Allen Jr., liked the music on the CD very much and gave it to many of his friends. That meant the world to me.
JW:
Are you playing in New York in the coming weeks?
GA:
I am looking forward to performing at Celebrate Brooklyn! on June 15. I'll be appearing with my Timeline group, including tap dancer Maurice Chestnut, bassist Kenny Davis and drummer Kassa Overall. Joining us will be Howard University's Afro-Blue Jazz chorus, which appeared on NBC's
The Sing-Off
last season. Pianist-composer Patrice Rushen, whom you saw in
The Mosaic Project
video posted yesterday, will join us along with Esperanza Spalding and Terri Lyne Carrington. [Photo by
Andrea Canter
]
JW:
Are you excited about performing this Saturday night at 92YTribeca?
GA:
I am. Rachel Chanoff [pictured], 92YTribeca's film curator and the artistic director of Celebrate Brooklyn! has created an amazing collaborative opportunity for me. In June, filmmaker and photographer Carrie Mae Weems will premier a new film with live music, and I am thrilled to be continuing to do this type of creative work with Carrie.
JW:
What will you be playing on Saturday at 92YTribeca?
GA:
[
Laughs
] If I told you, it would take some of the mystery out of it. Let's just say that I'll be playing a mix of originals and classics.
JW:
Classics?
GA:
Compositions by iconic jazz composers.
JW:
But your way.
GA:
Yes, my way.
[Photo by
Michael Dvorak
]
JazzWax tracks:
Geri Allen's three most recent albums are
Geri Allen & Timeline: Live
,
Flying Toward the Sound
and
A Child Is Born
. Each is available on CD and as a download. All are moody, mystical and have remarkable lift and power.
JazzWax clip:
Geri Allen's performance of
The Dark Prince
in 2007 will give you a fine sense of how exciting she sounds live. Dig the groove she spins up. Without a doubt, Geri is one of the most important pianists on the scene today... 
This story appears courtesy of JazzWax by Marc Myers.
Copyright © 2021. All rights reserved.