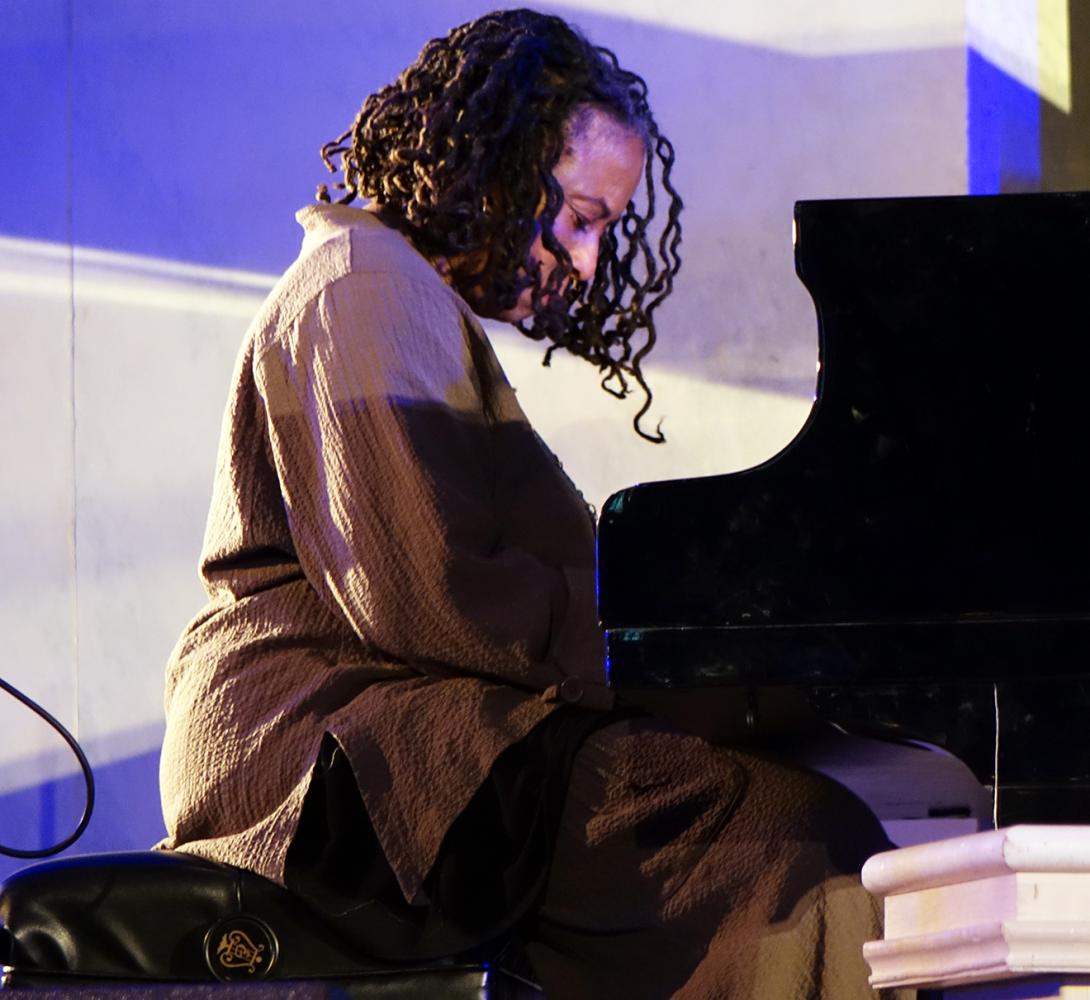 Too many jazz fans are unfamiliar with pianist Geri Allen. Though not yet a household name, Geri will be soon. Her recordings and live performances make her one of jazz's most vibrant and dynamic musicians. Geri has been categorized as avant-garde, but that term seems ironically passe. Geri's free approach and warmth transcends "avant-garde," placing her at the front of a group of musicians today who are forging a new jazz style. I call it the
jazz-feelings
movement.
Last week Geri performed with her trio—
Terri Lyne Carrington
on drums and
Esperanza Spalding
on bass—at the Village Vanguard. This Saturday (January 21), Geri will be appearing for one night only at New York's trendy
92YTribeca
on 200 Hudson St. in Manhattan. She's on the same bill as Jason Moran & The Bandwagon. From what I hear, tickets ($25) are still available but going fast.
For information and ticket purchases, go here
. Or call 212-601-1000.
In Part 1
of my three-part conversation with Geri, 54, the pianist and associate professor at the
University of Michigan
talks about growing up in Detroit, her musical mentors and why the visual arts offer lessons jazz appreciation...
JazzWax:
You were born in Pontiac, Mich.?
Geri Allen:
Yes. My mom and her family were from Pontiac. But when I was very young, my parents moved my brother Mount and me to Detroit, where my dad is still a teacher and administrator. 
JW:
Growing up in the 1970s, Detroit was a center of soul and dance music. Why did you turn to jazz?
GA:
I loved all of it. I listened to radio station WJLB and danced to soul, disco—everything. But my heart was in jazz.My father was always a huge jazz fan. When I was growing up, he played records by Charlie Parker, the Modern Jazz Quartet, Sonny Rollins, Thelonious Monk and Bud Powell. The music was always in our home. Just before high school, I made a commitment to myself: I was going to be a jazz pianist.
JW:
Did soul and pop leave any impression on you?
GA:
Oh sure. I heard both forms on the radio, so it was impossible to avoid. I was trying to learn those songs by ear. I realized later that many of the musicians on those recordings were jazz musicians—many of whom later became my mentors.
JW:
Did you study piano?
GA:
Yes I studied with a terrific teacher—Patricia Wilhelm—from the time I was in the 7th grade until college. She was very supportive of my search to become a jazz musician. Though she was a classical teacher and didn't have a jazz background, she wasn't afraid of the music and understood its value and importance to me. [Pictured: Geri Allen]
JW:
What did you learn from trumpeter-teacher Marcus Belgrave when you attended Detroit's Cass Technical High School in the 1970s?
GA:
I was very fortunate. The entire jazz scene in Detroit has been fortunate to have Marcus [pictured] there. He's still that same person today, striving to give young musicians a shot. He gave me a sense of hope. By believing in my talent, Marcus gave me a certain layer of confidence to pursue jazz as an art and a lifestyle. He also gave many others and me the opportunity to test out our abilities in real time—on stage.
JW:
For example?
GA:
The first time I went to Europe I went with Marcus, when I was in high school. The trip validated my talent. We went to Amsterdam and played at the Bimhuis Club for three days. When we first went there, it was a small, independent venue that was struggling. It's where all the new music was happening then. I went back to Bimhuis Club this year [pictured]. Now it's a first-class, government-sponsored concert hall. 
JW:
Did Belgrave point you in a specific musical direction?
GA:
I came away with a greater respect for the whole African-American music continuum. The music of the Supremes and Muddy Waters and the church—it's all connected and meant to be revered and taken seriously. I also learned that as a pianist, it's important to be able to play many different things. When I came back home, I played Bar Mitzvahs, Italian weddings—all kinds of events. The ethnic music we played gave me a clear sense of the different cultures.
JW:
At the University of Pittsburgh, you earned A masters in ethnomusicology. What is that exactly?
GA:
Ethnomusicology is the study of how music functions in society and the value placed on music in various cultures around the world. For example, the music of most African societies integrates all of the arts—particularly dance. By doing this, the entire culture is embraced, not just music and musicians. The result is that audiences have a more vivid sense of music's importance. The cultural embrace of music has been a big part of my reality and my art.
JW:
Your music tends to be highly textured in this regard.
GA:
When audiences are really a part of what's being played and they experience the motion and flow of what I'm doing, the spirit of the music crystallizes in a deep way. That's what I want. For audiences to be in the music.
JW:
Did you make a conscious decision to become an avant-garde pianist?
GA:
I've always felt that having my freedom in music was important. That's a part of my upbringing. I need to feel I can be versatile, to have the ability to move back and forth between different types of music. I'm attracted to the music of a large variety of great musicians. Then I synthesize all of it in a way that retains my freedom and particular energy as an artist.
JW:
Doesn't avant-garde jazz require a different commitment?
GA:
Yes. But audiences are much more sophisticated than they think they are. People who come to hear my music know there's an adventurous quality to what I do. So I prefer not to label my music is in terms of a specific style.
JW:
It feels more embracing, actually.
GA:
How do you mean?
JW:
Your music feels as though it's extending a helping hand to the audience, as if the music is about the community rather than just the technical ability of the performer. Where does this come from?
GA:
I spend a great deal of time with friends in the visual arts. They would never allow me to pigeonhole what I saw in their paintings, film or sculpture. Some critics might ask them, "What were you trying to convey in this work?" Their answer would be, "Just look at it.What do you feel?" I tend to have the same view about my music. Don't worry what it's about or what style it is or what I'm feeling. People who come with an open mind will know what it is about. [Album cover artwork by
Kabuya Pamela Bowens
]
Tomorrow
, Geri Allen talks about her approach to the piano, how it taps into a part of us that dates back to childhood and what she plans to perform on Saturday night in New York.
JazzWax tracks:
A good placefor jazz traditionalists to start in Geri Allen's discography is
Twenty One
(1994), with Ron Carter on bass and Tony Williams ondrums. This album features standards and originals. Then move on to
Some Aspects of Water
(1996), one of my early favorites of Geri's, featuring Johnny Coles (flhrn), Palle Danielsson (b) and Lenny White (d).
JazzWax clip:
Here's Geri Allen's
Feed the Fire
from
Twenty One
(1994)... 
This story appears courtesy of JazzWax by Marc Myers.
Copyright © 2021. All rights reserved.