Ron Davis Trio: Mungle Music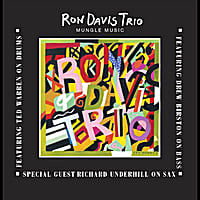 Having Art Tatum as an influence has been an apparently positive on Ron Davis. The man who is a poet, short story writer, a Ph.D. in French Linguistics, and a once-upon-a-time lawyer, in no particular order, made his professional debut (and first record) as a musician in 1970. He now takes a bow with this third, a tight trio date.
Davis' compositions show his flair for melodic writing. The other tunes he chooses to round out this album have that attribute as well, and while melody is one facet the other factors contributing to an enjoyable listening experience are the tight weave of the group and a defined individual presence. Richard Underhill leads the charge when the four find "Blues For Suze." His phrasing is hard-edged as he navigates the whorls of the blues, the antithesis of what Davis does when he comes in with a lighter approach that harmonizes and colors with a brighter hue. In doing so he perfectly casts a neat adjunct.


There are references to Tatum, but that does not water down the blues. He finds Tatum calling on other tunes as well, including "Not What You Think," where he rollicks in abundance and then leaves the door open for Drew Birston to add a simmer stoked by Ted Warren on drums. At the other end of the spectrum is "Hymne à l'amour," as sweet an ode to love should be, underlined by the gentle cluster of notes and lyrical passages from Davis.


Visit Ron Davis on the web.
Track Listing
1. D'hora (Ron Davis) 4:31 2. Drew Bouree (Ron Davis) 3:13 3. Popeye 3:59 4. Down By 3 (Ron Davis / Mark Mariash) 4:26 5. Mark's Mungle (Ron Davis) 4:53 6. Blues for Suze (Richard Underhill) 4:57 7. Sad Love Waltz / Liebesleid (Fritz Kreisler arr. Ron Davis) 04:38 8. Blues 54 (Ron Davis / Drew Birston) 4:12 9 La Quiega (Norm Marshall Villeneuve) 5:27 10. Hymne a l'Amour (Léon Durocher / Gustave Goublier) 4:48 11. Not What You Think (Ron Davis) 3:01 12. Summon Someone (Ron Davis) 3:12 13. You Make Me Feel So Young (M. Gordon, J. Myrow) 14. Stop'n Start'n (Ron Davis) 4:10
Personnel
Ron Davis – piano Drew Birston – bass Ted Warren– drums Richard Underhill - alto sax (tracks 4, 6, 9, 12)
Album information
Title: Mungle Music | Year Released: 2004 | Record Label: Minerva / Davinor (885767358454)
Post a comment about this album