May 2005
Paul Dunmall/Paul Lytton/Stevie Wishart
In Your Shell Like
Emanem
2005
Prolific British tenor saxophonist Paul Dunmall recorded these sessions back in 2003 with improvising percussionist extraordinaire Paul Lytton and hurdy-gurdy performer Stevie Wishart. Ultimately, the majority of these five works illustrate the trio's fiercely powerful impetus. But the artists' counterbalance some of the fireworks with agility and swiftly enacted shifts in tempo. Lytton provides a free-jazz type clinic here, as he complements Dunmall's buzzing lines and muscular attack with snappy accents and polyrhythmic movements.


Fripp & Eno

The Equatorial Stars

Discipline Global Mobile

2005
Back in the '70s, this duo's pioneering collaborations helped establish a new paradigm for ambient space-rock initiatives. The latest installment features Robert Fripp's dreamy guitar patterns and Brian Eno's expansive electronics-based stylizations. It's a musical exploration into the cosmos, although the musicians step up the rhythmic patterns in spots. The duo's synergy once again yields refreshing dividends. Neither musicians aims to overpower the listeners' psyche, but more importantly, they create a calming and rather persuasive milieu for the mind's eye.


Various

CMCD: 6 Classic Concrete Electroacoustic & Electronic Works/ 1970-1980

ReR Megacorp

2005
These works include archival material by electronics aces Lutz Glandien, John Oswald, and others. Highlights include Georg Katzer's mesmerizing and haunting collage of Hitler's Nazi movement, "Aide Memoire. In the liners, Katzer iterates that this piece features "Acoustic fragments from the biggest garbage pile of human history. Built upon speeches from Nazi leaders that are electronically processed to present a discombobulated perspective of a twisted regime, this stunning piece moves forward like a hazy nightmare. On a lighter note, Richard Trythall's "Ommagio a Jerry Lee Lewis is constructed upon Lewis' classic rocker "Whole Lotta Shakin' Goin On. Here, Trythall uses electronics to alter and then remix Lewis' aura into a fragmented and wacky electronics-induced fabrication.


Joe Lovano

Joyous Encounter

Levtron

2005
Impressive followup to sax great Joe Lovano's 2004 quartet outing, I'm All For You. This seventeenth release for Blue Note Records marks the first time Lovano has logged back-to-back albums with the same band for a sequel. And what a wonderful band it is! Once again, pianist Hank Jones and Lovano, performing on tenor and curved soprano sax, weave a majestic soundscape. Consisting of Lovano and Jones originals along with compositions by Thelonious Monk, Oliver Nelson, Thad Jones, and others of note, the program finds the band ever-so-slightly surging into the red zone on occasion. Therefore, it's not all about rehashing jazz standards. The magic ingredient is consummated by the energies of four stylists synergized by a common denominator.


James LaBrie

Elements Of Persuasion

Inside Out Music

2005
Dream Theater vocalist James LaBrie's latest solo effort boasts progressive-metal chunk chords and hard-driving backbeats. Overall, there are several memorable pieces, marked by catchy hooks amid a few blitzing fireworks here and there. To that end, LaBrie cleverly combines intelligent rock with stinging compositions that age quite well upon repeated spins.


The Dave Brubeck Quartet

London Flat, London Sharp

Telarc

2005
The title track refers to jazz giant Dave Brubeck's life on the road during a late '90s tour of the UK. Simply stated, this is a superfine exposition featuring the master's subtle melodies, rangy block chords, and other delicacies. Saxophonist Bobby Militello provides the muscle on this superb effort, where the quartet tastefully bridges a modernist outlook with mainstream jazz treatments.


Tango Fusion Club

Electronic Tango Beats

Concord Records

2005
Delightful acoustic-electric recording by German based musicians who use traditional genre-related instruments such as bandoneon and violins. With the edition of understated loops and beats, the band casts a pop-like groove to coincide with tango's romantic implications.


Brian Bromberg

It's About Time: The Acoustic Project

Artistry Music

2005
Monster bassist Brian Bromberg's first acoustic jazz outing, originally released in 1991, features trumpet legend Freddie Hubbard and saxophonist Ernie Watts to round out an all-star sextet. The original Nova Records release is digitally remastered and remixed here. The band's in-your-face and wide-ranging modern jazz groove works wonders. Bromberg's booming lines and fluid attack anchors the generally soaring arrangements. The sextet's crisp interplay and gravitating choruses, dappled with melodic underpinnings, translates into a highly absorbing affair. Those who view Bromberg simply for his chops-heavy contemporary jazz offerings might be pleasantly surprised with this nicely-timed reissue.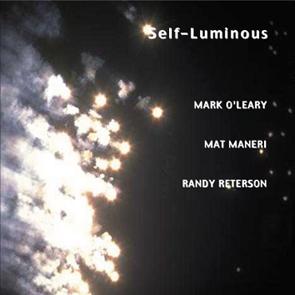 Mark O'Leary—Mat Maneri—Randy Peterson

Self-Luminous

Leo Records

2005

Concurrently released with electric guitarist Mark O'Leary and violist Mat Maneri's Leo Records produced "Chamber Trio, CD featuring pianist Matthew Shipp. On this trio set drummer Randy Peterson replaces Shipp, yet the overall game plan runs in parallel. O'Leary follows suit with volume control-initiated accents and fluttering single note lines, as Peterson's over-the-top rhythmic maneuvers establish a fragmented pulse. And with Maneri's microtonal phrasings, the trio conveys a unique identity, where distinct voices merge for a rather exclusive sound and style. Many musical rewards reside within this quietly enchanting session.


Rick Helzer & Vinny Golia

Fancy Meeting You Here

Nine Winds

2005

Armed with his customary assortment of woodwinds, Vinny Golia and pianist Rick Helzer move about in a rather jovial manner during these thirteen duet pieces. The bulk of them are constructed upon loose-groove improvisations featuring an amalgamation of emotive sentiments. The duo engages Thelonious Monk amid bluesy themes and rippling free-form excursions. Master improvisers at work here!


Anthony Braxton

Anthony Braxton's Charlie Parker Project 1993

hatOLOGY

2005

Two-CD reissue of the original Hat Art release, arguably one of the top progressive jazz releases of the '90s. Saxophonist Anthony Braxton and his septet cast a modern edge on a portion of Charlie Parker's legacy. They slightly reconfigure Bird's bop vernacular into open-ended forums with a sense of bravado, structured upon deft expressionism. For example, Braxton and pianist Misha Mengelberg morph highly charged choruses with a faint touch of free jazz concepts, tinted with traditional bop stylizations. Part of the excitement is rooted within the musicians' ability to counterbalance the tried and true with extended soloing ventures and multifarious shifts in strategy. (Essential listening...)
Post a comment