Matthew Crampton: Human Cargo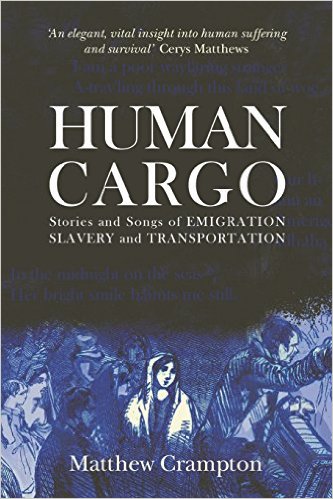 Human Cargo -Stories and Songs of Emigration, Slavery and Transportation
Matthew Crampton
164 Pages
ISBN: 978-0-9561361-2-1
Muddler Books
2016
The best books are those that tell their story with passion and, when needed, a sense of anger and disgust at human venality and corruption. But when a book tells a story you thought you knew too well already, adding not just nuance and detail but bringing whole new depths of understanding, you have a very fine book in your hands. Matthew Crampton's
Human Cargo
is just such a book.
Crampton is a folk-singer and publisher and his mission here is to illuminate these stories of human migration, forced or chosen out of desperation, fear or hope with relevant folk songs. These tell stories of slaves and slavers, practices that still persist today, and of those ever keen to exploit human misery for cash.
The author understands that migration is at the very heart of human history. He makes clear the distinction between the enslavement of Africans and their brutal exploitation in the Americas and the experiences of those who "chose" to migrate. However, he draws parallels between slavery and the shipping of convicts to North America and later Australia by Britain and the system of indentures that took Chinese "coolies" to the west coast of America and thousands of Indians and Bengalis to East Africa.
Nor does the connection between the history of slavery and human migration and current events in the near-and Middle-East and Europe escape Crampton's gaze. He is alive to these tragic events and the links between these and the wars and global designs of the North Atlantic, as well as their historical parallels. These are not tragedies—tragedy is unavoidable—and Crampton is clear that those who flee war in Iraq, Syria and North Africa are forced to do so, not by unavoidable disaster but, by the neo-colonial policies of the West.
The importance of this book for jazz fans should be clear. The enslavement of Africans in the Americas led eventually to the tango of Argentina, the samba of Brazil and the danzon of Cuba. The names Coltrane, Mingus (Menzies) and Gillespie tell us that their ancestors were "owned" by slave-owners of Scottish descent, those of Davis, Jones and Lewis that they were the property of Welsh slave-owners.
But, most importantly, the story of
Human Cargo
is not just one of death, exploitation and cruelty but one of survival and transcendence. One of the crucial consequences of human migration—in all its forms—is its capacity to enrich and inform music and the arts, creating as it does so new musics like jazz. Who knows what musics will emerge as the cultural traditions of the Middle-East (re-)connect with those of Greece, Italy, France, Germany, Britain and the rest.
Of course, such thoughts in no way justify—even in terms of the
longue durée
of human history—enslavement, exploitation and illegal wars in pursuit of dominance and control. That is not my point—and certainly is not Crampton's.
Human Cargo
is at heart a book that is concerned with what connects us as human beings, those very things that slavery and wars deny. Folk song—and jazz—are powerful reminders indeed of our common humanity and its potential.
Post a comment
Watch