March 2005
Adam Green
Moving Along
Rough Trade
2005
Think of a protest singer rolled into a Jim Morrison delivery, topped off with compositions that hearken similarities to pop icon Burt Bachrach. New York City singer/songwriter Adam Green sometimes conveys a mood of a torch singer iterating about drugs, sex and rock n' roll via catchy hooks. His quartet instills quite a bit of movement amid a few twists and turns, featuring Nathan Brown's delectably cheesy Wurlitzer organ riffs. Green's somewhat tongue-in-cheek social statements are at times humorous and alluringly witty. Beware; this production contains explicit lyrics; Green's muse is inclined to strike a chord with adult hipsters.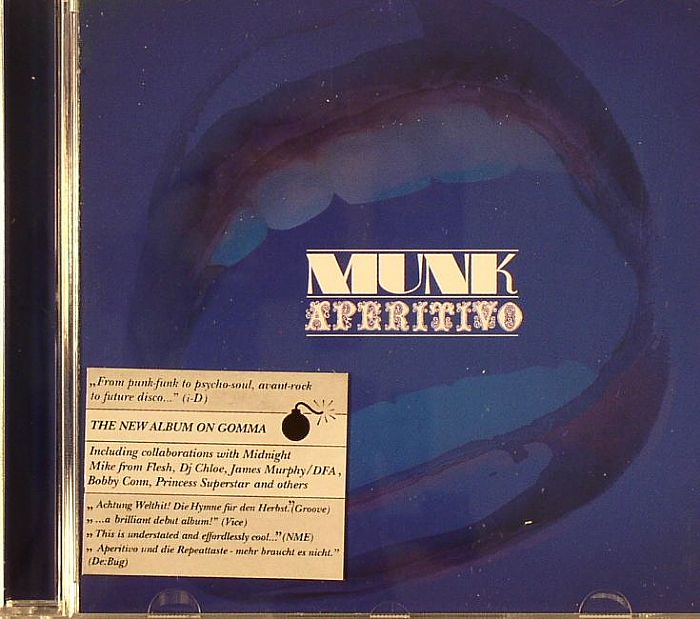 Munk

Aperitivo

Gomma

2005
Munk is a two-man Germany-based synthesizer and DJ team that overlay airy vocal choruses atop groovy dance beats and quaint melodies. Then toss in an oblique nod to art-rock and old time rock and roll. It's all been done before; however, this multitasking unit injects a lighthearted flair into its master game plan. They inject a personal touch to the sometimes misty and muddled electronica realm.


Sonny Landreth

Grant Street

SugarHill Records

2005
This Lafayette, Louisiana native is arguably one of the top electric slide guitarists on the planet. His latest effort documents a live recording at a Lafayette venue known as Grant Street, which is a converted warehouse. Of course the artist is an internationally known performer, yet here he brings it all back home, so to speak. Along with his rock solid trio, the guitarist melds blistering lines with punchy rock rhythms to counterbalance his warmly uttered vocalizations. Listening to Landreth performing in a live setting provides an all-encompassing perspective into his masterful technique.


Guitar Romantica

Beyond Borders

Carrasco-Lindsay Productions

2005
It's a lovely and thoroughly romantic offering by Southern California area acoustic guitarists Andres Carrasco and Kent Lindsay. The duo tackles a wide spectrum of genres, spanning modern jazz, pop, and Latin. Putting technical acumen aside for a moment, the duo's combined sensitivities and soul-stirring dialogues offer a kaleidoscopic scenario. The twosome morphs attractive harmonies with hefty chops and the sounds of love and romance, amid a few subtle surprises.


James Tenney

Pika-Don: Maelstrom Percussion Ensemble Conducted by Ian Williams

hat[now]ART

2005
Composer James Tenney's percussion music is segmented into seven distinct works. One features "Three Pieces for Drum Quartet, dedicated to cutting edge classicists and avant-garde denizens Henry Cowell, Charles Ives, and Edgar Varese. It is simply fascinating to hear off-metered rhythmic structures that are teeming with counterbalancing implications. Tenney is fascinated with components, such as timbre and odd rhythmic flows. His percussion scores are indeed, very musical in scope. He reformulates chaos into a rather sensible medium that often seems mind-boggling yet uncannily manageable.


Les Chansons de la Nouvelle scene Francase — Le Pop

En Duo

Groove Attack

2005
This is the third in a series of compilations highlighting France's renaissance within pop music circles. In France it is a customary gesture to invite artists to sing in duets. Simply stated, this is a superbly orchestrated program, whether or not you comprehend the language. What strikes me here is the rather seamless blend of '60s style movie scores, complete with snazzy arrangements, tied into a contemporary element. Beautifully recorded, several male and female vocalists align their wares during these whispery pieces, tinged with sensuality and glee.


Roberto Magris Europlane, featuring Tony Lakatos

Check-In

Soul Note

2005
Italian modern jazz pianist Roberto Magris is a superb accompanist and could write a book on the art of comping for soloists. Sure, he's an astute operator, but part of Magris' magic entails pushing the rhythms while effectively interlinking his bandmates' choruses and dialogues. Featuring saxophonist Tony Lakatos, this septet breathes fire! Overall, the preponderance of these works sustains a lasting impression via a few nicely articulated shifts in tempo and tuneful primary themes. Given some publicity and stateside touring opportunities, Magris' artistic flair could easily woo the hearts of the American jazz faction. (Distributed in the USA by Cadence North Country and others.)


Glenn Snelwar — Michael Manring — Mark Zonder

At War With Self: Torn between Dimensions

Free Electric Sound

2005
Impacting and shifty progressive rock outing by a power trio intent upon offering something with a twist while deriving a few elements from the old school. Guitarist Glenn Snelwar's multidimensional attack is awash with astutely concocted harmonic developments and tricky unison runs with bassist Michael Manring. Drummer Mark Zonder locks in rather snugly with his musical companions' often-complex iterations. They temper the flow on occasion. And at times the trio's modus operandi parallels the abstract CD cover depiction of a human's head entangled in knotted ropes. There's definitely a consistent thematic element that purveys during the conceptual connotations perpetuated here.


Pablo Menéndez

Havana Blues Mambo

Zoho Music

2005
California resident and Cuban-born guitarist Pablo Menéndez bridges the gap between vibrant, easily attainable Afro-Cuban jazz and steamy jazz-fusion. The guitarist is also a supreme melody maker, whether he is slamming the EFX pedal to the metal or rendering wistful chord voicings. His debut release for this record label is a hands-down winner as various mood-drenched motifs seemingly intersect in near flawless fashion.
Post a comment